As an Amazon Associate I earn from qualifying purchases.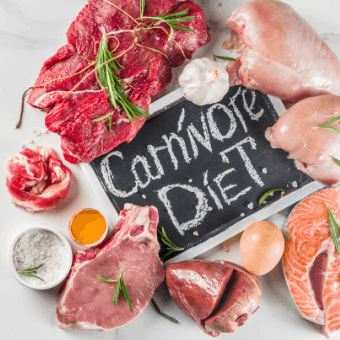 If you are searching for carnivore diet recipes this post is for you. There are 62 recipes below for your choosing with a lot of variety. All of these recipes are also all under 10 total carbs, like the rest of the recipes on this site.
Just to give you an idea there are carnivore recipes for ground beef, snacks and on the go recipes.
What is a Carnivore Diet?
To put simply it is only eating items from an animal, no plants.
Foods Can You Eat
As I mentioned above, this diet is only eating products from animals. However, this is not always sustanable for everyone and that's okay.
If the person is able to tolerate spice and herbs, they can still enjoy those extra flavors. Some will also enjoy some plants if once again they can tolerate it.
I also have carnivore desserts below with sweeteners. Adding the sweeteners are also optional at your discretion.
Snacks On The Go
These carnivore recipes will be food that you can easily take with you when you are out of the house. Make them ahead of time and have them handy whenever you need something quick.
Breakfast
Having breakfast is pretty darn easy even if you don't eat carnivore. However, did ya think you could have some toast? 🙂
Bone Broth
Bone broths are a great source of nutrients when you are eating carnivore.
Carnivore Meatball Recipes
Make Recipes extra fun with meatballs! These meatballs use ground chicken breasts and ground beef.
Photo Credit: feasiblefeast.com
These chicken carnivore meatball recipe are a crowd pleaser and ready in under 30 minutes. Your whole family will love these.
Photo Credit: primaledgehealth.com
These meatballs are made with both ground beef and ground beef heart. Heart a super food chuck full of nutrients the whole family needs.
Ground Beef Recipes
Ground beef is one of my favorite meats to buy. Below are some carnivore diet recipes with it below.
Chicken Recipes
Below is a gathering of chicken recipes. Some use chicken thighs and chicken breasts, or even the whole bird.
Dips and Sauces
You don't always need a full mean and that's what these carnivore diet recipes of Dips or spreads are for.
Other Carnivore Recipes
The recipes below in this group will be all others that do not include ground beef. Perfect for lunch and dinner. Or get crazy with it and have them for breakfast.
Desserts
Just because you eat carnivore, doesn't mean you can't have dessert. Give these recipes a try the next time you want a treat.