As an Amazon Associate I earn from qualifying purchases.
These keto nachos are super easy to make and you do not even have to make any chips for them. This meal has been a staple in my house and it is great since it is extremely easy to prep for the week.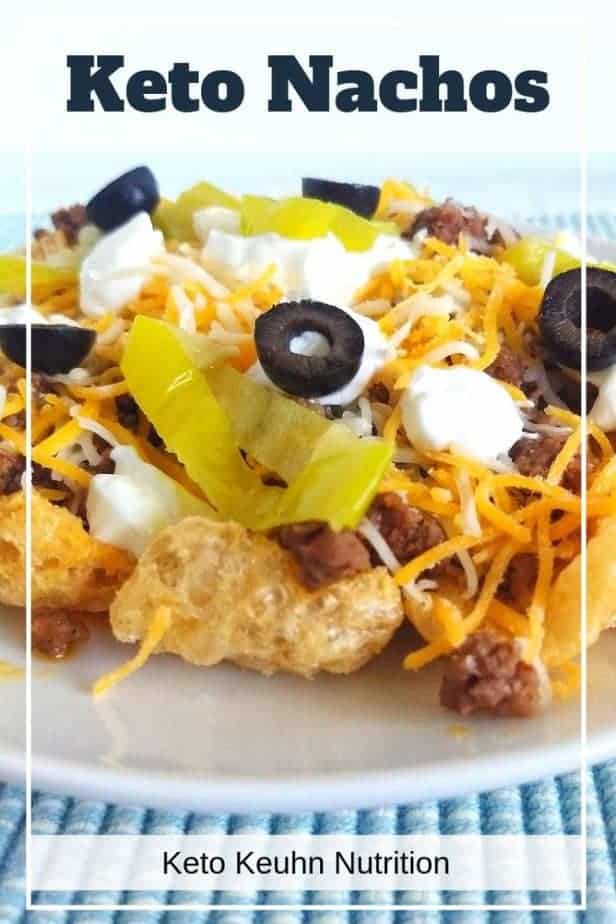 What Chips do you use for a Keto Nacho Recipe?
You can go and find a keto cracker recipe or a keto chip recipe. Those are out there. In fact, I have a feta chip recipe. My friend over at The Keto Option has a great Keto Crispy Chips. However, a pre-made chip that you can just buy would be so much easier. For this recipe, I made keto nachos with pork rinds.
There are a good handful of pork rind brands out there. A few of my favorites are Epic and 4505 pork rinds. However, these are more expensive than others. I often pick up less expensive ones at Aldi's or my local grocery store from brands that are not as well known.
Not a fan of pork rinds? Alright, I get it. I was not a fan either when I started keto. There are still options that you can buy and not have to make. One of the first cracker I tried were Flackers. These are mostly whole flax seeds, so you just have to watch how many carbs you want. Another option is Cauliflower Thins. You get 6 crackers for 2 total carbs and 2 grams of fiber.

What Toppings do you Use for Keto Nachos?
Now that you have your base, we need to talk about toppings. My first choice would be ground beef. However, any ground meat would be perfect. You could even have some shredded chicken.
Next, I would toss some cheese on there. Shredding the cheese yourself would be ideal if you want the cheese the meltiest. The pre-shredded stuff adds a powder to it to prevent it form cacking.
Also, if you shred it yourself, you can save on some carbs. Yet, when it comes down to easy and preparation, buying the pre-shredded stuff is easier.
Then the little extras come in such as diced tomatoes, olives, peppercinis, chopped lettuce and a bit whole dollop of cream cheese. The options are truly endless. Make it your own.
How to Meal Prep Nachos
When you are ready to meal prep, buy the meat you want to use. Then cook the meat with seasonings and place into a large glass bowl to keep in the fridge. Along with the meat to buy, buy everything else that you want for your nachos. When you want to make your nachos, take everything out and assemble. Easy as that!
Additional Tips in Making Keto Nachos
One thing that my husband does is that once the toppings are all on nachos, he warms it up even more in the microwave. This will indeed make the pork rinds less crunchy.
Yet, it makes for a great mouthfeel. I, on the other hand, do not do this. Another idea is to broil your toppings in the oven. Just be careful in touching your dishware after that. 🙂
Recipe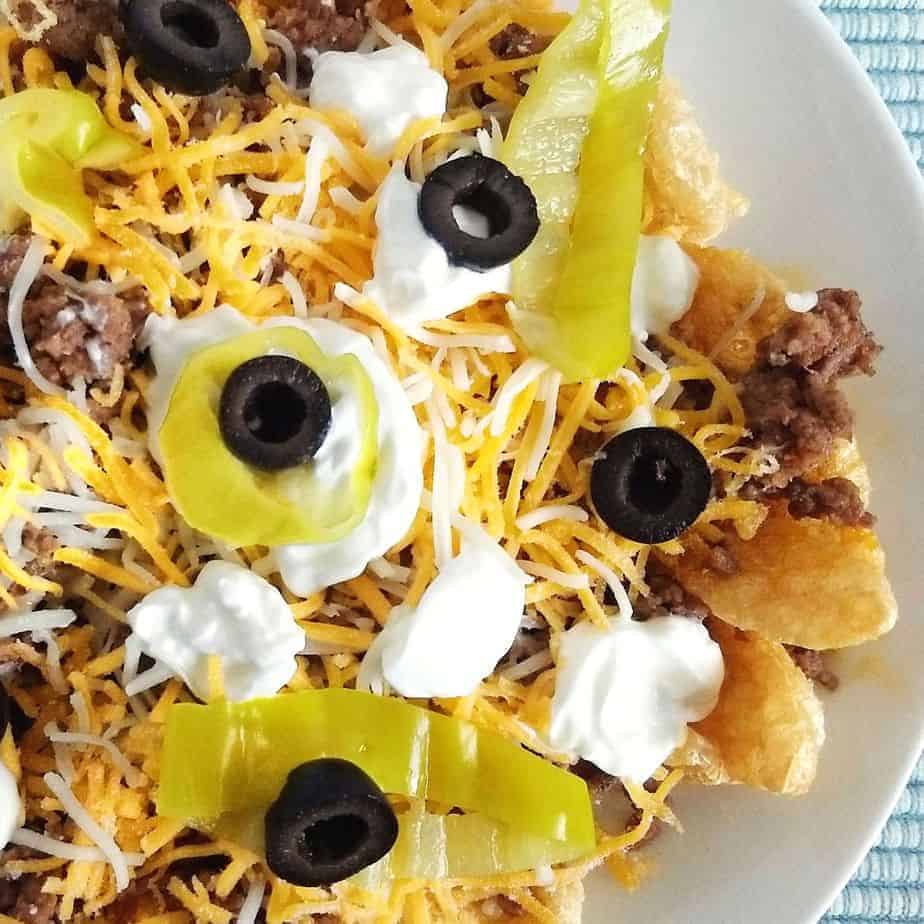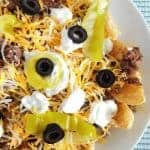 Print Recipe
How to Make Keto Taco Nachos
Ingredients
1/2

lb

80/20 Ground Beef

1/2

T

Taco Seasoning

1/4

t

Salt

20

g

Pork Rinds

28

g

Mexican Blend Cheese

1

T

Sour Cream

8

g

Pepperchinis
Instructions
Cook beef with salt and the taco seasoning.

Lay out your pork rinds or other crackers you choose on a plate.

Put your cooked meat on the pork rinds then your cheese.

Place all other toppings on and enjoy.