As an Amazon Associate I earn from qualifying purchases.
This dijon pork roast is an easy recipe you can meal prep for the whole week for yourself or make it for a simple family meal. I've also included some side dish ideas below.
Jump to: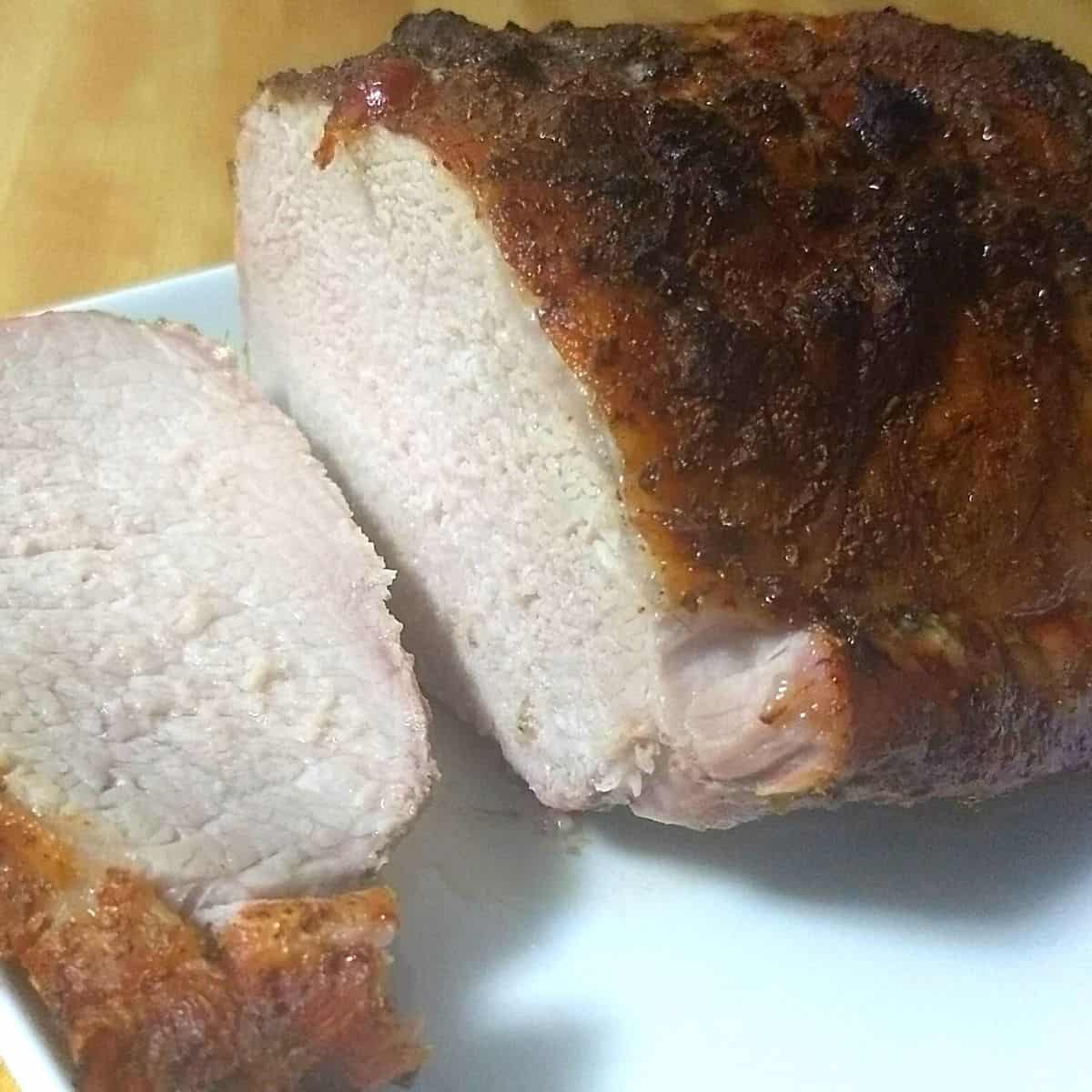 Directions
Cooking to the Correct Temperature
According to the USDA, it's recommended to cook pork to at least 145 degrees Farigheinght. When you cut into it, it may be slightly pink and that's 100% okay. In fact, that's great, as that means it won't be too dry.
Allow the meat to rest for 3 to 4 minutes before slicing and eating it.
Seasonings
The recipe uses ground up rosemary, thyme, and mustard. To grind up the herbs, I used my magic bullet blender with the shallow blade. If you don't have this option, you can also use a coffee grinder.
If all else fails, don't worry about using the ground herbs. I just like to grind it so it's easier to spread with the dijon mustard over the loin. Breaking up the spices also allows the flavor to really come out as well.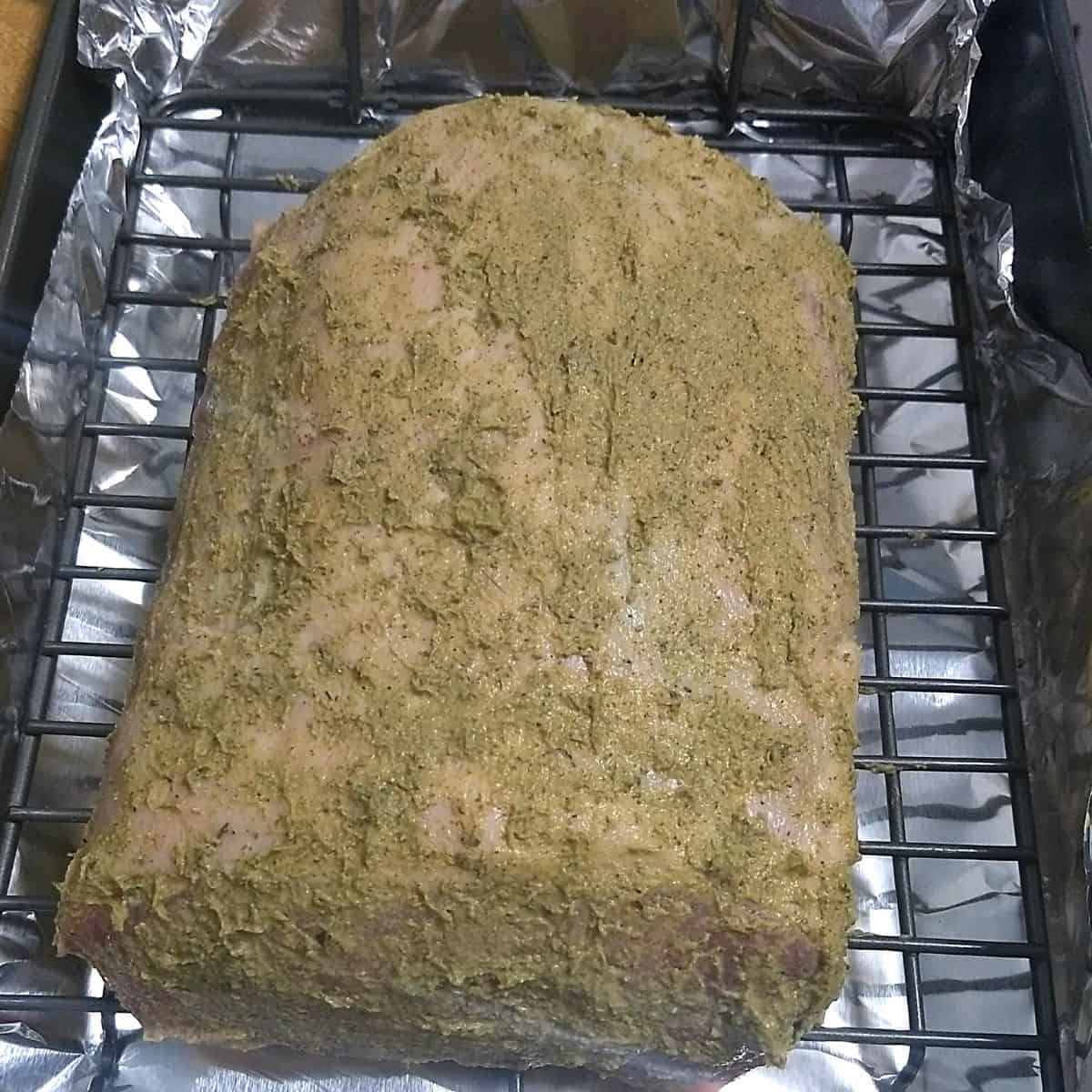 Storage
Keep your keto pork loin in air tight glass dish in the fridge. For best results, allow the pork roast to cool before you seal the lid. We want the meat to cool faster rather than slower. The meat will last up to a week in the fridge.
Side Dishes
Below are some great side dishes to pair with this keto pork loin roast.
Steamed Brussel Sprouts with Parmesan
Creamed Spinach
Keto Roasted Potatoes
Left Over Ideas
If you get tired of just eating the roast, you can easily add it to different meals, to mix things up for yourself.
A salad with pork as the main protein.
Make a lettuce wrap sandwich with some G Hugh's BBQ sauce.
Use the base of this pesto egg cup recipe and add in some chopped pork.
Make nachos with the left over meat.
Reheating Left Overs
Reheating a pork roast can be difficult especially with it being a lean cut of meat. The trick is to cook it over the stove top with a lid over your pan. This helps keep the moisture in.
First slice up the portion you want to reheat, then add some avocado oil or coconut oil in the pan. Turn the burner on medium-low and allow the oil to heat up. Place the slice of pork in the pan and cover for about a minute. After the minute is done, flip the meat. Repeat the flipping until it's come to the temperature you want.
If you want to heat up the whole pork loin, keep it on its side for 2-3 minutes before you flip it. Since the roast will be thicker, than the slices, reheating it this way will take longer than the slices.
Additional Recipes
Use these recipes below as inspiration for any left overs you may have.
???? Recipe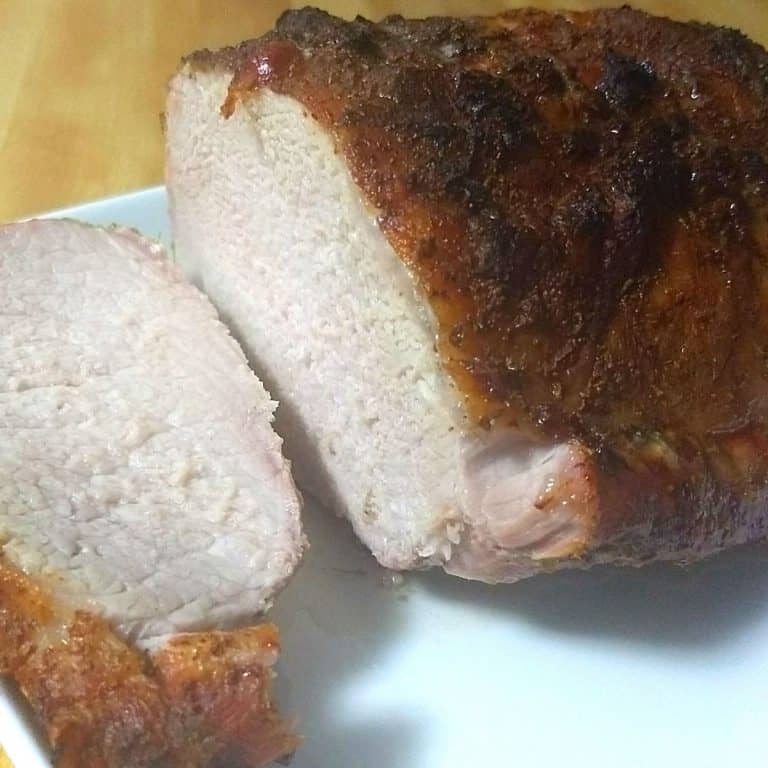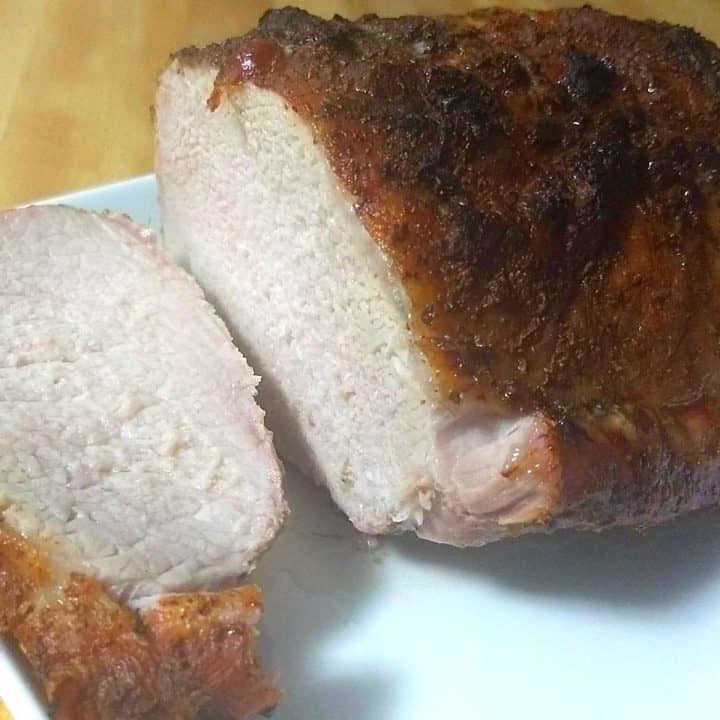 Keto Pork Loin with Rosemary Dijon Mustard
Cook Time:
1 hour
23 minutes
Total Time:
1 hour
25 minutes
This dijon keto pork loin roast uses 2 types of mustard seasonings along with some rosemary, thyme, and garlic. Perfect easy meal for the family.
Ingredients
3 pounds Pork Loin Roast, center cut
2 T Dijon Mustard
1/8 + 1/4 tsp Powdered Garlic
2 tsp Rosemary, ground
1 tsp Thyme, ground
1/8 tsp Mustard Seed, ground
Instructions
Combine all the spices and mustard together.
I ground the spices together with a coffee grinder or magic bullet with a flat blade.
Spread the dijon mustard mixture all over the pork loin.
Place the pork in a roasting pan on the rack with the fat facing up.
Cook on 400 degrees F for an hour and 20 minutes. The size of the pork and oven may vary in cooking times. Cook until temp reaches 145 degrees F.
Once to 145 degrees F, broil for 2-3 minutes to crisp up the fat.
Notes
To grind up the herbs use a coffee grinder or magic bullet blender with the shallow blade. It's also okay to leave the rosemary, thyme, and mustard not ground up.
Nutrition Information:
Yield:

12
Serving Size:

4 oz (raw weight)
Amount Per Serving:
Calories:

129.4
Total Fat:

12g
Carbohydrates:

0g
Fiber:

0g
Protein:

21.4g