As an Amazon Associate I earn from qualifying purchases.
After the holidays, I wanted to get back to meal prepping my meals again. Meal prepping helps with sticking to your macros, being less worried about what you will eat each day and sticking to your food budget with money.
Of course, there are many other reasons why meal prepping is great to do. One of the first items I meal prepped was this pork loin roast recipe.
Meal Prepping
Picking a meat for the week is an easy way to meal prep. You can make this choice of meat just for one main meal or use it for both.
For this pork loin roast, I have been eating it with my lunches at work with some melted butter on top of the pork. This has made making my lunches a breeze with an easy way to add more fat to my meal.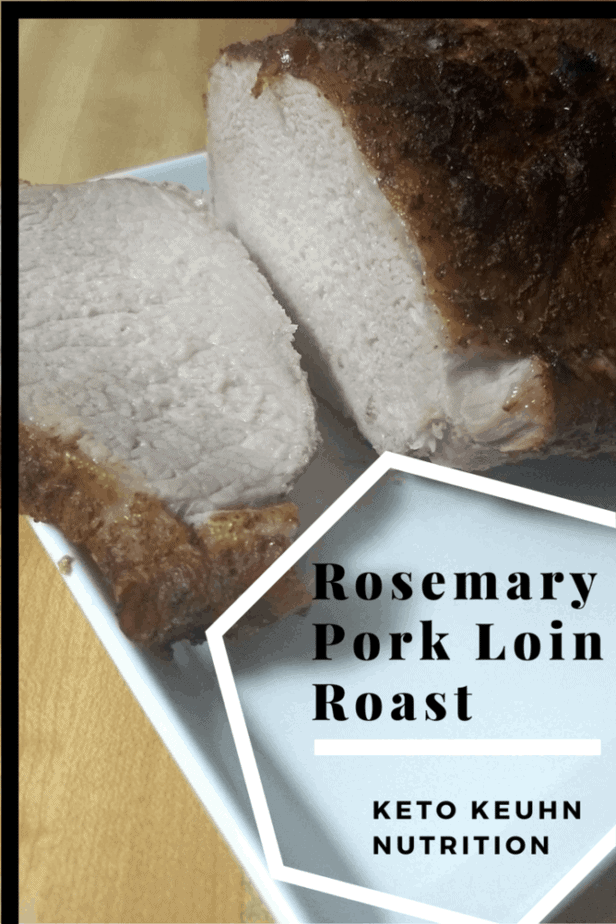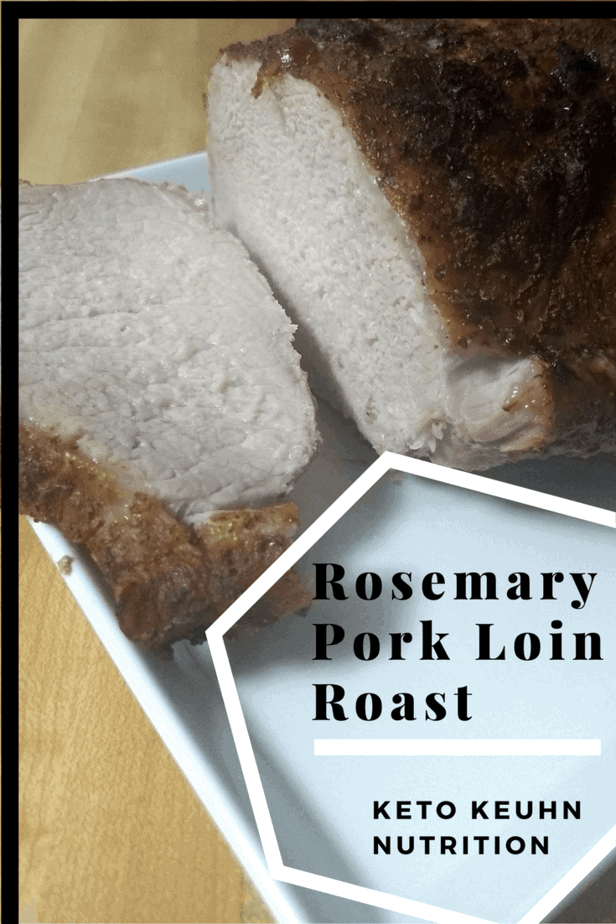 Nutrition Tidbit
Vitamins and Minerals in Pork (1)
Thiamin/B1: This B vitamin is higher in pork compared to beef or lamb.
Selenium: Selenium-rich foods are animal-based usually.
Zinc: This is important for immune and brain health.
B12: B12 is only found in animal products. B12 is important for brain function. Not getting enough can cause neuron issues.
B6: B6 is important for red blood cells.
Niacin/B3: B3 serves many functions in the body including metabolism.
Phosphorus: This mineral is needed for many things in your body. Of them, the of them is repairing tissue and cells. (2)
Iron: Meat sources of iron are best absorbed by the body. Plant sources of iron are harder for the body to use.
Potassium (3): Important for muscles
Other Nutrients in Pork (1)
Creatine
Taurine
Glutathione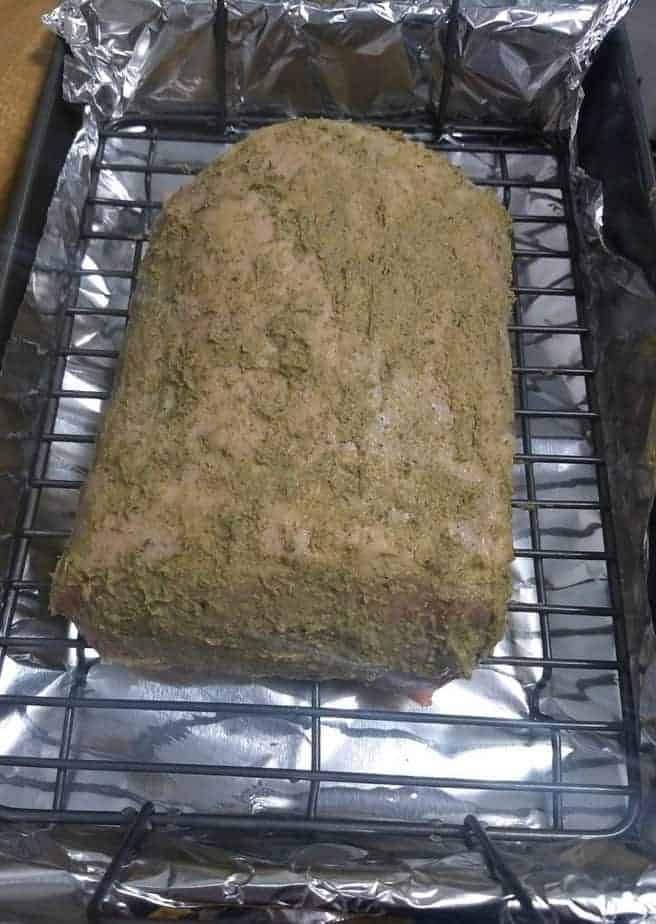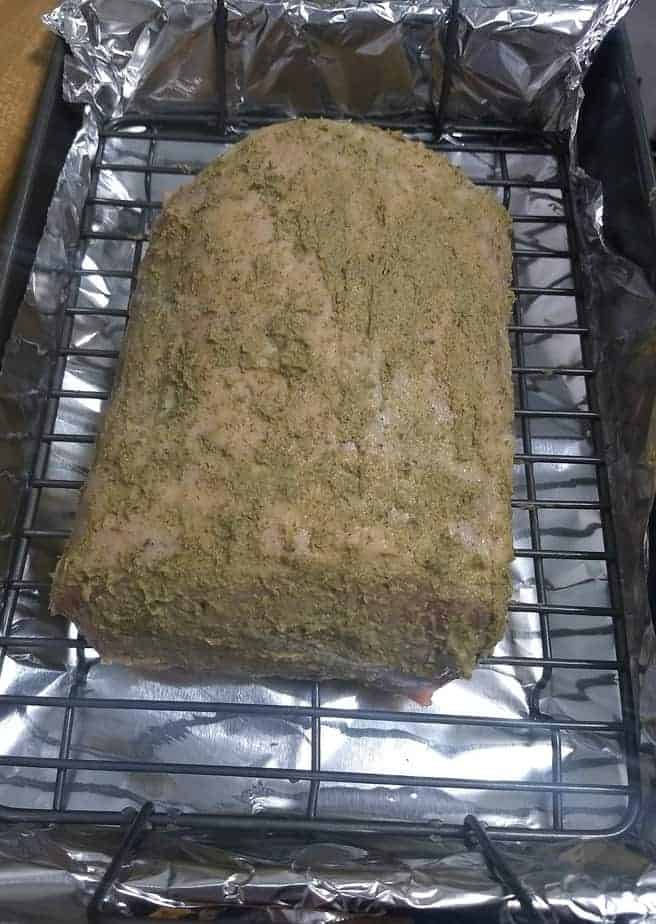 Nutrition Facts (4 ounces of raw meat)
Calories: 129.4
Fat: 12
Protein: 21.4
Carbs: 0
Fiber: 0
Net Carbs: 0
To log the recipe on MyFitnessPal search: Keto Keuhn Nutrition – Pork Loin Roast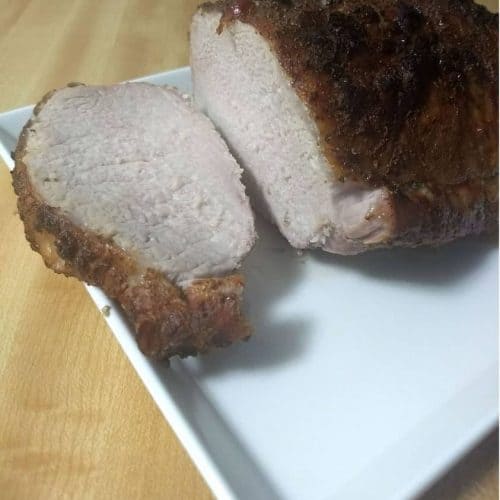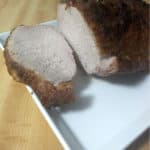 Print Recipe
Rosemary Dijon Mustard Pork Loin Roast
Ingredients
2

T

Dijon Mustard

1/8

+ 1/4 t Powdered Garlic

2

t

ground Rosemary

1

t

ground Thyme

1/8

t

ground mustard

3

lbs

Pork Loin Roast

center cut
Instructions
Combine all the ingredients together minus the pork.

To get ground rosemary and thyme, I used my coffee grinder or magic bullet blender with the shallow blade.

Spread seasoning mixture on the pork

Place in a roast pan with the pork sitting on a rack in the pan. I placed the pork with the fat side up.

Cook on 400 F for around an hour and 20 minutes. Size of pork and oven may vary this time. Cook until internal temp reaches 155.

Once to 155 broil for 2-3 minutes to crisp up the fat some.