As an Amazon Associate I earn from qualifying purchases.
Cold foam is not the same as whipping cream. Cold foam is whipped skim milk into a nice smooth froth, which is poured over a cold drink.
Cold foam is not keto-friendly for the standard Starbucks recipe. However, there are ways to get sugar-free cold foam at the coffee shop and at home. Cold foam can be sweet or unsweetened.
Below I talk about the keto drinks you can get at Starbucks to add the foam to and how or order keto cold foam. I also tell you how to make sugar-free cold foam at home. There is a list of sweetener options and frothing tools.
Jump to: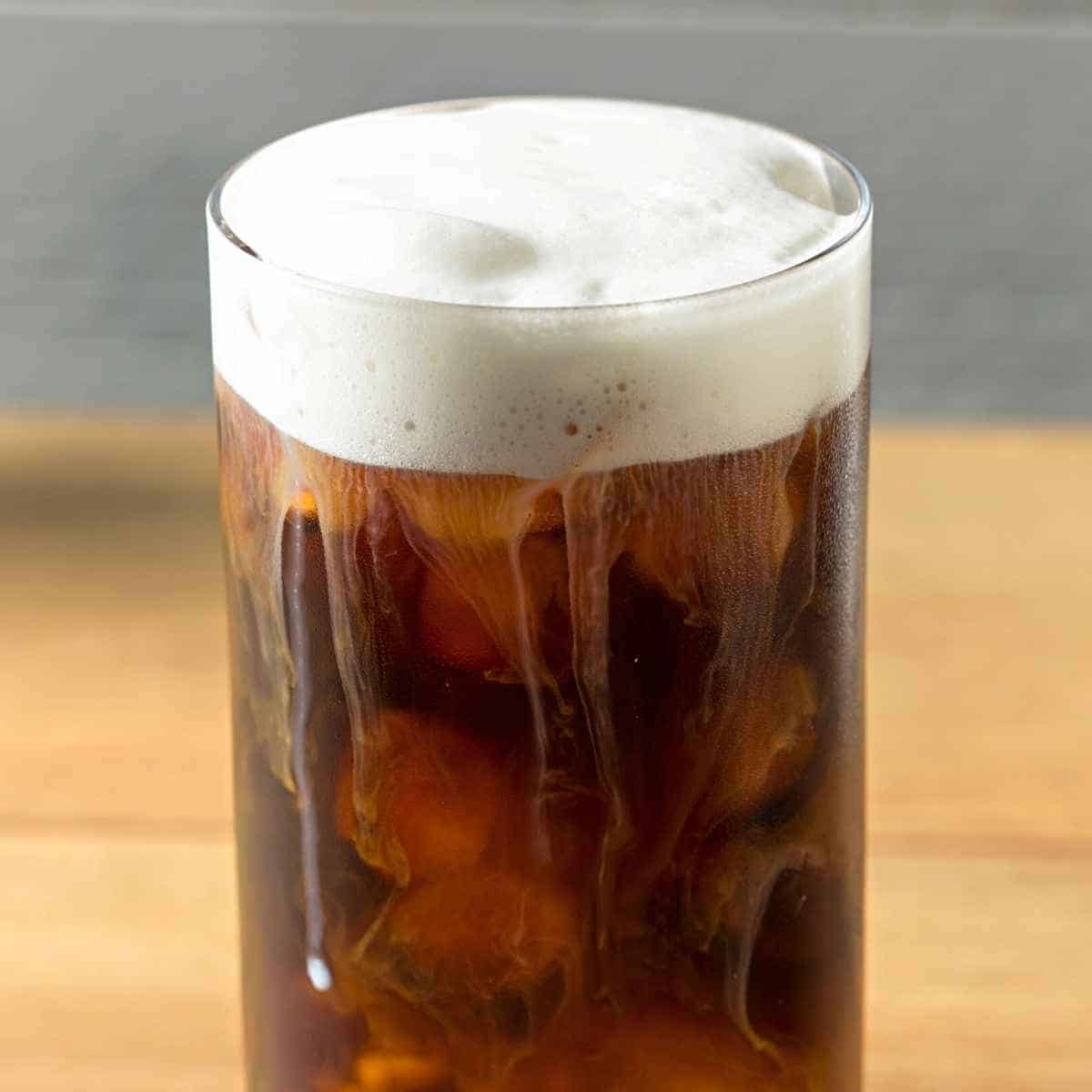 Cold Foam at Starbucks
The Starbucks cold foam has 35 calories, 7 grams of carbs which are all sugar grams, 0 grams of fat, and 2 grams of protein in a grande size (16 oz) cold brew.
The cold foam at Starbucks is skim milk and sweetened with vanilla syrup. (source) The vanilla syrup does have sugar so there is sugar in the cold foam. Therefore the foam is not keto-friendly. However, there is a way to make the Starbucks cold foam keto.
Ordering Keto Cold Foam at Starbucks
Ask to substitute heavy cream for the skim milk.
Lastly, ask for two pumps of sugar-free vanilla in the foam.
Milks
Starbucks can not make cold foam with coconut milk or almond milk. There is not enough protein in this milk to create the foam.
People often ask if you can get Starbucks cold foam dairy-free. The answer here is yes and no. You can ask them to top your cold drink with foam made with unsweetened almond milk plus sugar-free vanilla syrup (source). The texture will not be the same but it can still be delicious.
The only sugar-free dairy-free milk option at Starbucks is currently almond milk. You have to ask for unsweetened though.
Keto Starbucks Drinks with Cold Foam
These drinks may normally not call for cold foam, so you will have to ask for it.
Cold Brews

Cold brews on their own contain no sugar.

Nitro Cold Brews

Vanilla Sweet Cream: Ask for it with sugar free vanilla syrup and heavy whipping cream. Nitro cold brews on their own do no contain sugar.

Iced Americano
Iced Coffees

Ask for no classic or an unsweetened iced coffee. Their standard recipes calls for classic syrup.

Iced Lattes

Vanilla: Ask for a iced latte with sugar free vanilla syrup and unsweetned almond milk.

Keto White Drink

Ask to get an Iced Peach Tranqulity Tea with 2 pumps of sugar free vanilla syrup and light heavy cream.

Iced Flatt White: Ask for heavy cream in place of the whole milk.
Iced Caffe Latte: Ask for almond milk or heavy cream to replace the 2% milk.
Iced Macchiato: Ask to use almond or heavy cream in place of the milk and use sugar free vanilla syrup with no drizzle on top.
Iced Expressos

Iced Shaken Espresso: Ask for it with sugar free vanilla syrup and light heavy cream.

Iced London Fog Tea Latte: Ask for it with sugar free vanilla syrup and a splash of heavy cream.
Unsweetened Iced Teas
When ordering these drinks with the foam make sure you have them use heavy cream and sugar-free syrup instead of skim milk and regular syrup.
I've explained above how to make sure these drinks are keto. For some standard rules, heavy cream, almond milk, and sugar-free vanilla syrups are great substitutes for milk and syrups.
Also since Starbucks is very customizable, you can add cold foam to any drink you want really.
The Starbucks cold brew is keto-friendly. This is one of my favorite drinks to get actually.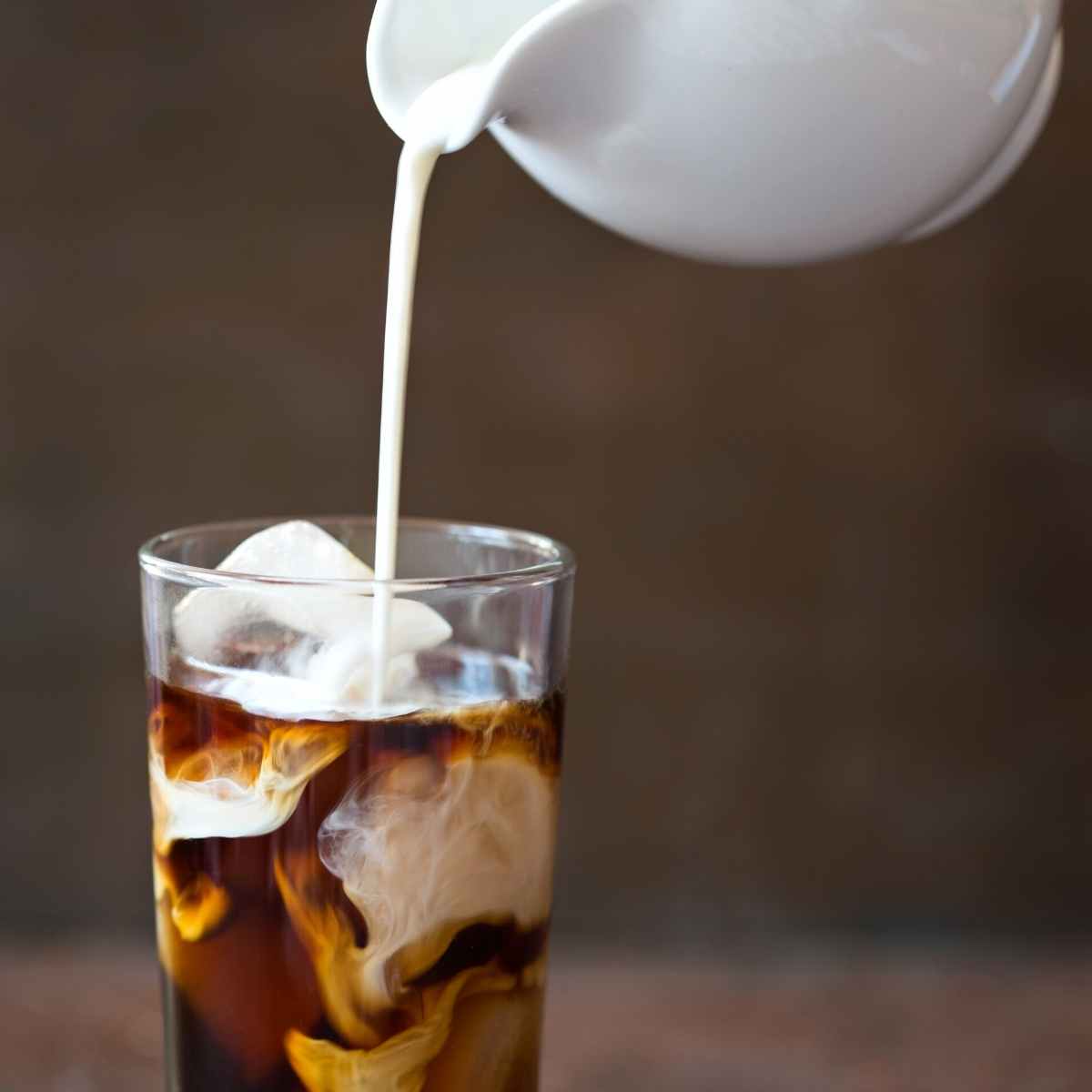 How to Make Keto Cold Foam
This cold foam recipe is also sugar-free so it's great for anyone looking to consume less to no sugar.
To make the foam keto and sugar-free we need to add some fat to help it frother. All unsweetened milk available for keto does not have enough protein to make foam-like non-fat milk has. So, we use liquid heavy cream to help froth the liquid.
Time needed: 1 minute.
How to Make Sugar-Free Cold Foam
Ingredients

Pour the following ingredients together in a cup. 1 tablespoon heavy whipping cream, 3 Tablespoons of unsweetened almond milk, liquid stevia, or monk fruit drops.

Blend

Use handheld milk frother and froth ingredients together. Mix until desired thickness.

Combine with Coffee

Pour silky cream over cold brew coffee or coffee of choice.
Flavored Cold Foam Recipes
Below are a few cold foam cold brew recipes you can easily make at home that can be cound at Starbucks or Dunkin.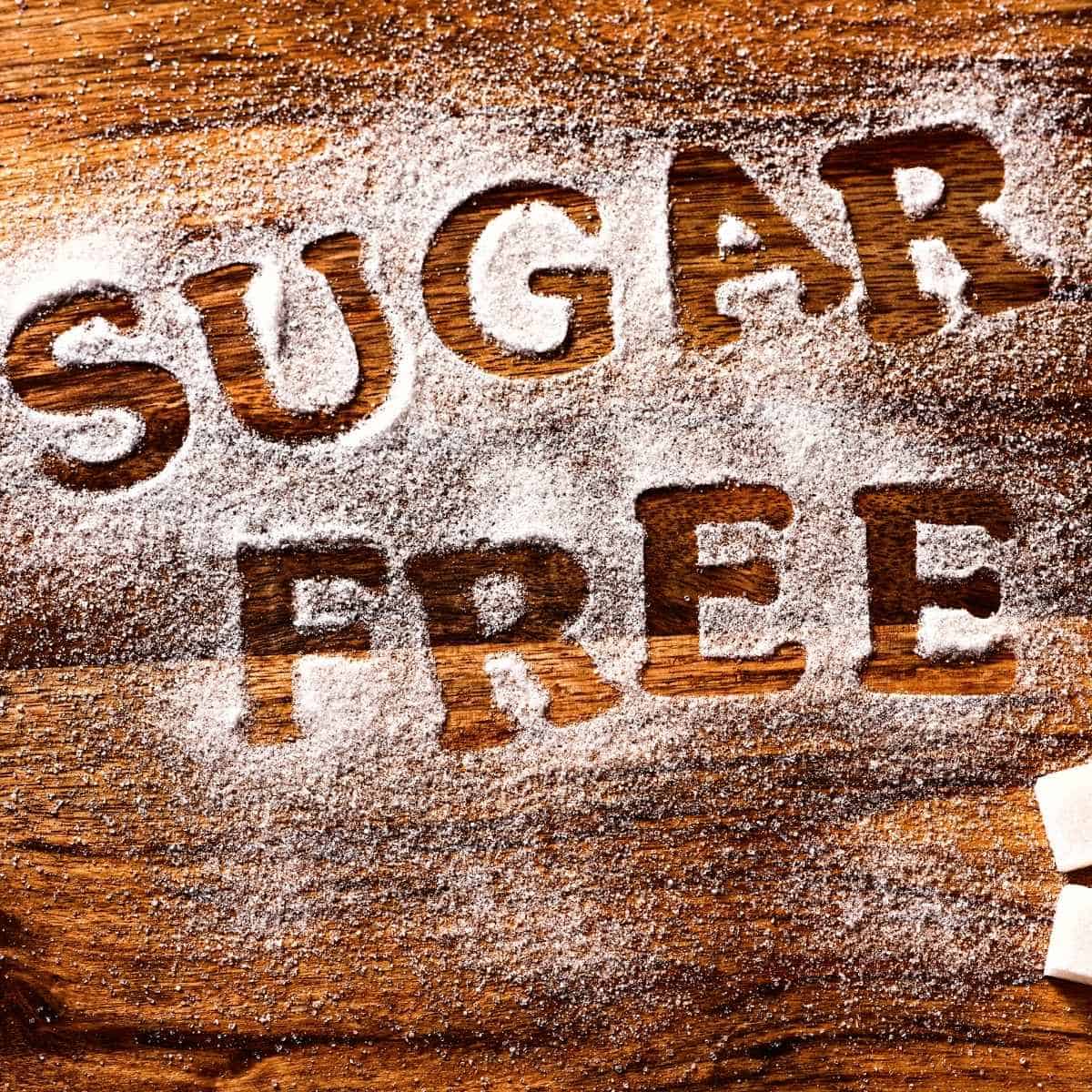 Sweetener Options
When making this keto foam recipe at home you have different options to sweeten your coffee and milk foam.
Erythritol is a good granular sugar alternative. I would use the powdered form to help avoid a gritty texture. I linked the Lakanto brand where there is some monk fruit mixed in.
Liquid Monk Fruit is easily found at stores now or on Amazon. It comes in dropper bottles. Lakanto even has a vanilla flavor you can use.
Stevia Drops are just like liquid monk fruit but it's stevia. Stevia Sweet Leaf has a bunch of flavors that you can use.
Sugar-Free Syrups is what Starbucks uses but you have more flavor options when you buy them yourself. The top 3 brands you can choose from are Torani, Skinny Syrups, and DaVinci Gourmet.
Milk Frothing Tools
Blender or Single Serve Blenders
Emulsion Blender
Handheld Milk Frother
Electric Hand Mixer
French Press: Just keep plunging to foam.
Mason Jar: Close and shake the jar vigorously.
I really love my Zulay Kitchen milk frother. It's very easy to use and clean.
Other Starbucks Recipes to Make at Home