As an Amazon Associate I earn from qualifying purchases.
I wanted to make a goat cheese burger because I wanted something a little different with my beef but also some cheese with no cow dairy. This recipe is also extremely easy to prepare, which is another plus in my book.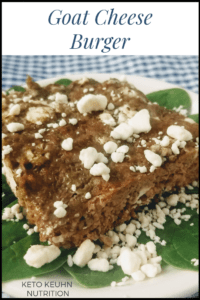 Goat Cheese
Did you know that those who can not handle cows milk or cheese are able to consume goat cheese? Goat's cheese is lower in lactose compared to cow's milk cheese. Some people are affected more by lactose than others.
As we get older our bodies may produce even less of the enzyme that helps break down this sugar in milk. Therefore, as we age, we may not be able to tolerate lactose as well.
Goat's milk has a different protein structure compared to cow's milk protein structure. The goat's milk cheese protein is easier for people to digest than cow's milk protein.
The amount of alpha S1 casein (a protein) is lower in goat's milk. Also, there are three times as much beta-lactoglobulin in goat milk compared to cow's milk. Beta-lactoglobulin is a protein that is easier to digest.
Goat's milk has more vitamins and minerals when looking at cow's milk. Vitamin A, D, B12, and minerals Selenium and Calcium are all higher in goat's milk. Minerals in goat's milk have also been shown to have better absorption in our bodies.
Another difference between goat cheese and cow cheese is that goat cheese has more fat and less protein. Having a higher fat content is what brings out the tangy flavor.
Lazy Cooking for Hamburgers
I am not sure why I never thought of this before for prepping burgers. Yet, last year I started to cook burgers in the oven when I wanted to make more than a couple at a time. Cooking them in the oven allowed me to cook them all at once. Also, the clean up was super easy.
There are two ways that you can precook your burgers in the oven. You can get a large enough baking dish, such as a brownie pan, or a cookie sheet with edges. For the cookie sheet, get some aluminum foil out and cover the sheet. Form your patties and place them on the cookie sheet.
Or if you are using the baking dish, spread the burger mixture in there and evenly spread out the meat. Once the meat has been cooled in the dish after you cooked it, you can then cut out your portions for each day.
Cooking times will vary depending on how thick your burger patties are but go ahead and cook it on 350 degrees Fahrenheit.
Recipe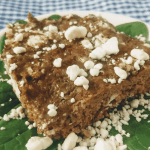 Print Recipe
Goat Cheese Burger
Ingredients
10

oz

80/20 Ground Beef

2

oz

Goat Cheese

3/4

t

Dried Basil
Instructions
Mix everything together and cook on the stove top or oven to your liking.
Nutrition
Serving:
1
g
|
Calories:
1464
kcal
|
Fat:
104
g
|
Protein:
86
g
|
Carbohydrates:
2
g