As an Amazon Associate I earn from qualifying purchases.
Since this zero carb pie crust is not made with any flours, it does not have the same texture feel you would expect from almond or even grain flours. Yet, it is still amazing! I think the best way to describe the texture would be like a graham cracker crust texture.
Ingredients
Pork rinds are the main ingredient in this keto cheesecake crust recipe. There's also butter and sweetener.
I understand that you may think I'm crazy here, but hear me out. When I used this crust with my pumpkin pie recipe I made for my family, they enjoyed it. My dad is the one that mentioned it was similar to a graham cracker crust.
Butter Substitution
If you can't handle dairy or butter, feel free to use coconut oil instead.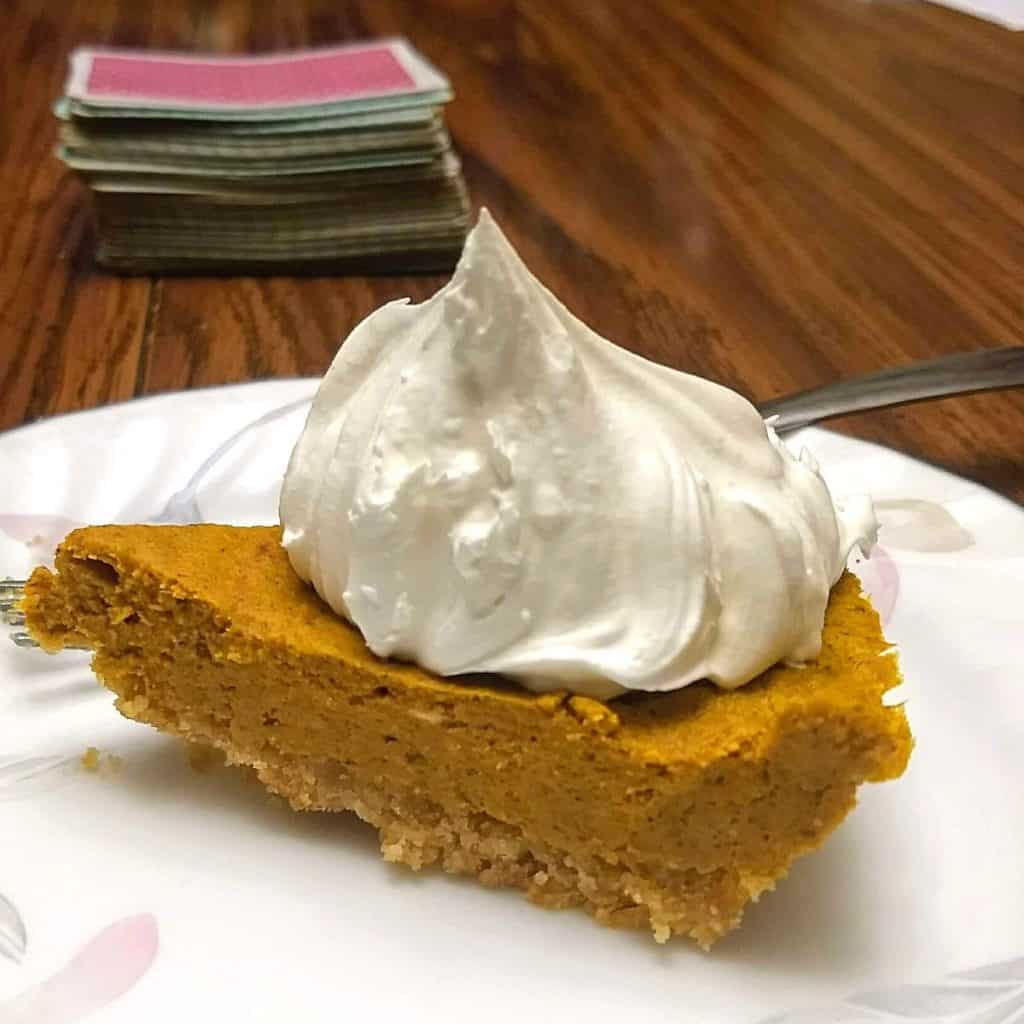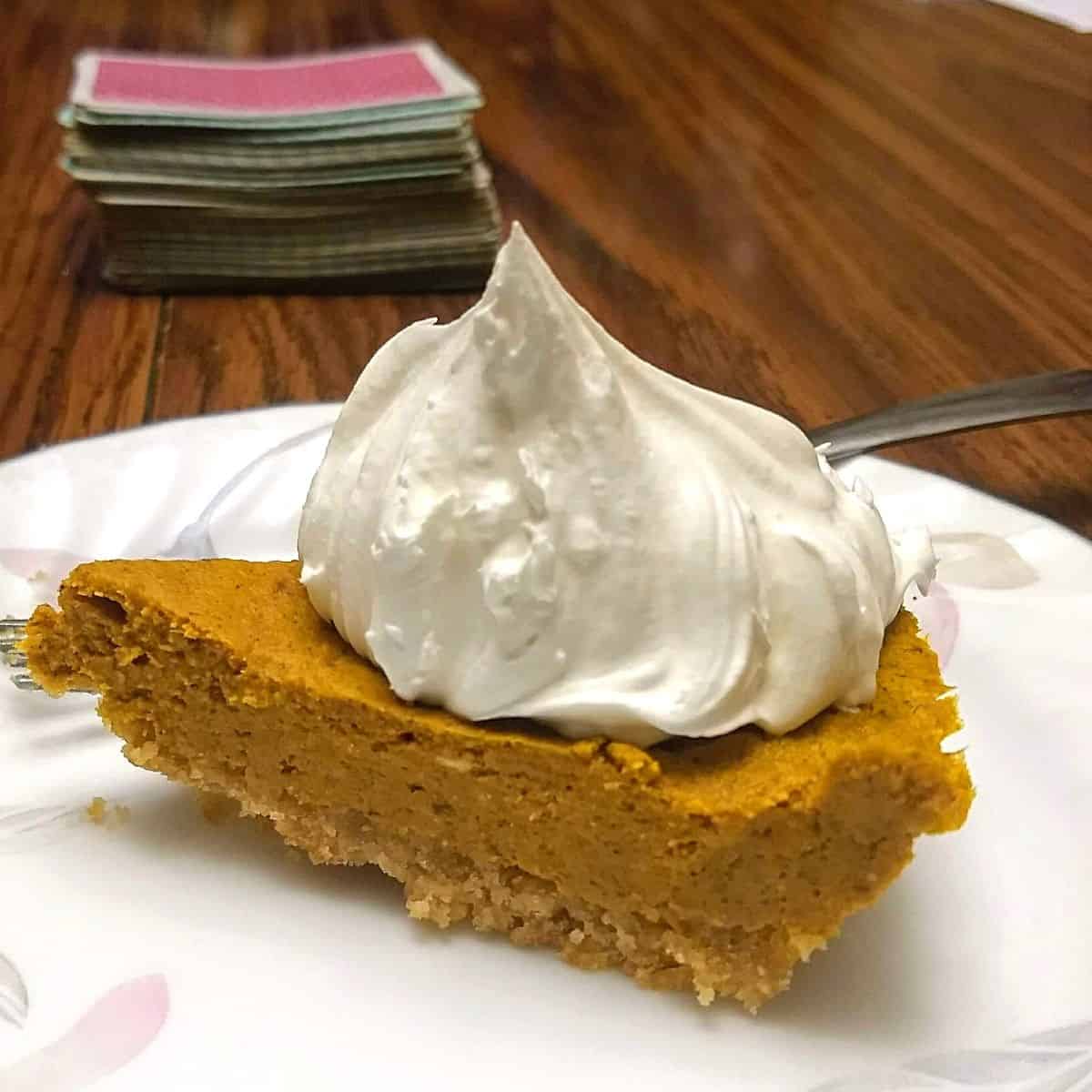 Tools to Crush the Pork Rinds
Below I have 3 ways that you can crush your pork rinds. You can use fancy equipment or not.
As a last resort, you can always buy already crushed pork rinds! I ended up finding some on Amazon. No need to clean a blender or food processor with these!
Food Processor
I really like using a food processor as you can dumb all of your pork rinds in the machine and they blend nicely. This also doubles as a good mixing bowl for everything.
Magic Bullet or Blender
If you don't have a food processor, you can also use a blender that also has a flat blade that you can use. Using a blender means that you may have to do this task in batches. Only put in a few pork rinds at a time and then toss them in a mixing bowl after they are crushed.
Plassic Bag
When all else fails you could just crush the crap out of the pork rinds in a plastic bag.
Visual Directions
Sometimes it's easier to follow directions when there are photos to follow along.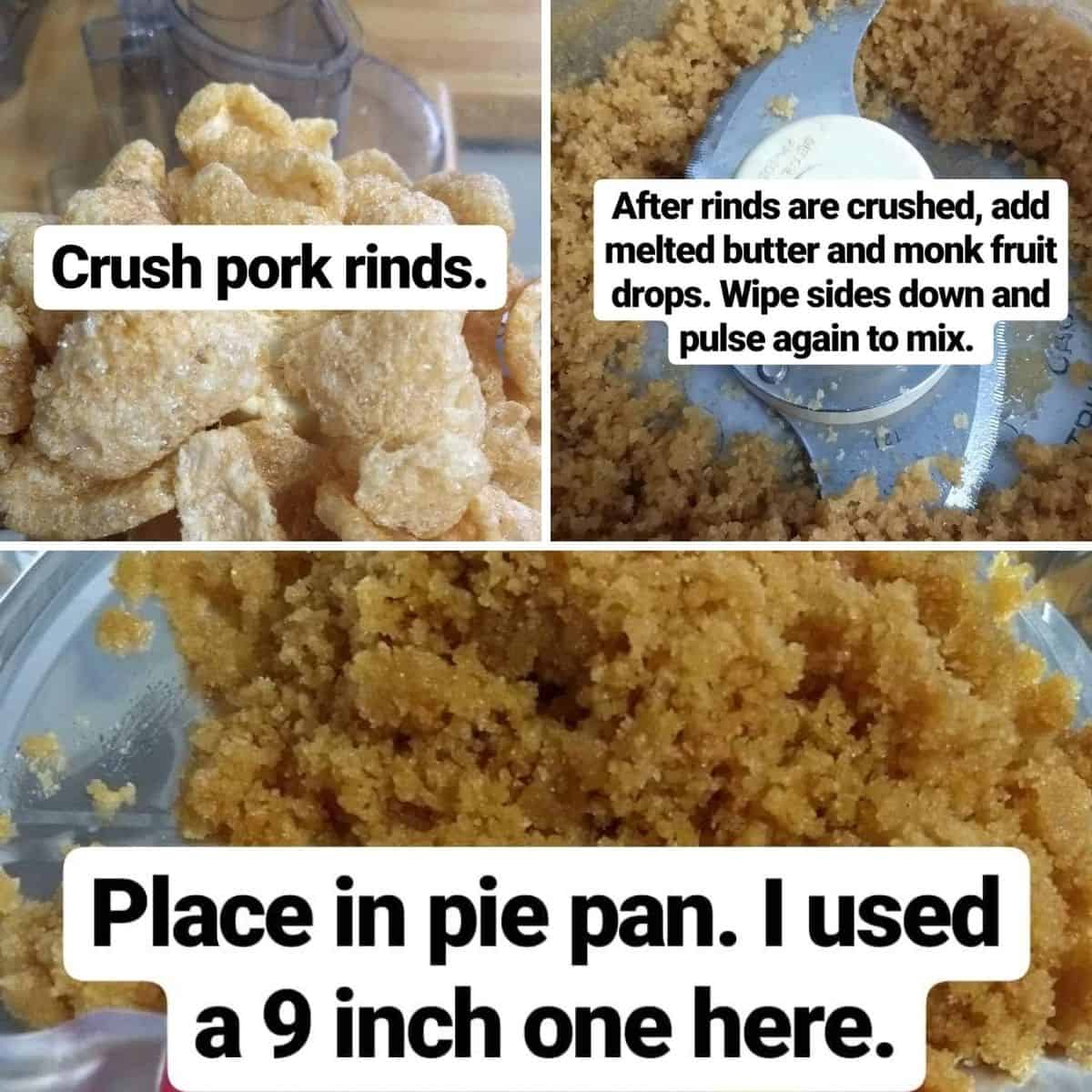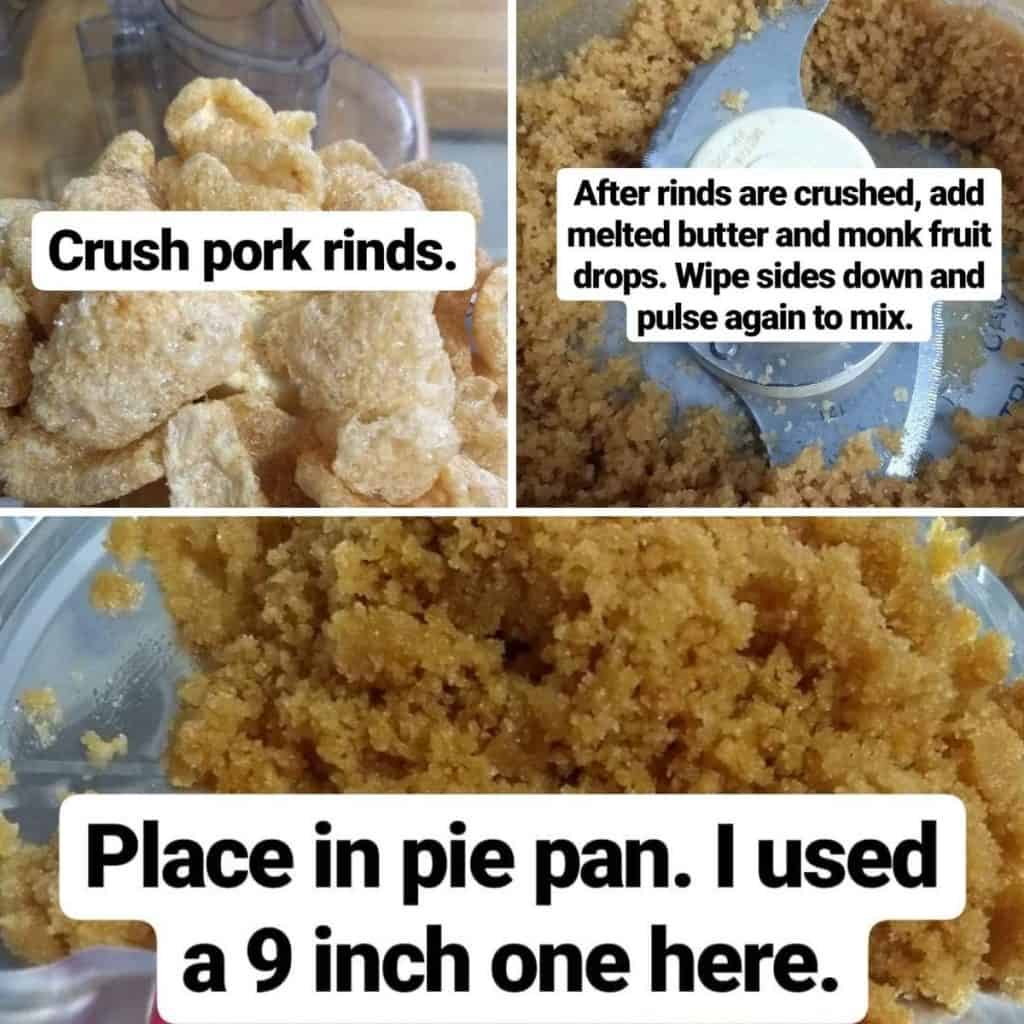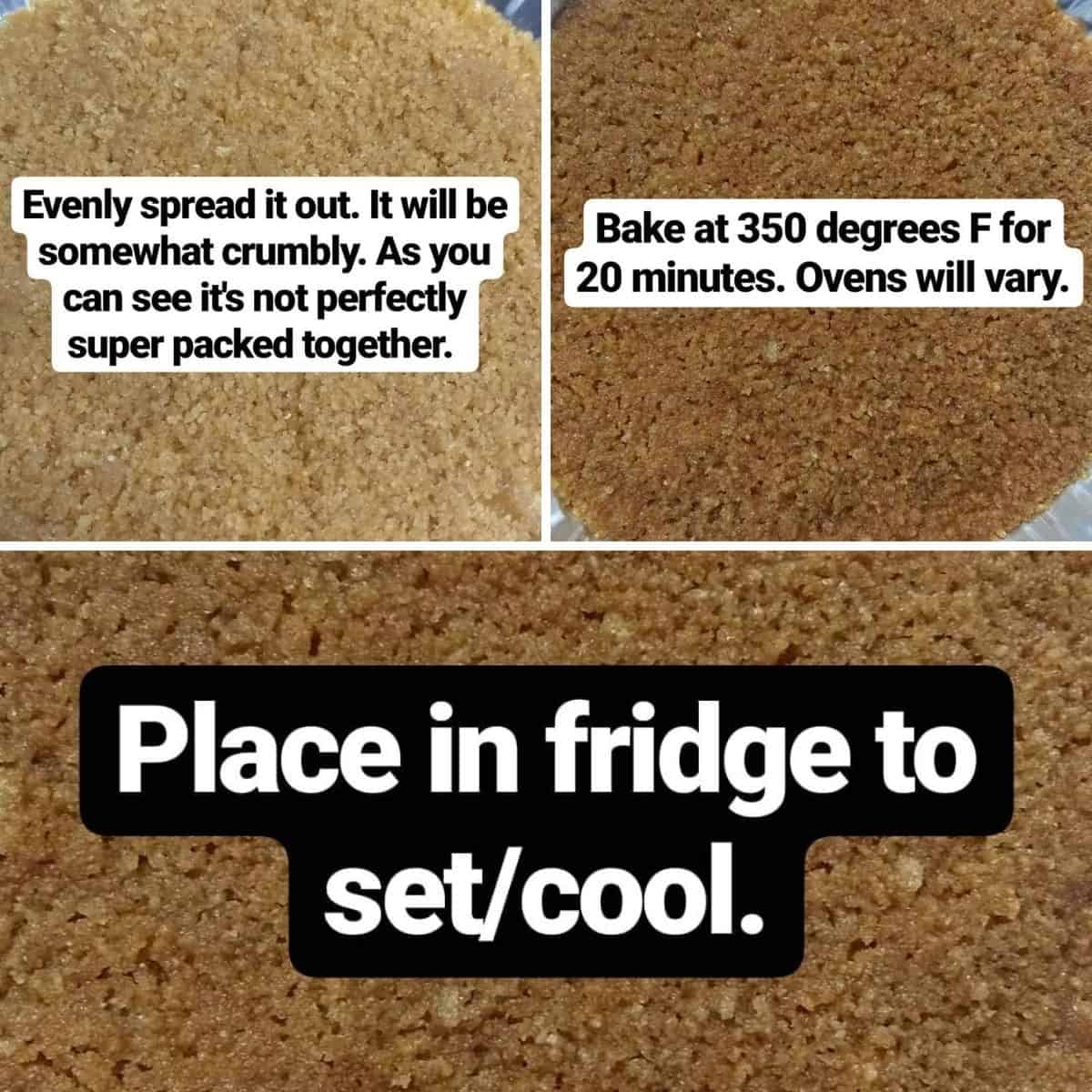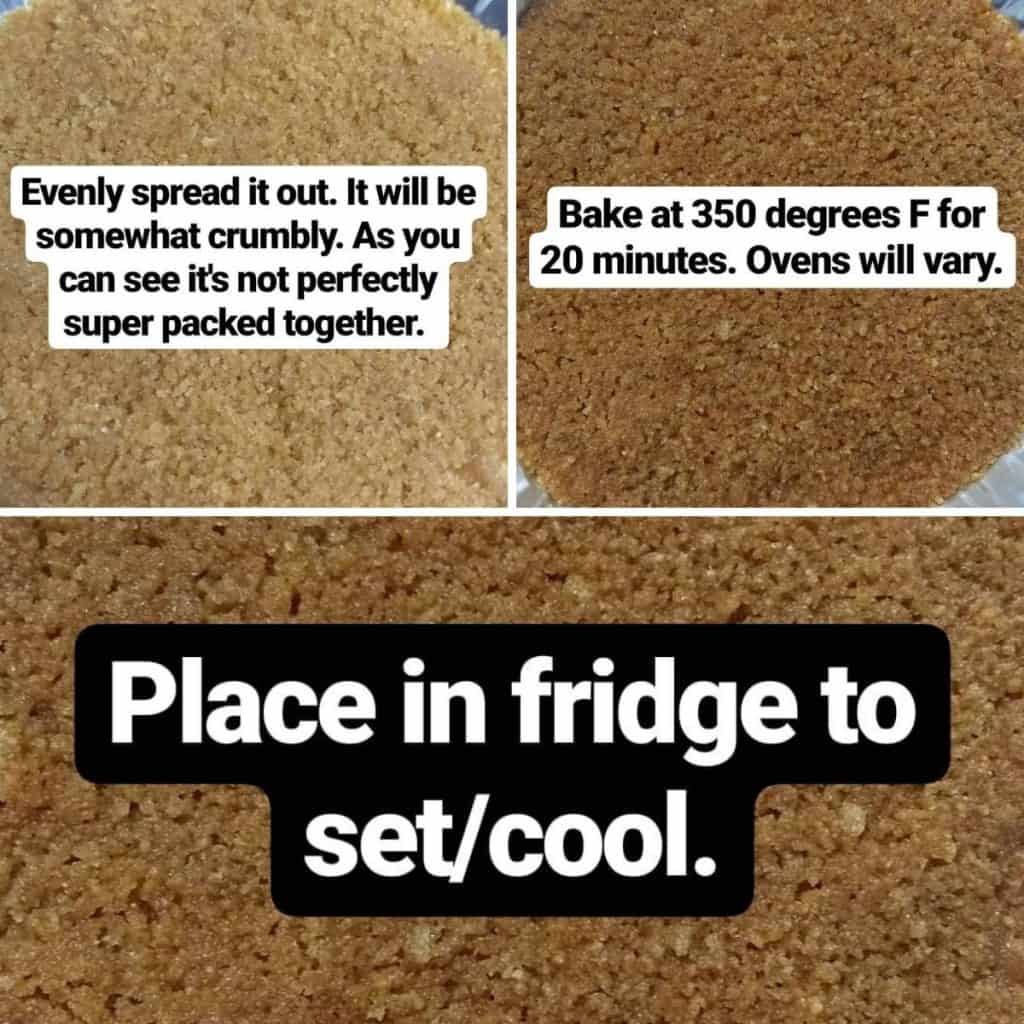 Additional Flavors
Kick things up a notch with your pork rind pie crust and add some special seasonings to this zero carb recipe. Adding cinnamon to this crust makes it taste more like Graham Crackers. Also, another cool spice that would be perfect for your pumpkin pie, is pumpkin pie spice.
You could even add some extracts to this crust. Or if you are making a chocolate cheesecake, add some cocoa powder to this crust. In fact, I added cocoa powder to my Mint Chocolate Cheesecake recipe.
Savory Pie Crust
Instead of going sweet, you could make a savory pork rind pie crust. A few of my go-to flavors would be garlic powder, onion powder, and paprika. Rosemary even sounds delicious.
Alright, so you have this savory pie crust, then what?
How about trying it with a quiche or even just a simple egg bake recipe. For my egg bakes, I like to just see what I have in the house for food. In the past, I have browned up ground beef, tossed in some cut up veggies, and cheese. Toss that in a baking pan, then pour over some scrambled eggs and bake in the oven.
This not only helps clear out the fridge but it also doubles as a nice meal prep for the week.
Keto Cheesecake and Pie Recipes
The recipes below are perfect to make with this zero carb keto cheesecake crust recipe.