As an Amazon Associate I earn from qualifying purchases.
Keto Camping Meals and Tips
You are keto and you want some keto camping meals. No problem! I have you covered. I even have a way for you to get your camping smores in. Along with providing keto camping meal ideas, I will also give you camping and keto tips. These tips will include how to prepare for camping, food tips, getting enough fat in, and getting your electrolytes.
If you are still craving more keto camping meal ideas, I've got some keto camping meal plans linked at the bottom of this page.

Your Meats
Camping keto can be super easy by just eating meat if you want, yet I know you may want more than just meat. I have options for you still below. To easily cook the meat, place the item directly on a fire grate or use a fire safe pan to place on the grate. Or you could also use your camping stove if you have one.
Steak
Hamburgers
Chicken breast
Chicken thighs
Pork steaks or chops
Bacon
Fish
Eggs. Not exactly meat, but I'm placing this here.
Hot dogs. I absolutely love Teton hot dogs or sausages.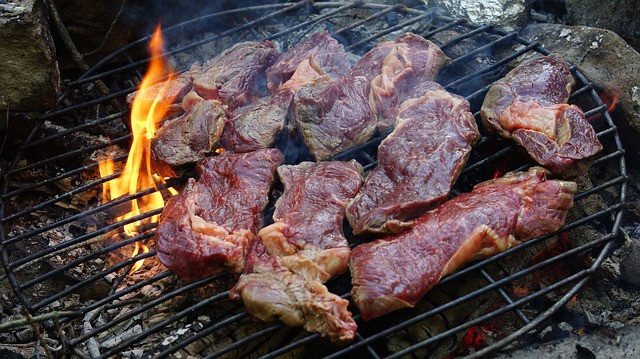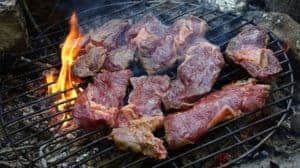 Low Carb Keto Veggies
Onions, in moderation
Broccoli
Cauliflower
Mushrooms
Spinach
Cabbage
Peppers
Asparagus
Zucchini
Breakfast Keto Camping Meals
As much as I hate waking up, I love a great cup of coffee in the morning by the fire as I soak up nature all around me. Some mornings I want more than just coffee and I'm sure you do as well. Here are some simple options for you.
Eggs and bacon. It does not get any easier than this.
Fatty Coffee. Get a battery frother if you go camping with no electricity.
Plan ahead and make Egg cups. I have a recipe for Mediterranian Pesto Egg Cups.
Keto Camping Meal Recipes
Now that you have enjoyed breakfast, here some meal idea for lunch and dinner. While camping I try to be as simple as possible if I want to really not have to worry about food.
Camping Skewer Meals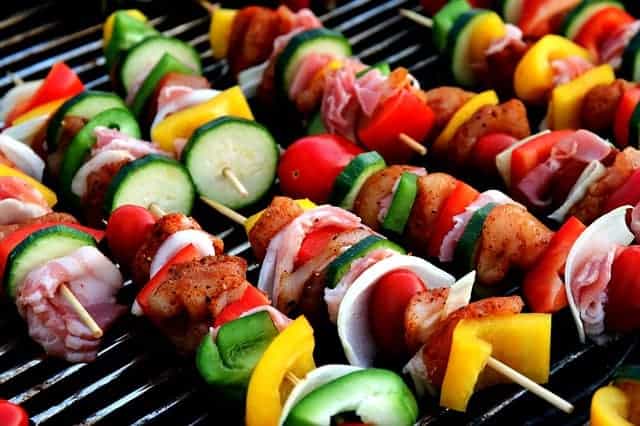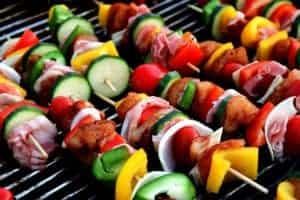 Cooking on sticks can be fun. These can even be prepped ahead of time and placed into a ziplock bag with marinade. Pick your favorite meat and veggies and stick them up!
Steak with onions and mushrooms.
Chicken breast with bell peppers, mushrooms, and onions or broccoli.
Shrimp with onion.
Cook bacon on a skewer.
Cooking in Foil Packs
How to cook in Foil Packs
Lay out the aluminum foil and place food in the center.
Fold up the short ends together then bring up the other edges together, to form a closed boat.
Cook food over the fire.
Cooking with foil packs is a very easy meal to prepare and cook over the fire. This also makes for easy cleanup. When you cook in foil, it helps keeps the moisture in and helps to prevent your food from drying out. I highly recommend getting the heavy-duty aluminum. I once got the cheaper version and I learned why it costs less. haha Get the heavy duty!
Wrapping and Stuffing Food
Wrapping and stuff food can be a fun way to bring your whole dish together.
Wrap bacon around everything. Asparagus is a great veggie for wrapping in bacon. The chicken breast would be great meat to use to make fattier with the bacon. Or a new take on bacon cheeseburgers. Wrap your beef patties in bacon.
Onion Bombs. Onions stuffed with meat and or cheese.
Hallow out bell peppers and stuff meat and spices in there and cook in foil.
Roll out thin strips of meat and roll it up with thin slices of veggies or cheese. Cook on the fire or grill.
Other Keto Camping Meal Ideas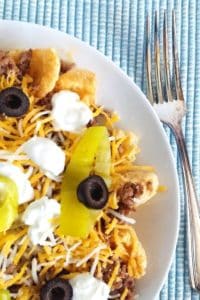 Walking Nachos. Get a back of Quest chips or put some pork rinds in a Zip Lock bag. Then add all of your toppings into your bag of chips. Meat, cheese, sour cream, diced tomatoes. Make it your own.

In fact, I have a nachos recipe on my site. I just eat mine on a plate though. 🙂

Pizza. How about a cheese curd crust pizza? I am a Wisconsin girl and I love my cheese curds. Get a cast iron pan and place your cheese curds on the bottom. Then add your toppings. Place your pan on top of the fire or grill to cook. Oooey Gooey keto camping pizza.
Baked veggies and meat. Get a through away aluminum sheet pan. Dice up veggies of your choice and toss them on the tray with oil and seasonings. Put your meat on another tray with similar seasonings. Place the two trays on your fire grate.
Homemade chicken salad with lots of mayo to help with getting your fats in.
Lettuce wraps with deli meats and sliced cheese.
Salads.
Keto Camping Snacks
Instead of one main dish, have a bunch of snacks and make that into a meal. Or heck, snack all day. This is your vacation time to eat how you want to. :0)
My Favorite Keto Snacks
Dang Bars. I recently started to eat these. I love how the ingredients are simple without any crazy sweeteners. These bars come in 6 flavors and they are a recent go-to treat for me. These are also vegan if you are keto vegan. 🙂
Stoka Bars. I only had the privilege to have one of these and I fell in love. These are a great replacement for the Nature Valley bars.
Keto Brick. This is another product that I love. Just one keto brick will give you 1,000 calories. You can have one whole bar as a keto meal replacement or you can cut it up. People often melt it down and pour into smaller fat bomb molds. My favorite flavor is Cookies and Cream Crunch.
Pork Rinds. These are a great chip replacement. There are basic plain flavors but there are also BBQ or Jalapeno flavors from some companies.
Hard Boiled Eggs. Make these ahead of time to make your camping time even easier or make them over the fire in a pot. I enjoy a cold hard boiled egg with lots of mayo to help keep the fats high.
Cheese. String cheese, snack pack cheeses, sliced cheese. Cheese is always an easy and quick snack.
Beef Sticks. I love having beef sticks on hand. You don't need to refrigerate them and they are easy to carry with you. Nick's Sticks are my favorite.
Keto Nuts. Two of my favorites are macadamia nuts and pili nuts. These two nuts are high in fat and low in carbs. Pili nuts are the ultimate keto nut, in my option.
Other Snacks Great for Camping
Perfect Keto put together a large 46 keto snacking list. Most of these snacks are grab and go. Others you may need to prepare some.
Camping Drinks
Alright, you are on vacation and that means it is time to relax with a nice cold drink. Drink Water. Keep it simple. 🙂 Water is truly best but I understand that you may not always want water. So here are some other drinks to enjoy.
My simple Pina Colada Recipe
Electrolyte powders that you can add to water. Electrolytes and water are extremely important in summer especially when you are outside in the sun and are active. It is a lot easier to deplete your electrolytes during this time.
Zevia Soda
Keto Smores
You can't end your dinner with no dessert. Right? I mean camping is truly about smores at night.
Keto Smores! This one takes some planning but if you really smores, you can get them. 🙂
Keto Camping Tips
I grew up camping as a kid and still continue to go camping as an adult. Therefore, I have picked up on some great tips while venturing the great outdoors. You may already know some of these tips or you may pick up a few new ones.
Getting Ready
I am a person who loves a good list. I think I got this from my dad because he had a checklist he used before camping. This list was around 3 pages long and stapled on the back of an old potato chips box.
A list of what was or already should be in the camper.
A list of everything else that was needed to be packed.
Food Tips
Storage
Bring two coolers. Make one cooler for drinks only and the other for food. Or maybe you need two coolers for food. Make one of these food coolers for the meats and the other for everything else.
Egg Storage. Egg storage can be hard but I either keep them in their cartons or use this cool 80's early 90's egg storage container. This container will hold 12 eggs.
If you have your food in a plastic bag, place this bag into a Zip Lock bag, as if the first bag leaks, you have a backup bag.
You could even freeze some of your food ahead of time and these items can be used as ice blocks until you want to eat them. Be careful though with thawing meat. Ideally, you should not leave the meat out on a countertop to thaw out as this could breed bad bacteria to grow.
Prep at Home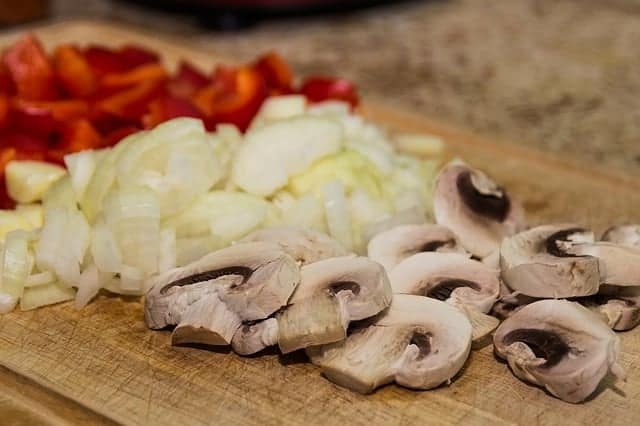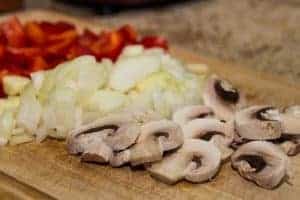 Precut and dice your meat and veggies at home before you go.
Cook some your meals ahead of time. Such meals could be muffins, casseroles, the keto egg loaf, meat for salads, or even some hard boiled eggs for snacks.
Preparation your servings at home so if you are tracking you can be sure to be spot on with your food intake.
Cooking Gear and Utensils
Invest in a tripod grill. I grew up with these and they are perfect for cooking over the fire. You can control the heat more by lowering or raising the cooking surface.
Remember that fires are hot, so do not bring those oven gloves. I love having Ove Gloves or gloves that are similar
Castiron pans and pots. I love cast iron as they can take a beating and still work great. Cast irons are also great for cooking over the fire. If you can't invest in cast iron cookware, get something else that would work great over the campfire.
Getting Fats In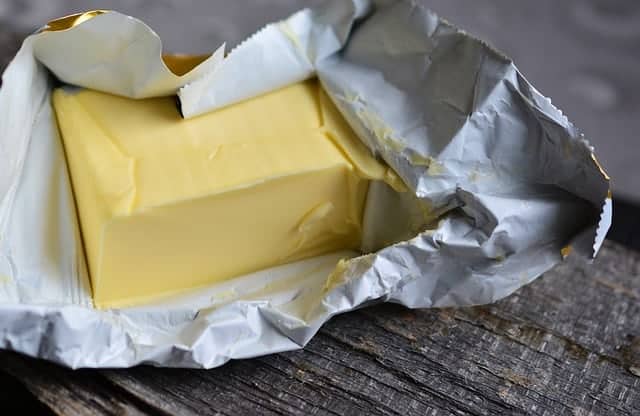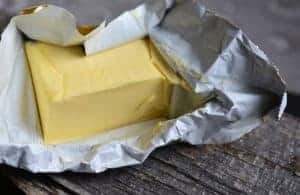 Eating meats with a higher fat percent will help you. Chicken thighs instead of chicken breasts. Choose a higher fat steak compared to a lean steak.
Bring added fats along with you such as butter, mayonnaise or coconut oil.
Prepackaged fat packs. F-Bombs make some killer macadamia nut butter with other added oils. This company also sells individual oil packs. This item would be great to carry on you if you are taking a long hike.
Electrolytes
I can't stress it enough that electrolytes are important especially in the summer while camping. Electrolytes do not become more important in summer but they are easily depleted during the summer and during higher activity. Every time you sweat and pee is a moment when they are being depleted.
A few signs to look out for are headaches, muscle cramps, and being extra tired.
Supplements
Electrolyte supplements are an easier way to get them in. These are a few of my favorites.
Keto Camping Meal Plans on My Site
No-Cook Keto Camping Meals

I wanted to make a meal plan where you did not have to cook your food because sometimes doing that is just easier.

3 Day Camping Meal Plan

This meal plan and my 7-day meal plan give the macros for each of the meals.

7 Days of Keto Camping Meals

This is the meal plan that I personally ate when I was doing the Deeper State Keto weight loss program and lost 21 pounds.