As an Amazon Associate I earn from qualifying purchases.
This 3 day keto camping meal plan is great for a weekend trip. I have provided the macros for each day. If you need a different set of macros and calories, you can adjust the day as needed.
Camping Meals and Tips
If you want further food ideas and keto camping tips, I have created a resource for you on my site. There is also a post with 20 camping recipes for even more ideas.
Meal Notes
For the following items, bacon, beef patty kielbasa, and pulled pork I have gotten these from Costco. The bacon is precooked and the beef patties are preformed frozen ones.
The bacon is not the top notch stuff but it works and makes camping easier as it's precooked. I also used Primal Kitchen's mayo.
You may also have noticed that I don't do a lot of veggies and have kept my carbs really low. If you do want some veggies, feel free to add them.
This weekend keto camping plan is only a guide to help get you started. To make it really easy, you could eat more of the same food every day.
3 Day Meal Plan
Day 1
Breakfast: Coffee, 2 T butter, 1 egg, 2 slices of bacon
Lunch: 1 performed ground beef patty, 2 oz Muenster cheese, 1 T mayo, romaine leaf to wrap the cheeseburger
Dinner: 140 grams of Kielbasa Smoked, 1 T mayo
Snack: 2 T heavy whipping cream.
Macros: Calories-1500 Fat-139 Protein-66 Carbs-4. This day is 83% Fat.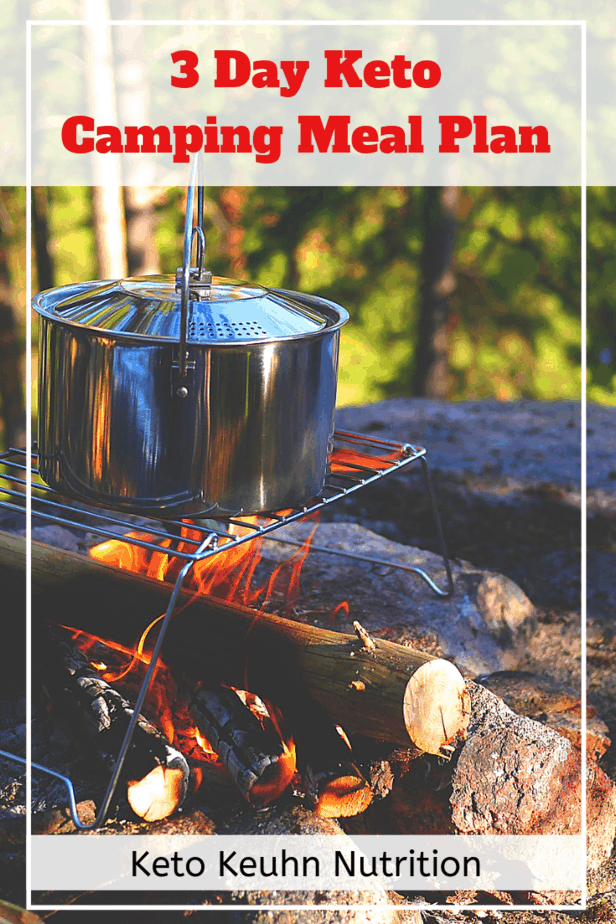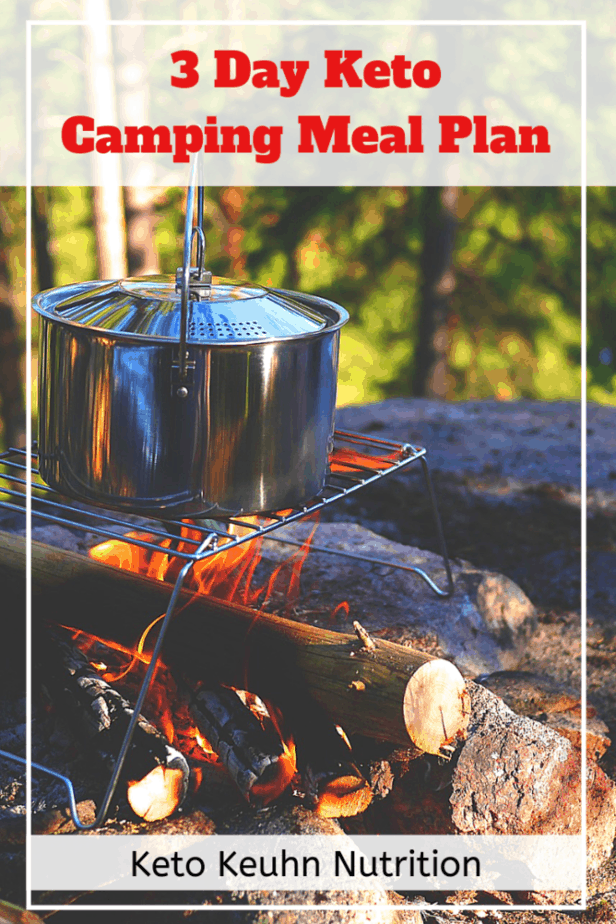 Day 2
Breakfast: Coffee, 1 T butter, 1 T heavy whipping cream
Lunch: 1 hard-boiled egg, 2 romaine leaves as a bun for 2 Applegate hot dogs, 1 T mayo
Dinner: 5 oz Kirkland's Smoked Pulled Pork (this is precooked), 2 oz shredded cheddar cheese
Snack: Fat bomb treat. Give my butter pecan fat bomb a try. For the macros of this snack, I put in for 23 grams of fat. I did not count the protein or carbs as this can give you the option to add nuts or not.
Macros: Calories-1354 Fat-120 Protein-71 Carbs-2. This day is 80% Fat.
Day 3
Breakfast: Coffee with 2 T butter
Lunch: 2 romaine lettuce leaves for wraps, 2 slices of bacon, 3 oz of Boar's Head Oven Gold Turkey deli meat, 1 oz of baby swiss, 2 T mayo
Dinner: 2 preformed beef patties, 2.5 oz cheddar cheese
Snacks: fat bomb treat. How about a mocha flavor? Give these mocha fat bombs a try.
Macros: Calories-1608 Fat-143 Protein-79 Carbs-3. This day is 80% Fat.
Other Camping Meal Plans
No-Cook Keto Camping Plan

I wanted to make a meal plan where you did not have to cook your food because sometimes doing that is just easier.

7 Days of Camping Meals

This meal plan also provides the macros for each day.