As an Amazon Associate I earn from qualifying purchases.
The pina colada drink was one of my favorite drinks growing up. Strangely enough, when I was old enough to have alcohol, I still loved the virgin version better. This is one reason why I made a virgin recipe.
Also, making this a virgin drink, makes it cost less and uses fewer ingredients.
What a Pina Colada Tastes Like
The name Piña Colada is translated to strained pineapple. The drink is made with pineapple juice, coconut cream, and rum.
Making the two flavors of this summer drink to be coconut and pineapple along with some rum. In this classic drink, ice is also used to make it a nice milkshake feel.
Ingredients
Heavy Whipping Cream: I like using this instead of coconut milk or coconut cream because it costs less and it is usually a staple for the low carb or keto community. However, if you can't tolerate dairy, try this recipe with unsweetened coconut milk.
Bai Puna Coconut Pineapple drink: This drink brings all the flavor to the recipe. They did a great job at the flavor and keeping the net carbs low per serving without needing any fresh pineapple. This company truly made making this drink much easier for me and for you.
This price is for 12 total bottles.
Dairy Free
If you wanted to make this keto pina colada dairy free, I would use canned coconut milk instead of the cream. You could even use an unsweetened nut milk.
Instructions
This drink is incredibly easy to create. All you have to do is mix the heavy whipping cream with the bai puna coconut pineapple drink. That's it! Add some ice to make colder.
To make it fancy, go ahead and toss some unsweetened coconut flakes on top of it. If you really wanted to, you could add a slice of fresh pineapple on the rim. Just don't eat it. 😉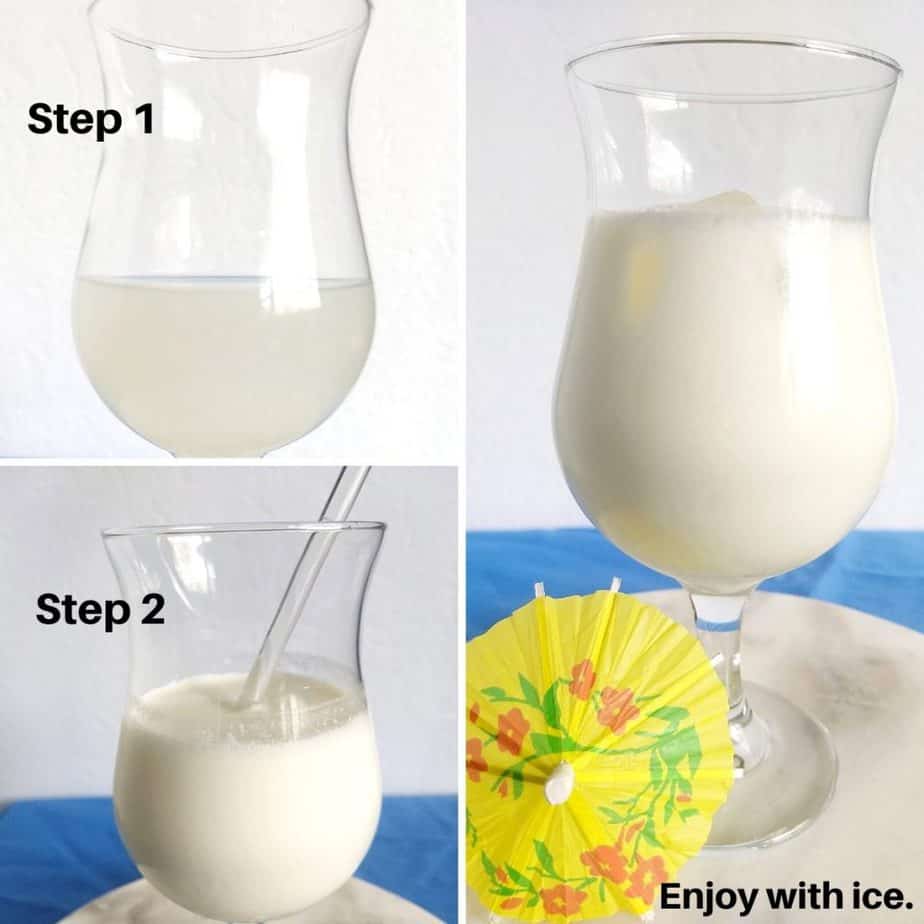 Variations
I wanted to keep this recipe as simple as possible however there are ways to kick this keto Pina Colada up a notch.
Add some protein powder or better yet add some collagen to help make it extra frothy. Add some rum and make it an adult beverage.
To make this a chilled blended drink, freeze some of the bai drink. Then blend everything in the blender with some rum, if you wish.
Alcohol on Keto
This recipe may have no alcohol in it, but you may want it. I get it. Alcohol can be fun and after all, it's in a true pina colada.
Yet, can you really have alcohol on a keto diet? Yes, yes you can! Yet, there are a few things to keep in mind. By being keto, you will get drunk faster. Trust me, unlike my husband, did.
He was not able to drive home after 2 beers. haha Also, weight loss may be harder for you if you are drinking too much. When you drink alcohol on any diet, your liver will processes the toxins first before any other nutrient, such as carb.
Tasteaholics wrote up an article explaining in more detail about alcohol and keto. They even give you insight into what drinks are more suitable for the keto lifestyle.
Rum & Keto
One quick note for you. Rum does have zero carbs. 🙂
Other Keto Drinks to Try
If you make this drink please rate the recipe and let me know your thoughts in the comments.