As an Amazon Associate I earn from qualifying purchases.
Having an orange creamsicle was one of my guilty pleasures as a kid in the summer, heck even as an adult. This keto creamsicle cheesecake hit my taste buds and brought me back to summer as a kid. The best thing is that it won't melt all over the place.
What is an Orange Creamsicle & What Does it Taste Like?
A creamsicle is vanilla ice cream with an orange popsicle coating around the ice cream on a stick. The taste was simply magical goodness. When you bit into it, it produced a creamy orange flavor that you wanted to last for the whole summer.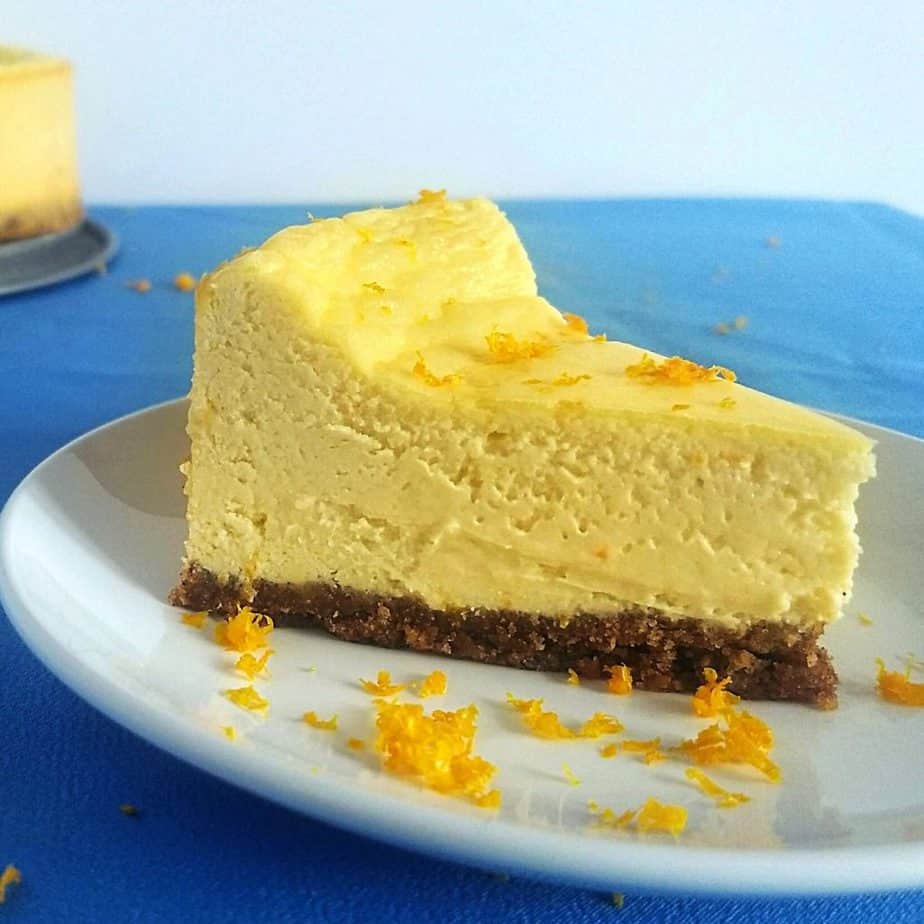 Ingredients
Cream Cheese
Mascarpone Cheese
Heavy Whipping Cream
Eggs
Orange Extract
Vanilla Extract
Pure Monk Fruit Sweetener
Orange Zest
In most cheesecake recipes you will not find mascarpone but I wanted to make this cake extra special and up the fat some while lowering the carbs. Therefore, I kept the sour cream out of this recipe and used heavy whipping cream as well.
Getting the Flavors Just Right
After getting the base recipe set, I knew that the orange creamsicle flavor needed to be just right. Not too much orange but not too little. There also needed to be enough vanilla flavor joining in with the orange.
While testing the right flavor combination for the keto creamsicle cheesecake I noticed that different brands of an orange extract made a huge difference in the orange flavor strength. For this keto creamsicle cheesecake recipe, I used the McCormick brand.
Lastly, using fresh orange zest made for the perfect balance of getting the orange flavor just right with the vanilla creamy taste.
Tips
Leave out the cream cheese, mascarpone out at room temperature. I even left them out overnight and no one got sick.
Try your best not to over mix when you are beating everything together. Some lumps are okay.
Everyone's sweetness level is different. So before you bake it, take a taste test and make sure you are happy.
Sugar Substitutions
There are a few sugar substitute options that are popular for keto desserts. My top two have been erythritol and monk fruit.
Erythritol
Erythritol is the most popular and is widely used in online recipes. Erythritol comes in granular and conventional forms and it has 70% of the sweetness of sugar. Erythritol is a carb that does not affect your blood sugar levels, but it's still a carb that could make you bloat. This sugar comes from corn also.
If you use erythritol for your keto orange cheesecake I suggest using about 1/2 Cup of the powdered form. However, still, test and see if it's adequate for you. Using a powdered form helps prevent the cooling effect. I have used erythritol before on my site but now I like using monk fruit now.
Monk Fruit
I use two forms of monk fruit in my recipes now. There is a pure liquid form or there is a pure solid extract form. I have found both of these to be the least expensive on Amazon compared to their personal site. The brand that I love is Lakanto. The previous links will take you to Amazon.
By using monk fruit, you will be using a lot less of the sweetener itself to produce the sweetness level that you want. For example, for the pure monk fruit extract with 30% mogroside, for 1/3 cup sugar, you would use 1/8 teaspoon of the monk fruit powder.
Reviews
I brought these keto creamsicle cheesecakes to work with some added erythritol and monk fruit mix. Those that dared the keto treat, LOVED them. I labeled them orange cheesecake and they told me that it was like a creamsicle. Success!
One guy told me that it was wrapper licking good. The next day he told me that he ate 4! Another person wanted me to save the one I had at my house still for her when she worked next.
Storage
I would keep this orange cheesecake in the fridge for up to a week. You can also freeze it.
To do so, I would allow it to fully cool first then wrap it in plasstic wrap as tightly as you can to have little air. I would then wrap it with tinfoil to help more against freezer burn.
Gluten Free Crust
If you would like to use the crust I have in these orange cheesecake photos, there is no need to worry about any additional carbs. 🙂 I created a gluten free and carb free crust for any keto cheesecakes or keto pies you may have to bake. Please check out the recipe by clicking the link in this paragraph.
If you make this recipe, give me your rating/review in the comments below.