As an Amazon Associate I earn from qualifying purchases.
This butter pecan fat bomb recipe is my most favorite to date. I absolutely love butter pecan. It's an amazing ice cream flavor and amazing dessert flavor for just about anything.
It took me over a year of being keto to realize just how easy it would be to make a fat bomb of this glorious flavor.
The best part of this recipe is the browned butter flavor you get in every bite. In fact, while I was testing this recipe, I didn't even add pecans at first. The brown butter is just simply amazing!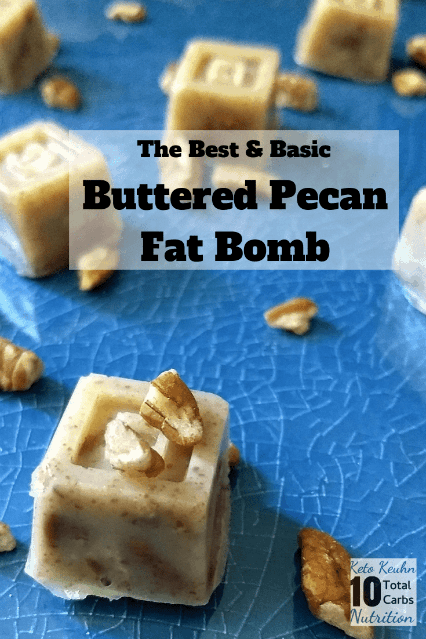 Tips on Browning the Butter
Tips from YouTube
One tip people have said was to use a light-colored saucepan, which will help you see the butter get brown. I agree, great tip. Unfortunately, I did not do this. I used a black small pot. It can be done with either device. 🙂
Another thing they mentioned was to remove the brown butter from the pan right away once it has browned. This is where it varies from what I did.
When the butter starts to brown, I like to make sure my heat is on the lowest setting and continue to mix the butter liquid and solids for another 1 to 2 minutes. I then turn the heat off and keep it in the same pan to cool. To me, this kicks it up a notch.
How I Browned my Butter for the Butter Pecan Fat Bomb
To start, I put my heat on low or medium-low. I use a spatula to lightly move the butter around in the pan as it's cooking. The butter will bubble and foam. This is okay. I try not to let it bubble too much though, as I don't want it to get too hot and burn.
Once it does get bubbly, I turn the heat down more, if it's not already on it's lowest setting.
Then like I mentioned above, I like to leave the heat on low for another 1 to 2 minutes after the butter starts to brown some. After these few minutes, I turn the heat off and let it cool in the pan and let it thicken up.
However, to take less time to cool the butter, I would transfer it to another bowl. Or even stick that bowl into an ice bath (don't physically let the butter touch the ice).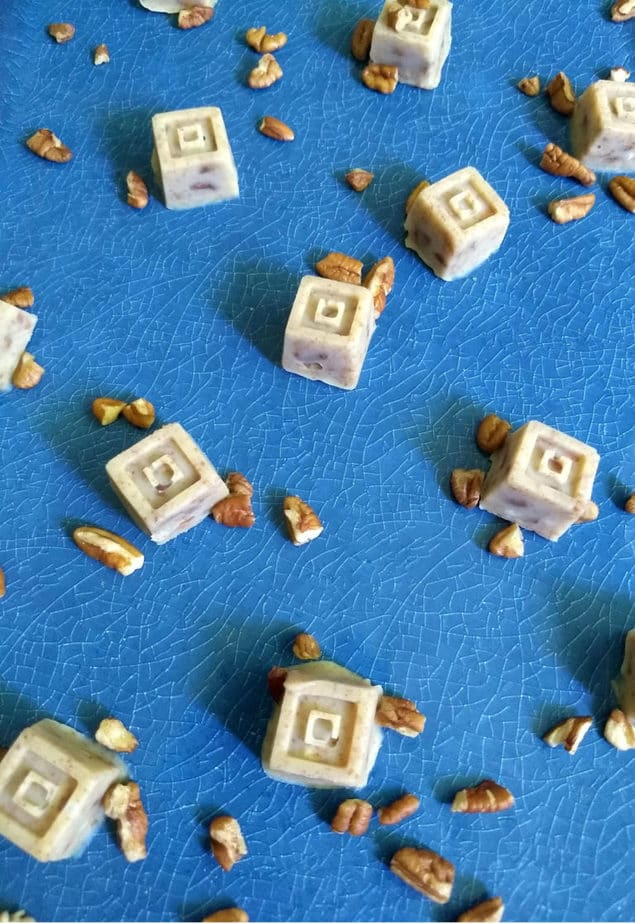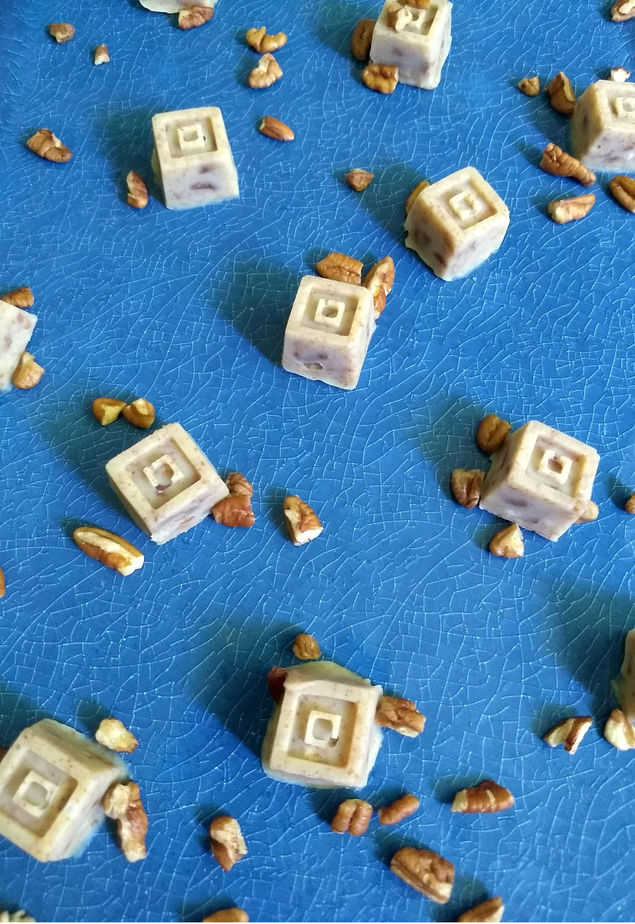 Fat Bomb Molds
In this butter pecan fat bomb recipe, I used a mold that holds about a half tablespoon of liquid. I enjoy having smaller fat bombs on hand, so I can easily increase my fat if needed or I can just have a variety of fat bomb flavors.
Fun Molds from Amazon

Simplifying the Butter Pecan Fat Bomb Recipe
I mentioned before that I loved eating just the butter mixture without the nuts as I was testing this recipe with monk fruit and vanilla. You can take this even a step forward, or should I say a step back?
This recipe can get even easier by not adding any sweetener or vanilla. I personally don't need the sweetener in the browned butter. The vanilla does help give it the right taste for the butter pecan flavor though.
It's all about what you want from these. Maybe try them with and then without the added items.
Recipe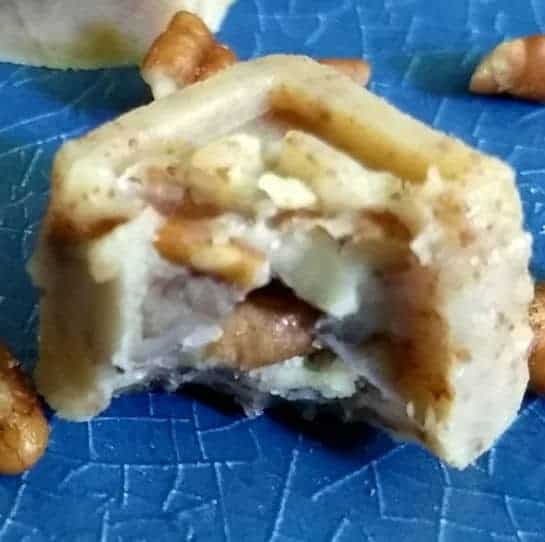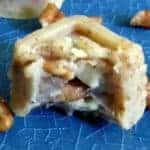 Print Recipe
Butter Pecan Fat Bombs
Ingredients
8

T

1 stick/112g) of Salted Butter

1

t

Vanilla Extract I used this one

20

drops of Liquid Monk Fruit I used this brand

4

t

Chopped Salted Pecans

1/4 t in each fat bomb
Instructions
Brown the butter. Notes about how to brown butter are below the recipe.

Once the butter cools, add in the extract and sweetener.

Once the mixture is fully cooled, just before the butter hardens. I have put the mixture in the fridge for a few minutes and would keep checking on it. It can harden quicker than you think. There have been times when I would have to reheat the mixture. 🙂

Get your fat bomb molds and put some the mixture in. Leave room for the nuts.

Add the pecans and then add more of the mixture on top.

Place in fridge or freezer to harden.

Enjoy! To kick this up a notch, use roasted pecans.
Nutrition Facts (16 servings)
Calories: 66.25
Fat: 7.4
Protein: 0.23
Carbs: 0.33
Fiber: 0.17
Net Carbs: 0.16
To log the recipe on MyFitnessPal search: Keto Keuhn Nutrition – The Perfect Butter Pecan Fat Bomb