As an Amazon Associate I earn from qualifying purchases.
It's the start of the new year and a lot of people have resolutions and one could be to eat better. Along with eating better, meal planning is a great strategy to stay on that goal.
This is where keto lasagna comes into play. Lasagna can be a great meal to make ahead of time and eat all week. You can prep it for the week you make it, or you can freeze it for later.
I also enjoyed this recipe more the next day when I had it for lunch compared to dinner the previous night.
Growing up I was never a huge fan of lasagna. I only ate it because my mom made it from time to time. One thing to note is that my mom never claimed to be a great cook.
She still says that to this day. With that being said, I did not get my love of cooking from her. haha I'm not quite sure where I got it from.
What I did get from my mother was being creative. I also liked trying new things in the kitchen. I knew about using zucchini as noodles for keto lasagna but never thought about using deli meat as a noodle for lasagna.
Seeing the idea online made me quite excited, as I didn't want to take the time to cut the zucchinis just right for the dish. Plus, I like to make things easy.
Meat Noodles
This may sound crazy but I really can't tell that I'm eating deli meat instead. Maybe, just maybe I can tell a tiny bit, but I like the meat noodles better in fact.
I haven't had grain noodles for a very long time but I think the texture may be little different. I've even debated about making lasagna without any noodle replacement at all; no noodle layers.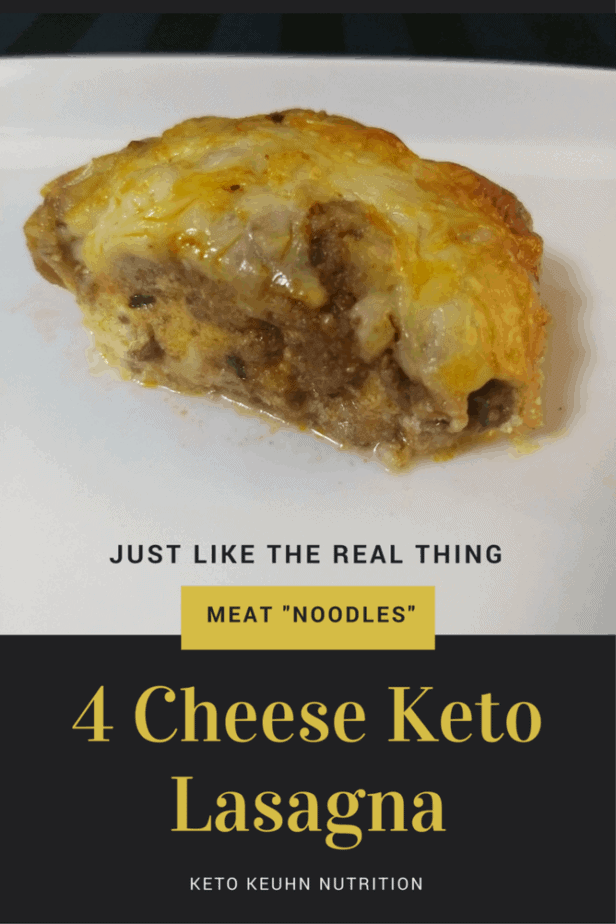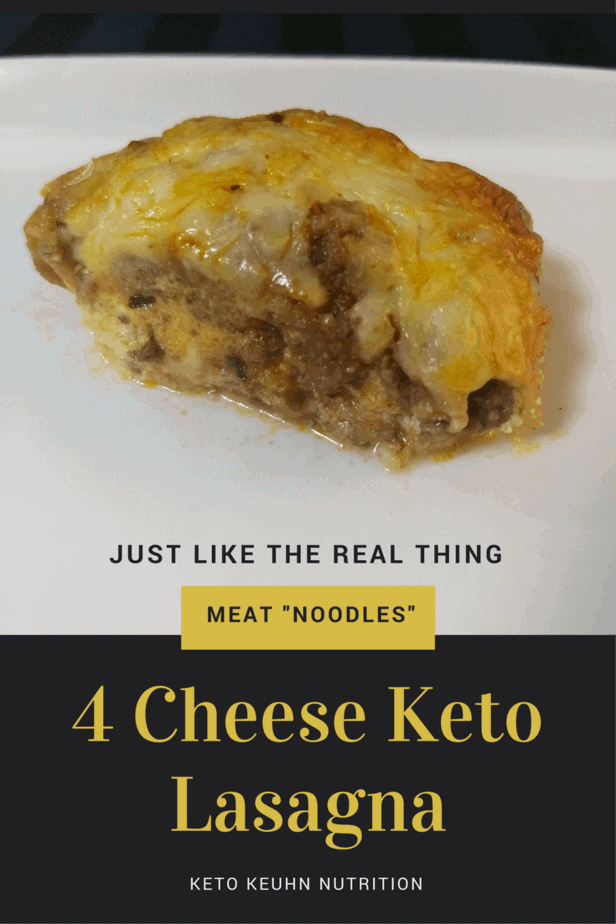 4 Cheeses
Stepping up the lasagna came by incorporation four types of cheese! Goat cheese is one of these cheeses. I never really tried goat cheese until I got a new job and they had the option to put goat cheese on pizza.
I tried it and loved it. It's like a creamy feta cheese with a slight tang to it. In this current recipe, I mixed ricotta cheese with some goat cheese. Along with goat and ricotta cheese, I have Asiago cheese and mozzarella cheese.
Nutrition Tidbit
Goat Cheese
The difference between goat cheese and cow cheese is that goat cheese has more fat and less protein. Having a higher fat content is what brings out the tangy flavor. What makes the goat cheese creamier than cows milk cheese is its less milk protein content.
Nutrition Facts (1 serving = 1/3 bread tin)
(This recipe will give you 6 servings)
Calories: 504
Fat: 37
Protein: 37
Carbs: 3
Fiber: 0
Net Carbs: 3
To log the recipe on MyFitnessPal search: Keto Keuhn Nutrition – 4 Cheese Keto Lasagna
Notes about the recipe
One reason why the nutrition would be different for you is that of the deli meat that you use. I used the brand of Boar's Head and used EverRoast Chicken. I had the deli cut it on a 1.5 for the slicers. Also, of course, the nutrition may change due to using other brand names of items.
Meal Plan
If you want to make this recipe and meal plan for a few days, I've got you covered! I've created a free meal plan where you can use this recipe and be set for your work week. Check out the meal plan here.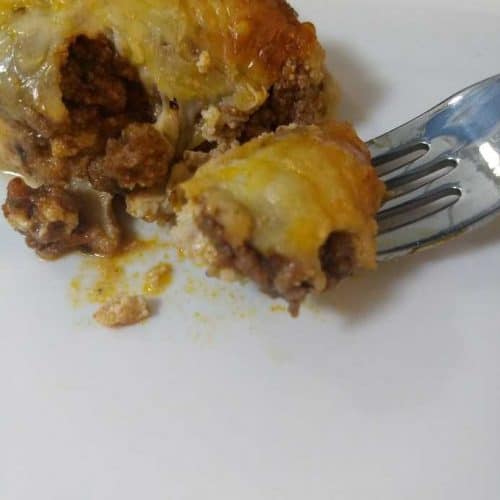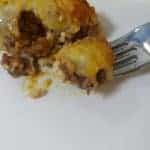 Print Recipe
4 Cheese Keto Lasagna
Ingredients
4

Slices

of Deli Meat. I used EverRoast Chicken from Boar's Head

1

lb

Ground Beef

I used a meat that gave me 22 g of fat per 4 oz of meat

1

t

Italian Seasoning

1.25

C

Tomato Sauce. I used Tomato Basil from Rao's.

1

C

Ricotta Cheese

1

C

Goat Cheese

1

C

Asiago Cheese

1.50

C

Mozzarella Cheese

2

bread loaf tins 7 inches by 3 inches
Instructions
Preheat oven to 350 Fahrenheit

I made this into 2 bread loaf tins.

Cook ground beef in pan with the Italian seasoning.

Add tomato sauce to cooked meat.

In a bowl mix together the ricotta and goat cheese together.

First Layer (starting on the bottom): 1 slice Deli Meat

Second layer: 1/2 C ricotta and goat cheese mixture

Third layer: 1/2 C meat mixture

Fourth Layer: 1/4 C Asiago and 1/2 C mozzarella

Fifth Layer: Deli Meat

Sixth Layer: 1/2 C ricotta and goat cheese mixture

Seventh Layer: 1/2 C meat mixture

Eighth Layer: 1/4 C Asiago and 1/2 C mozzarella

Place into preheated oven with aluminum foil on top for 30 minutes. Uncover for 10 minutes or until the cheese browns to your liking. Cooking times may vary.