As an Amazon Associate I earn from qualifying purchases.
Have you ever wanted to learn how to make homemade mayonnaise but was worried that it was just too hard? I know that I definitely have. People say it's easy, but is it really? Yes! Yes, it is. 🙂 You do not even need that fancy handheld blender thing. 😉 Let's get started.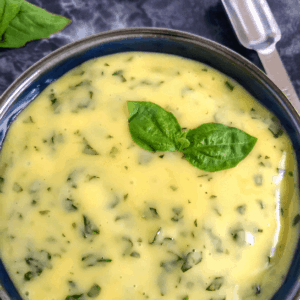 How to Make Mayonnaise
Measure out your ingredients

Egg Yolk
Vinager
Oil
Salt

Start with a room temperature egg yolk in a mixing bowl. Then add in the vinegar. Whisk these two ingredients.
Then slowly (very slowly) add a few drops of the oil in your bowl while still whisking.
Once the mixture starts to thicken add the rest of the oil in a continuous slow stream all while whisking.
When done the homemade mayonnaise should be thick and creamy.
Add your salt at the very end and mix.
Using a Whisk
I really enjoy knowing that I can just use a whisk to make mayo. Yes, it may take longer or your hand can start to get sore some. However, I love it since it is such an inexpensive kitchen tool. It is easy to get and it will not cost you an arm and a leg for it.
Common Questions about Making Mayonnaise
What oil do I use?
When you look at typical store brand mayonnaise you will see soybean oil typically, which is an oil high in polyunsaturated fat. However, in my nutritional opinion, that oil is not the greatest for you due to the high omega 6 content.
So, if soybean oils are not good in mayo, then what? I like using light olive oil because this will give a more neutral taste compared to an extra virgin olive oil or avocado oil. Extra virgin olive oil and avocado oils are still great to use. They will just yield a different taste for you. Olive and avocado oils are also lower in polyunsaturated fats.
Below is a graph of oils and the type of fats they contain.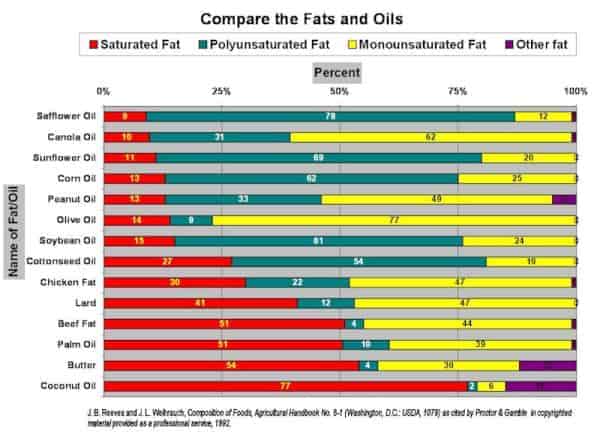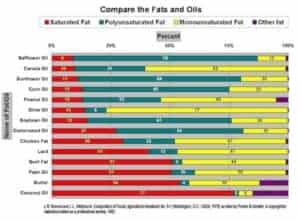 Can homemade mayonnaise make you sick?
I personally do not worry about the raw egg yolk for salmonella since it's pretty rare these days. However, to be extra safe there is a solution for you. The Incredible Egg describes how to bring the yolk to 160 degrees without overcooking it on their site. This is what they had to say on their site:
"In a heavy saucepan, stir together the egg yolks and liquid from the recipe (at least 2 tablespoons liquid per yolk). Cook over very low heat, stirring constantly, until the yolk mixture coats a metal spoon with a thin film, bubbles at the edges or reaches 160° F. Immediately place the saucepan in ice water and stir until the yolk mixture is cool. Proceed with the recipe."
How long does the homemade mayonnaise last?
I have seen a rang anywhere from 1 week to 2 weeks. Do what you feel is best for you. However, here are a few things to look for in your mayo. Do not consume if anything grows in the jar like mold, if it smells off, any noticeable color change and if it just tastes bad.
Can you freeze homemade mayo?
The simple answer is no. It may hold while frozen, but once you thaw it out, it will not be the same.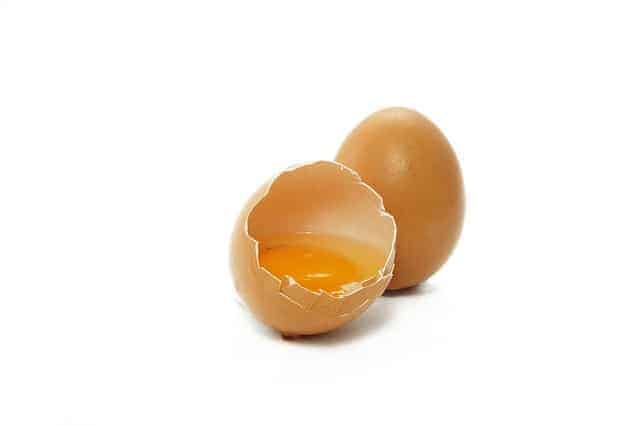 Fixing any Mistakes when Making Mayo
Is it too thick?

To make the mayo thinner, add tiny amounts of water at a time and whisk it to stir.

Is it not coming together?

If you are not done adding in the oil, add another egg yolk and heavily whisk, then add in the rest of your oil and more to even out the recipe proportions.
If you added all the oil, hope is not lost. Below are steps to resolve the mess. I found this solution at livestrong.com

Whisk 2 tsp. of boiling water into the thin or broken mayonnaise. The water cooks the mayonnaise slightly, making it more solid. In addition, it will help to unify the ingredients in a broken mayonnaise.
Whisk the mayonnaise for 2 minutes. If it does not come together and thicken, place an egg yolk in a clean bowl.
Whisk the thin or broken mayonnaise slowly into the egg, one drop at a time. After the mayonnaise has begun to thicken, add the rest of the thin or broken mayonnaise in a stream, whisking as you add it.
Whisk the mayonnaise until it reaches the desired consistency.

To help avoid this from happening in the first place, try as hard as you can to slowly add the oil as you are mixing. This was the mistake that I had when I first tried making mayo.
The Secret Ingredient in your Mayonaise
Salt. Salt is the spice of life. haha 🙂 On a serious note though, salt is very important on a ketogenic diet. Salt also makes any dish pop with flavor. It is truly a flavor enhancer. It's a reason why so many chefs use salt.
After eating keto for some time now, I have been able to tell the difference between salts. Okay, yes call me crazy. Yet, when I needed salt due to a headache and I only had table salt handy, it was hard. It was not hard because it was straight salt, but it tasted gross. I could really taste the iodine. Yuck! I have since wised up and I now always have a small Redmond's salt shaker with me at all times, when I leave the house. (P.S. If you use the code KKN15, you can get 15% off products from Real Salt.)
My Favorite Store Bought Mayo
I 100% understand that you just may not want to make your own mayo. I get it. Some days I just do not want to either. Yet, I am not always a fan of the store brands since they are higher in omega 6 fats, which I do not need more of. What to do? Well, we are both in luck. There is a company called Primal Kitchen and they make a healthy mayo with no soybean oils or added sugar, or even added junk. I have been able to find them at my local grocery store, but if you can not, I noticed that they can be found on Amazon.
Recipe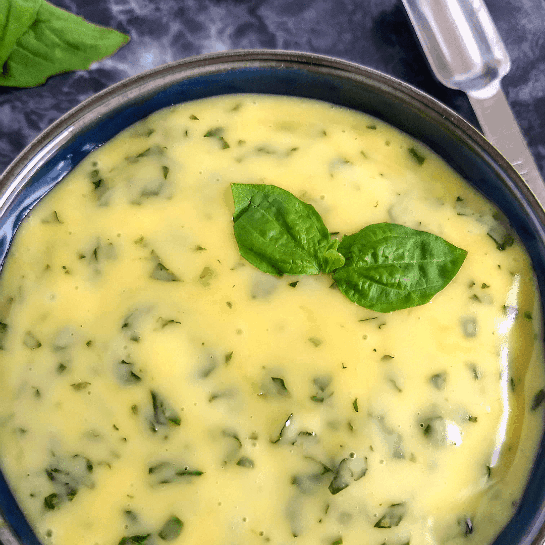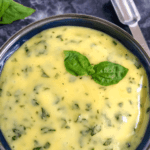 Print Recipe
Homemade Basil Mayo
Ingredients
1

egg yolk at room temp

1/2

C

olive oil

1

t

vinegar

0.75

oz

fresh basil

finally chopped

pinch

of salt
Instructions
Start with the egg yolk in a mixing bowl and add the vinegar. Whisk these two ingredients.

Then slowly (very slowly) add a few drops of the oil in your bowl while still whisking.

Once the mixture starts to thicken add the rest of the oil in a continuous slow stream all while whisking.

When done the homemade mayonnaise should be thick and creamy.

Add the salt and chopped up basil. Mix.