As an Amazon Associate I earn from qualifying purchases.
Egg roll in a bowl, chicken crack slaw, pork crack slaw, beef crack slaw. Any name you give it, it's going to taste great! This recipe has a ton of variations online and today I bring you my version of it.
I absolutely love this recipe. Easy cleanup and a great meal. You can meal prep it or serve it as dinner for the whole family. My crack slaw recipe also can be lower in carbs compared to the traditional crack slaw recipes. What makes my version lower in carbs, is that I use zucchini instead of cabbage. Therefore, it is not really a slaw recipe and I am okay with that. It has a similar taste but with 'noodles' instead.
Pork Crack Slaw Flavor
If you like Asian food flavors, you will enjoy this dish. In this Pork Crack Slaw recipe you will find, ginger, chili paste, soy sauce, and toasted sesame oil. For me, I really want the sesame oil to stand out the most then have the finger flavor me. I'm not a big fan of hot spicy flavor so the chili paste is less intense in my version of this egg roll in a bowl dish.
Questions You May Have
Can I freeze this Pork Crack Slaw?
I would not suggest freezing this recipe. By using zucchini instead of cabbage, the zucchini does not freeze well at all. Even if you used cabbage, I still would not advise it. However, if you wanted, you could make this dish without the zucchini or cabbage, then when you want to eat the dish, thaw out the meat and then add the vegetables in a pan and cook everything together.
How do I make the zucchini noodles?
You have a few options. One use a spiralizer! Or two, you could make skinny match stix out of the zucchini.
There are also options for the spiralizer. You get the lesser costs one or the fancier one. I used the least fancier one. haha

This is the tool I have in my house.

This is a fancier one. 🙂
Do I have to use pork?
No, of course not. I have seen this recipe be made with beef, chicken or even lamb. Lamb actually sounds pretty amazing with this dish. Heck, I say through in a few scrambled eggs into the mix at the end.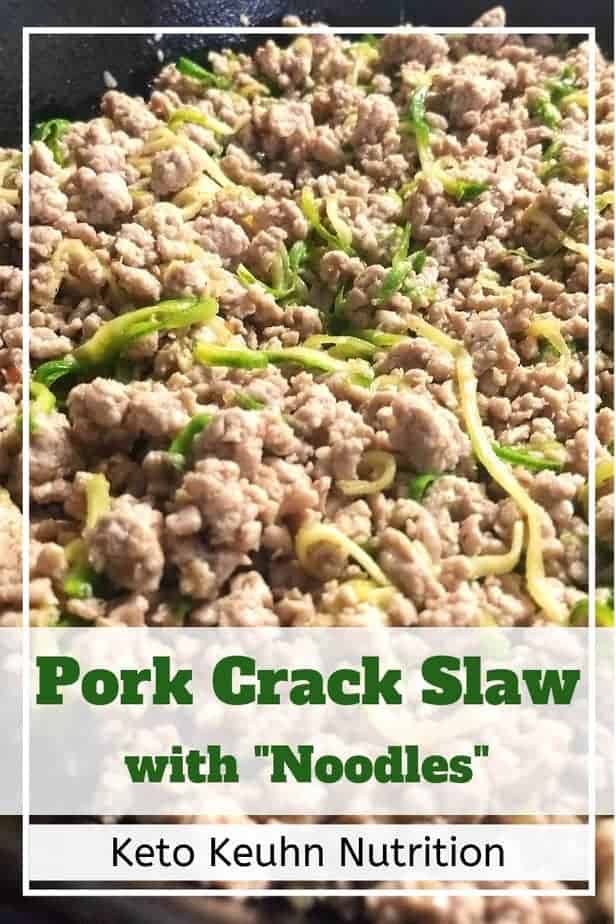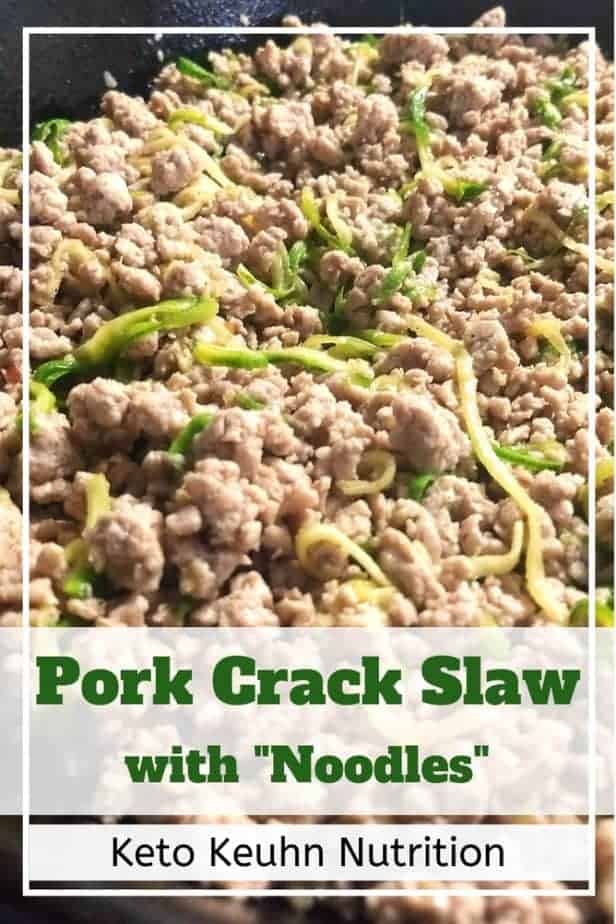 Toasted Sesame Oil
Let's talk about the elephant in the room in this post. Sesame oil is not an oil you generally want to consume. It has a really high amount of omega 6 and it is a seed oil. If you are eating a ketogenic diet or not, you do not want to over consume omega 6 fat. Having too much omega 6 can cause artery problems. Instead of me trying to recreate the wheel, take a look at these articles to learn about omega 6 and sesame oil.
Knowing all of this, I am okay using toasted sesame oil even once and awhile. Personally, I need that taste for this meal. It's not the same if I leave it out. Heck, I believe I went heavy on this oil compared to other crack slaw recipes. Do want you feel comfortable with on this oil. DO you.
Extra Ideas
Another option would be to add some mushrooms to the mix. Get some extra magnesium and vitamin D out of the deal. A fun tip for mushrooms is to leave them out in the sun and they will get more vitamin D.
For the Carb Eaters in Your Life
Carbs can easily be added to this meal. They can have some rice with this, and make it into a sort of stir-fry. Or maybe make some pasta and mix it into their portion. Or, if you want to get really creative, make an egg roll. However, for me, that's just too much work. ha-ha I am all about simple. A few years ago I was surprised that my mom actually made egg rolls at home. This is from a lady that always states that she's not a great cook. I am not too sure where I found my love of cooking and experimenting, but it sure did not come from her.
Recipe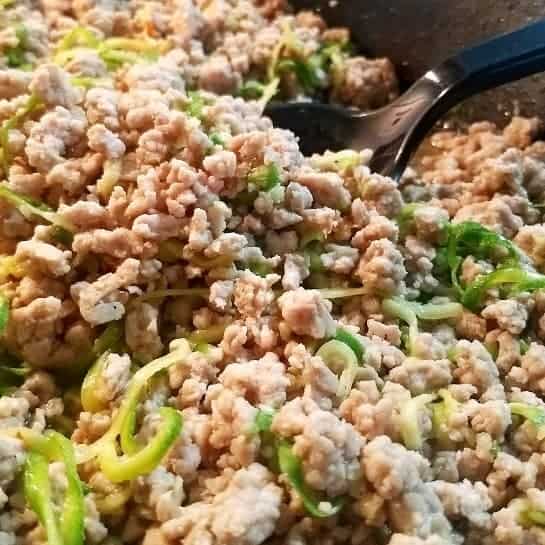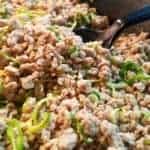 Print Recipe
Pork Crack Slaw
Ingredients
1.5

lbs

ground prok

Small Zucchini

118 grams

1

t

Freshly Grated Ginger

1/2

T

dried onion. You can use fresh if you wish. The nutrition will change.

1

t

Chili Paste

1/2

t

Salt

1

T

& 1 t Toasted Sesame Oil

3

T

Soy Sauce
Instructions
Cook the ground pork with the salt.

As the pork is cooking, spiralize the zucchini or cut into thin noodles.

Once it's mostly cooked, tossed in everything else but the zucchini.

Toss in the zucchini.
Nutrition Facts 4 servings.
Calories: 489
Fat: 40.75
Protein: 28.5
Total Carbs: 1.625
To log the recipe on MyFitnessPal search: Keto Keuhn Nutrition – Pork Crack Slaw
What do you Think?
So, it's not a slaw recipe per say. Tell me what you think. Did you make it and like it still?