As an Amazon Associate I earn from qualifying purchases.
I was working on a chocolate chip cookie recipe and then realized that I needed to kick it up a notch. As long as I could remember, I loved orange and chocolate anything together.
While missing oranges in my life, I came up with the idea of making keto orange chocolate chip cookies.
I originally just used orange extract but I knew that I needed more orange flavor. So, I added some hearty orange test to it from Penzeys (not a sponsored post).
I love the orange flavor so much that I just bought pre-dried orange zest. Therefore, no wasting a whole orange or worrying about cleaning the zester.
Plus, you don't have to go buy a zester, if you don't have one, also. While making these cookies I made more than one test batch as I really wanted the orange to come through. I ended up packing in 1.5 teaspoons of the dried orange test from Penzys.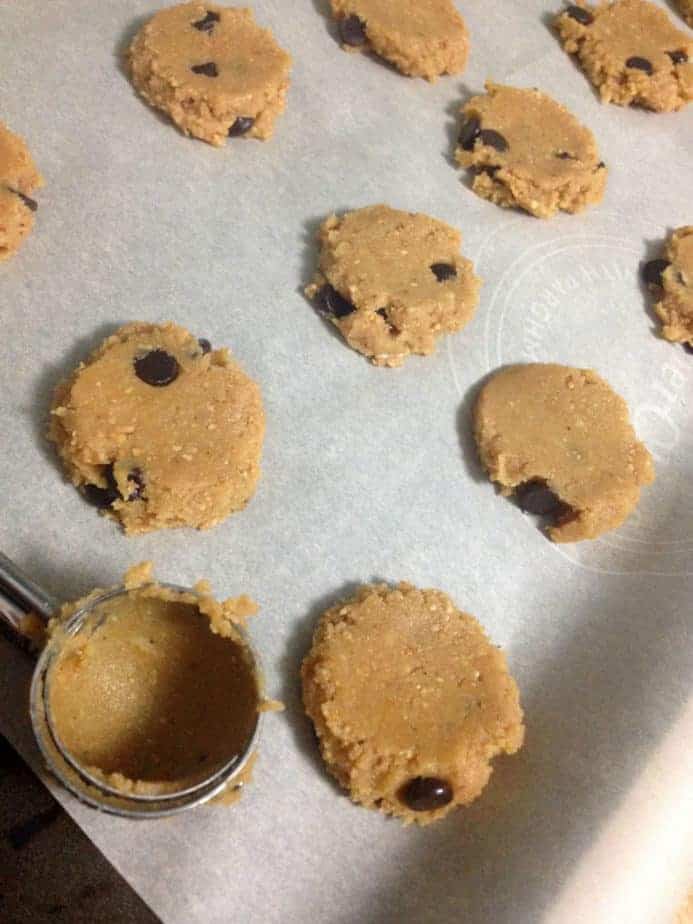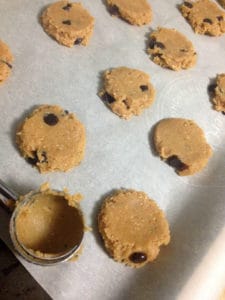 Nutrition Tidbit
Chocolate
Dark chocolate is a wonderful source of magnesium (1), which is a mineral people eating a keto diet need to make sure they have.
It's an electrolyte that is easily depleted. We need around 320 mg each day of it (2) for women and around 400 mg for men.
Magnesium is an essential mineral that gets used in many functions of our bodies.
Some of these functions are the creation of essential molecules such as DNA, energy production, bones, muscle contractions and much more.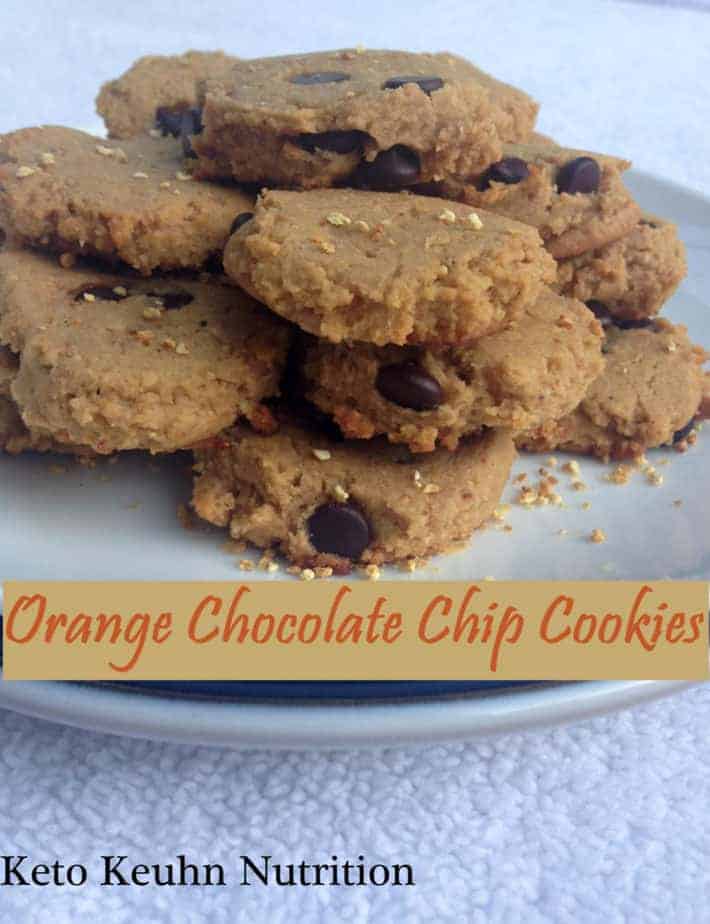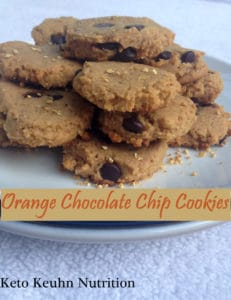 Nutrition Facts (1 cookie)
(This recipe will give you about 24 small cookies)
Calories: 38
Fat: 3
Protein: 1
Carbs: 2
Fiber: 1
Net Carbs: 1
To log the recipe on MyFitnessPal search: Keto Keuhn Nutrition – Orange Chocolate Chip Cookies
Adjusting Carb Count for Erythritol
If counting erythritol the carb count is 4 grams.
Notes about the recipe
If you would like a more moist cookie, like my Macadamia Chocolate Cookies, cook these for 2 minutes less. I also made these cookies a little bit smaller so they could potentially last longer or you can have 2 and not feel as bad. 🙂
However, I would hope you'd be happy instead of feeling bad for eating these orange chocolate chip cookies.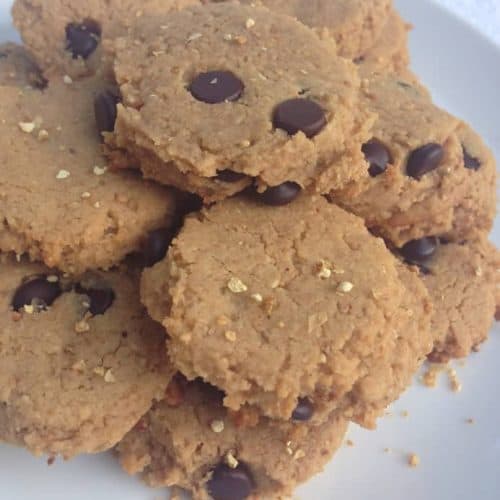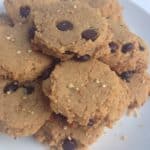 Print Recipe
Keto Orange Chocolate Chip Cookies
Ingredients
1/3

Cup

confectioner Swerve or Monk Fruit

2

drops of stevia

1/4

t

baking soda

2

T

coconut flour

1

T

water

1.5

t

dried orange zest I used this

1

large egg

1/2

t

orange extract

1/4

t

vanilla extract

1/2

Cup

cashew butter

1/2

T

salted butter

1/4

Cup

Lilly's chocolate chips
Instructions
Preheat oven to 350 degrees F.

Put in all of the dry ingredients first in a mixing bowl. This will help the flour to stay down while mixing.

Place all the other ingredients in the bowl minus the chocolate chips.

Mix together with a hand mixer.

Fold in the chocolate chips.

Form into 1.5 inch balls. I used just under a 1.5 inch cookie scoop.Therefore, they weren't full balls.

Place balls on cooking sheet with parchment paper.

Press balls some.

Cook for 8-10 minutes. For softer cookies, cook closer to 8 minutes.