As an Amazon Associate I earn from qualifying purchases.
This is your flourless chocolate mug cake that you can enjoy while eating a keto diet lifestyle. Satisfy that chocolate sweet tooth without the guilt. This low carb cake is also great for those on a gluten free diet or those with nut allergies.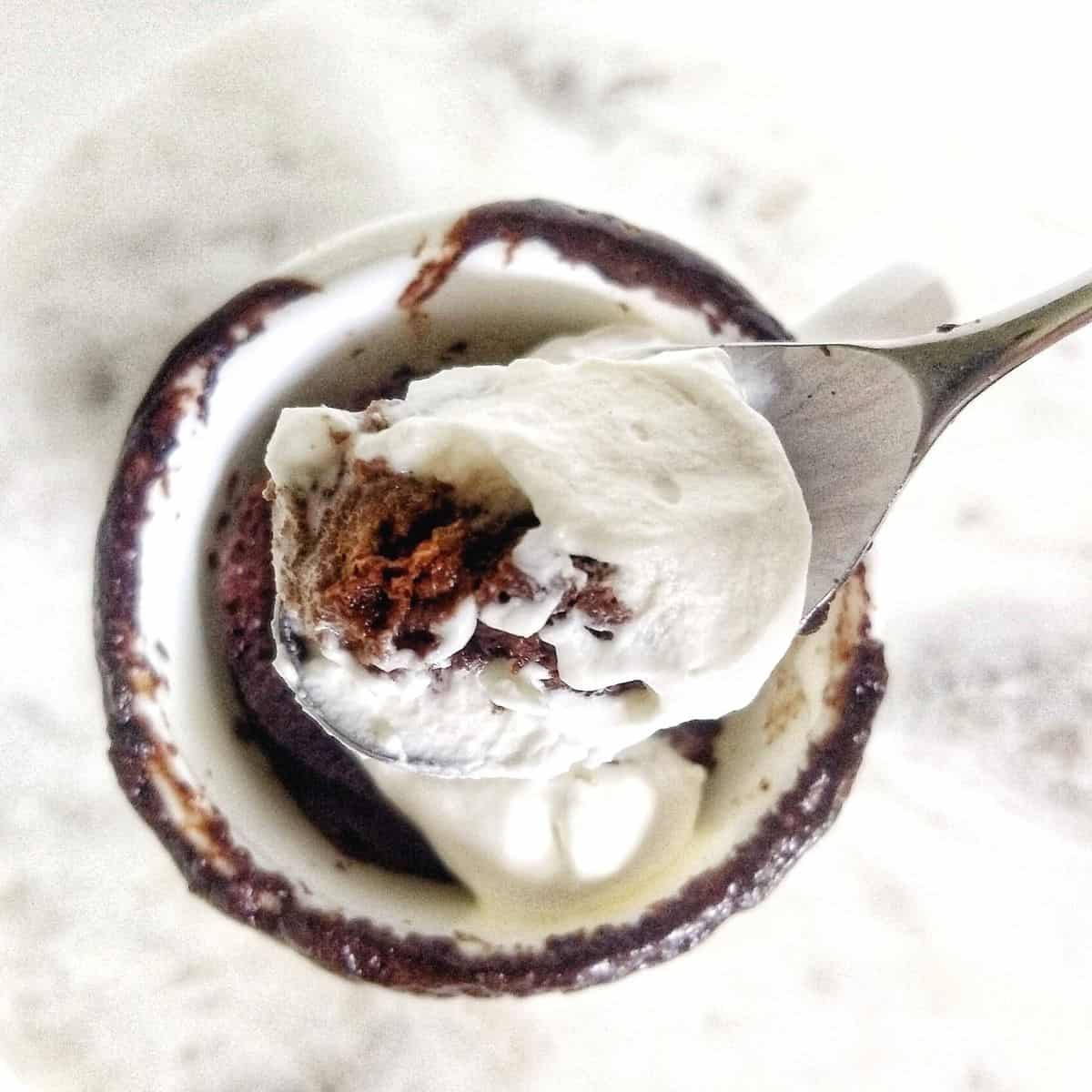 Ingredients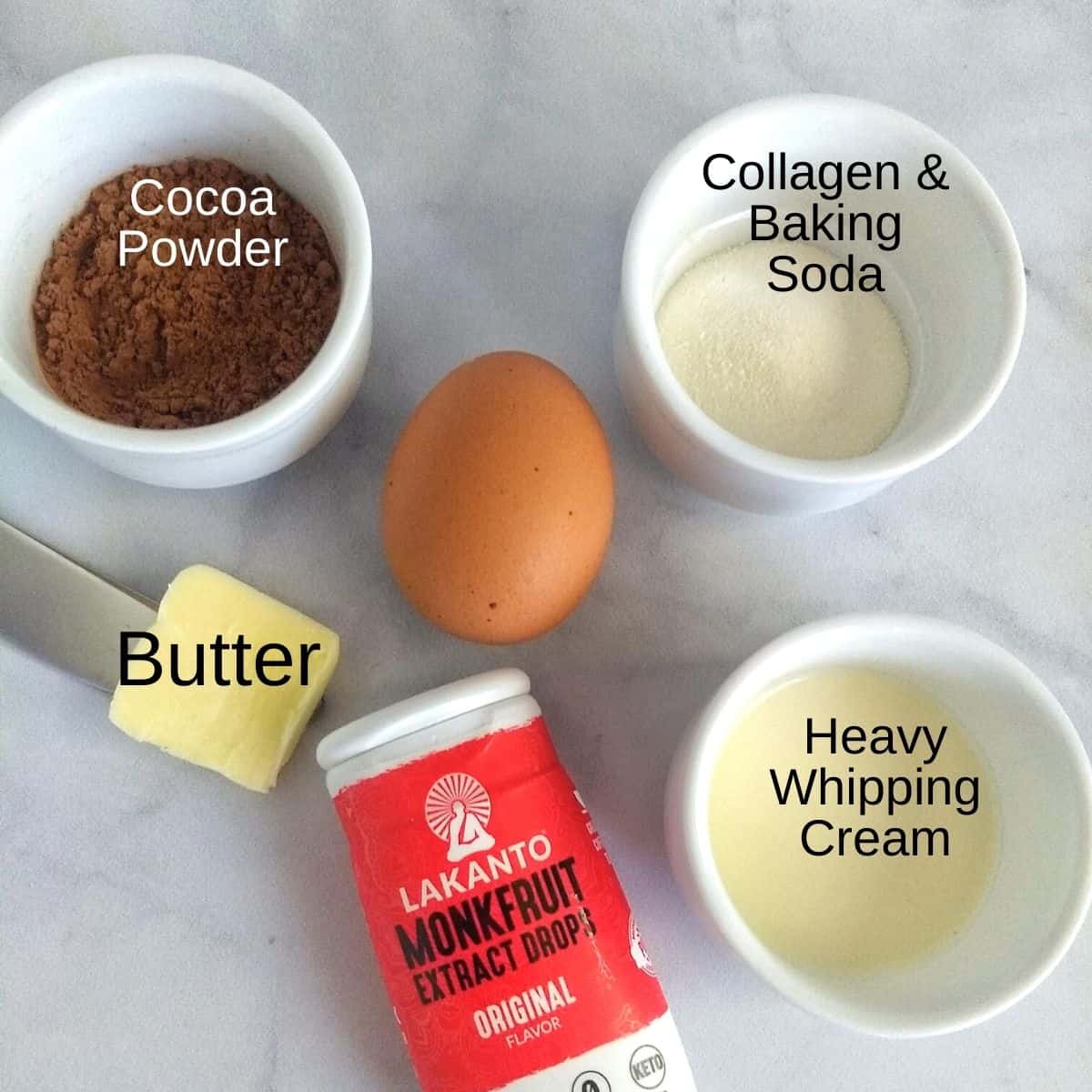 The main ingredients in this flourless chocolate cake are cocoa powder, collagen, an egg, heavy whipping cream, butter, and liquid monk fruit. You may have noticed that there is no coconut flour or almond flour. This is not a typo. This recipe has been designed to be flourless.
Collagen Powder
Instead of using any keto-friendly flours, I used collagen powder in this gluten-free mug cake. I did this to keep the carbs as low as possible and at nearly zero net carbs.
Liquid Monk Fruit
To keep the carbs low, this recipe uses liquid monk fruit. However, if you don't have this sweetener, that's perfectly fine. You can also use an erythritol sweetener.
I personally enjoy using the confectioner monk fruit erythritol blend from Lakanto. When I use this, I don't get the common cooling affect people have experienced with using erythritol alone.
Start with 1 tablespoon of the erythritol sweetener and add more as needed. You can also use this erythrtiol blend and the liquid form.
Heavy Whipping Cream and Butter
If you can't tolerate dairy that means you can't really use the heavy whipping cream. This ingredient isn't truly needed. In fact, I originally posted this recipe without it. However, adding in the cream does help make this mug cake moist.
If you can't have dairy, replace the HWC with water or unsweetened nut milk.
An easy exchange for the butter is to use coconut oil or ghee.
Tips
1. When you are mixing the ingredients together it may seem impossible to do because the collagen is difficult to mix in with the wet ingredients. This is why I like whisking everything with a fork in a bowl before putting it in the mug to microwave. You can get really vigours with it.
Even if you mix it really well, it won't be perfect, so don't worry about it too much. I don't get it perfect either.
2. Make sure you have a high enough mug where the mix only gets filled 2/3 of the way. This prevents the gluten-free mug cake from overflowing. You will also have a fully cooked cake as well.
3. You can also make 2 small versions of this by using two ramekins or just two mugs. If you make 2 small ones, you can get creative and make a layered cake with peanut butter frosting in the middle.
4. The cook time can be tricky, as each microwave is different and everybody has different size cups. Start with cooking it for less time, as you can always add more if you notice it not done.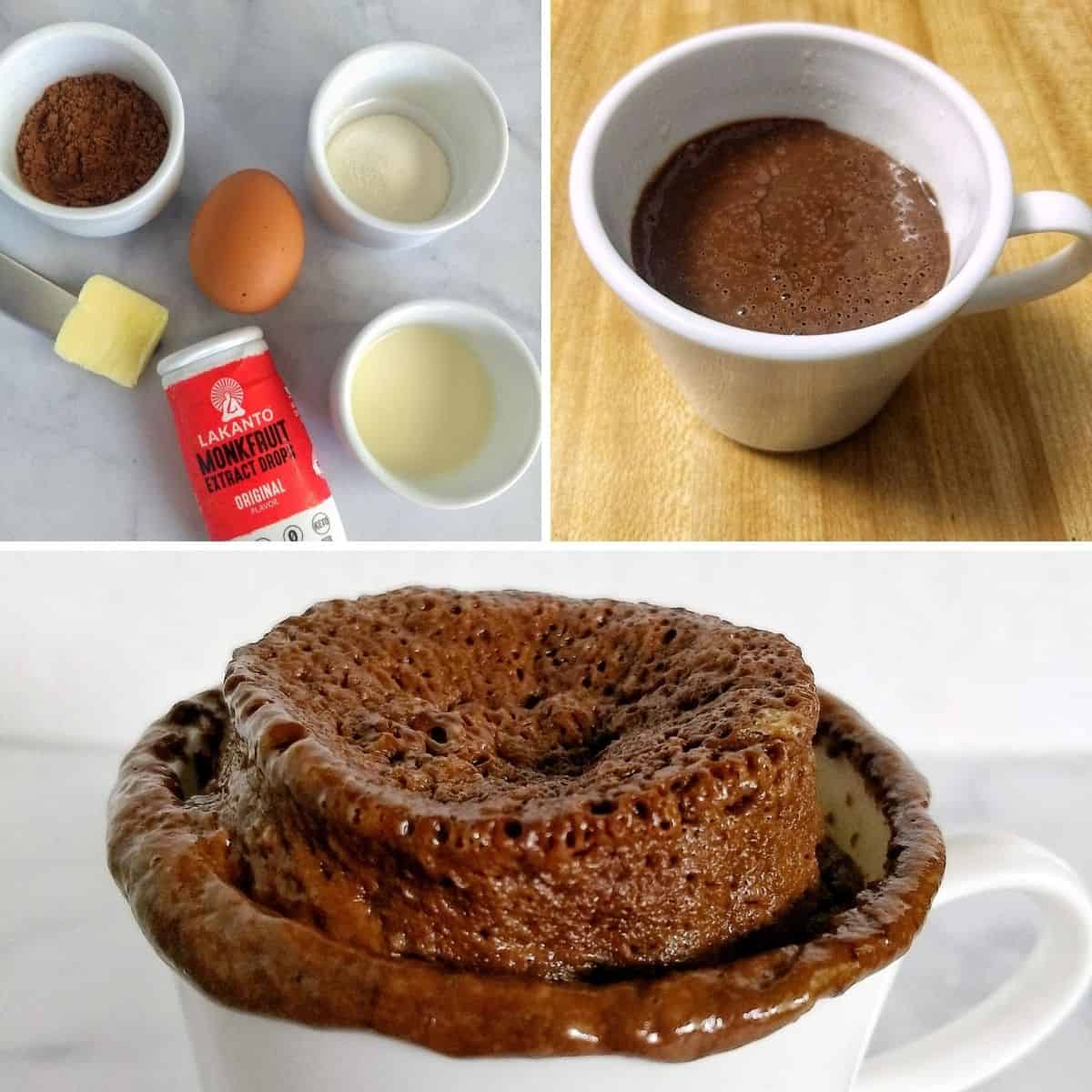 Additional Topping Ideas
Almond slivers or any nuts
Whipped Cream
Berries
Sugar-Free Syrups from Choc Zero
Dust it with cinnamon or pumpkin spice
More Cake Recipes