As an Amazon Associate I earn from qualifying purchases.
If you are looking for an extremely easy peanut butter buttercream keto frosting recipe, this one is for you. At the basic form, there's really only one step with 3 ingredients.
Jump to:
This keto peanut butter frosting is healthy as it uses no sugars. It also uses no sugar alcoholas to keep the carbs low, but it's still sweet. I promise.
There's no sugar alcoholas, such as erthritol, because some people can get an upset stomach with them and they would also add to the total carbs of the recipe.
All of my recipes are under 10 total carbs.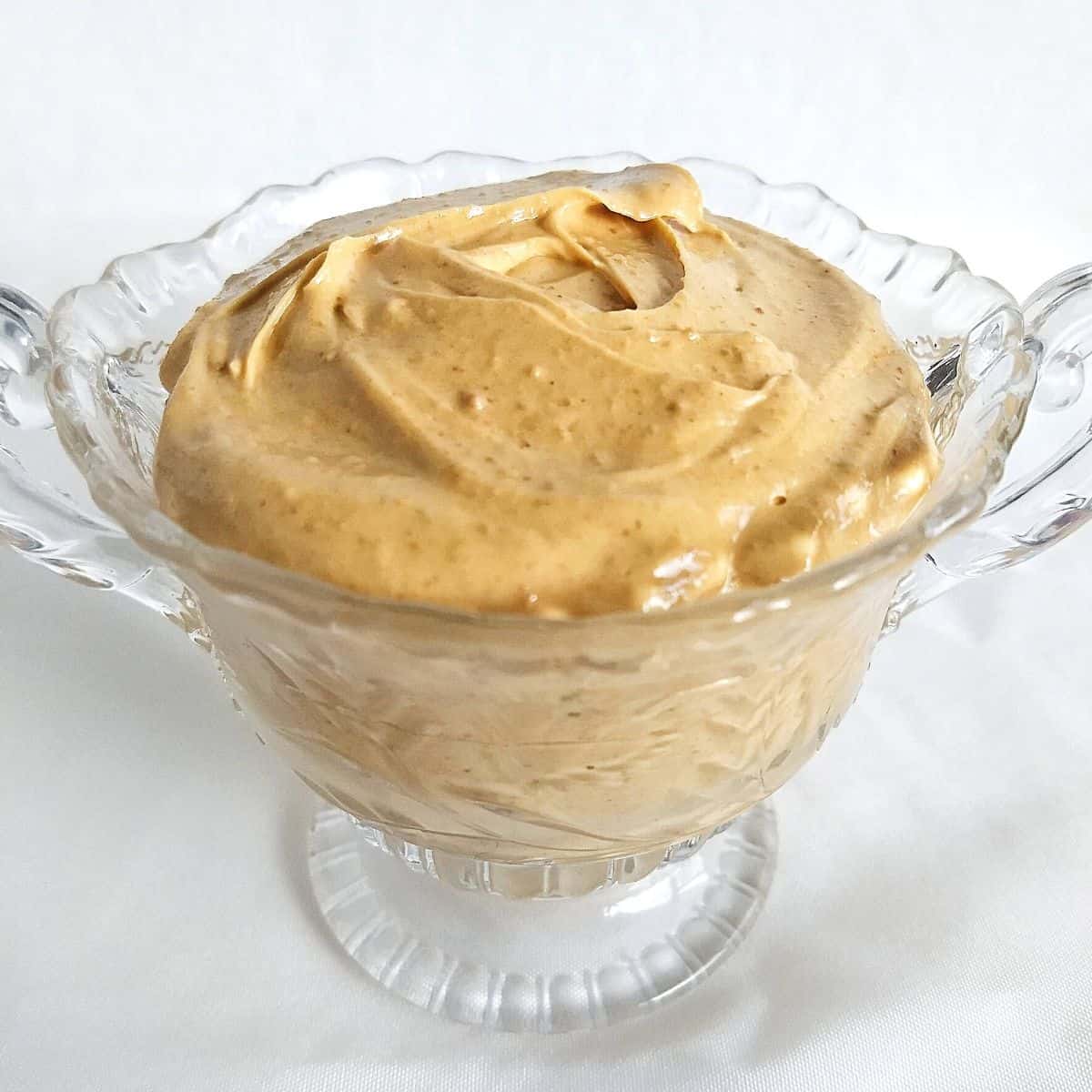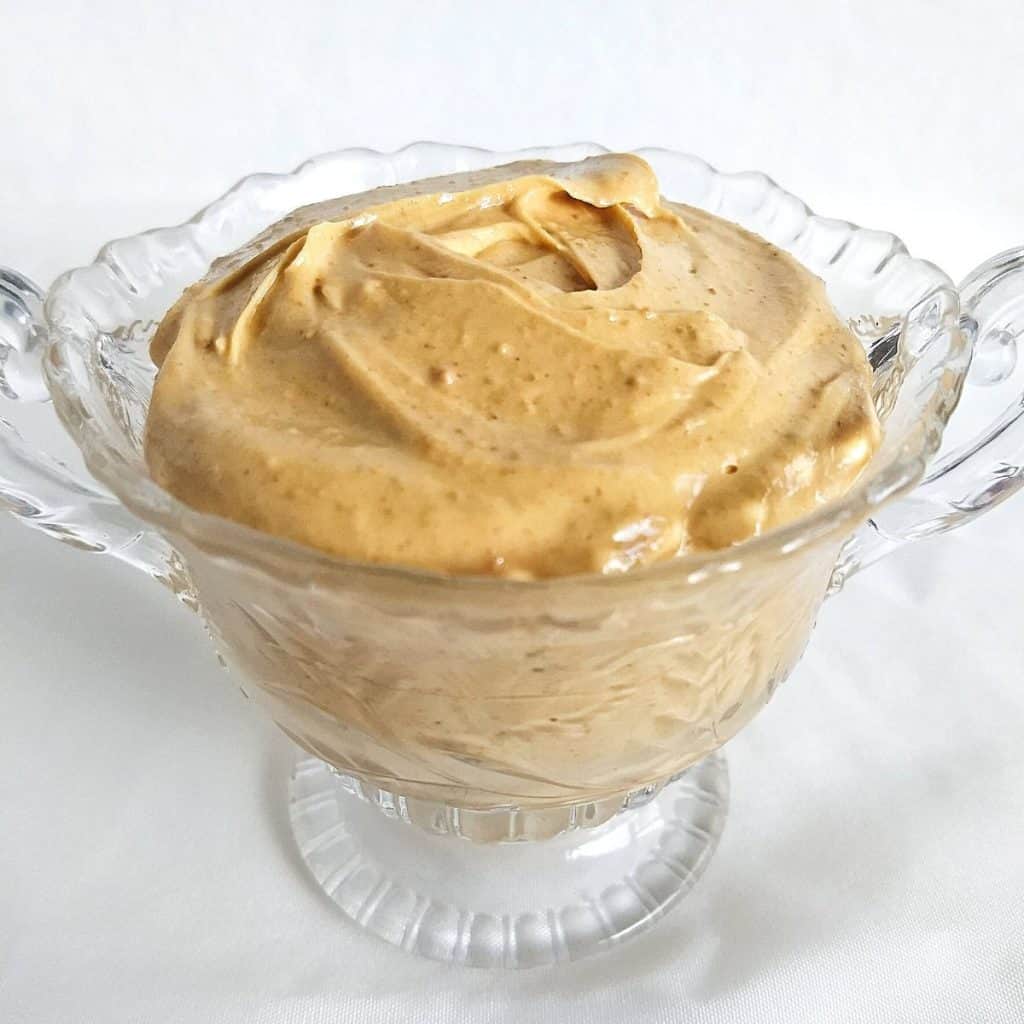 Ingredients
Peanut Butter with just nuts and salt
Butter
I like using natural peanut butter because it's the healthiest without the partially hydrogenated oil, which are trans fats. Plus most natural peanut butters don't contain added sugars. However, still look at lables.
If you like your frosting a little crunchy in texture, go ahead and use crunchy peanut butter. Because who doesn't want some crunchy frosting? Add some texture to your life!
To make the keto frosting sweet, I add in monk fruit liquid drops. If are are not a fan of monk fruit, you can use stevia drops as well.
Then to really kick up the flavor, you can add in some maple and vanilla extract. This kind of makes it like a peanut butter maple syrup frosting flavor. Which sounds amazing with some pancakes or flourless waffles.
Sweetener Substitutions
If you don't have liquid monk fruit drops, you really can use any keto sweetener that you want.
A popular keto sweetener is erythritol. A common brand name that sells this is Swerve. You can also use a erythritol and monk fruit mix from the Lakanto brand.
Lakanto is actually my favorite for a granular sweetener. By them adding monk fruit to the erythritol it personally gives me a less cooling affect than the erythritol by itself.
If you do use a granular or powdered sweetener, just remember that the consistancy will be different.
You can also use pure stevia or liquid stevia in this keto frosting recipe.
Directions
You will want to leave the butter out to bring it to room temperature. Once it's soft, add in the peanut butter, sugar free sweetener drops, and optional extracts to a mixing bowl.
Then you will blend everything together with a hand mixer. That's it!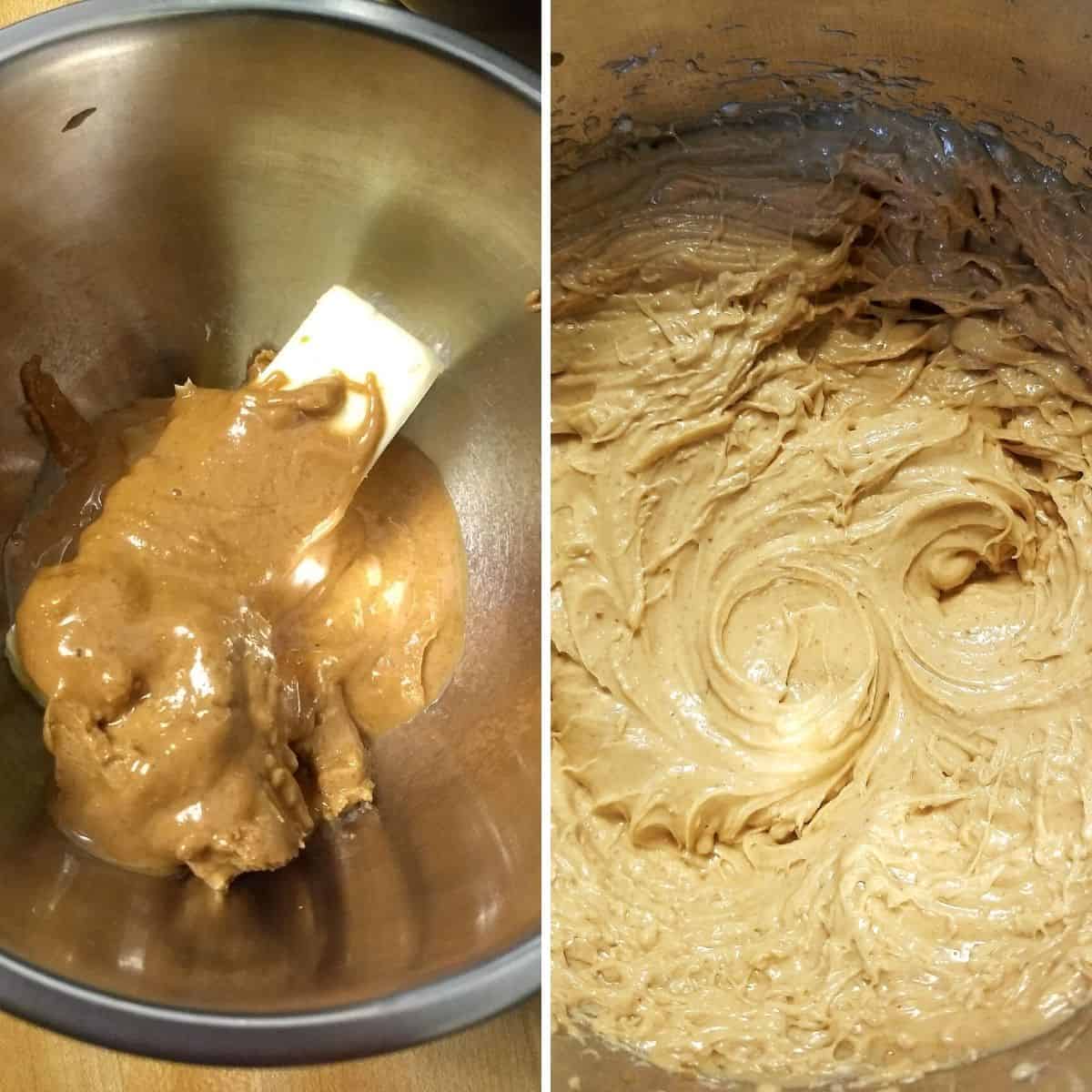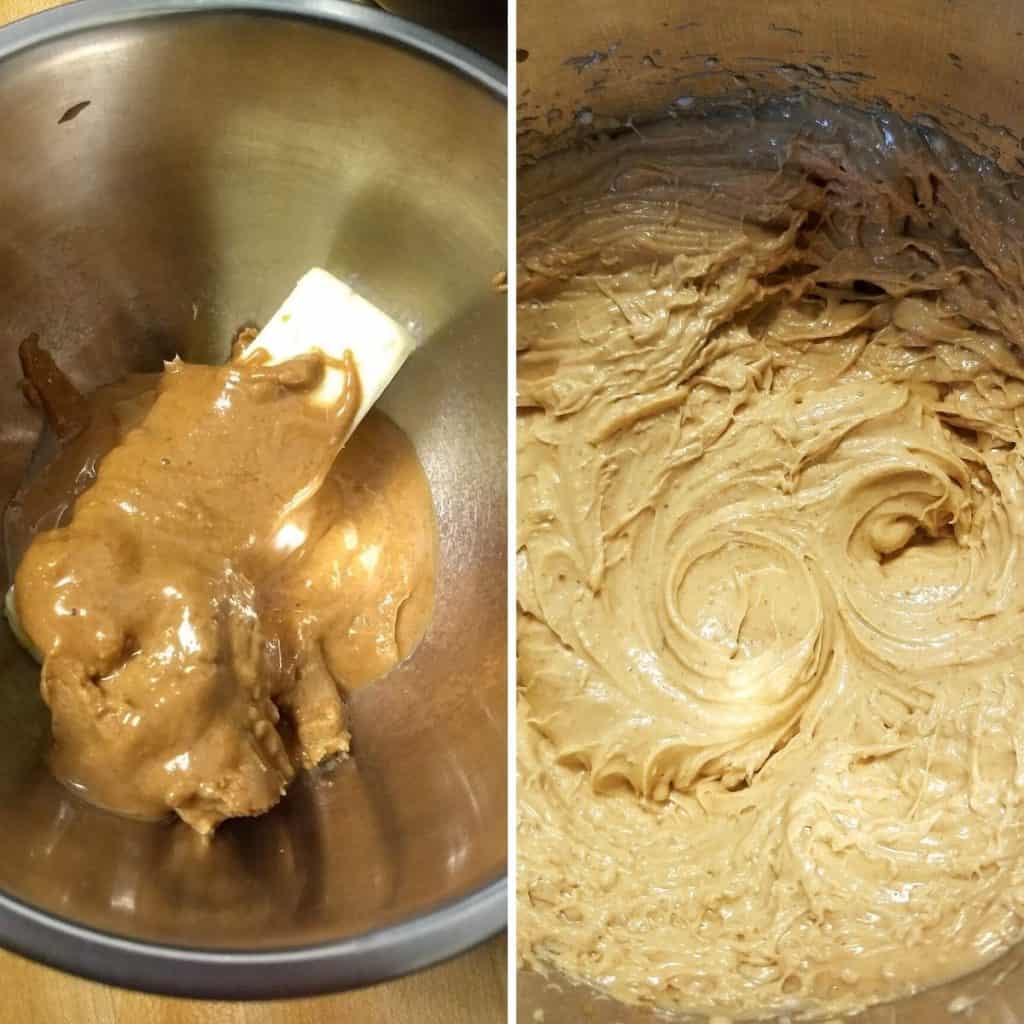 To Make Icing Instead
Icing is thinner than frosting, so you will make the frosting first.
Then you will want to slowly add a little bit of heaving whipping cream or unsweetened nut milk to the mixture. Add a little bit at a time and stop when you get the consistancy that you like.
Also keep in mind, that if you put your frosting or icing in the fridge it will harden up some.
Tips
You will want the butter at room temperature. When the butter is soft, it will then be easy to mix with the rest of the ingredients.
If you forget to leave the butter out, place it in the microwave for 10 seconds at a time. Test the softness of it each time. We don't want liquid butter.
Before you measure out the peanut butter, you will want to premix it in the container it came in. When you buy peanut butter with just nuts and salt the oils will separate out.
Storage
If you do not need to use the low carb peanut butter frosting right away, you can keep it in your fridge until you need it. I would suggest storing it in a bag, so you can easily pipe it out.
Since we used natural peanut butter, I would store it in the fridge to keep it extra fresh. The storage time is really up to you. If you want to be extra safe, use it within 1-2 weeks.
Yet, for me, I'd be risky and store it as long as it looks fine in the fridge.
Related Recipes
If you are looking for a dessert to top the peanut butter frosting with, give these a try.
📖 Recipe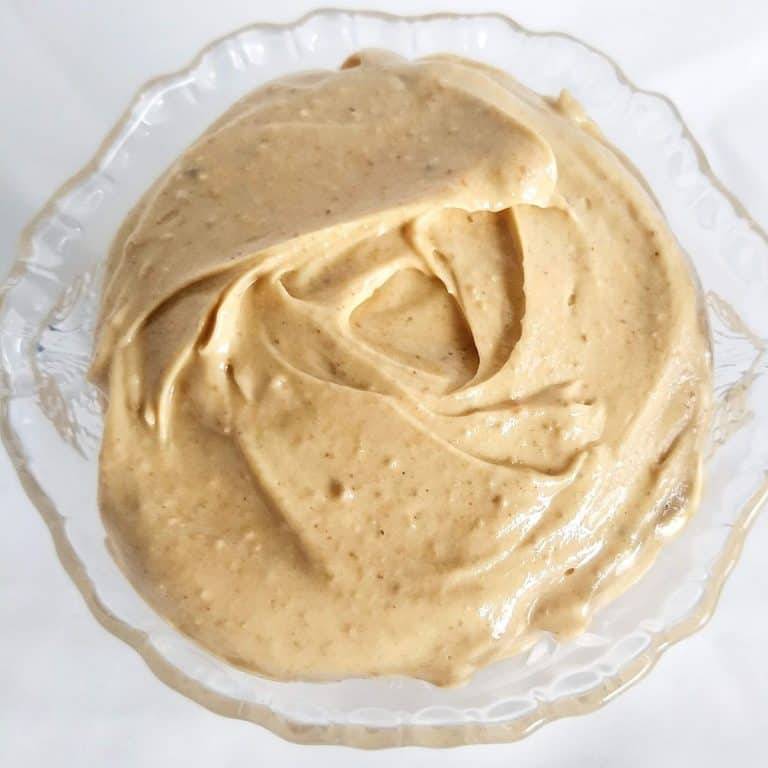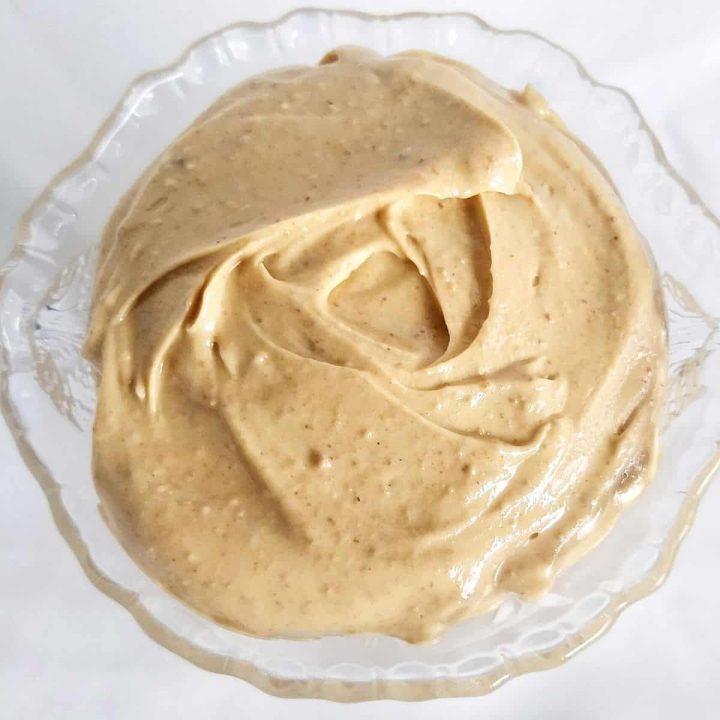 Keto Peanut Butter Frosting
Additional Time:
3 minutes
This is frosting is easy to make and gives a creamy silky texture. Top it on your favorite chocolate cupcake or even ice cream. Only 2 ingredients needed.
Ingredients
Instructions
Allow butter to soften.
Place all ingredients into a bowl and mix with an electric hand mixer to combine.
Spread on your favorite dessert, or eat on it's own. I won't judge. 🙂
Notes
Check above the recipe card for how I would store the keto frosting and how long to keep it for.
Nutrition Information:
Yield:

8
Serving Size:

2 T
Amount Per Serving:
Calories:

206
Total Fat:

20g
Carbohydrates:

3g
Net Carbohydrates:

2g
Fiber:

1g
Protein:

3.5g