As an Amazon Associate I earn from qualifying purchases.
If you love chocolate and pumpkin, you will love these keto chocolate pumpkin muffins. You first make the chocolate muffin and then fill it with pumpkin buttercream frosting.
You could also call these muffins cupcakes. It actually makes them sound yummier. 🙂
Jump to: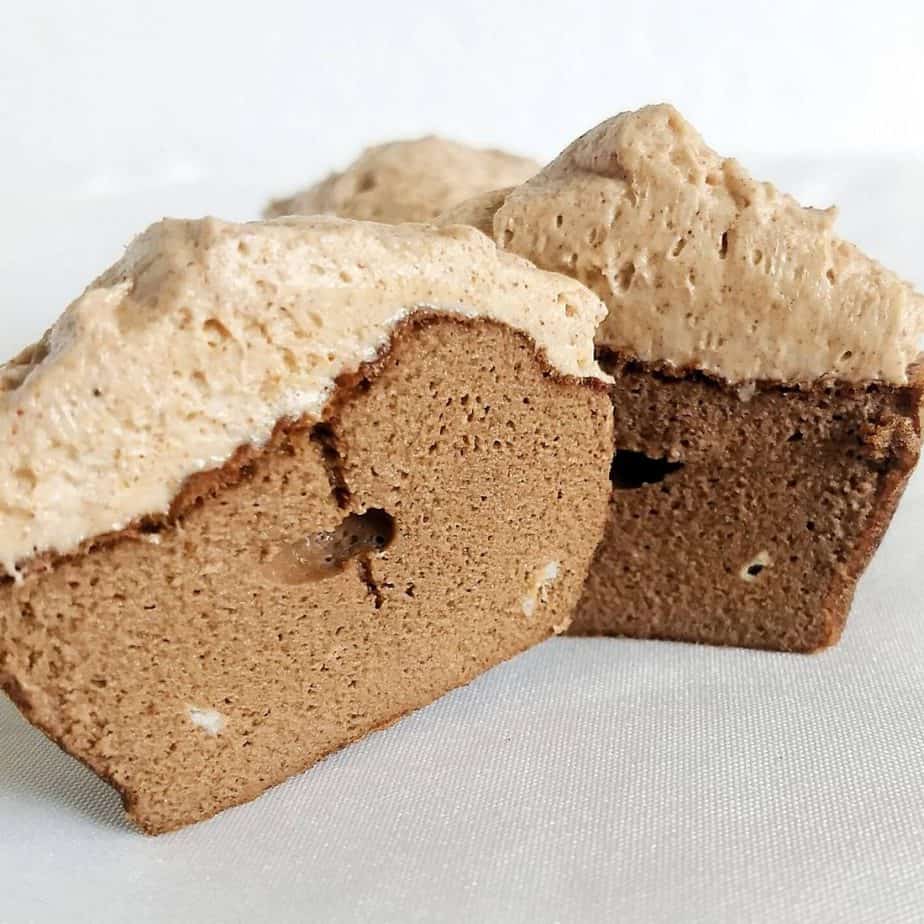 For each floureless pumpkin muffin that's made with the pumpkin buttercream frosting has only 1.8 total carbs. Yes, total.
Ingredients
Items needed for the Chocolate Muffins
The texture of these muffins are very similar to the popular keto egg loaf, so you see all the base ingredients here from that recipe.
Eggs: Eggs are used to help with the structure of the muffins.
Cream Cheese: This is used to help add in some fat, flavor and structure. If you don't do well with dairy, you could try the Kite Hill dairy free cream cheese as a substitution.
Butter: Butter is used to help with flavor. If you used an alternative fat source I'm not sure the end result would be the same though. You can go ahead and experiment with coconut oil or ghe. Let me know how it goes though in the comments.
Cacao Powder: This puts the chocolate into the chocolate muffins. ha 🙂 It also helps with the structure as well, one reason why there is no bakers chocolate in here.
Liquid Stevia or Liquid Monk Fruit: These sweeteners have been chosen to help keep the carbs low. However, you may also use erythrtiol if you just have that. The texture will change some but it will still work great.
Other Ingredients: cinnamon and baking powder.
Ingredients for the Pumpkin Buttercream Frosting
Ingredients for More Flavor: pumpkin spice, cinnamon, liquid stevia, nutmeg, salt. If you don't have stevia, feel free to use liquid monk fruit or erythritol.
Buttercream Base ingredients: cream cheese, butter, and pumpkin puree. Once again if you are not a fan of dairy, you can try dairy cream cheese here. The texture willl change a little bit though, so keep that in mind.
Instructions & Tips
To get the full instructions for this sugar free recipe, please go to the recipe card.
If you allow your butter and cream cheese to come to room temperature, mixing of the items will be a lot easier.
If you forget to leave out the cream cheese and butter set them by the heat vent of the stove as the stove preheats. Check on them often to make sure they don't start to melt. I've had this happen to me before. Whops. While this is happening, you can compile and measure out the rest of the chocolate pumpkin muffin ingredients.
With this being a two part recipe I would start with the chocolate pumpkin muffins first over the buttercream frosting.
Once the muffins are in the oven, go ahead and start mixing the pumpkin buttercream frosting together in a bowl.
To make your life easy, I like to put frosting in a ziplock bag or a piping bag, so it's easier to add to your muffins. For the ziplock bag, you will cut a hole in a corner when you are ready to use it.
Ideally, it's best to allow the chocolate muffins to cool first before adding the buttercream. Your fingers won't get hot and the frosting won't melt. Also, go ahead and put the pumpkin frosting in the fridge as the muffins cool.
For cooking the muffins, I like to use foil liners or silicone muffin liners when baking low carb muffins. They avoid the muffin from sticking to the paper liners or the muffin pan itself.
Video Instructions
Johnathan, who is in this video, created this recipe and put together a video if you are a visual learner.
Also as a side note, I recently slightly changed how to make these muffins in the recipe card. So, in a way you have 2 muffin recipes to choose from. 😉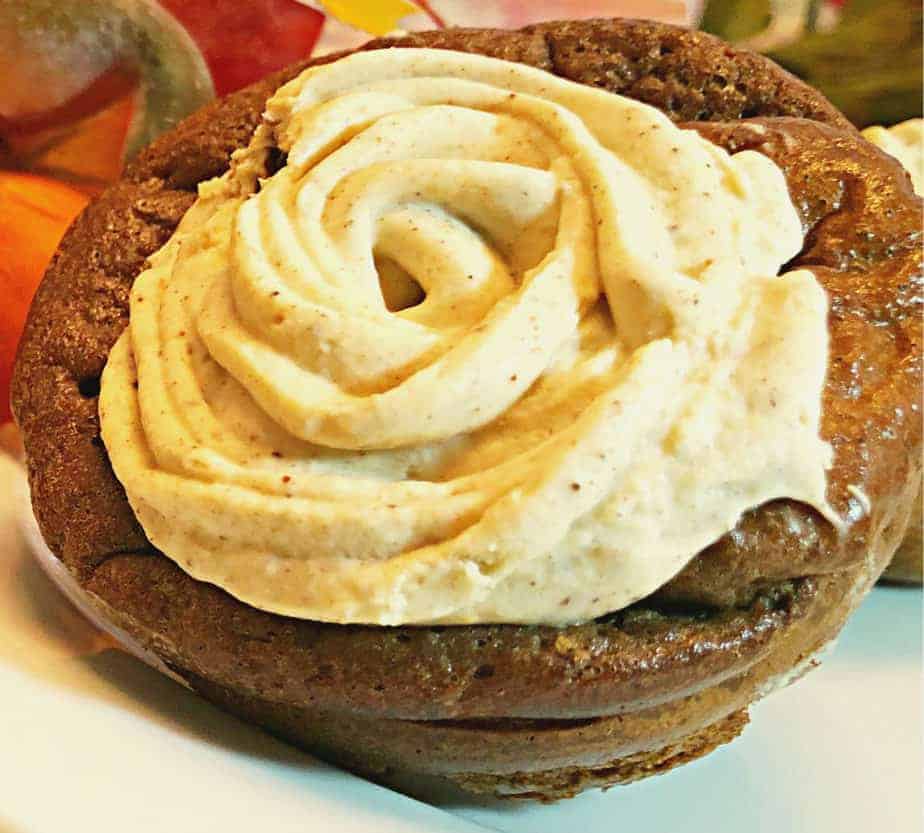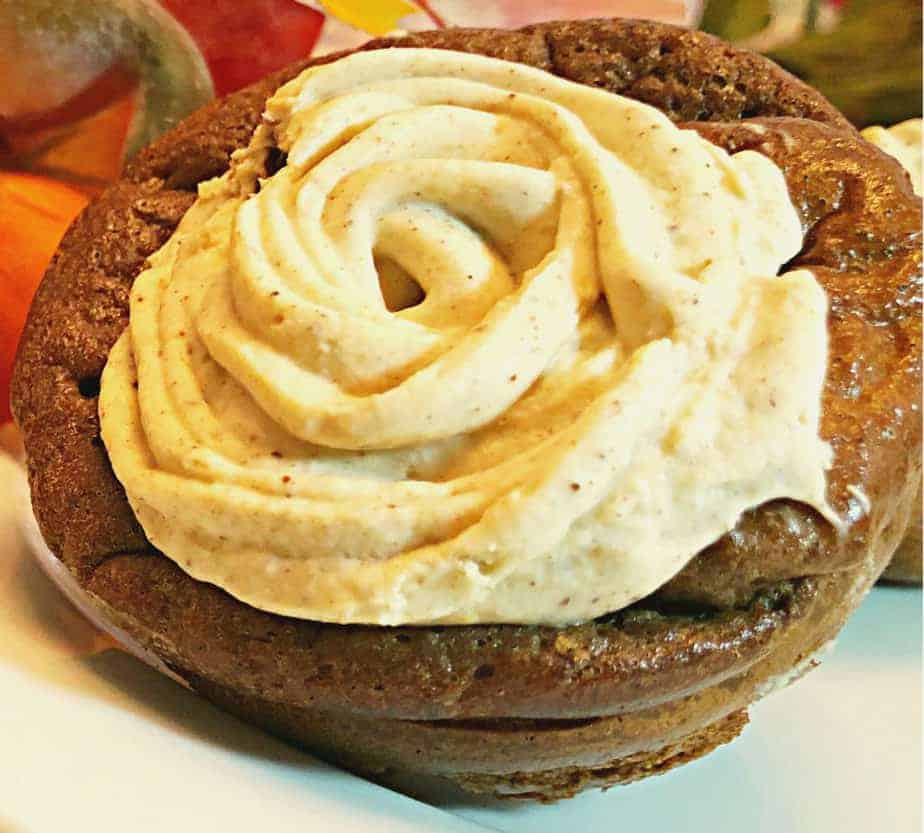 The form you have selected does not exist.
Storage
Once the low carb muffins have cooled, you can store them. Place the muffins in an air tight container in the fridge. They can last up to 1 week. That is if you don't eat them all by then. ????
More Pumpkin Recipes
If you make these chocolate muffins, please rate the recipe and let me know your thoughts in the comments.