As an Amazon Associate I earn from qualifying purchases.
Truth be told, I was never a huge fan of stuffing growing up. In fact, I maybe had it only a few times in my life.
However, The Keto Road, Jonathan, is a Texas boy and loves his dressing. This Thanksgiving keto stuffing is in fact, his creation. He came up with this recipe after creating a carnivore bread recipe, which is amazing, by the way.
After making his bread recipe, I am definitely going to bring this stuffing to my Thanksgiving meal this year. Will you bring this Carnivore Bread Keto Stuffing too? I hope that you do.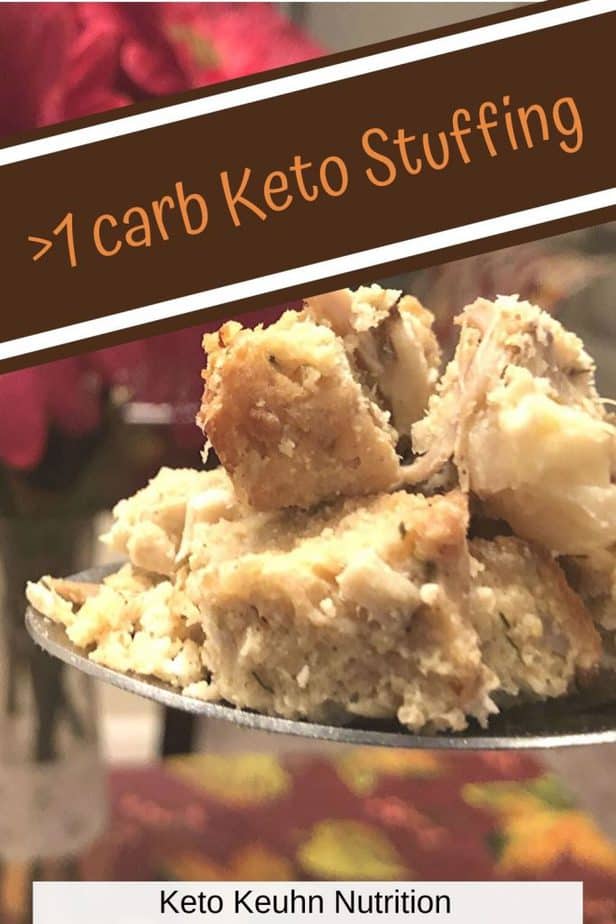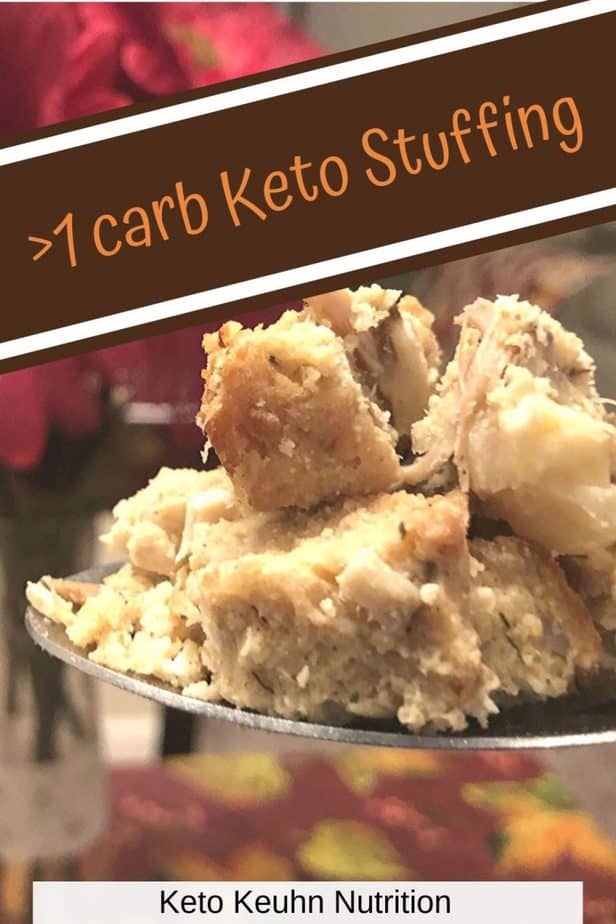 What's the Difference Between Dressing and Stuffing?
Is there a difference between dressing and stuffing? After doing some research (1) I found two differences.
One is that it depends on where you live in the United States. Those in the north call it stuffing and those in the south call it dressing.
The other difference is the ingredients put into this dish. Stuffing will likely use dried white bread and sausage, and dressing will likely have a nut cornbread base.
There are also people that will only call the dish stuffing if it's cooked in the turkey. Then if this side dish is cooked outside of the bird, they will then call it a dressing. Yet, I have personally never met such people. 🙂
When you look to the "experts" they do not even agree on the terms. The Oxford English Dictionary will define stuffing as "a mixture used to stuff poultry or meat before cooking."
The Food Lover's Companion, a food reference book, and the National Turkey Federation both use the terms interchangeably.
Then we have the The Joy Cooking that states dressing is when it is cooked outside of the bird and stuffing is cooked inside.
Why do We even have Dressing or Stuffing?
Dressing and stuffing were created as a way to reduce food waste. I love it! It is always sad when a food item goes bad before you can use it.
Sadly sometimes the food gets pushed in the back of the fridge and it is forgotten about.
Left Overs
On Thanksgiving sometimes we just make too much food. We do not want to run out or maybe you planned it on purpose as a meal prep day. Such a smart idea. 🙂
These ideas below are things I have not done yet but some examples that you could get creative with.
Place the leftover stuffing into muffin tins and then pour broth over it or any leftover keto gravy. Bake in the oven for a little bit and then eat up.
Make an egg bake! Scramble some eggs up in a casserole dish and then toss in the leftover stuffing. Bake in the oven. You can even toss in some leftover turkey. Or maybe add some cheese too on top. Oh man, I am getting hungry just thinking about this.
Make a "sausage" patty. Get a food processor and blend up the stuffing with an egg for a binder. Form into patties and cook it on the stove. Or even make meatballs with the leftovers. YUM!
Bacon-wrapped stuffing! Make a bit size ball of your stuffing, blend if needed, then wrap a strip of bacon around it and cook it in the oven.
Put your stuffing in a bowl for yourself and crack an egg on top. Cook in the oven. Or warm up the stuffing in the microwave and cook the egg on the stove, then place on top of your stuffing.
Make savory Waffles! Blend the stuffing up, add some heavy whipping cream to make a thick batter. Then cook with your waffle iron.
Nutrition Facts (18 servings)
Remember that nutrition may vary. I also did not add the spices into my calculations, since there is such a small amount in one serving.
Calories: 267.7
Fat: 17.8
Protein: 25.9
Carbs: 0.94
Fiber: 0.07
Net Carbs: 0.87
To log the recipe on MyFitnessPal search: The Keto Road – Carnivore Bread Keto Stuffing
-The Zero Carb Bread Recipe is under this Stuffing Recipe-
Recipe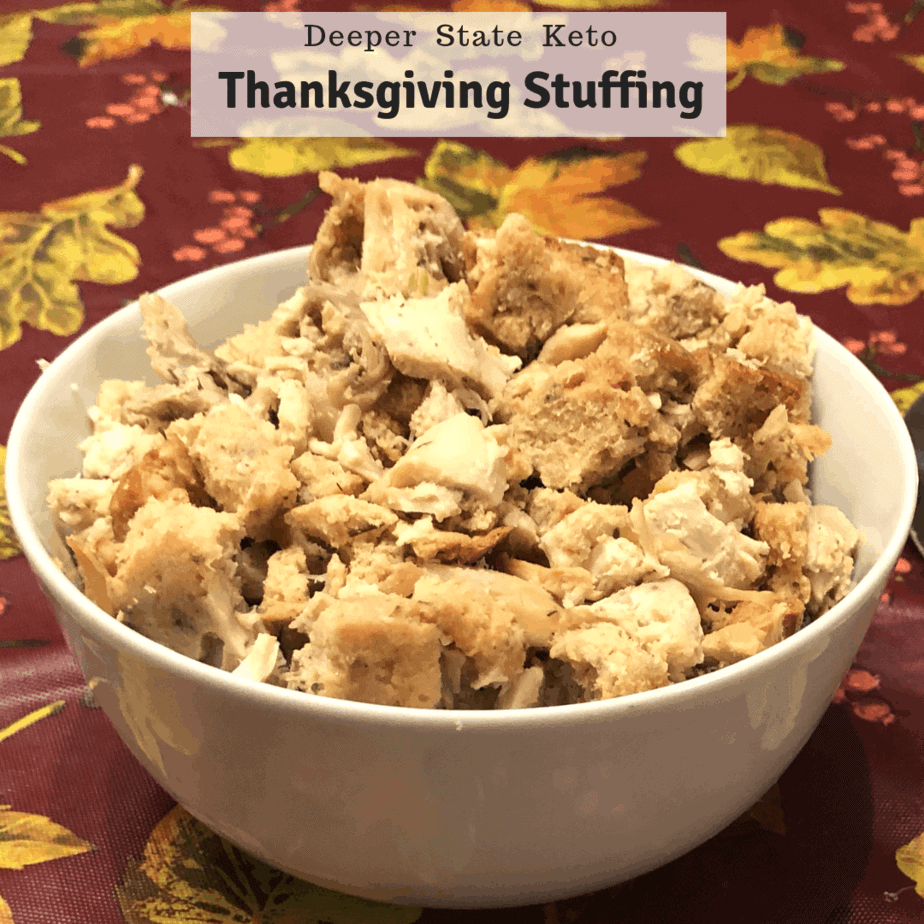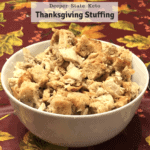 Print Recipe
Carnivore Bread Keto Stuffing
Ingredients
-Dry-

1

Whole Carnivore Loaf

or keto bread of your choosing dived into 1/4-1/2 cubes. (Get the Carnivore recipe below the recipe card)

24

oz

of cooked and chopped chicken thigh

1/4

C

Celery

1/4

C

Onion

2

T

Minced Garlic

Could be a considered a spice also

-Wet-

1

C

Chicken Broth

1/2

C

Heavy Whipping Cream

2

T

Butter

2

Large Eggs

-Spices-

1

t

Salt

1/2

t

Poultry

1/4

t

Rosemary

1/4

t

Oregano

1/4

t

Onion & Garlic powder

Dash of cayenne pepper

Dash of nutmeg
Instructions
Preheat oven to 375'F

Add butter, celery, onions and minced garlic. Sauté on low until all the butter is absorbed. Set aside.

Add eggs, heavy cream, broth & spices to a large bowl, mix until combined.

Gently fold in bread cubes until it is fully coated. Let rest for 2-5 mins.

Add in chicken and sautéed veggies and combine.

Place in a casserole dish and bake at 375'F for 50 mins or until top is browned

Serve and enjoy 🙂
Carnivore Bread
Check out this carnivore bread recipe as a grilled cheese. Eat carnivore and still eat your grilled cheese!