As an Amazon Associate I earn from qualifying purchases.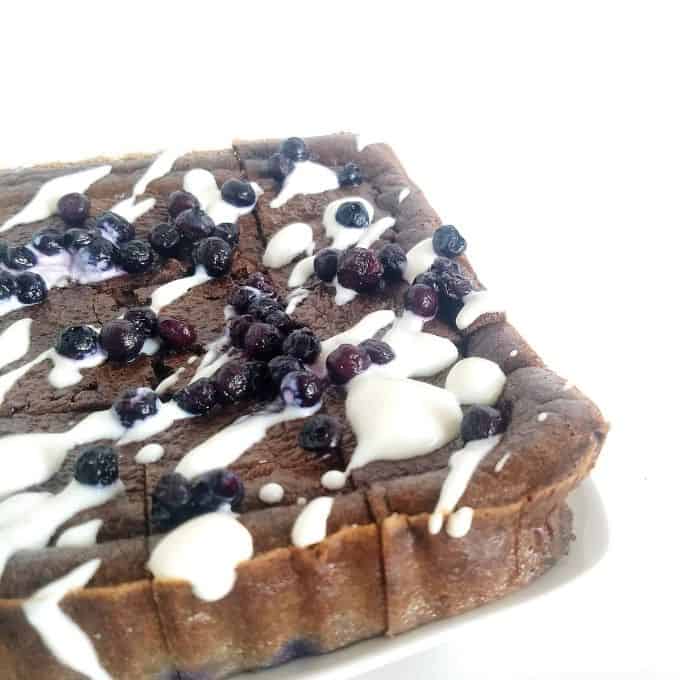 Blueberries and chocolate are great on their own but when you make a cake out of the two, it just makes life so much better.
Slightly Different Ingredients
The one ingredient you may question in this recipe is the use of collagen powder. I know it seems weird. If you play with it just right, it works great! Also, this saves on total carbs since I am not using a lot of almond or coconut flour, as most keto cake recipes do.
Since this site's recipes are all under 10 total carbs, I need to get a little more creative than other keto recipes. However, I hope that's one reason why you follow me. 🙂
Kicking up the Chocolate Flavor
If you want an easy way to increase the chocolate flavor, get yourself some espresso powder. Adding just a little bit brings out the chocolate more.
Let's Talk Texture
In the photos below you can see that one of these chocolate cakes has more air pockets and more lift while the other does not. The only difference is that I did not add the nut milk to the mixture.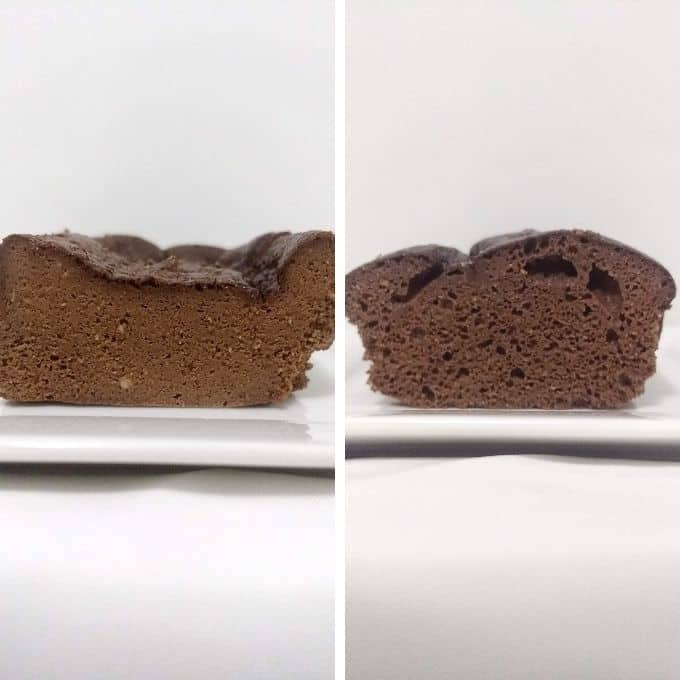 The one with more air pockets is a closer match to your classic cake. Nice and airy with some moisture.
If you want a super moist but a denser blueberry chocolate cake, you will want to use the nut milk. Also, another thing to note is that this recipe's photos used frozen blueberries. By using frozen blueberries, it creates more liquid and some more moisture.
The bottom line is that if you want a moist keto cake, add liquid.
Fresh Berries V.S. Frozen Berries
The photos of this cake uses frozen berries and the directions in the recipe go by the frozen variety. However, if you use fresh berries, you have a better chance of them not falling to the bottom of the cake. Also, you will be adding less liquid if you use fresh blueberries.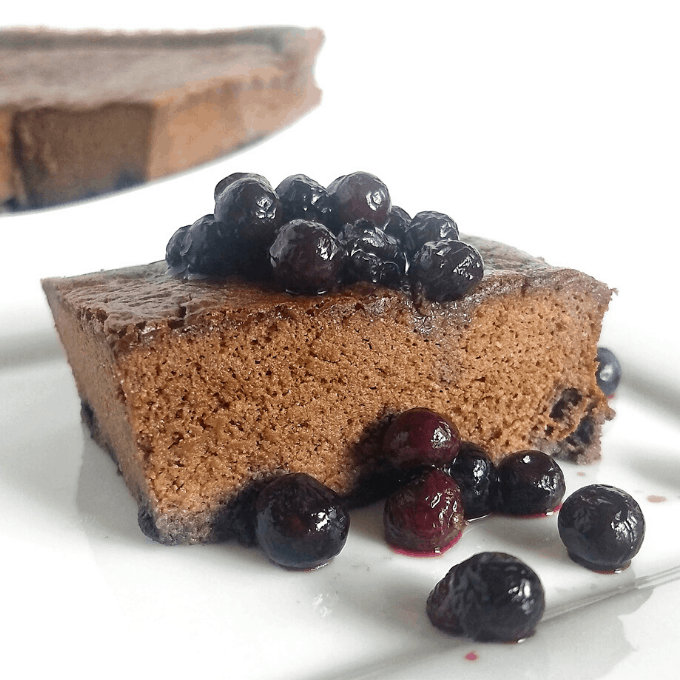 Tips in Cooking your Cake
You may think the cake is not done when you pull it out of the oven. I had that fear myself, but I removed it regardless. The middle of the cake will still look wet. When I removed it from my oven, the toothpick came out clean. It came out clean even though it was still wet looking. However, there is no harm done in cooking it for a few more minutes.
For my blueberry cake, I used frozen blueberries and thus added more liquid to the chocolate cake. Once the cake was fully cooled overnight, the inside of the cake where it was the wettest, was oh so gooey moist. More so than the outside layers.
What I had learned was that the center was where a good amount of the blueberries ended up. More liquid and more moist. It was still delicious though!
Did you make this recipe? Let me know in the comments below and give me some stars. 🙂