As an Amazon Associate I earn from qualifying purchases.
Jump to:
These soft keto eggnog cookies will become a new holiday staple in your house. They are soft, tender, and cake-like in texture but with just the right amount of eggnog flavor.
Don't forget to get some extra recipe tips in my post below, before the recipe.
What You Need to Make Keto Eggnog Cookies
1 Egg
Coconut Oil (unflavored)
Almond Flour
Sweetener
Nutmeg Spice
Cinnamon
Vanilla Extract
Salt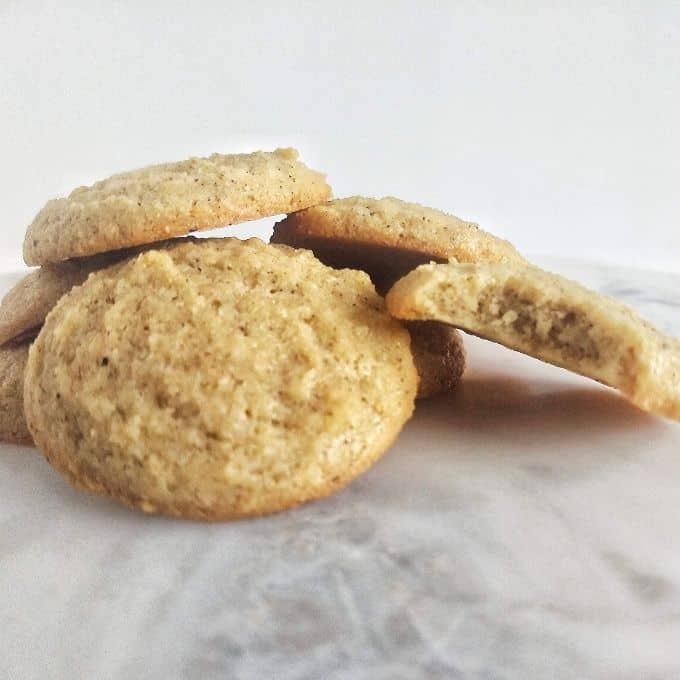 Almond Flour v.s. Coconut Flour
Truth be told I wanted to create a cookie with both almond and coconut four. Yet, every time I tried different ratios of the two, the cookie batches kept being too dry for my liking.
Therefore, these keto eggnog cookies only use almond flour.
Do You Have to Use Coconut Oil?
No, you don't. In fact, my friend, Karen, used avocado oil instead when she made these cookies. She even made caramel sauce for us to drizzle on these keto cookies! Her cookies made with avocado oil can be seen below.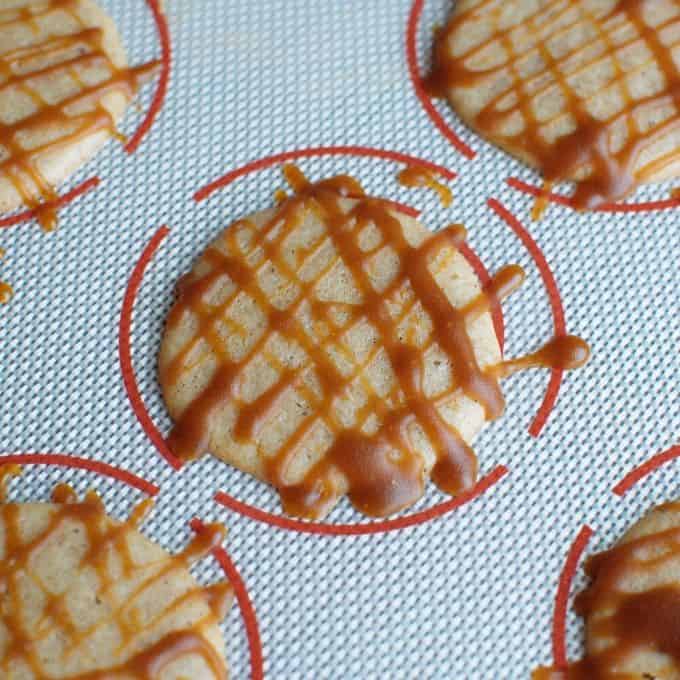 What Sweetener is Best?
When I started baking keto recipes, I purely used erythritol. Over time I graduated to a mix of erythritol and monk fruit. Now, in my recipes, I mostly use pure monk fruit extract.
I use this keto sweetener because it does not spike your blood sugar and it provides zero carbs.
Erythritol does not spike your blood sugar, but it still counts towards total carbs.
So, to keep the total carbs down to less than 10 total in all of my recipes, I use pure monk fruit. I sometimes use the monk fruit liquid drops as well.
Cookies can be tricky though with what sugar substitutes you use. I tested this recipe with 1 T of erythritol and the pure monk fruit extract. Both turned out great. I also don't see a problem with using more erythritol if needed.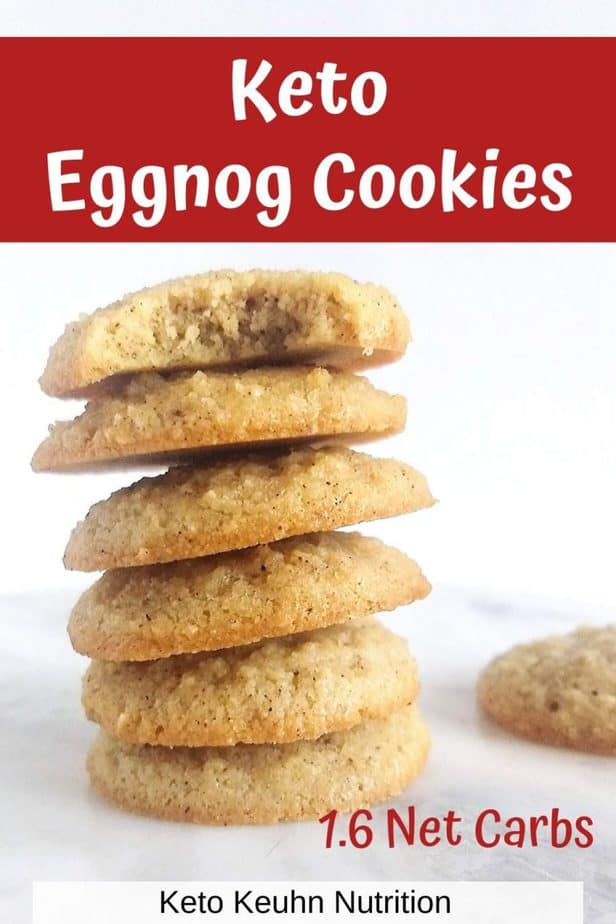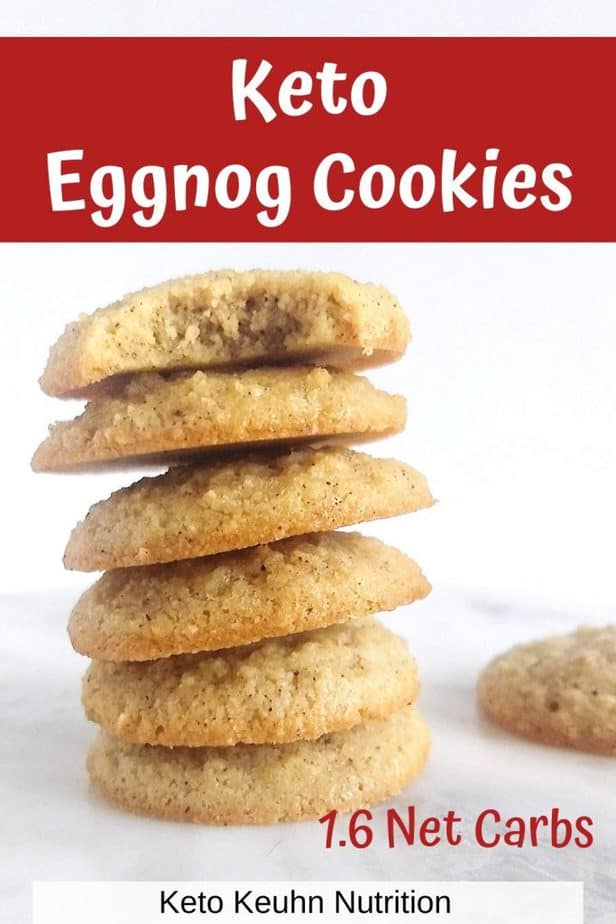 How to Make Eggnog Cookies
1. For the almond flour, I used my food scale to get the correct amounts. Measuring these items with just a tablespoon or measuring cups, are not always very accurate. So, to be on the safe side, I weighed out the almond flour.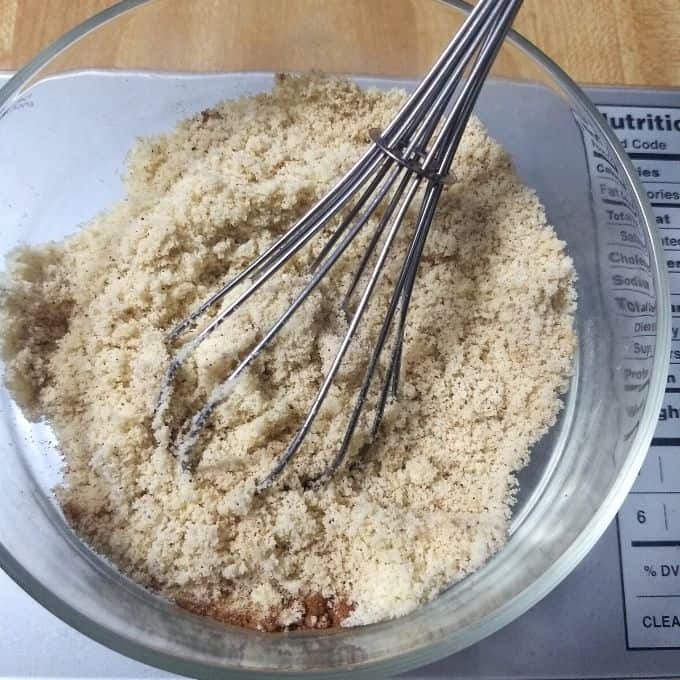 2. You will want the coconut oil soft enough to blend. If it's hard, go ahead and microwave it for 10 seconds or so. The photo here can give you an idea of the softness I'm talking about.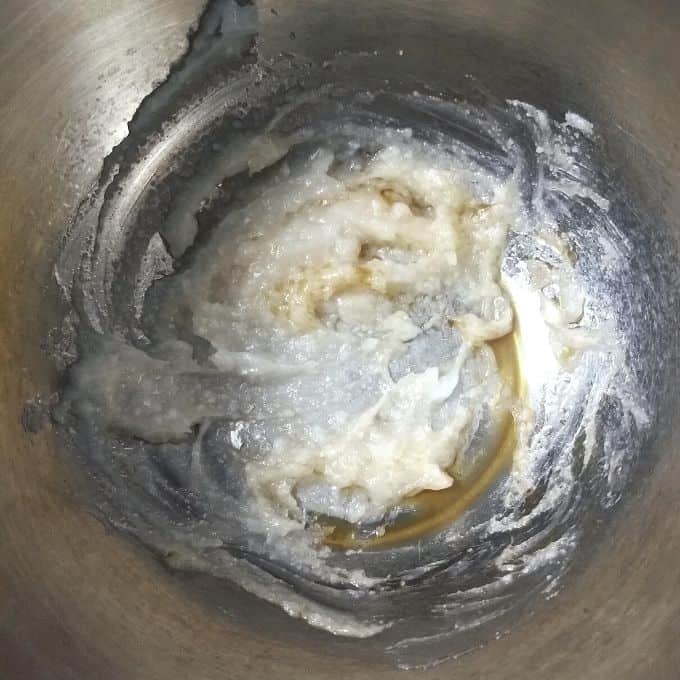 3. Beat the coconut oil with a large egg.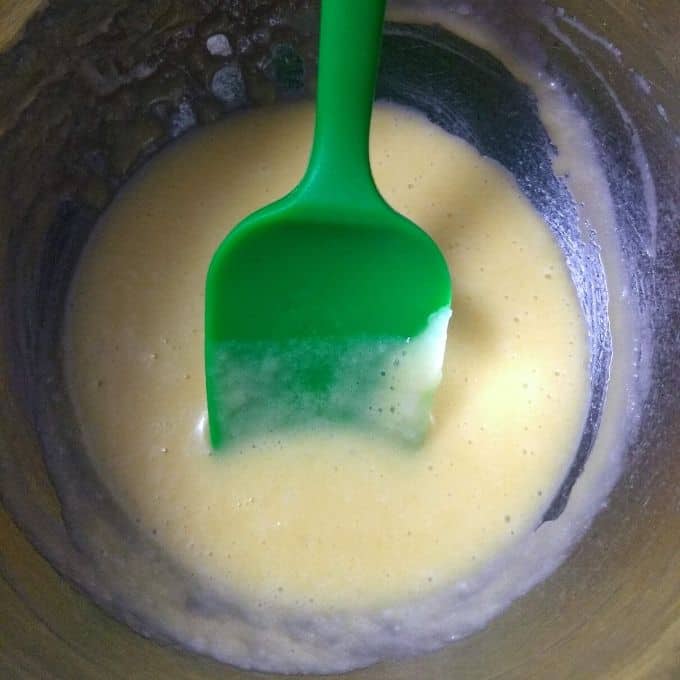 4. Add in the dry ingredients to the wet mixture. Blend/beat together.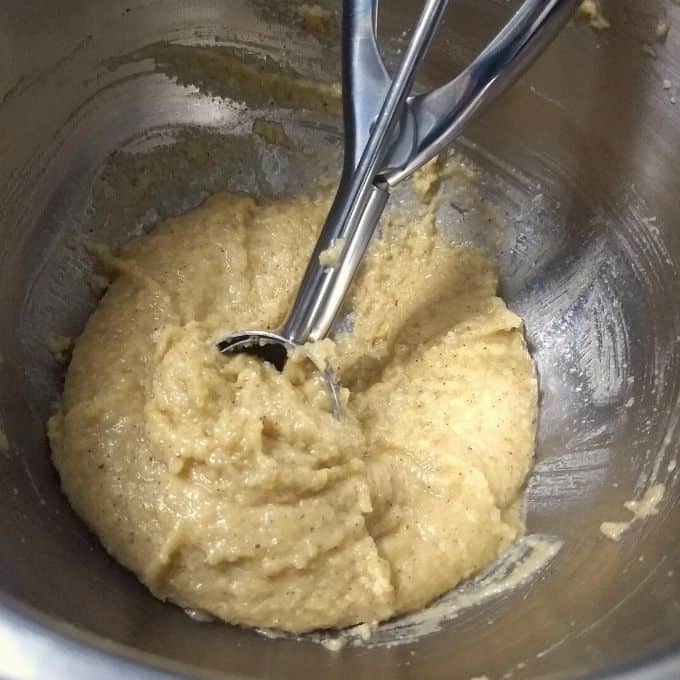 5. I like using a cookie scope when portioning my cookies. Once the scopes are on your baking sheet, I like to tap the bottom on the sheet to spread the batter out. You can see how much I allow to spread out in the photo.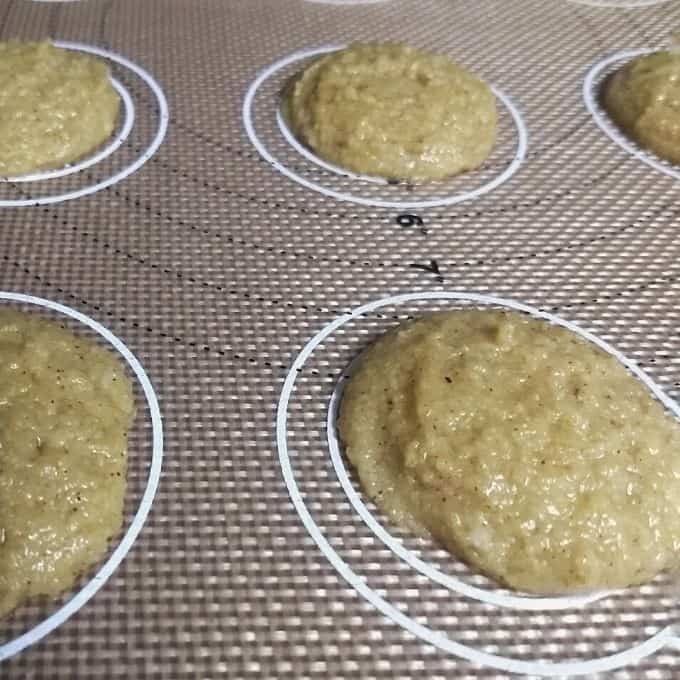 6. Bake. Cool. Enjoy.
The Eggnog Flavor
Nutmeg, cinnamon, and vanilla. These 3 flavors make up the eggnog flavor we all have learned to love. I use Madagascar vanilla extract and dry spices of nutmeg and cinnamon. The real secret lies in making sure your spices are fresh.

After 2 to 3 years of opening the dry spice, it sadly loses its strength and flavor. I've never really cared up until having this blog, where flavor really counts in my opinion. So, the choice is up to you.
Another flavor idea is to add rum! Alright, maybe not actual rum, but rum extract.
Caramel Sauce Topping
Make these cookies extra special with caramel sauce!
Karen over at Brilliantly Keto created this 4 ingredient caramel sauce. It uses a newer keto sweetener that creates a very creamy and smooth sauce.
When the sauce is warm is the perfect time to drizzle on these keto eggnog cookies. When the caramel is cooled, it's thicker but still easily spoon-able.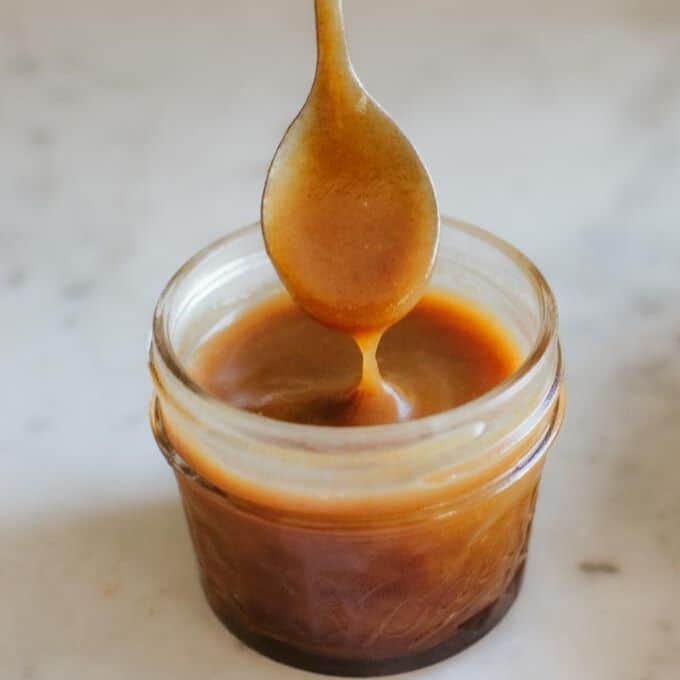 Keto Eggnog Drink
With all this eggnog talk, are you starting to crave the drink? The actual eggnog drink? If so, you are in luck! I created an extremely easy recipe and perfected it to get the right mouthfeel.
Not too thin and not too thick. Make these cookies and enjoy my eggnog drink at the same time. Feel free to add some rum to your eggnog. Just watch your carbs, if you wish. 🙂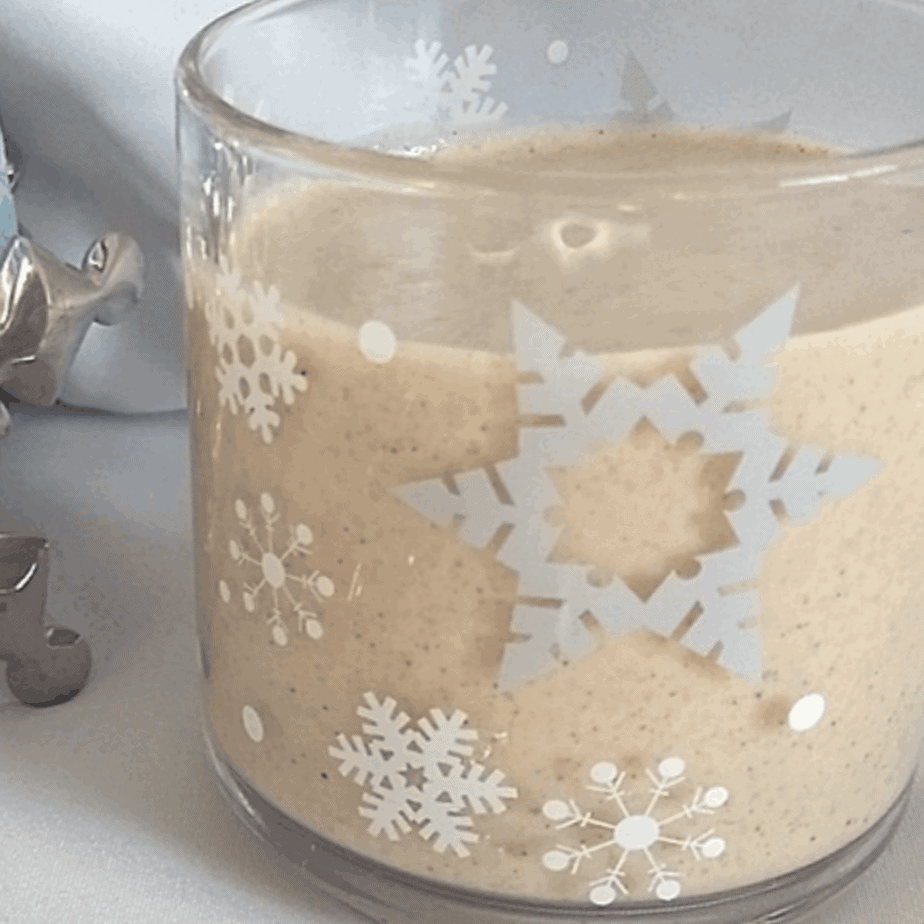 Other Keto Cookies
Recipe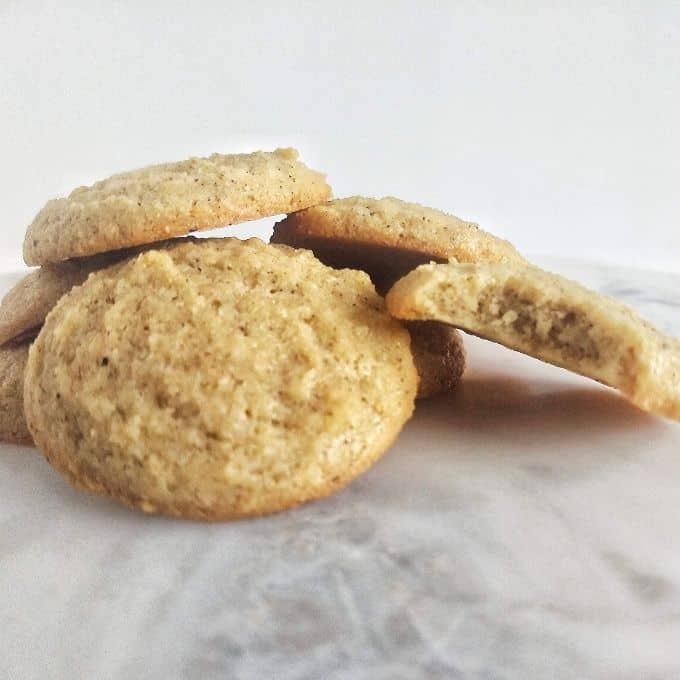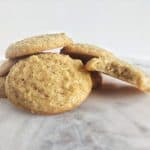 Print Recipe
Keto Eggnog Cookies
Ingredients
1/2

Cup

Almond Flour

I use a scale to weigh this out according to the package.

2

tbsp

Room Temp Coconut Oil

non flavored

1

Large

Egg

3/4

tsp

Vanilla Extract

1/4

tsp

Nutmeg

1/8

tsp

Cinnamon

1/4

tsp

Pure Monk Fruit Extract

or your choice of sweetner. Adjust to your level of need.
Instructions
Measure out the almond flour. Weighing it out will be best. Add all other try ingredients to your almond flour.

Beat for a few seconds of the room temp coconut oil with the vanilla extract.

Beat the egg into the coconut mixture.

Add the almond flour mixture to your wet egg mixture. Beat and blend together. The batter will be sticky.

Once combined, scope out the cookie dough an place onto your cookie sheet.

Once the dough is on the sheet, tap the bottom of the pan to help spread out the batter some.

Cook on 350 degrees fahrenheit for 10 to 12 minutes. Or until slight golden brown on edges. Allow to cool.

Once cooled, this is when you would drizzle that caramel sauce on these cookies. (see post above to get this recipe)
Notes
For additional recipe notes, see post above the recipe.
Nutrition
Serving:
1
cookie
|
Fiber:
0.3
g
|
Calories:
53.3
kcal
|
Fat:
4.4
g
|
Protein:
1.8
g
|
Carbohydrates:
1.6
g