As an Amazon Associate I earn from qualifying purchases.
This will be your perfect cheesecake for St. Patrick's Day. The mint extract creates your mint flavor and you get chocolate from the cocoa powder. Make it extra special with the chocolate crust.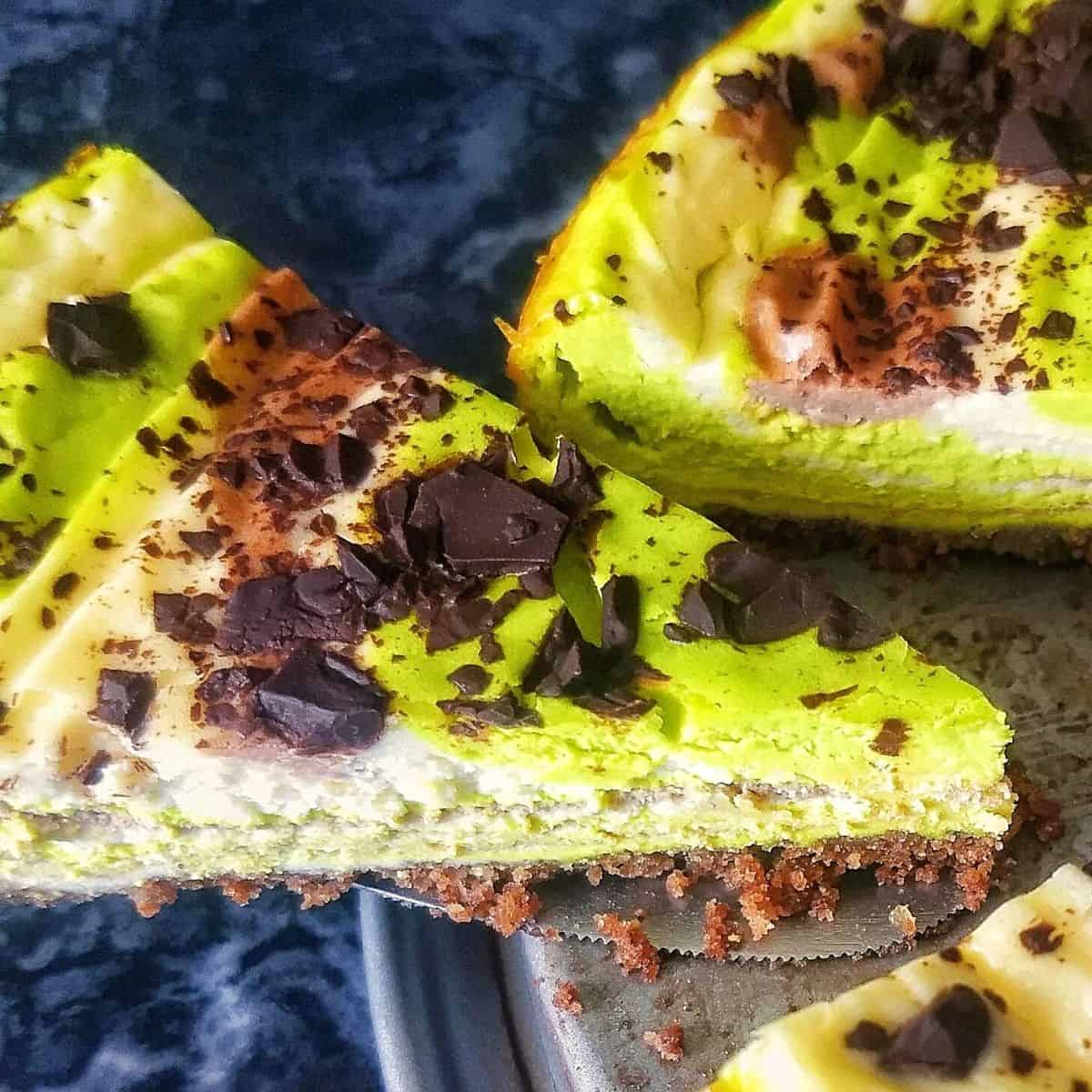 Ingredient Substitutions
Sweetener
This cheesecake is not overwhelmingly sweet, but feel free to add more sweetener to yours. The sweetener that I use is liquid monk fruit drops.
However, feel free to use erythritol if you wish. Lakanto has a great powdered monk fruit and erythritol mix. You can view it here.
Creme Fraiche
Instead of using sour cream in a more traditional cheesecake recipe, I changed it up by trying creme fraiche. I used this ingredient instead as it has about 8 more grams of fat for each ounce. This also makes the keto cheesecake thicker in texture as well.
If you are not able to find creme fraiche, you can subtitute it for sour cream.
Tips
Avoiding Cracks
To help avoid the cheesecake from cracking on top there are a few steps you can take.
First, leave the ingredients out and bring them to room temperature. If you forget this step for the egg, just put them in warm water for a few minutes. You can also bring your cheeses to room temperature by putting them in the microwave for 20 seconds or so on a low power setting. Be careful not to melt or over head them.
When mixing try not to overbeat it. Just mix it enough to blend the ingredients together.
Another tip is to cook it in a water bath.
Once the cheesecake is done, turn the oven off but prop the door open with a wooden spoon and let it sit for 1 hour.
Then take the cake out and rest it on a cookie cooling rack to cool further and run a knife around the edge.
Once the cheesecake has cooled, place it in your fridge uncovered. Try to chill for at least 3 hours. The wait is truly the hardest part.
If you happen to still get cracks, it is okay. It still tastes good. You can always sprinkle the precooked keto mint cheesecake with cocoa powder or toss on some Lilly's Chocolate chips. Doing this can help hid the cracks if they show up.
Batter Images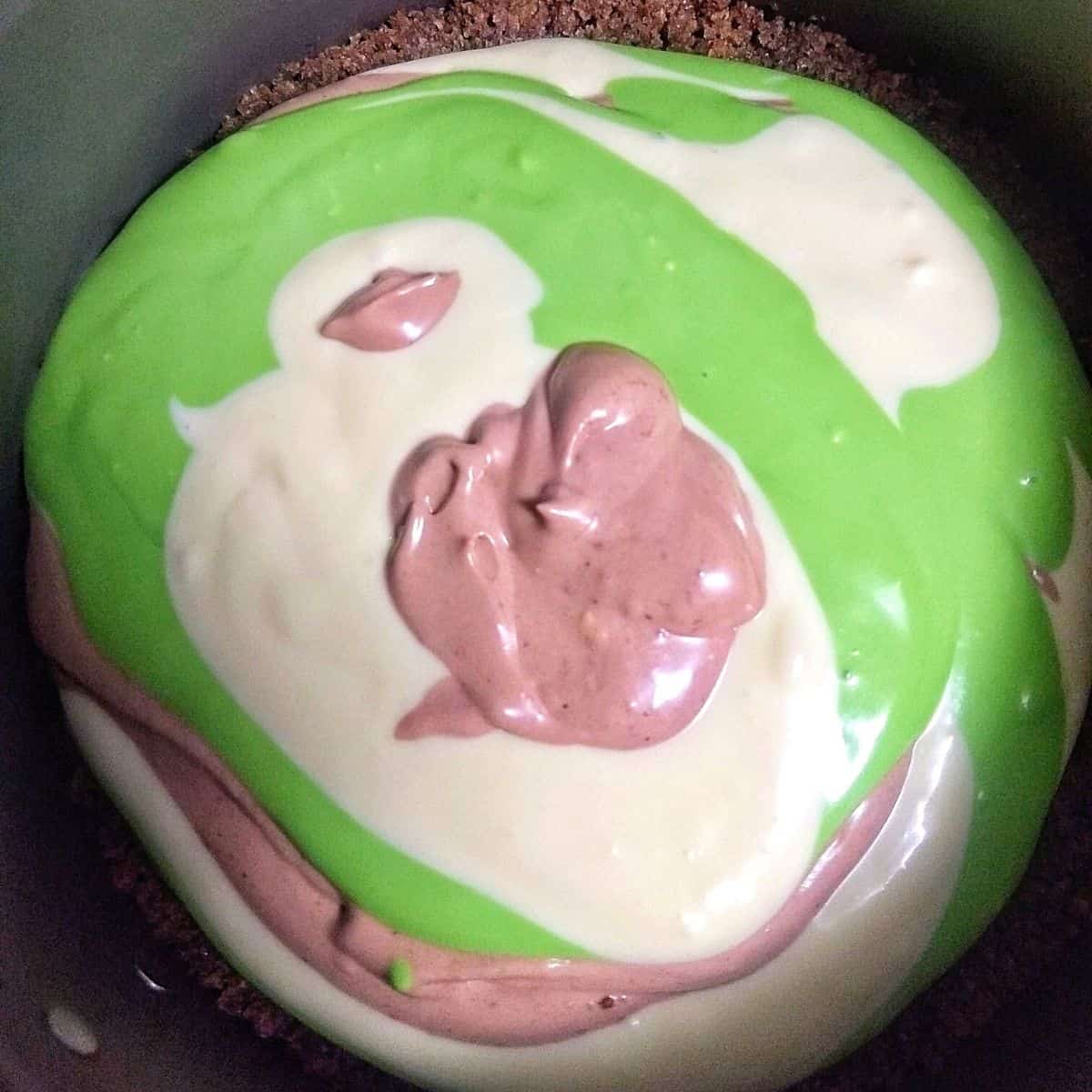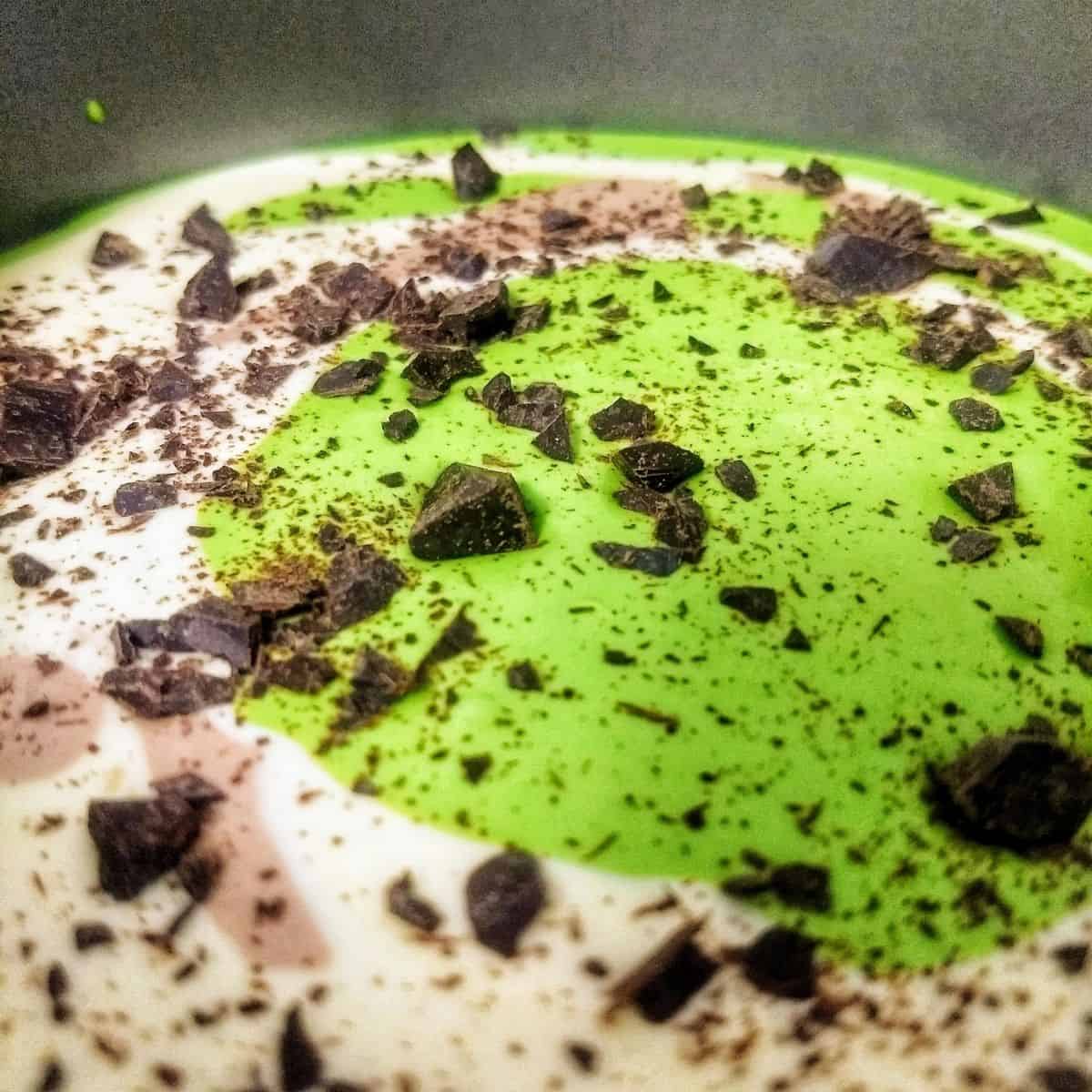 How to Tell When it's Done
When the edges have set but the middle still giggles, is when you want to turn the oven off. Remember Jello gigglers? That is how we want the middle to move. If you cook it a bit more, it will be okay. It will taste great, it will just have a different texture.
Chocolate Crust
The keto mint cheesecake recipe below does not have a crust recipe. However, I do have a great keto cheesecake crust recipe on my site. It's easy and you can add cocoa powder and cinnamon to make it perfect for this mint cheesecake. Just click on the green link.
To make this cheesecake crust chocolate add 1.5 tablespoons of cocoa powder and 1/8 teaspoon of cinnamon to the ingredients.
More Dessert Recipes