As an Amazon Associate I earn from qualifying purchases.
I love mint and cheesecake so I combined the two for St. Patricks Day! So, now there is the Mint Cheesecake for you all. 🙂 In fact, this is a combination of chocolate, mint and vanilla cheesecake all wrapped into one. 🙂
You will make three easy flavors with a near zero carb crust. It can be a zero carb crust if you are okay with it not being chocolate.
Sweetness
This cheesecake is not overwhelmingly sweet, but feel free to add more sweetener to yours. The sweetener that I use is my liquid monk fruit drops that I have started to use over erythritol since April of last year.
I stopped using erythritol since I now count the carbs in this sweetener and I like to keep my carbs very low now.
Erythritol
However, feel free to use erythritol if you wish. Before I stopped using erythritol I learned that using a powdered version is best, to avoid the cooling effect. I then learned of the monk fruit and erythritol mix.
That became my favorite to use for an erythritol based sweetener. Lakanto has a great powdered monk fruit and erythritol combo. You can view it here.
Zero Carb Crust
Yes, it says zero carb crust, no typo there. 🙂 You have three choices here. One is going crustless. Another is you can have a nonchocolate crust flavor and make it zero carbs.
Or third, you can add some cacao powder to the crust recipe and had a few carbs (1.5 for the whole crust). The nutrition in this recipe will include the chocolate crust ingredients.
The Chocolate Crust
The ingredients for this crust include crushed pork rinds, butter, cinnamon powder, cacao powder, and drops of monk fruit.
1.5 T Cocoa Powder
1/8 t Cinnamon
View the original zero carb pie crust to see how much pork rinds and butter you need.
Follow the same directions on the zero carb crust recipe but add in the cocoa powder and cinnamon after you crush the pork rinds.
Nutrition for the WHOLE Chocolate Pie Crust
Calories: 458
Fat: 36
Protein: 32
Carbs: 1.5
Fiber: 1
Net Carbs: 0.5
Cinnamon to the Pie Crust
I did some searching and learned that if you add a tiny bit of cinnamon to a crust it helps make it tastes a little bit like you used graham crackers. Add it in or do not. The choice is yours.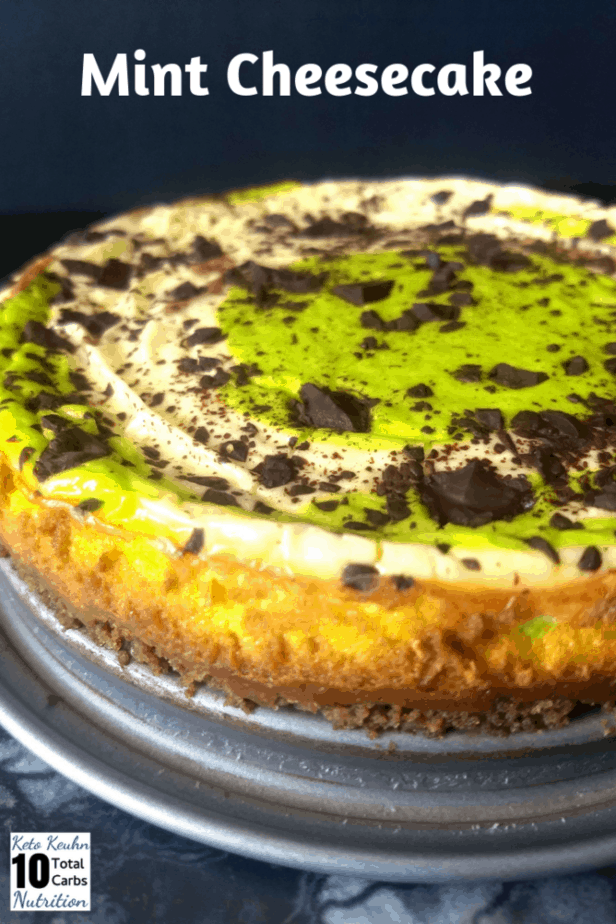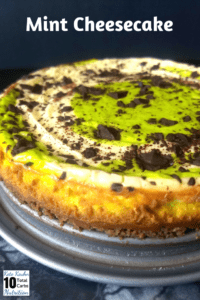 Tips in Avoiding a Cracked Mint Cheesecake
To help avoid the cheesecake from cracking on top there are a few steps you can take.
First, leave the ingredients out and bring them to room temperature.
Another tip to avoid the cheesecake from cracking is to cook it in a water bath. To be honest, though, I did not make a water bath for my cake. I like easy and that made it easier for me.
Third, once the cheesecake is done, turn the oven off but prop the door open with a wooden spoon and let it sit for 1 hour.
Then take the cake out and rest it on a cookie cooling rack to cool further and run a knife around the edge.
Once the cheesecake cooled further, place in your fridge uncovered. Try to chill for at least 3 hours. The wait is truly the hardest part.
If you happen to still get cracks, it is okay. It still tastes good. Or something that I did was sprinkle bakers chocolate on top of the cake before I baked it. You could also get some Lilly's Chocolate Chips and do the same. This is a nice way to help hide those potential cracks. 🙂
How to Tell when your Mint Cheesecake is Done
When the edges have set but the middle is still giggles is when you want to turn the oven off. Remember Jello gigglers? That is how we want the middle to move. If you cook it a bit more, it will be okay. It will taste great, it will just have a different texture.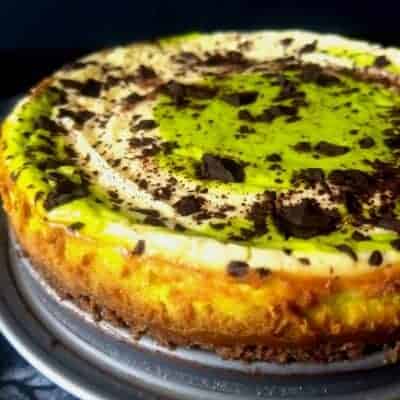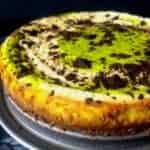 Print Recipe
Keto Mint Cheesecake
Ingredients
8

oz

Cream Cheese at room temperature

1/4

C

Creame Frechia at room temperature

1

Whole Egg

1

Egg Yolk

1/2

t

Vanilla Extract

1/4

t

Mink Extract

1/4

t

Monk Fruit Liquid Drops

use more if needed.

2.5

t

Cocoa Powder

5/8

t

Powdered Green Dye

15

Drops Monk Fruit Liquid Sweetener

I used a 7 inch cheesecake pan.
Instructions
If you are making a crust, please view the instructions above this recipe. The macros will reflect the chocolate crust. You will also use 15 drops of sweetener and 1.5 t of cocoa powder in this crust.

Cream the cream cheese, creame frechia with 1/4 t of monk fruit and vanilla extract.

Scrap the sides of the bowl and mix together again. A few small cheese clumps are okay.

Add the egg and mix with hand mixer, scrap the sides and hand mix together.

Add the egg yolk and mix with hand mixer, scrap the sides and hand mix together.

Get another bowl and add about half the mixture in bowl. Get a 3rd bowl and add some batter into this bowl. These three bowls will give you the vanilla, mint, and chocolate flavors.

To your chocolate bowl add 1/2 t of cocoa powder and a few monk fruit drops. To your mint bowl, add 1/4 t mint extract, and green color dye. Leave the vanilla bowl as is.

Get your cheesecake pan and start to layer your fillings on top of one another. Pour in some vanilla mix, then your mint mix, then your chocolate mix, and so forth.

Once the batter is in the pan, pat on the counter to make it even.

Place on cookie sheet and cook for 30-35 minutes on 325 F. Times will vary. To view further cooking instructions view passage below.
Nutrition
Calories:
237
kcal
|
Carbohydrates:
0.8
g
|
Protein:
7
g