As an Amazon Associate I earn from qualifying purchases.
Easy Pumpkin Muffins made with Coconut Flour & Almond Flour: with optional Cream Cheese Frosting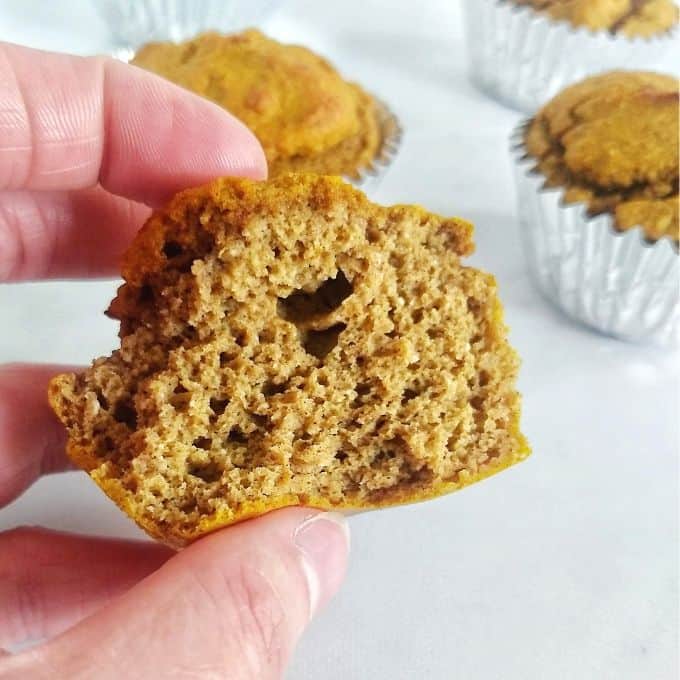 It's fall! Fall is finally here! And that means pumpkin everything. Who's basic in here? Instead of a pumpkin spice latte I made keto pumpkin muffins instead. Nothing beats a warm pumpkin muffin on a cool fall morning with your coffee.
These muffins are easy to make and are the perfect amount of spice. My husband even told me that they require whipped cream on top since they taste so much like pumpkin pie.
If you want that coffee to be a pumpkin spice latte, fear not, I have a recipe for you. Last year I created a White Chocolate Pumpkin Spice Latte.
Ingredients Needed to Make Pumpkin Muffins
Eggs
Heavy Whipping Cream
Puree Pumpkin
Coconut Flour
Almond Flour
Baking Powder
Xanthun Gum
Salt
Pumpkin Pie Spice
Vanilla Extract
Pure Monk Fruit Extract
How to Make these Low Carb Muffins
These muffins are very easy to make. These instructions will give you an idea of how to make these. For more detail scroll to the recipe card.
Combine and sift the dry ingredients together.
In a second bowl, beat the eggs. Then you add in the pumpkin puree and then the other wet ingredients.
Add the dry to the wet mixture.
Fill muffin tins and bake in 350 degree oven for 30 minutes.
Pumpkin Pie Spice
If you don't already have pumpkin pie spice, Julianne has a recipe for you over at Keto Cooking Christian. She's got the 4 basic ingredients in her pumpkin pie spice mix. Go check it out.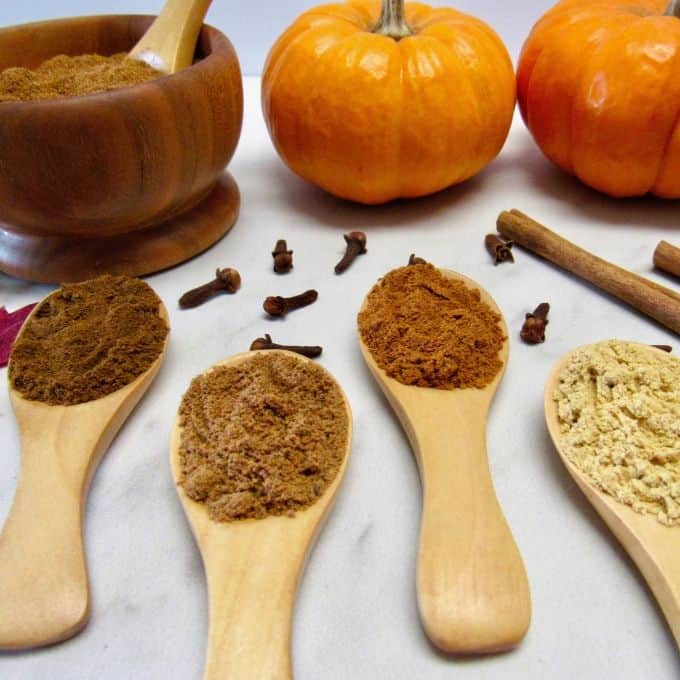 Why Did I Use Xanthun Gum?
I have learned over the past few years that if I use xanthun gum in baked goods, it comes out more like bread. The xanthun gum gives these muffins just the right kind of texture you would expect from a carb loaded muffin.
Is Pumpkin even Keto?
Yes pumpkin is keto. Any food can really be keto, as long as it keeps you in a state of ketosis. Pumpkins even have some added nutrients such as vitamin A, vitamin C, and potassium.
Why Coconut Flour and Almond Flour?
Both coconut flour and almond flour are used in keto low carb baked goods. So why not just use one then? I have found that combining the two produces the best results.
Each flours have different properties. Almond flour can be too heavy and coconut flour can get too dense. Almond flour has more fat than coconut flour. In addition, almond flour has less carbs compared to coconut flour. Coconut flour soaks up more liquid.
With these differences in the flours, I like to combine the two to get the right texture and still keep the carbs lower.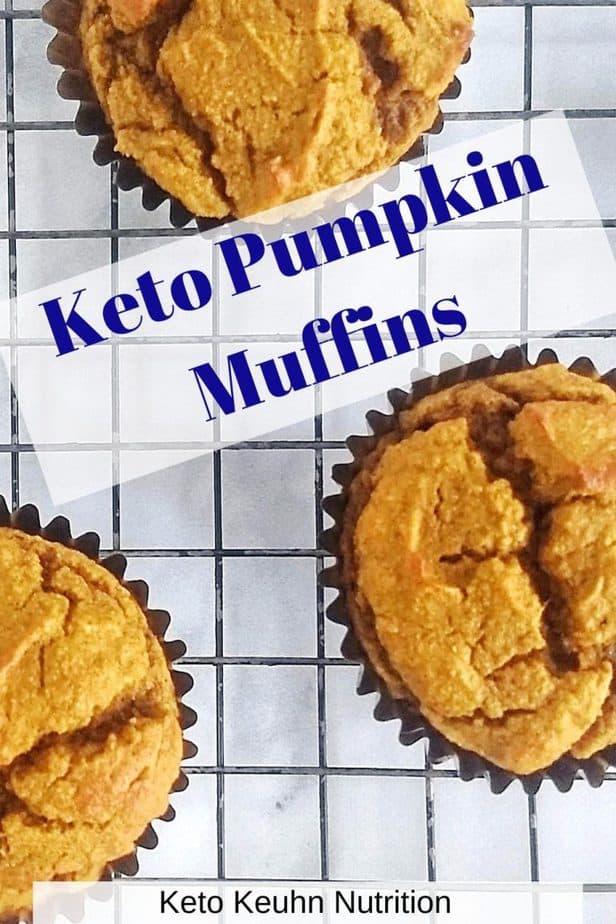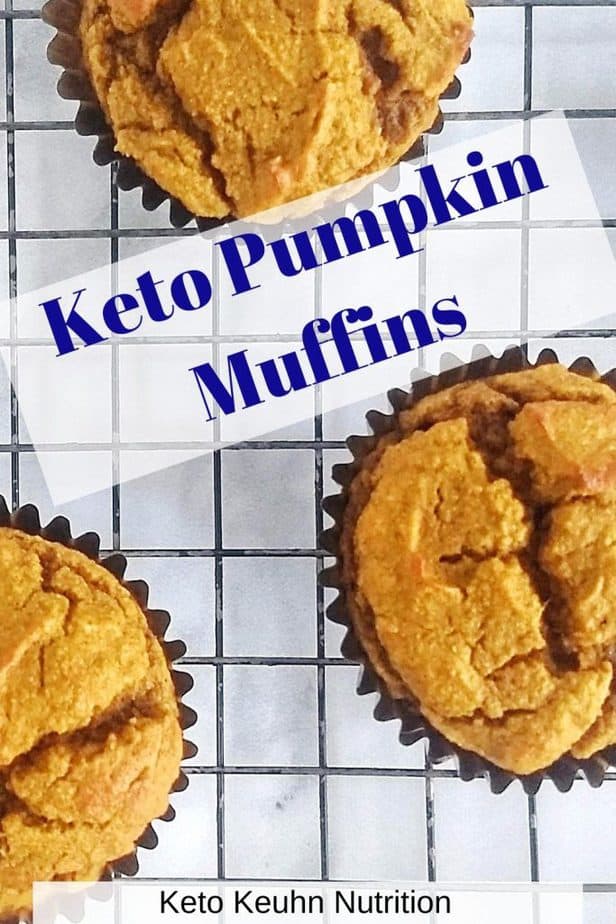 What Sweetener is Best?
When I started baking keto recipes, I purely used erythritol. Over time I graduated to a mix of erthritol and monk fruit. Now, in my recipes I mostly use pure monk fruit extract.
I use this keto sweetener because it does not spike your blood sugar and it provides zero carbs.
Erthritol does not spike your blood sugar, but it still counts towards total carbs.
So, to keep the total carbs down in all of my recipes, I use pure monk fruit. I sometimes use the monk fruit liquid drops as well.
How to Store these Pumpkin Muffins
Once the keto muffins have cooled, place them in an air tight container in the fridge. They can last up to 1 week. That is if you don't eat them all by then. 🙂
Cream Cheese Frosting
My husband told me the other day that these should not be given to others unless you have whipped cream or cream cheese frosting on them, since they taste so much like pumpkin pie. I sadly don't have a cream cheese Frosting, but my friend Trina does.
Go check out her cream cheese frosting recipe here.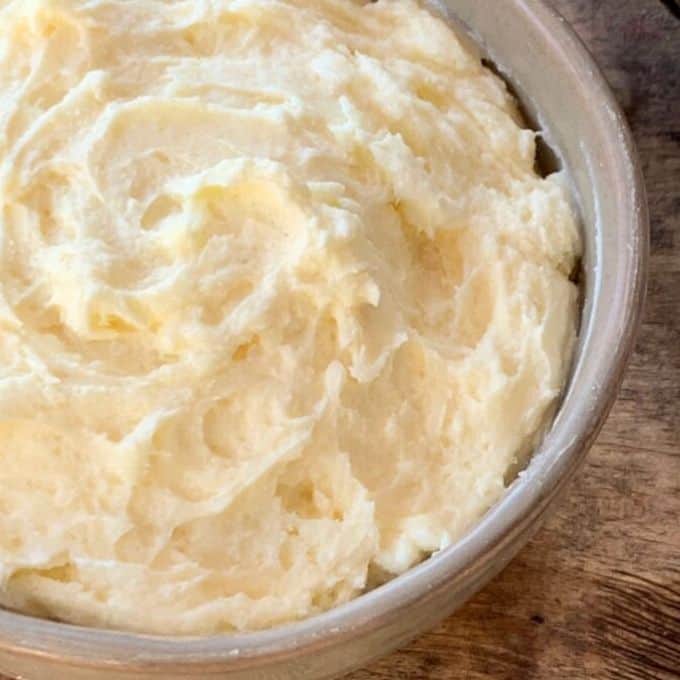 Cream Cheese Frosting Base Ingredients
Cream Cheese
Butter
Extracts and sugar substitutes
Other Pumpkin Recipes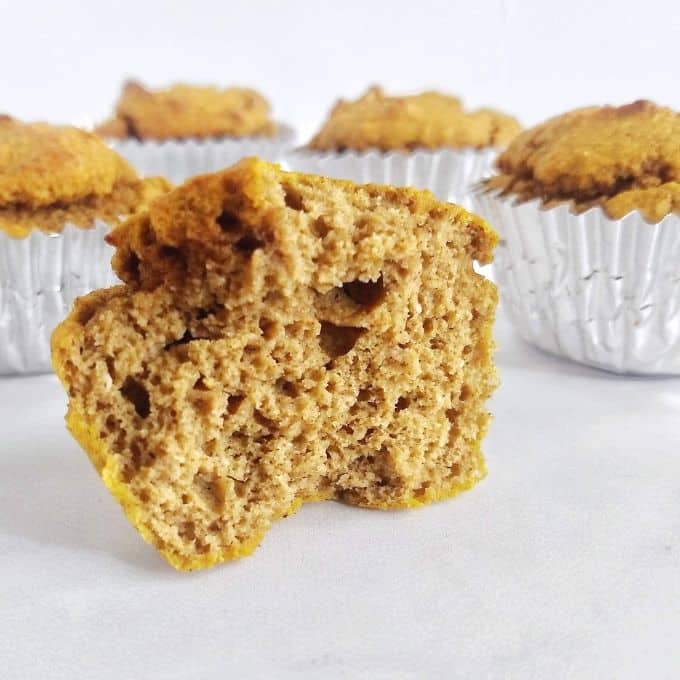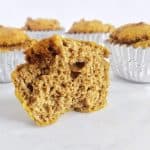 Print Recipe
Keto Pumpkin Muffins
These fluffy and moist keto pumpkin muffins are made with coconut flour with the option of cream cheese frosting.
Instructions
Mix the dry ingredients together with a whisk or sift the flours with the dry ingredients.

In a second bowl, beat the eggs for 1 minute.

Add the pumpkin puree to the eggs, then add in the other wet ingredients.

Add the dry mixture to the wet mixture and mix.

Pour into your muffin liners and cook for 30 minutes on 350 degrees F.
Nutrition
Serving:
1
muffin
|
Calories:
114.5
kcal
|
Carbohydrates:
6.1
g
|
Protein:
6.1
g
|
Fat:
7.3
g
|
Fiber:
2.5
g