As an Amazon Associate I earn from qualifying purchases.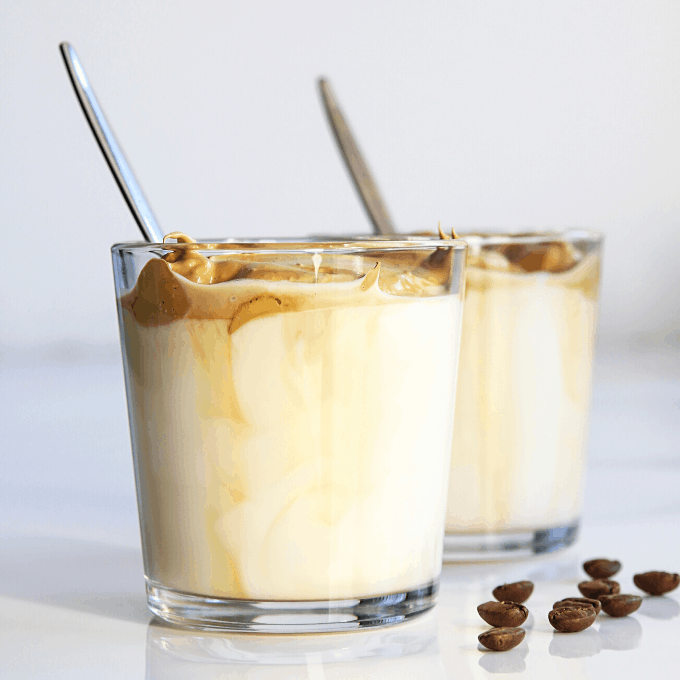 The Dalgona Coffee recipe is sweeping the globe with popularity. It's all over Tik Tok, Insta Gram, You Tube, and Facebook, basically anywhere that you can share it.
This coffee is a whipped coffee using only 3-4 ingredients. The flavor of this coffee is also very strong when following the standard recipe.
I will first give you the directions on how to make the classic keto version and then will provide you with other variations. And trust me, you'll want to keep making this coffee drink.
Ingredients for the Basic Version
The form you have selected does not exist.
Instructions
Add the instant coffee, sweetener, and hot water into a mixing bowl.
Beat by hand with a whisk or use an electric hand mixer. I choose the latter all the time, since I'd like to avoid whipping it 400-500 times. HA
You will start to see the mixture getting lighter and lighter. Once it's foamed up nicely, you are done.
Pour cold or hot milk into a glass and top it with the dalgona froth.
Mix everything together as much as you'd like.
Temperature
Most of the recipes out there show you how to make this coffee with cold milk, however you can have hot or warm milk as well.
Another thing to note is that you don't have to use milk. You can use water instead, as well.
Caffeine
Since the classic recipe uses 2 tablespoons of instant coffee, remember this will mean you are having 6 cups of coffee. Holy Moly! So, just be careful if you don't want that much caffeine.
If you are sensitive to caffeine, you can decrease the amount of instant coffee or use de-cafe. I personally have done both.
This is the case because 1 serving of instant coffee is 1 teaspoons. And 1 tablespoon has 3 teaspoons in it.
4 Recipes From Others
More Variations
These whipped coffee recipes below are more options that you can do. They are currently not on another keto blogging website, so I have them here for you.
Vanilla Flavor
The basic recipe.
Then add 1/2 -1 teaspoon vanilla extract to the milk.
Another way to make this vanilla is to make your milk vanilla with collagen powder that's vanilla flavored. Add the milk or water to your blender, then add in the collagen and blend. Pour into a glass and add the whipped coffee.
Chocolate Flavor
The basic recipe.
Once the coffee whip is done, add 1/2 -1 Tablespoons of cocoa powder and mix it in.
Use collagen the same way we made it vanilla above this heading.
Add some keto chocolate syrup to the milk and mix before adding the whipped mixture.
Caramel Flavor
The basic recipe.
Sprinkle some salt in there to make it salted caramel.
Once the whip is done, add around 1 Tablespoon of caramel syrup. And mix. Top the dalgona on the milk.
Add 1/2 - 1 tsp caramel extract to the milk before topping it with the whipped coffee.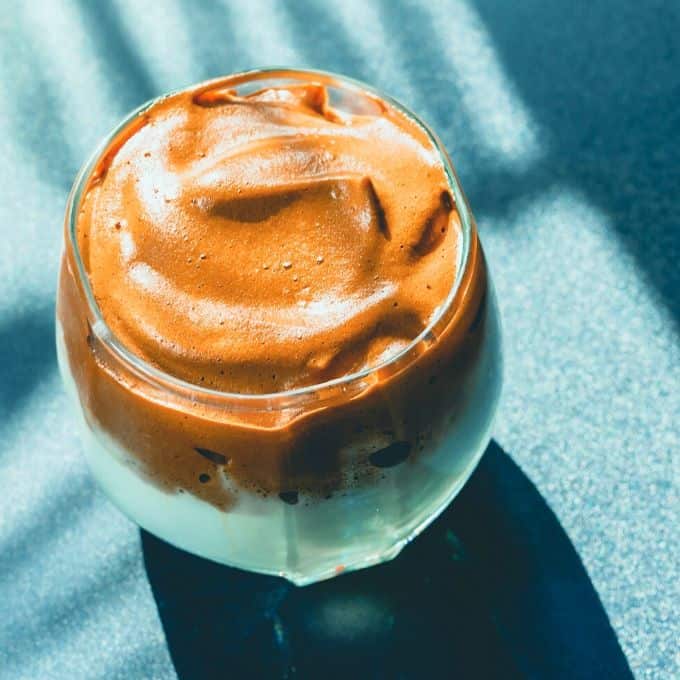 Tea Whipped Coffee
1 Tablespoon swerve
1/2 Tablespoon instant coffee
1 Tablespoon strong brewed tea
Matcha Dalgona Green Tea Latte
1 egg white
1 Tablespoon swerve
1 tsp matcha powder
Milk
Instructions: whip the egg white until almost stiff peaks, then whip in the swerve until stiff peaks. Fold in the matcha powder.
Flavor Extracts
Using extracts to change the flavor of your coffee is really easy and really convenient. As you can get them on Amazon. You can actually get all of the ingredients for this recipe on amazon, even the nut milks.
When using these extract flavors I would add 1/2 - 1 teaspoon to the milk before adding the whipped coffee.
Amazing Flavors that Come to Mind
Orange. If you really love orange in coffee, check out my Orange Coffee.
Almond to make it an amaretto flavor
Rum
Butter Pecan
Coconut
Hazel Nut
Pumpkin Pie
Cinnamon
Both Pumpkin Pie and Cinnamon flavors can be done by using the spice powders as well. Just mix the spices to the whipped coffee before adding to the glass.
If you like coffee, you may also enjoy these recipes