As an Amazon Associate I earn from qualifying purchases.
Keto White Chocolate Pumpkin Spice Latte – less than 1 carb!
For this pumpkin pie spice latte, I wanted to change things up a little bit, all the while making the pumpkin spice latte really easy. I opted to add white chocolate, because it's amazing, to the pumpkin spice flavor. So instead of your basic pumpkin spice late, we have a white chocolate pumpkin spice latte.
I wanted to make this drink easy because making your own keto pumpkin spice syrup just takes more time and effort than I want to give or you may feel the same way. I never really want to take the time to create syrups for a drink, if we are being honest. I want a drink that not only tastes amazing but is also quick and easy to make, so I can do other things in the day. Such as test other amazing recipes for you all. 🙂
Latte?
Okay, okay, it's not a true latte for the correct ratio of coffee to milk. However, with the amount of cacao butter and heavy whipping cream, it feels like a latte to me. So, the name stays for now. 🙂 Also, does the name really matter? I hope the flavor of this hot white chocolate pumpkin spice coffee drink hits the spot for you.
Fatty Drinks
Fatty drinks are popular on the keto diet and this White Chocolate Pumpkin Spice Latte is no different. Feel free to up the fat with how much coffee you want. Just be aware that the taste may change.
I also have other drinks that you can try that are high in fat also. How about a super fatty hot chocolate? Or some eggnog for the holidays?
My Eggnog
I absolutely love eggnog but us keto people can't have it from the stores just yet. So, I knew that I needed to create my own. The macros on my eggnog are 29 fat, 9 protein, and 3 carbs.
My Black and White Hot Chocolate
This hot chocolate drink packs a bunch of fat. One serving will give you 67 grams of fat. I almost had problems being able to finish this drink in one sitting due to the high fat is so filling. The next time I make it, I may have to cut my portion size.
Getting Fats In
I created this drink while I was doing the Deeper State Keto protocol and it definitely made it easy to get my fats in when I was recipe testing it. Some people have a harder time to get their fats in at times. So, if you are one of those people and love white chocolate and pumpkin spice, then the White Chocolate Pumpkin Spice Latte would be right up your alley.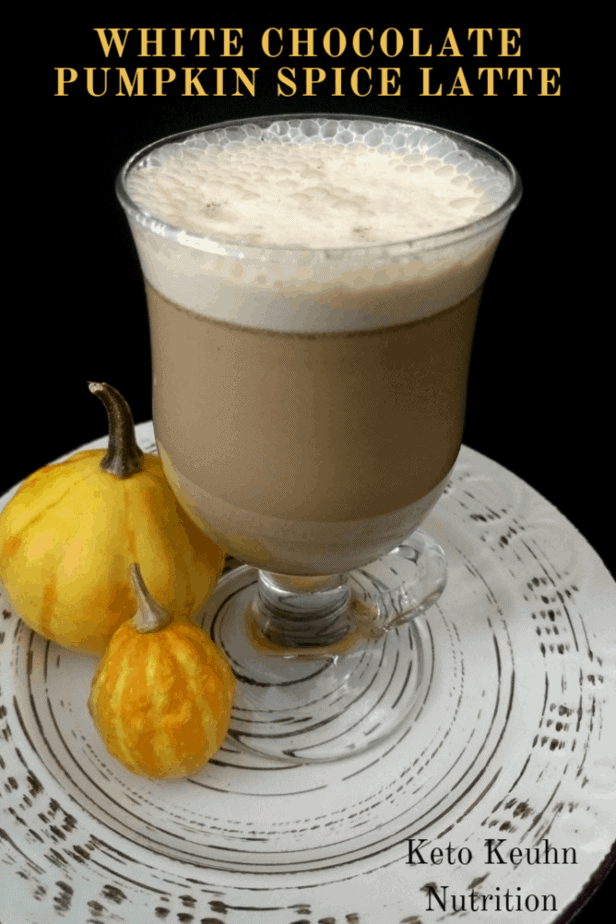 The History of a Pumpkin Spice Latte
Back in 2003, 15 years ago Starbucks was about to change the Fall and holiday seasons of drinking coffee (1). In the spring of 2003, a small group gathered together to come up with holiday drinks.
Once perfecting their Eggnog Latte and Peppermint Mocha, they knew they needed another one. This is where the Pumpkin Spice Latte started. To try and get the right flavor profile, they would take bites of pumpkin pies and then drank a hot espresso. They tested out all the areas of the pie to see what would work best.
Once getting the approval from the senior leaders, the group worked for three months on getting this new drink just right. In the end, the drink had a pumpkin spice sauce with cinnamon, clove, and nutmeg with their espresso and steamed milk with the classic whipped cream and a sprinkle of pumpkin pie topping.
With just being out for a week in fall in their test market, Starbucks knew they had a hit on their hands. The Pumpkin Spice Latte did not come out yet for everyone until the following fall. This was the starting year where the PSL became a tradition loved by millions.
Some Cool Pumpkin Spice Latte Facts
The original name was going to be Fall Harvest Latte
The "PSL" drink name started because that was the beverage code baristas would put on the cup.
The recipe has been unchanged from 2003 to 2014. (This still could be true. My source was just written in 2014.)
Pumpkin on Keto
People may wonder if pumpkin is even doable while eating a keto diet, especially after seeing that I did not include any in my White Chocolate Pumpkin Spice Latte. The simple answer is yes. The portion size is what would matter due to its carbohydrates. If you use canned pumpkin, make sure it's just pumpkin and not the pumpkin pie can stuff. I made this mistake many years ago before I looked at labels closely.
Even though I did not include any pumpkin in my latte here, I do have a Keto Pumpkin Brownie recipe, where I did included it. I even managed to pull off having only 3 total carbs for each serving of these (1.37 net carbs). I also have another pumpkin recipe coming out this season where I use canned pumpkin. Stay tuned.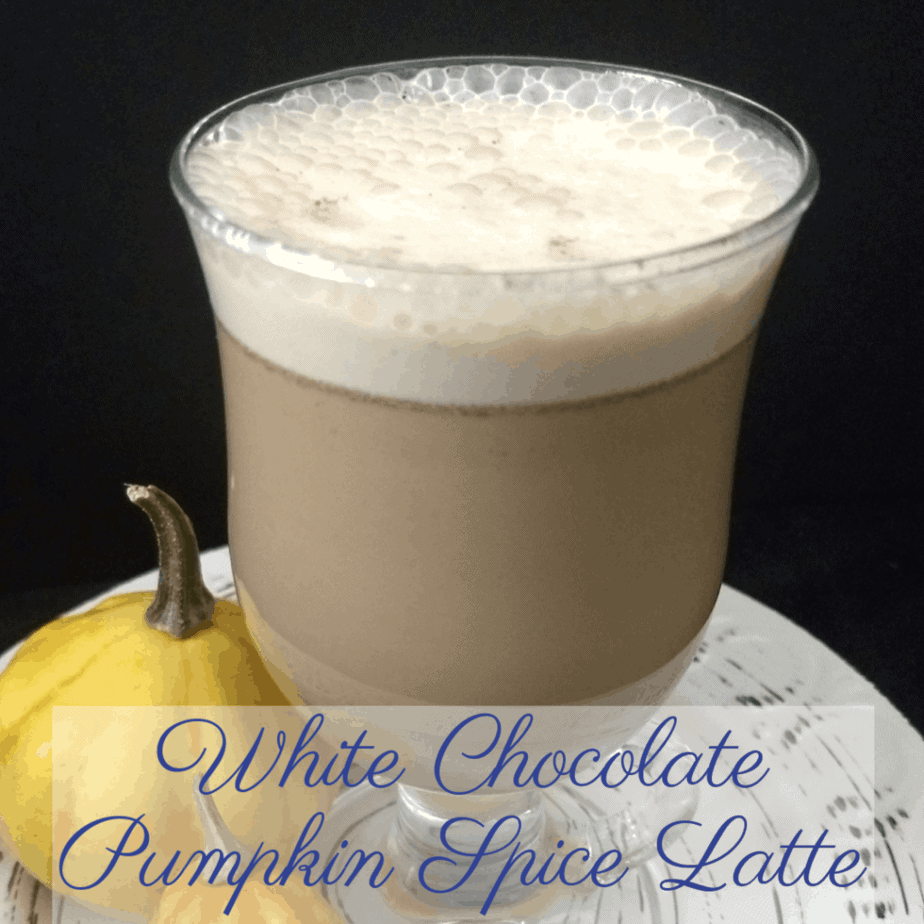 Why is there No Pumpkin in this White Chocolate Pumpkin Spice Latte?
There is no pumpkin in this drink because I wanted to make your life easier with less waste. For some reason, we have a buy a full size can of pumpkin in the stores and most Pumpkin Spice Lattes do not use the whole can to make a few drinks. If no pumpkin is required in this drink, you would not have the added pressure to find something else for the pumpkin. Another reason why I left the pumpkin out was to make the carbohydrates as low as possible. The carbohydrates in my White Chocolate Pumpkin Spice Latte all come from the heavy whipping cream. (I don't count the small amounts in the spices).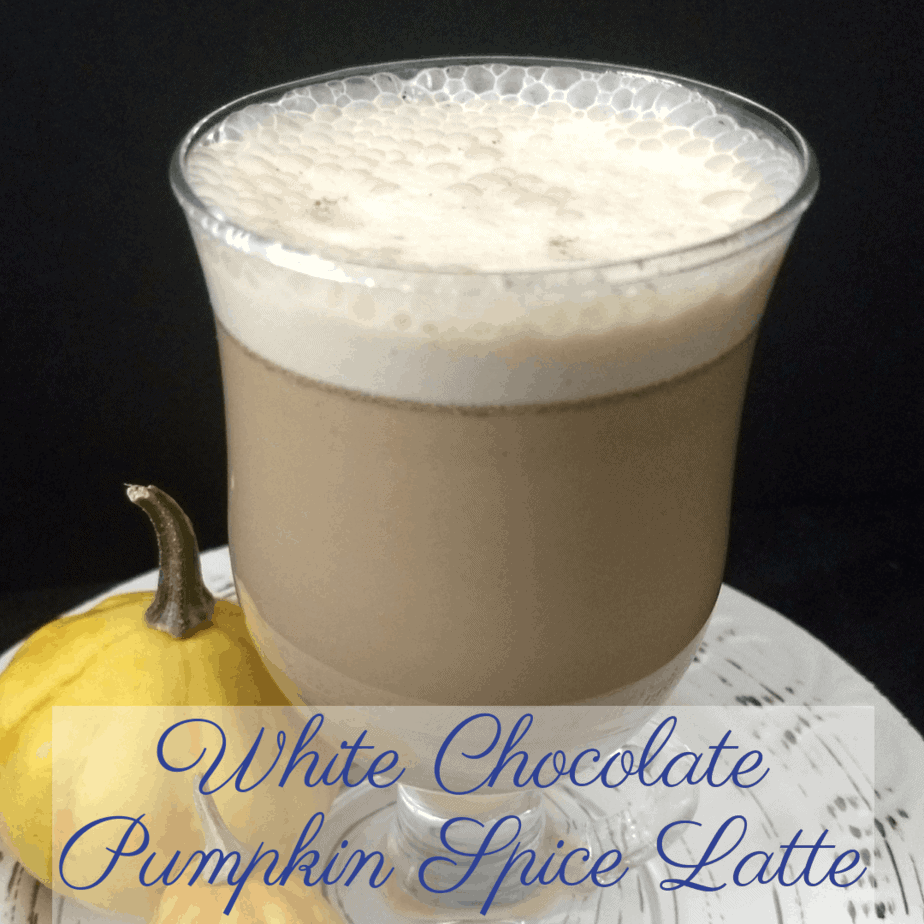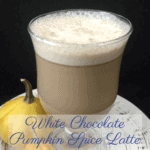 Print Recipe
White Chocolate Pumpkin Spice Latte
Ingredients
3/4

C

Hot Coffee

14

grams

Cacao Butter

2

T

Heavy Whipping Cream

1/4

t

Salt

5

drops of monk fruit sweetener

choose the vanilla flavor one to kick it up a notch

1/2

t

+ 1/8 t Pumpkin Spice
Instructions
Put everything into a blender and blend it up.

Enjoy!
Nutrition Facts (1 Serving)
Calories: 219.2
Fat: 24
Protein: 0
Carbs: 0.8 (Even if your heavy whipping cream says 0, there is 0.4 g of carbs in each tablespoon.)
Fiber: 0
Net Carbs: 0.8
To log the recipe on MyFitnessPal search: Keto Keuhn Nutrition – White Chocolate Pumpkin Spice Latte