As an Amazon Associate I earn from qualifying purchases.
Are you ever sick of just plain nuts? Do you also love peanut butter and chocolate? If you said yes to both, then this recipe is for you. How about making some peanut butter and chocolate roasted almonds? You can make a large batch and then portion them out for easy snacks during the week.
I got this snack idea from Keto Connect, as they made cocoa roasted almonds. Watching them make this snack, made me want to kick it up a notch with some peanut butter powder.
New Recipe with Lower Total Carbs
(edited: 12/20/18)
In the coming year, I'm making all of my recipes to be under 10 total carbs with counting erythritol. So, I needed to find a way to make these roasted almonds lower in carbs. One easy way is to just remove the erythritol and leave it like that. Yet, if you need these roasted almonds a little sweeter, I would add some pure monk fruit extract.
Flavor Ratios
I tried to make this more peanut butter tasting but when I would add more peanut butter powder compared to the cocoa powder, I was not a fan. My mother in law enjoyed the more peanut powder, but she had no comparison. 🙂 The choice is yours though, do some experimenting.
Other Snack Ideas
Do you miss chips at all? Well, I've got you covered with my feta cheese crisps. These chips are another great snack you can make ahead of time and eat throughout the week. They are similar to Cello Whisps. Another fun snack that I love to eat, especially at special events would be my dillafied ham roll-ups. Cream cheese, pickles, and ham. It sounds weird but it's a great snack, or heck a great meal. However, one of my most popular recipes that can be a snack is my keto banana bread.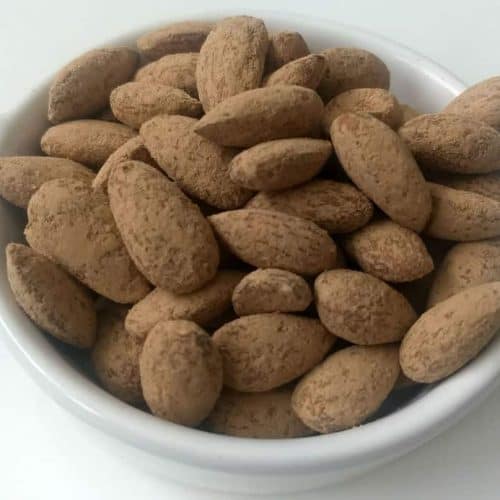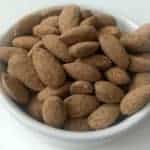 Print Recipe
Peanut Butter Chocolate Roasted Almonds
Ingredients
1/2

C

Almonds

1

t

Cocoa Powder

1

t

Peanut Butter Powder

2

t

Monk Fruit from Lankanto

1/4

t

salt
Instructions
Roast almonds at 300 F for 20 minutes (same as Keto Connect. Why change what works?)

Combine everything else in a bowl and mix.

Once almonds are down, pour them into the bowl.

Coat the almonds. I allowed the nuts to cool in the bowl.

Before serving, pour the nuts in a strainer to get the excesses powder off them.

Sprinkle more salt on top as needed.
Nutrition Facts (2 servings, 1 serving is 1/4 Cup nuts)
The nutrition is for all of the cocoa powder and peanut butter powder. In the end, you will not be using all of this in the end product. So the nutrition is only very slightly off, nothing huge though.
Calories: 169.35
Fat: 14.48
Protein: 6.7
Carbs: 6.32 (If counting erythritol this goes up to 10.32 grams of carbs)
Fiber: 3.28
Net Carbs: 2.65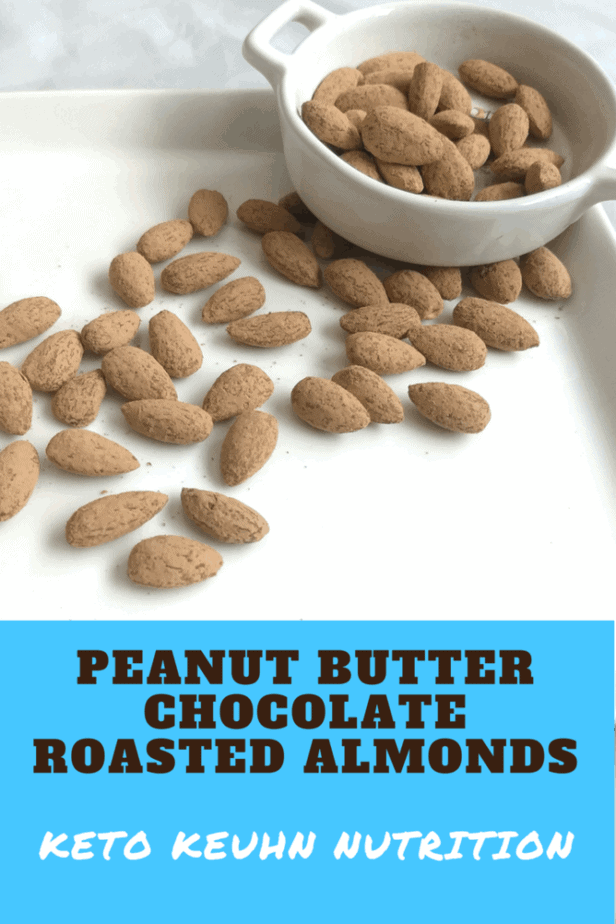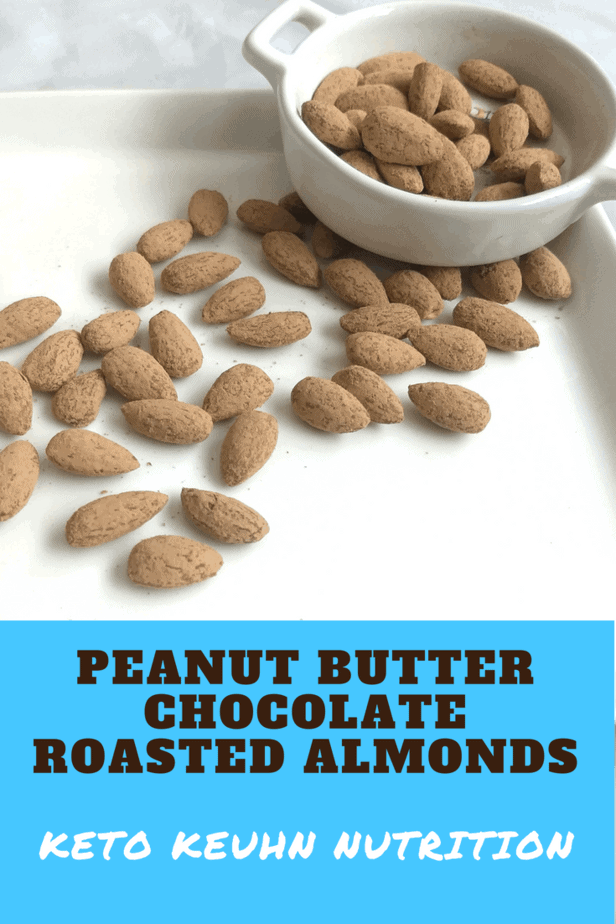 To log the recipe on MyFitnessPal search: Keto Keuhn Nutrition – Roasted Almonds