As an Amazon Associate I earn from qualifying purchases.
This keto pumpkin pie is everything you could wish for. It's only 3 net carbs (4.5 total), creamy, easy, and delicious! Also, if you know anyone that doesn't tolerate eggs well, this Thanksgiving pie is perfect for them.
Jump to: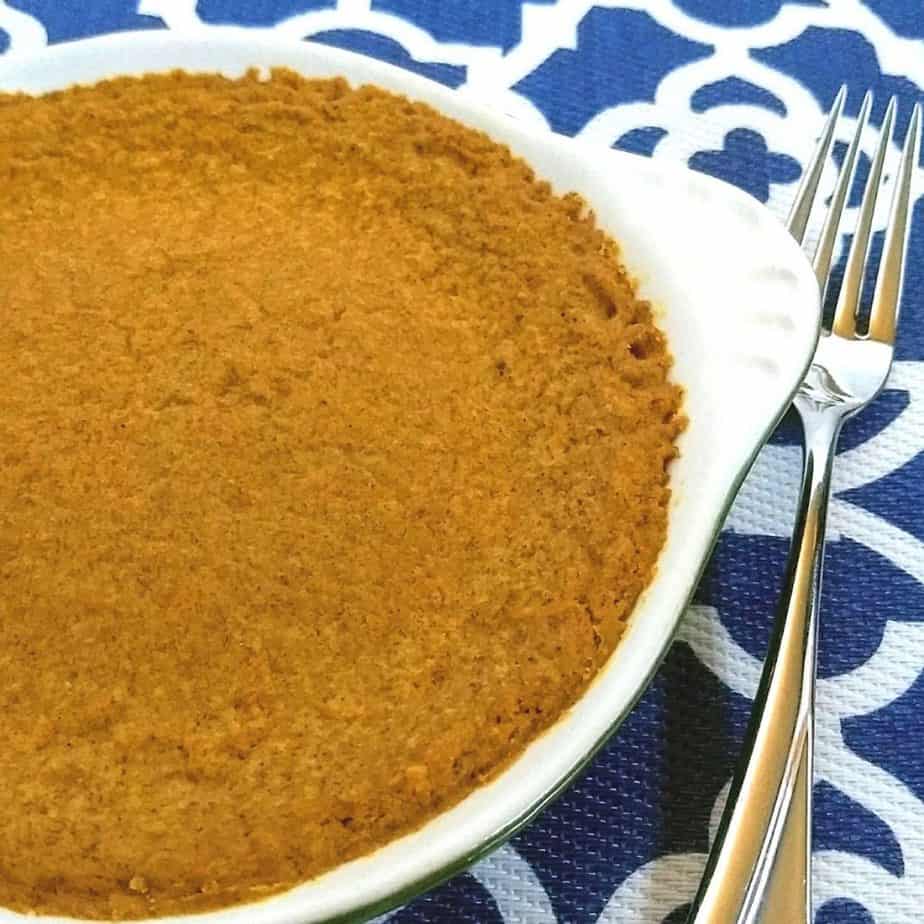 Ingredients
Canned Pumpkin:
Since it's a pumpkin pie, you really need to include the star of the show. I have not tested this recipe with fresh pumpkin, so that choice is yours. There is a video below to show you how to puree your own if you wanted to give it a try. If you do make this swap, let me know in the comments on how it turns out. Another thing to remember is that the flavor will be different as fresh pumpkin will give a stronger pumpkin flavor.
Mascarpone Cheese:
I choose mascarpone cheese as the other base ingredient because it is very low in carbs per serving. 1 tablespoon is 0.4 carbs and this recipe uses 4 tablespoons. The texture and flavor of the cheese also helps in providing a nice sturdy structure as there are no eggs in this.
To make this dairy free, use canned coconut milk.
Butter:
The butter helps to add in some more fat to the recipe. I have not tried it with any other substitute, such as coconut oil or ghee. The ghee would be a better choice over the coconut oil if you really needed a different option though. When swapping out ingredients, you have to remember the properties of the given items.
Other Flavoring Ingredient:
Vanilla Extract, Pumpkin Pie Spice, Cinnamon, and Salt.
Liquid Monk Fruit Drops:
To keep the total carbs low, I try to use pure monk fruit. It either comes in a liquid form or a powder form without erythritol. If you like stevia you can also use that. I personally don't like the taste of stevia. Also, if you are not worried about extra carbs or you can tolerate the erythritol, you may use that instead. However, keep in mind that the texture of the low carb pumpkin pie may change.
Tips
Ideally it's best to have your butter at room temperature, as this helps with creaming everything together. If you forget to take out the cheese early, you can zap it in the microwave for 20-30 seconds. We only want it soft, not melted.
After the pie is done, allow it to cool on the counter or the fridge. It's best eaten at room temperature.
Avoiding Cracks
If we are being fully honest here, it's totally ok if your crust cracks. Still tastes amazing! However, to help avoiding it from cracking is not overcooking it. When it gets near the end of the time, check on it. Don't be afraid to add more time if it's needed. You'll want to add more time in the center of the pie moves a lot.
Substitutions
Pumpkin Puree
If you want to make your own pumpkin puree, you may do so. Just remember the nutrition may change.
How to Puree Pumpkin
Preheat the oven to 400 degrees Fahrenheit.
Cut a small to medium size pumpkin in half.
Remove all the seeds and guts from each side.
Place the two halves down on a baking sheet with the skin side up.
Bake for 35-40 minutes or until a knife can easily pierce through them.
Remove the skin and place the pumpkin into a food processor to puree it.
If you learn from video, I found this video that explains how easy it can be done.
Making it Dairy Free
I used Thai Kitchen coconut cream in a can. I placed the can in the fridge so the cream and water would separate. For the recipe, use only the solids. Keep the liquid in the can.
Optional Pie Crusts
This pie recipe does not include a crust, however if you still want one, you can. You can have one with zero carbs, in fact! :-O
Instead of using nuts, like most or half of keto crusts do, my zero total carb crust uses crushed pork rinds. Now, don't get scared. I made this pumpkin dessert with the crust for my non keto dad and he liked it. The texture is similar to a Graham cracker crust. Perfect for cheesecakes or pumpkin pies.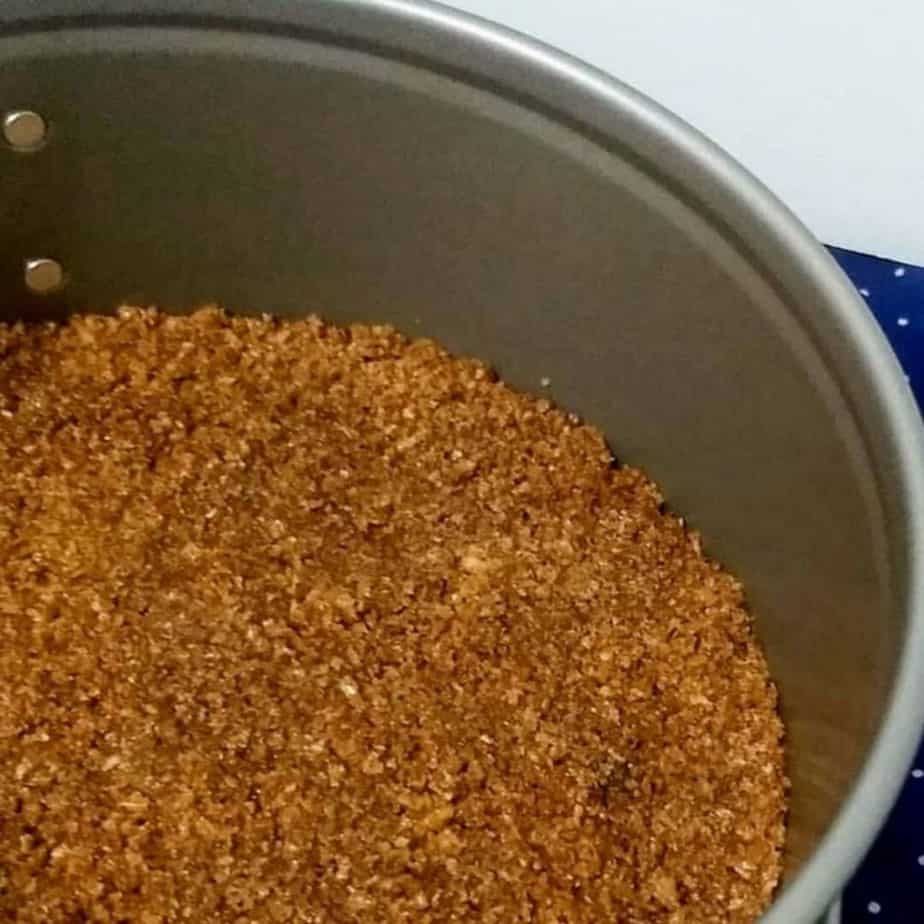 Storage
In the Fridge
Once the pie has cooled, place plastic wrap over it. This will help it from drying out. It will last for up to a week.
In the Freezer
If you make a large batch of this you can absolutely freeze it for later. Once it has cooled, I would cut it, as you can easily just take one slice out of the freezer. Then wrap each slice with a couple of layers of plastic wrap.
Then add a few layers of aluminum foil. In wrapping the pie, do it tightly so little air as possible is touching the pie. Just don't' smush it. 🙂
More Pumpkin Recipes
If you make this, please rate the recipe and let me know your thoughts in the comments.
The form you have selected does not exist.