As an Amazon Associate I earn from qualifying purchases.
What is in Starbuck's pumpkin cream cold brew?
I spoke to a former Starbucks barista, Amanda, and asked her what is in the pumpkin cream cold brew. Amanda informed me that the pumpkin cold foam is 2 pumps of pumpkin sauce frothed with Starbuck's sweet cream. The cold brew coffee has 2 pumps of vanilla syrup.
Sweet cream is vanilla syrup, 2% milk, and heavy whipping cream. The ratio of the liquids are 1/3 milk to 2/3 heavy cream.
Now, that I knew the recipe I could make a true copycat keto pumpkin cold foam from Starbucks. Also to make it even easier for you to make it at home, I use pumpkin spice powder instead of making a sauce. You get all the flavor still with less work and no waste.
Jump to: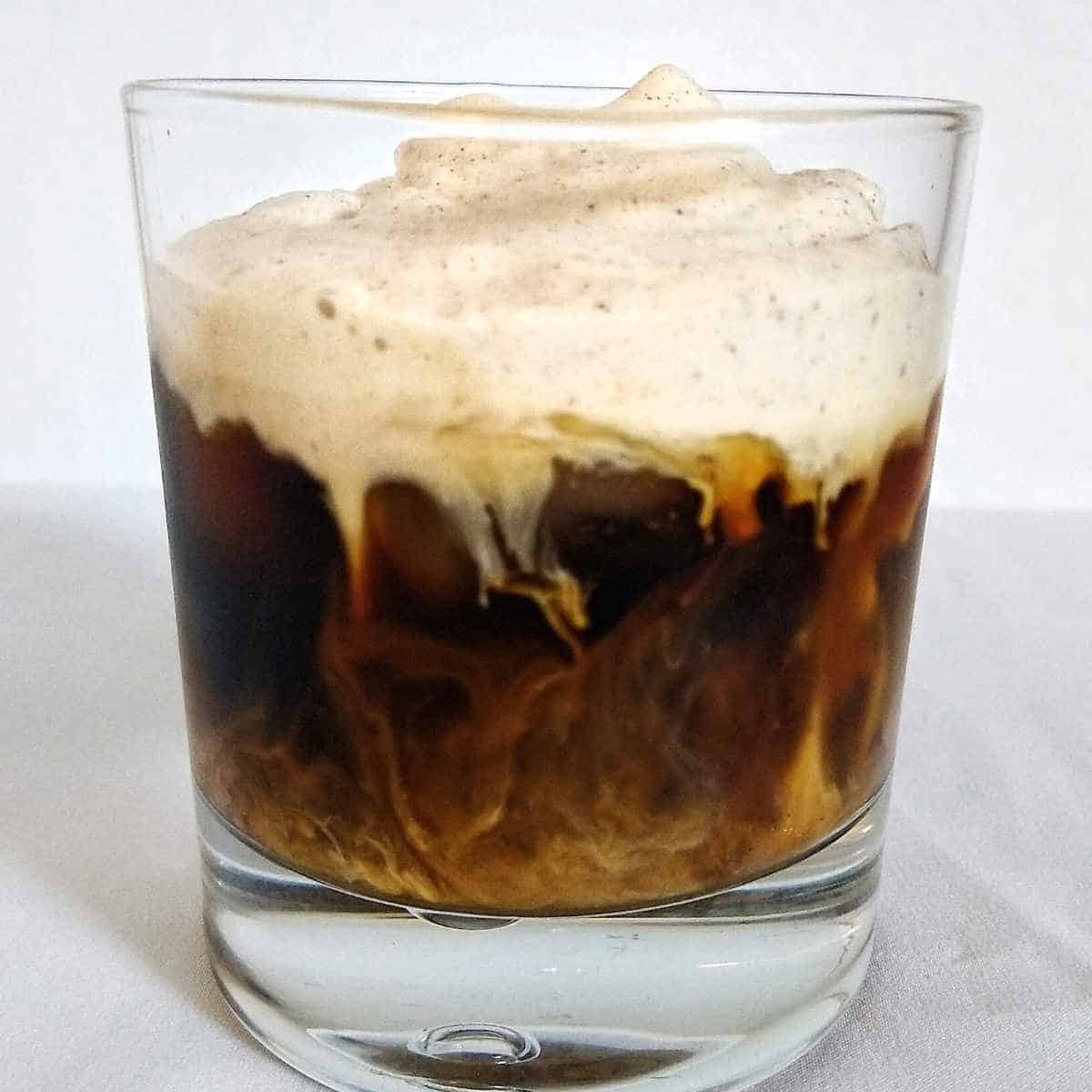 Former Starbuck's Barista Keto Version
Amanda has made a keto pumpkin cold foam brew recipe herself different from my version using flavored stevia drops. This is her video of the drink that she made on Tik Tok. Her handle is @kniteatlift.
Substitutions
As you can see my recipe is different from the recipe in the video above. I don't like how stevia tastes but Amanda doesn't mind it, so she was able to get her pumpkin and vanilla flavor from her sweeteners.
Since I am not a fan of stevia I found a different way to make this cold foam into a keto version.
Below are other options that you change up this recipe to make it better for your needs.
Unsweetened Nut Milk Options
I like milkadamia nut the best but there are other options you can choose that also cost less too. There is almond, soy, coconut, flax, cashew, walnut, and almond and coconut mixture.
Soy and flax are not nuts but you can find these options as well for unsweetened keto milk. Unsweetened Ripple milk is also another option that's made with pea protein.
Heavy Whipping Cream Alternatives
If you want to make this pumpkin cold foam vegan, use coconut cream from a can instead of heavy whipping cream. Using coconut cream won't give you much foam, but you can get some good air bubbles by using a hand milk frother with it.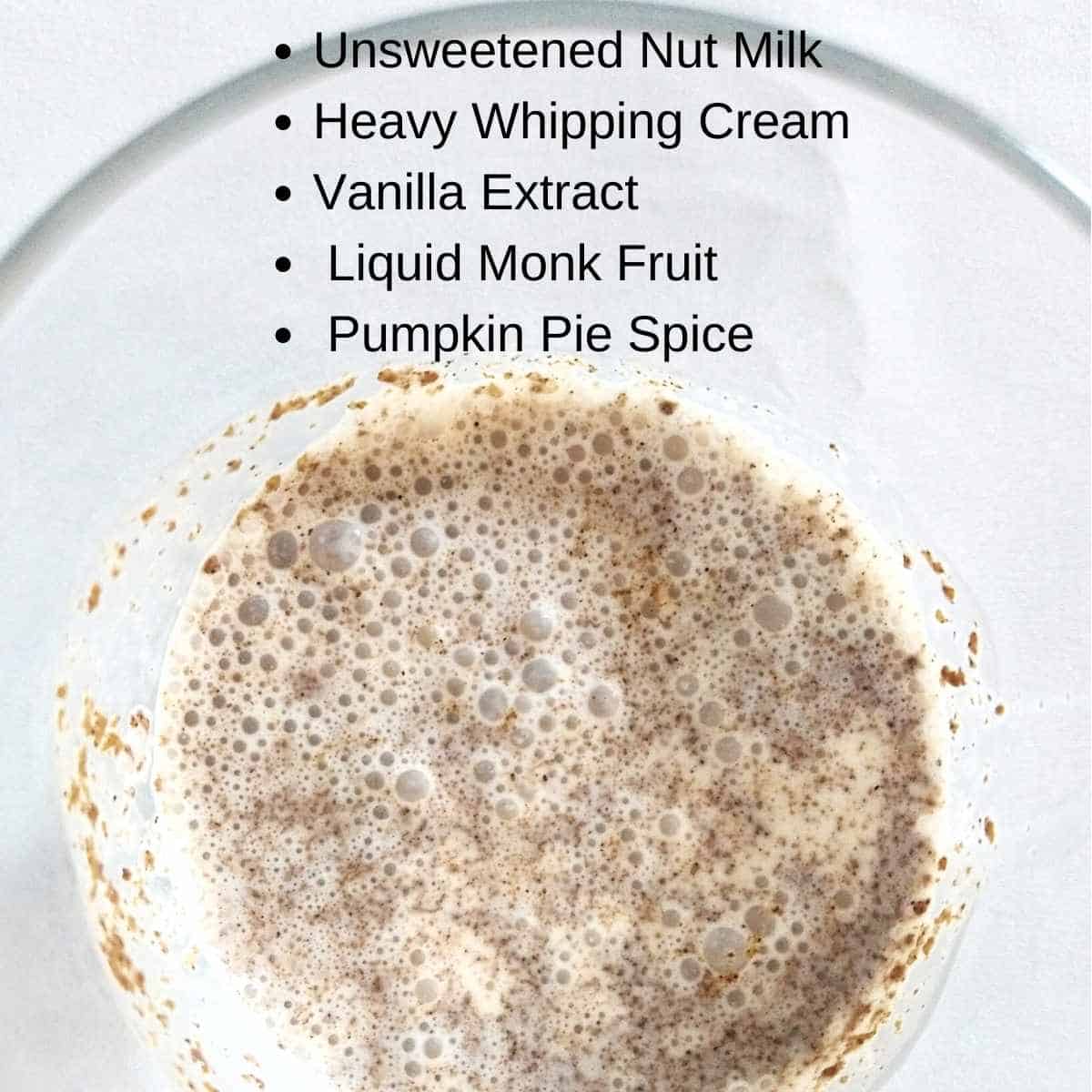 Another way to avoid using three ingredients is to use sugar-free syrups. The top 3 brands you can choose from are Torani, Skinny Syrups, and DaVinci Gourmet.
You can also replace the nut milk with a Nutpod creamer with extra flavor. During any time of the year, you can find vanilla Nut Pods at the grocery store and on Amazon. Yet, finding a pumpkin Nutpod flavor may be more difficult. I haven't seen them at my local store, but I did find them on Amazon during the fall season.
To get the pumpkin flavor you can also use pumpkin extract flavor, just like vanilla extract.
Sweetener Substitutions
The recipe calls for liquid monk fruit but there are other options you can use.
6 Milk Frothing Tools
Blender or Single Serve Blenders
You can use a large normal size blender or you can use a smaller blender such as a Magic Bullet or Nutra Ninja Pro Single Serve Blender. If you have a high voltage blender from Ninja, I found that it takes about a minute or two or so to get a good froth from the liquid mixture.
Emulsion Blender
This blender is great for hot soups but it also works great for cold foam as well. Place the ingredients in a tall glass that the blender will fit into. Then place the blender into the liquid and start to mix. Stop when it's foamy to your liking.
Handheld Milk Frother
I personally have a Zulay Kitchen milk frother. I use this all the time for my hot and cold drinks.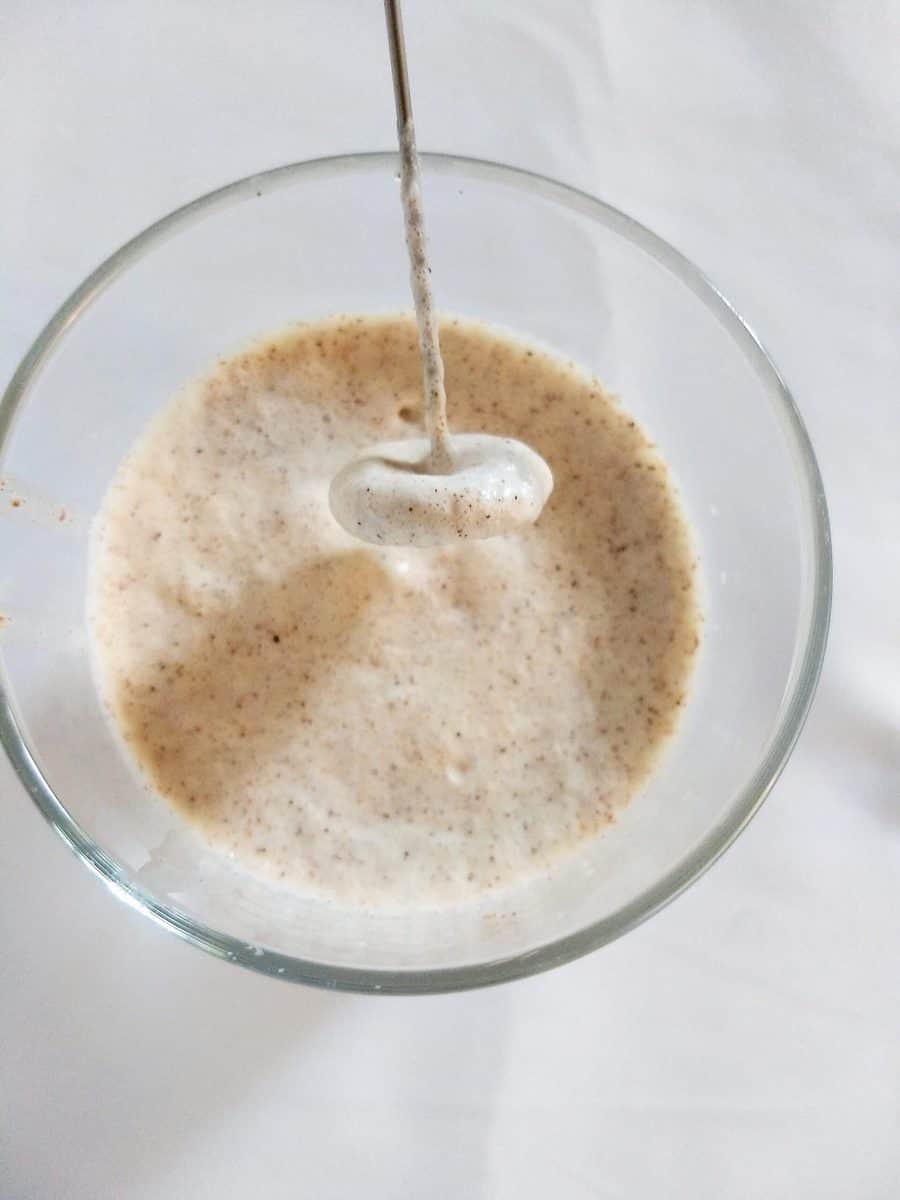 Electric Hand Mixer
Using a handheld electric mixer also works great for foaming up some cold milk. Just like a handheld milk frother, you can see the consistency of the liquid as you blend.
French Press
To make cold foam in a french press, all you will do is pour the milk and cream in and then plunge the plunger up and down until you get the consistency that you like.
Mason Jar
Using a mason jar to make cold foam will take the longest. All you have to do is shake the jar vigorously until done.
How do you order keto pumpkin cream cold brew at Starbucks?
To start ask your barista for a cold foam cold brew with sugar free vanilla syrup in the coffee.
Ask to substitute heavy cream for the skim milk.
Then, ask for two pumps of sugar free vanilla in the foam.
Ask for a shake of pumpkin pie spice into the foam mix.
When you make cold foam with just heavy whipping cream, the end results will be frothier. So just be warned. Starbucks does have unsweetened milk, but it won't foam well. So asking for heavy whipping cream is your best bet.
Other Recipes from Starbucks
To learn more about cold foam check out my post on Keto Cold Foam. Just click the previous sentence to get to said post.