As an Amazon Associate I earn from qualifying purchases.
These keto cinnamon muffins with caramel flavor are perfect for with your morning coffee. These even have 0 net carbs. Yes zero!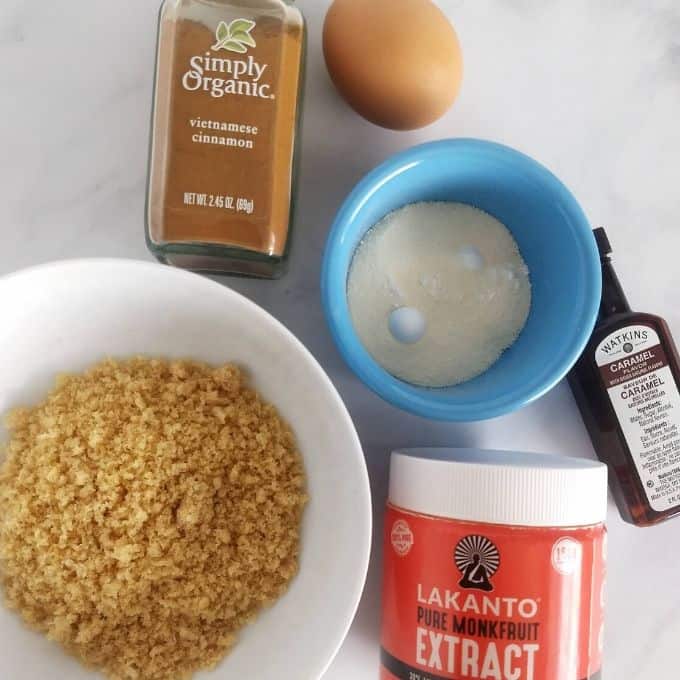 Main Ingredients
Crushed pork rinds and collagen are my "flours" in this muffin recipe. Since my flourless chocolate mug cake recipe came out, I have been playing around with almond and coconut flour substitutes.
The eggs help keep everything together.
The heavy whipping cream, caramel extract and cinnamon help to bring out a snickerdoodle flavor with no pork taste.
Are you still with me? I really hope so. I understand that these ingredients for the cinnamon muffins may scare you. But you gotta trust me here.
Not your Normal Keto Muffin
You are correct that you did not see any low carb flours in this recipe, but that was my goal. I really wanted to see if I could make a muffin with no almond flour or coconut flour.
If I had to describe how these muffins are like, I would say they tasted like a cinnamon caramel bran muffin when using ground cinnamon.
These will harden a little bit in the fridge. However, if you just reheat them in the microwave, they are perfect, especially with butter.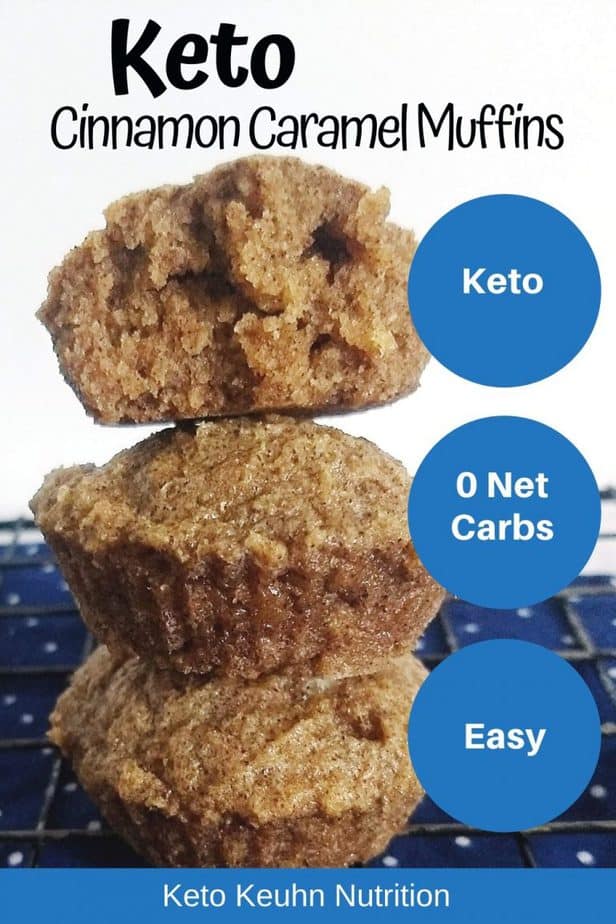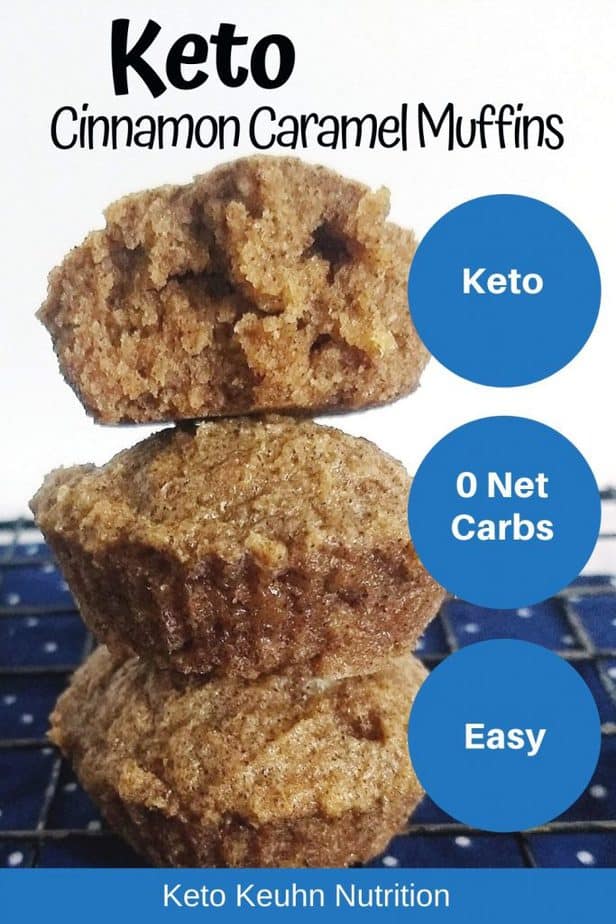 Flourless Muffins
As I mentioned above, these low carb cinnamon muffins are not made with flours or protein powder. I did this because I wanted to keep the carbs really low.
All of the recipes on my site are under 10 total carbs and yes I could have used other ingredients to these caramel snickerdoodle muffins. Yet I really wanted to take on the challenge to be different.
Also some people may not be able to tolerate coconut or almond flours but they may still want some baked goods.
Additional Add in Ideas
Yes you can leave these keto cinnamon muffin recipe as is, but feel free to mix it up.
Keto chocolate chips.
Walnuts or even pecans.
Cocoa power.
Banana extract or even other flavor extracts.
Top it with this sugar free cream cheese frosting over the top to make them more like keto cinnamon roll muffins.
Or instead of caramel add in some orange and vanilla extract. I did this once (1/2 tsp orange and 1/2 tsp vanilla) and it was amazing!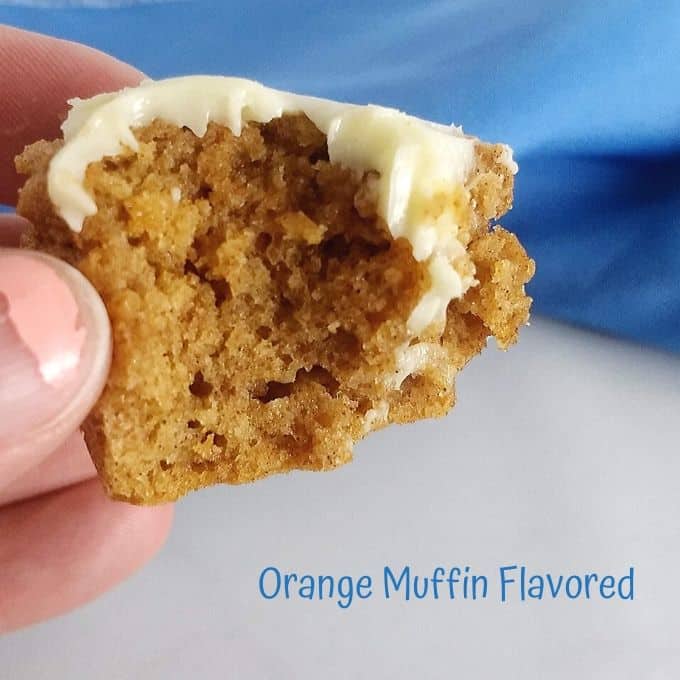 Recipe Tips & Notes
1. If you want more lift in your muffins, beat your eggs more. It seemed like that each time I made these, the muffins became a little bit higher.
Once I beat the eggs, I ended up beating in the heavy whipping cream as well.
2. You have the option to use ground cinnamon (main photos of the post) or cinnamon extract. Both are amazing with slight macro changes.
3. For measuring the pork rinds I used weight as this is more exact, however if you need to use a measuring cup, 28g of pork rinds = 1/2 Cup.
If needed, you can easily crush your own pork rinds. I like using a food processor or you can just use a plastic bag as well.
Other Keto Muffins Recipes
These recipes do use your typical low carb keto flours. So if you are a bit worried about the pork rinds, give these a try instead.
Blueberry Muffins
Pumpkin Muffins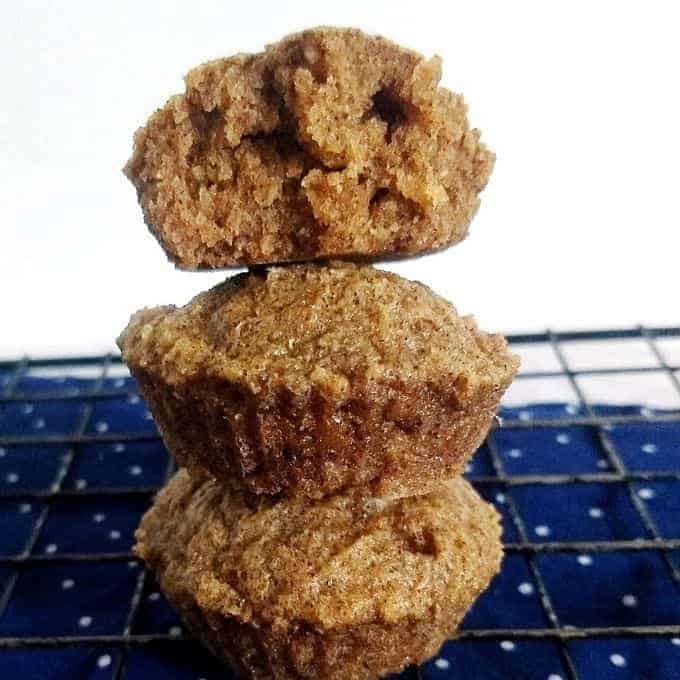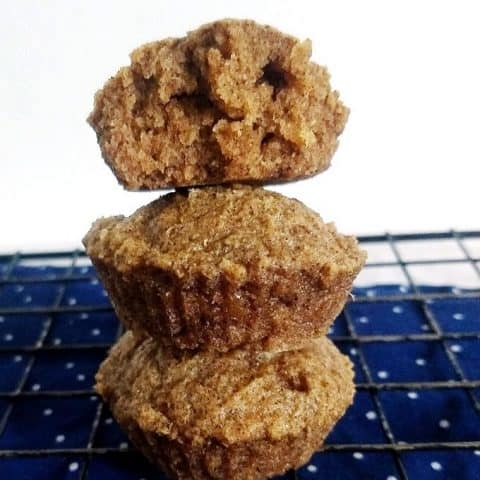 Keto Caramel Cinnamon Muffins
The ultimate Keto Cinnamon Muffin recipe with 0 net carbs. These morning muffins taste like a caramel snickerdoodle treat!
Ingredients
2 Eggs
2 T Heavy Whipping Cream
1/2 tsp Baking Powder
Instructions
In a mixing bowl add in all the dry ingredients.
In another bowl beat the eggs and add in the rest of the ingredients.
Add the wet into the dry bowl and mix with a spoon until combined.
Add to your mini muffin pan. I like to use silicon.
Cook on 350 F for 10 minutes. If you choose to make larger muffins add 5 minutes or so. Each oven is different.
Notes
Don't get forget to check the post for recipe creation tips and afterwards.
The photos for this post was made with ground cinnamon and not the extract. If you use the extract, the muffins will be a lot lighter in color.
I also found that the more you beat the eggs the higher the muffins may come out of the oven.
Nutrition Information:
Yield:

8
Serving Size:

1 mini muffin
Amount Per Serving:
Calories:

71
Total Fat:

4.25g
Carbohydrates:

0g
Protein:

8.25g
ketokeuhnnutrition.com offers nutritional information for recipes contained on this site. This information is provided as a courtesy and is an estimate only. This information comes from multiple online calculators. Although all attempts to provide accurate nutritional information have been made, these figures are only estimates as products and ingredients macros vary.