As an Amazon Associate I earn from qualifying purchases.
Keto Kitchen Essentials for Baking
These keto kitchen tools are essential for me when I want to do some baking. I am all about making my life easier, especially when it comes to baking and testing recipes. Depending on what you want to bake, you may need some more kitchen tools.
Silicone Baking Mats: I absolutely love these! If you make cookies or anything on a cookie sheet, I truly believe these are essential. These magical mats allow your baked item to come right off, every time. You will also save money from not always buying and using parchment paper all the time.
Silicone Muffin Liners: I love these just as much as I love using the silicone mats. Muffins and cupcakes pop right out of them. You will also be saving the planet and your pocketbook in the long run.
Silicone spatulas: I love this tool, the kind where it's all one silicone piece. I have recently discovered them in the past few years and feel in love. I dislike all the others now. They work perfect and are super easy to clean.
Metal Baking Sheets: These are useful for baking cookies or even bacon in the oven.
Bread Pan: If you plan to make bread on keto, this pan is essential. You can find them made with silicon, but unlike my other silicon choice, I like having a metal pan here as it helps with browning. To remove the bread more easily, you can line it with parchment paper.
Square Baking Pan: If you plan to bake brownies, bars or even cake, these types of pans will be essential.
Electric Mixer: This is almost essential when you are blending cookies, muffins, or really anything that's a batter. This also works great for whipping egg whites if you don't want to use a whisk.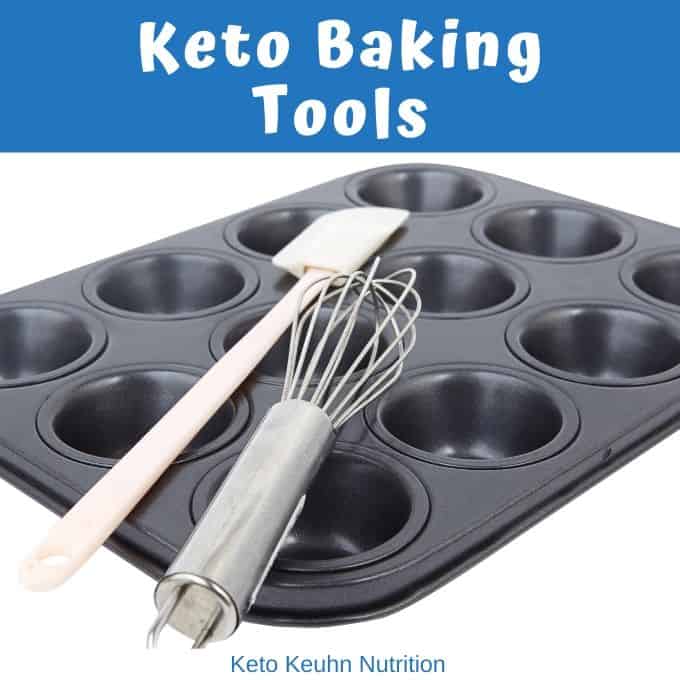 Other Baking Keto Kitchen Tools
After you get your keto kitchen essentials for baking these next kitchen tools are very nice to have.
4 Ounce Ramekins: These are great if you want to make individual desserts or even for mug cakes. I also love using these when I'm measuring out my ingredients for recipes.
Silicone Bundt Pan: I like using these if I just want a smaller cake and in a different size. It makes things fun. I used this one for my Lemon Cake that's very similar to cheesecake, but it's also quite different.
Springform Pan: These are great for cheesecakes as the sides can easily come off and you are left with the bottom plate for the cake to rest on.
Mini Muffin Silicone Pan: I love using these for fat bombs that are easy to pour. These pans also make great mini muffins or cakes.
Cookie Scoops: Think ice cream scoopers but smaller. I love using these as the batter just comes right out, much easier than using spoons. I'm not knocking spoons, as they do work, I just like using the scoop a lot more.
Kitchen Scale: With keto baking, I feel as though a kitchen food scale is almost a need. Almond and coconut flours can be hard to measure just right. Now, when I make new recipes, I will weigh out what a cup is according to the bag of said flour.
Whisks: I love using whisks to help get rid of clumps you will find in flour. This is my quick hack to sifting. I learned this back in my food prep class. 😉 Sure it's not the same, but it works.
This is by no means a complete list of keto kitchen tools, but it makes up the bulk of tools and bakeware that I use.
Material Of Your Bakeware
Now, that we went over what keto kitchen essential bakeware to purchase, it's also essential to consider the color and what the bakeware is made out of.
Silicone: This type of material will help you from over browning your goods. It doesn't conduct heat well and thus doesn't burn easily.
Ceramic and Glass: These take longer to heat and will therefore take longer to cook your keto baking. However, it holds onto heat well after you remove it from the oven.
Metal: Metal bakeware heat well and hold their heat well compared to all other materials. The lighter colored ones will yeild the best results for browning. If you go darker, the bottom and sides will get darker faster. I don't believe I have any heavily hard pans for keto baking.