As an Amazon Associate I earn from qualifying purchases.
If you are looking for an easy and quick keto comfort food this homemade ground beef stroganoff is for you.
It is easy to make as you can cook everything in one pan. No need to cook noodles. Also no need to dice up a steak as this recipe uses ground beef.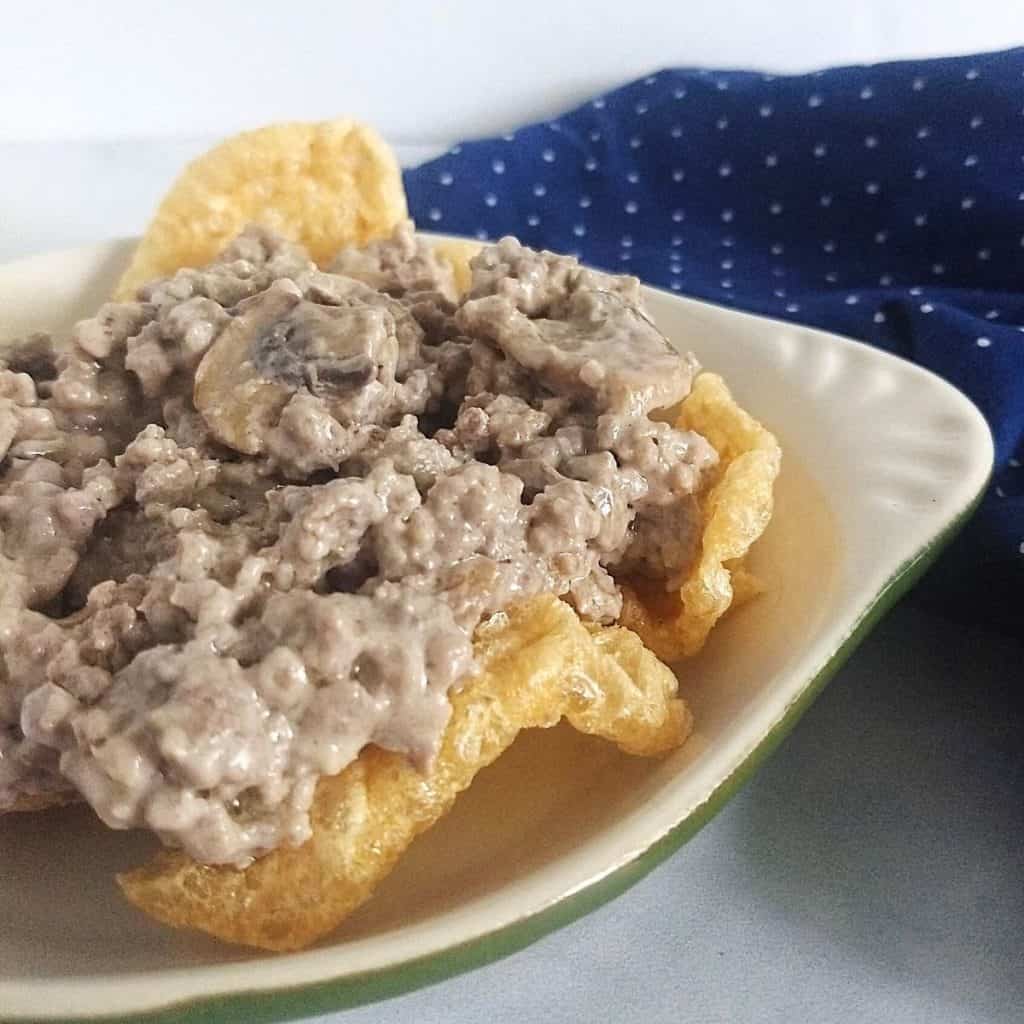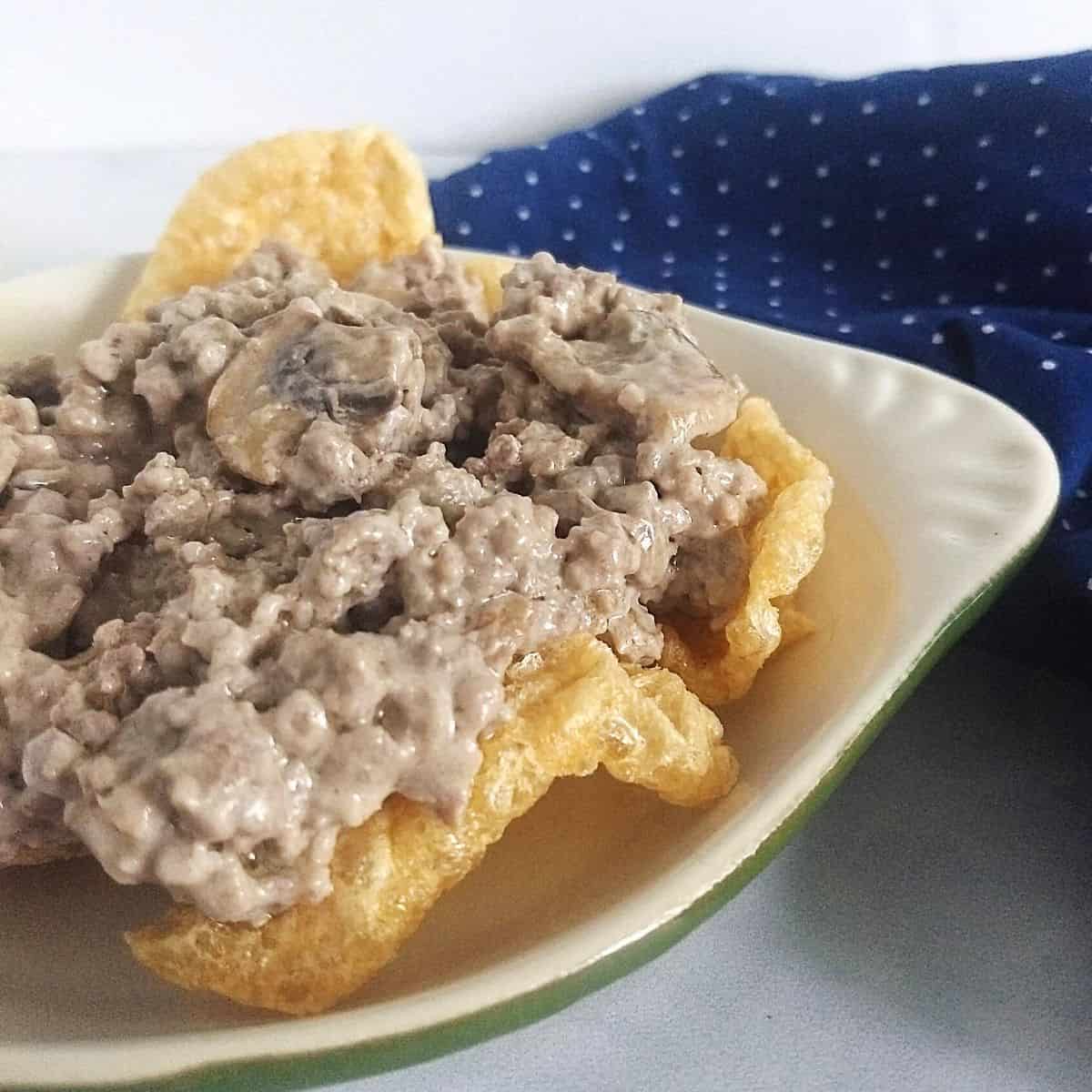 Ingredient Substitutions
I used 80/20 ground beef in this, however you can use whatever percent you like best.
The reason for choosing cream cheese instead of sour cream is to save on some carbs. The end result is just as great. However, you can still use sour cream in this one pan dish if you want.
By doing this, it also helped me avoid needing any thickening agent like xanthan gum. Xanthan gum is a perfectly fine ingredient, but it can bother some people when they consume it.
If you want to use a whole onion instead of onion powder, you can do this. I would maybe dice up about 2 to 4 tablespoons of a white onion and saute it in the 1st step. I choose to use onion powder to save on carbs and to help from not having to buy a full onion, that you may or may not finish
If you don't have minced garlic, you could also use powdered garlic too. I would start with ⅛ of a teaspoon and adjust to your flavor preference. I like to buy the jars of already minced garlic to make my life easier and it keeps long in the fridge.
All of the other ingredients are hard to replace as they really help get the flavor just right.
Dairy Free
This recipe easily can be dairy free. Kit Hill is a company with dairy free options and cream cheese happens to be one of them.
If you want to make this stroganoff recipe dairy-free, use 33 grams of this recipe in place of the dairy cream cheese.
Noodle Options
There are many options you have available to use instead of noodles. Such veggie options would be to serve the mixture over cauliflower rice, zoodles (which are zucchini noodles), cabbage or even green beans.
Another option is to use miracle noodles.
However, my favorite is to use a snack food that has zero net carbs, in fact it has zero carbs. Pork rinds! It's not exactly the same dish, but I absolutely love it this way now.
Directions
Below I have photos to show you main parts of the cooking processes.
You first want to melt the butter then add in the onion, garlic, and mushrooms over medium to low heat.
Lastly, the cream cheese and beef broth get added. This recipe doesn't use sour cream as a way to save on net carbs. This is also the reason why I decided not to use cauliflower rice.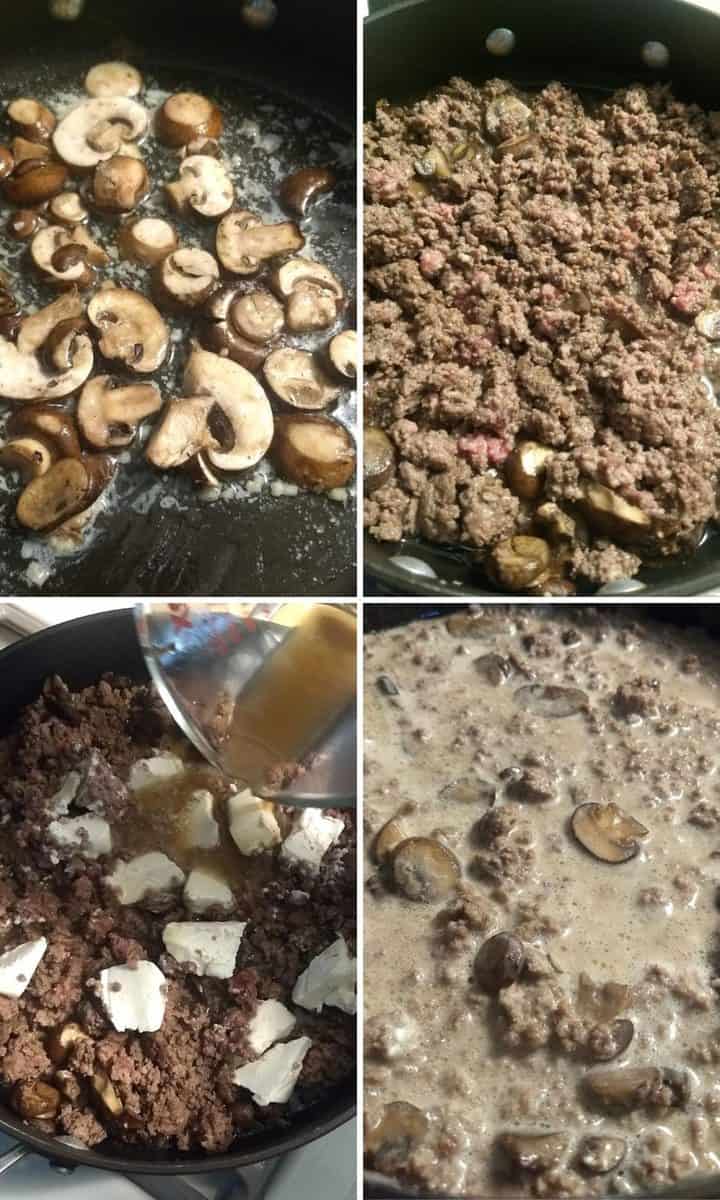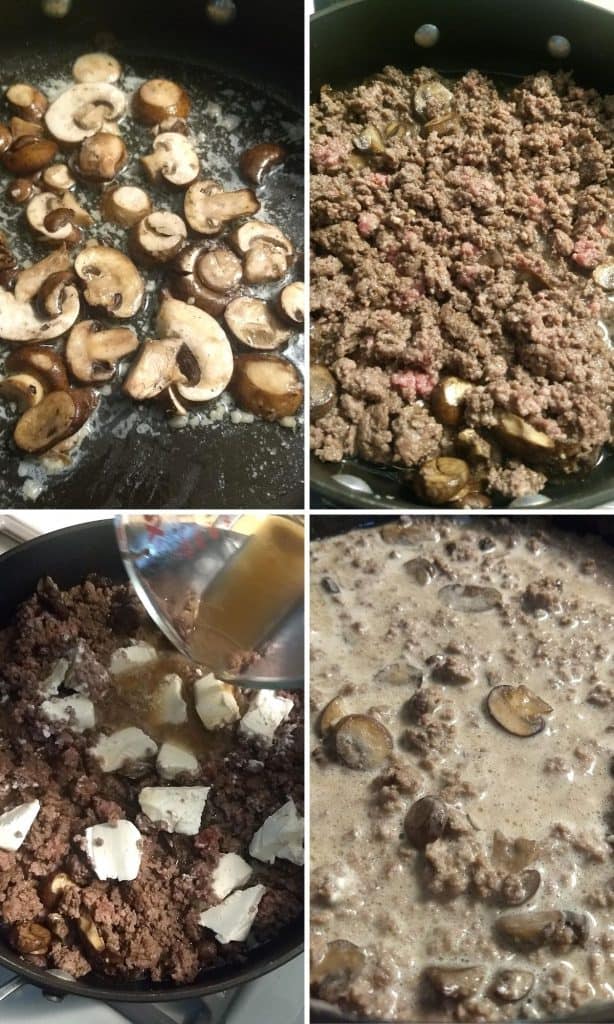 Questions
Can you freeze low carb beef stroganoff?
Yes you can. However, I would cook everything but the cream cheese. Then when you are ready to enjoy your meal, reheat it on the stove top and add in the cream cheese over medium heat.
How many carbs does this keto beef stroganoff have?
I have seen a variety of ranges from 3 to 4 net carbs. However, my recipe only has 1.5 total carbs.
Is this recipe gluten free?
Yes it is! You just have to make sure the brand of worchestire sauce is gluten free. Read those labels.
What can you substitute for sour cream in beef stroganoff?
Instead of using sour cream in beef stroganoff you can use cream cheese or even yogurt. Two Good Yogurt has a great plain keto yogurt you can use. If using yogurt in this recipe I would use 1/4 cup. This recipe uses 4 oz of cream cheese instead of sour cream.
Additional Recipes to Enjoy