As an Amazon Associate I earn from qualifying purchases.
These low carb chocolate waffles are perfect if you don't want to use flour and want to be dairy-free. The recipe was created during the chaffle craze.
A chaffle is a waffle made with cheese. To be different I used dairy-free cream cheese and added cocoa powder for chocolate. Then to kick it up a notch, I made them Almond Joy flavored. 🙂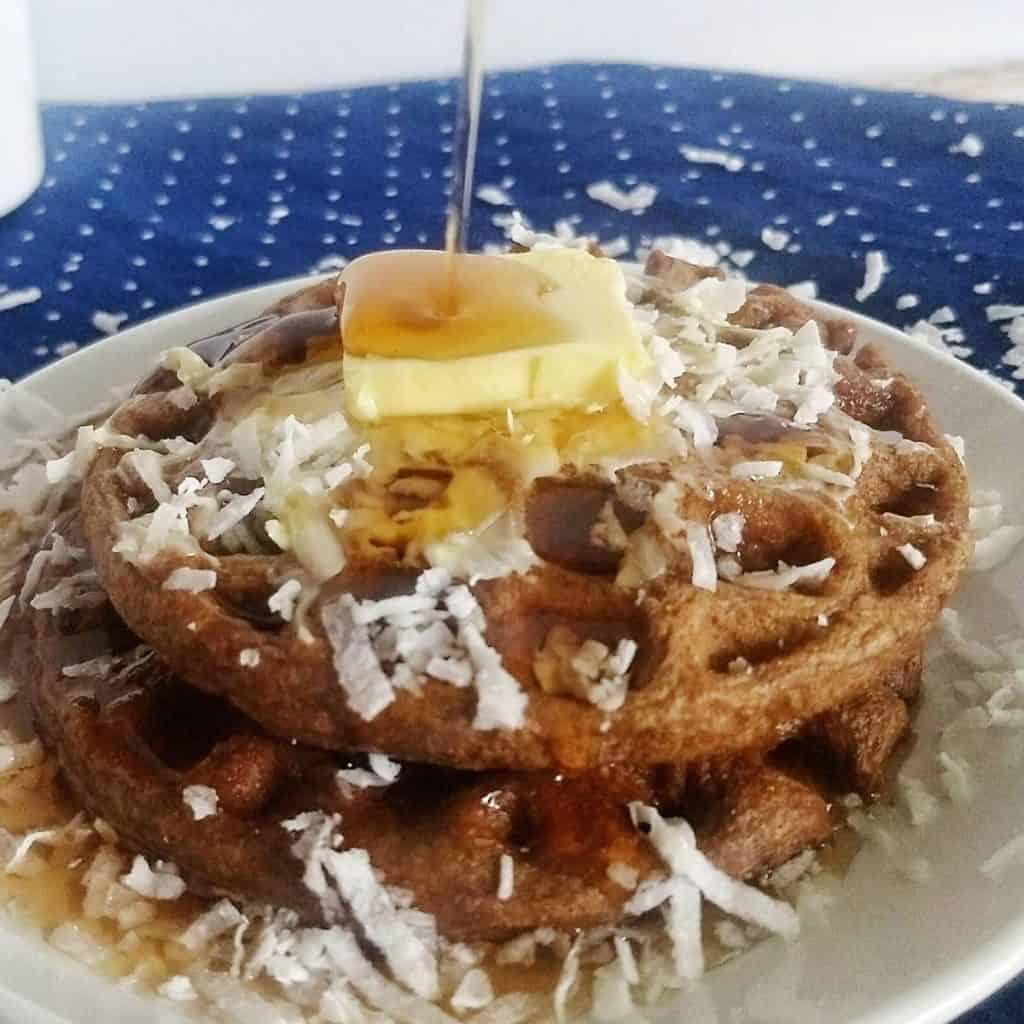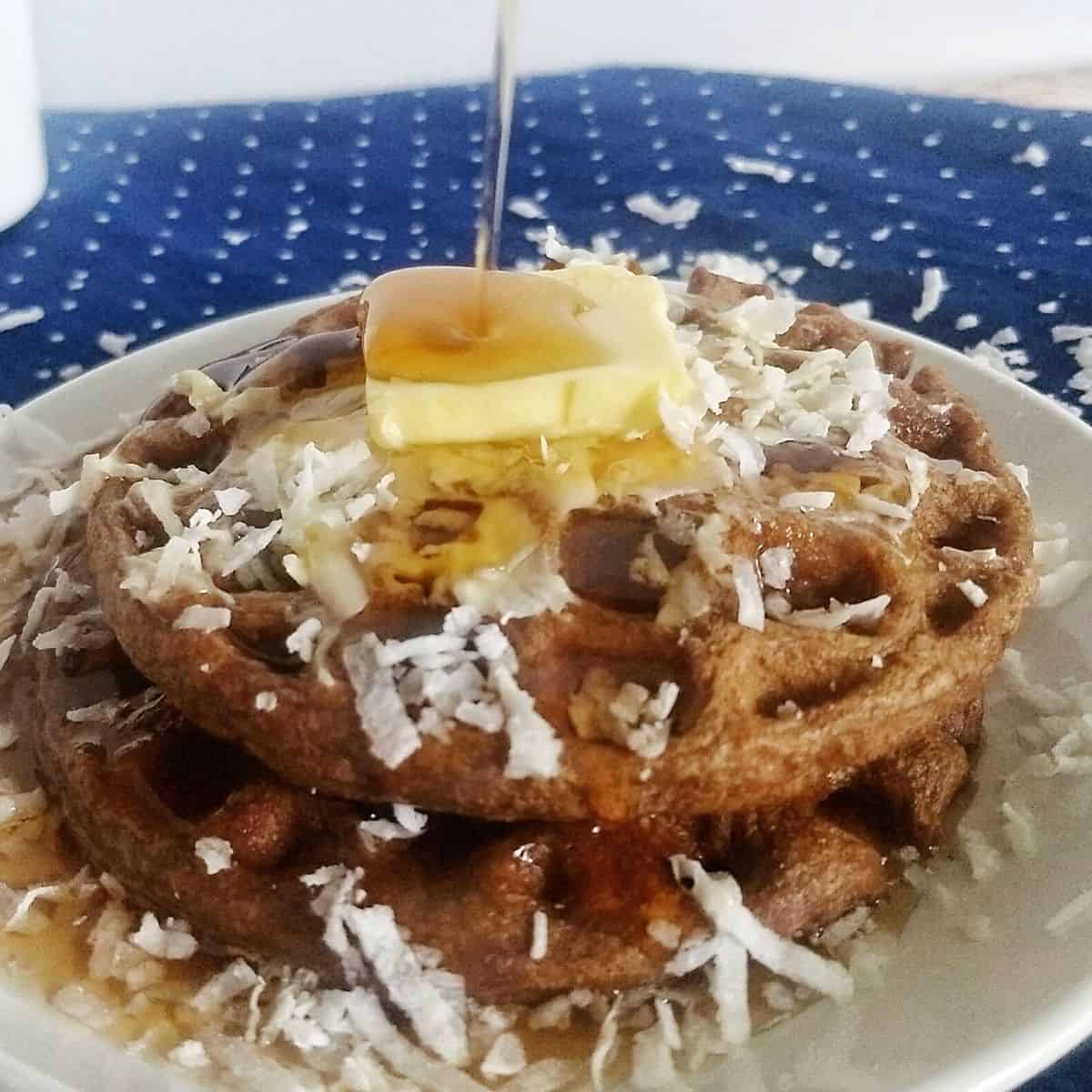 Ingredient Substitutions
One of the main ingredients in this is cream cheese. If you can't tolerate dairy well, you can use a dairy free cream cheese from Kite Hill. Both of these options work well.
I use pure monk fruit extract sweetener for these chocolate waffles. You can use another sweetener as well. Another pure monk fruit sweetener is liquid monk fruit, just like stevia drops.
A popular sugar-free sweetener is a monk fruit and erythritol mixture. I would use 1 tablespoon of this sweetener for this recipe.
If you don't have coconut oil, that's fine. Other fat sources that you can use are butter, avocado oil, and ghee. Using the virgin coconut oil though, helps provide the almond joy flavor of these chocolate waffles.
Tips
Heat your coconut oil so it's warm enough to help soften the cream cheese, especially if the cream cheese is not to room temperature. When you have the cream cheese softer, it is a lot easier to mix the batter.
I personally like to beat the egg separately and then add it to the mixture with everything else. Doing this helps to combine ingredients more evenly.
The trick in figuring out when your waffle is done, is to wait for the steam to stop. When you don't see steam anymore, check on your waffle. Adjust your time to your preference though.
Tools
To make waffles, you, of course, need a waffle maker. You can have a mini one or a large one. The size really doesn't matter. However, I really love using the Dash Mini Waffle Maker. This recipe does make 3 mini waffles.
Storage
Most people will eat these right away. However, if you wanted to make a bunch at one time and then freeze them, you can.
Allow the chocolate waffles to cool, then you can stack them with a piece of parchement paper between each one. Lastly, stick them into a freezer safe bag. To reheat them, just use your toaster or an air fryer.
Syrups
Lakanto Maple Flavored Syrup is my favorite so far. To me it tastes like how syrup should be. I'm even lucky enough to find it at my local grocery store. If you can't find this syrup at your store you can always get it from amazon. The syrup text link will bring you there.
Lakanto is also the company I buy my sweeteners from. The liquid monk fruit drops and the pure monk fruit extract with zero erythritol.
ChocZero's Maple Syrup is another syrup you can have. They even have more than one flavor. I believe there is even a seasonal pumpkin pie flavor. I have not tried this maple syrup yet.
You can even make syrups at home! I do not have a recipe but my good friend at, Keen for Keto, has a fantastic buttermilk syrup recipe.
Extra Topping Ideas
Below I linked my other flourless waffle. There are also 3 other recipes you could pair with this breakfast.