As an Amazon Associate I earn from qualifying purchases.
Dairy Free Chocolate Keto Chaffle
Keto chaffle recipes have been popping up all over the place and rightfully so. They are extremely easy to make and makes for a great keto meal. They are also under 10 total carbs, so the recipe gets a place on this site for you.
What is a Chaffle?
A chaffle is a waffle made with just cheese and egg. In the most basic form that's it! Most recipes call for 1 egg and 1/2 cup of shredded cheese. The common cheese options are cheddar or mozzarella. There are even dessert recipes and non dessert recipes.
Dessert Chaffles
As the title states, this chaffle will be chocolate and will be a recipe to add to your dessert chaffles. Not only does this recipe have chocolate, I even included flavors of almond and coconut.
What does this flourless waffle taste like?
If you read the above paragraph you may be thinking of Almond Joys and you are right!
Dairy Free Chaffles
Yes, I said dairy free chaffles. I'm currently eating less dairy and I also wanted to try and make a chaffle with no dairy. This may seem pretty hard to do since you need cheese for chaffles. However, cream cheese and egg are still chaffles. Then you may say cream cheese is dairy. You are correct. However, Kite Hill has a dairy free cream cheese. 🙂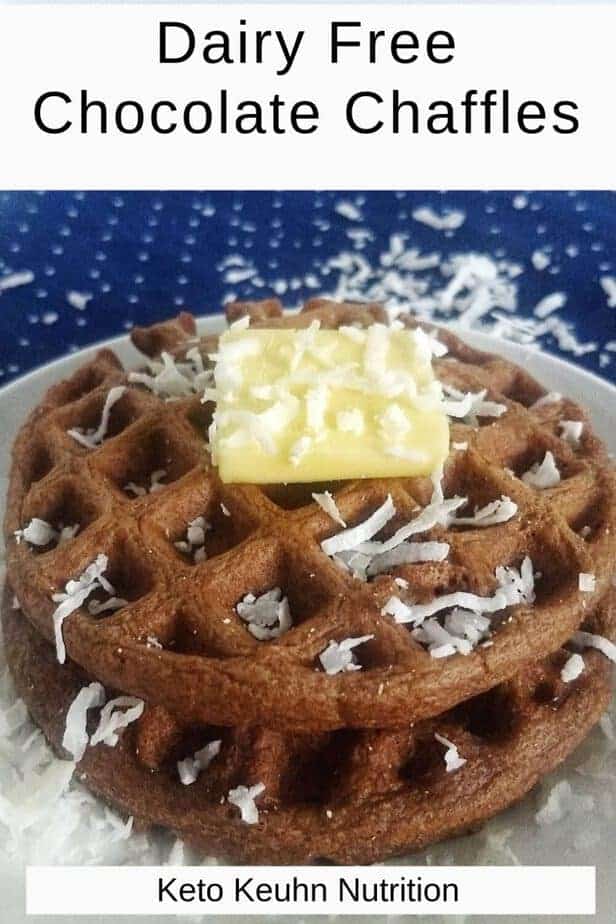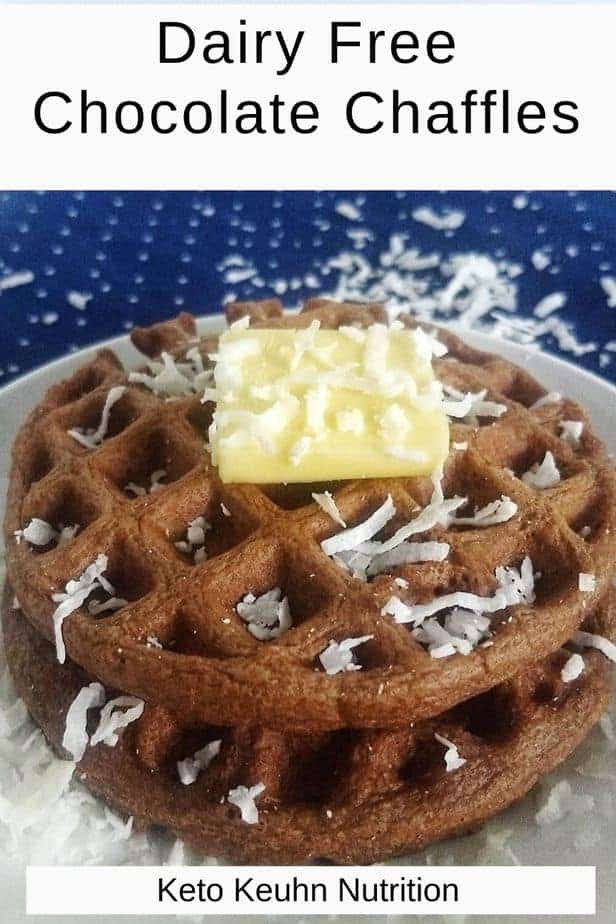 Needed Recipe Ingredients
Egg
Cacao Powder
Cream Cheese (dairy free or with dairy)
Sweetener
Coconut Oil
Almond Extract
How to Make Dairy Free Chocolate Chaffles
I like to warm the dairy free cream cheese so it's easier to mix into the egg. ONLY a little bit. I like to leave out the measured cream cheese or you can microwave it for about 10 seconds or so.
I would them scramble the raw egg and mix in the cream cheese, then everything else.
Then I would try and make everything smooth and possible, if not, don't worry too much about it.
Lastly, cook in your mini waffle maker for about 3-5 minutes.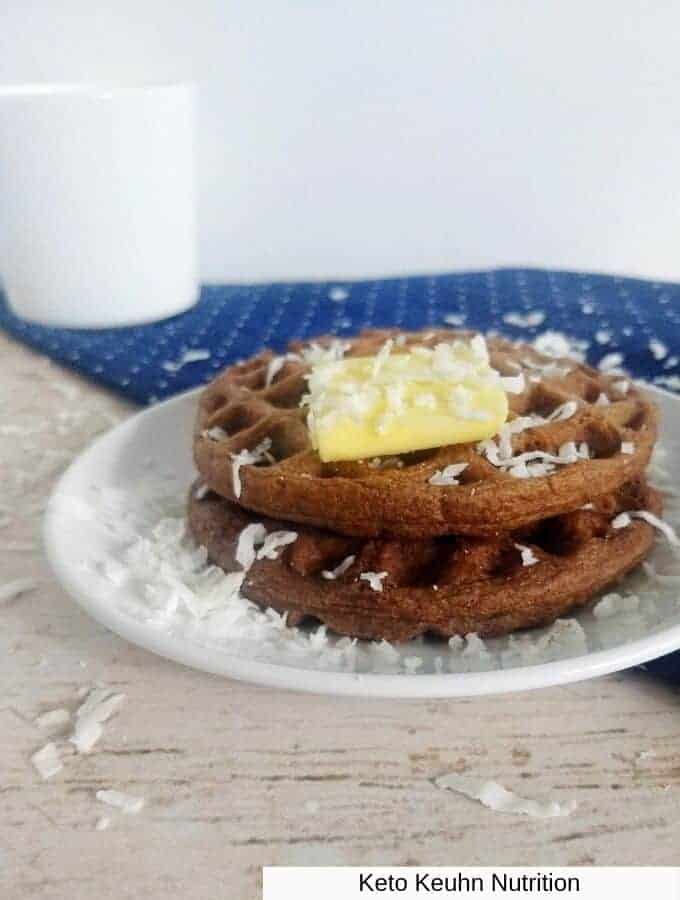 Common Chaffle Questions:
Do chaffles taste eggy?
No they do not. Most recipes will use 1 egg and 1/2 Cup of cheese. However, if you think they are too eggy for you, use just egg whites or add some more cheese or other items such as butter.
Do I need to shred my own cheese?
No, you do not. However, be aware of the extra carbs in those bags of cheese. If you are okay with it, then by all means, go ahead and buy it.
How long does it take to cook these keto waffles?
It will take about 3-5 minutes for one waffle.
Can you freeze these flourless waffles?
Yes, you can! To reheat them, toss them in your toaster. Just like those frozen waffles you grew up with.
Do I need a mini waffle maker?
No. However the cooking times may vary. I also don't know how much batter you will need that will fit into your larger maker.
If you are looking for a mini waffle maker, the Dash Mini Maker has become very popular in the keto space. This is the waffle maker that was gifted to me. They have many other colors other than red. I actually have the aqua color.
Flourless Waffles
Need another keto waffle recipe? How about another one that is flourless? And by flourless I mean no coconut or almond flour. This keto waffle recipe is also dairy free and nut free if you choose it to be.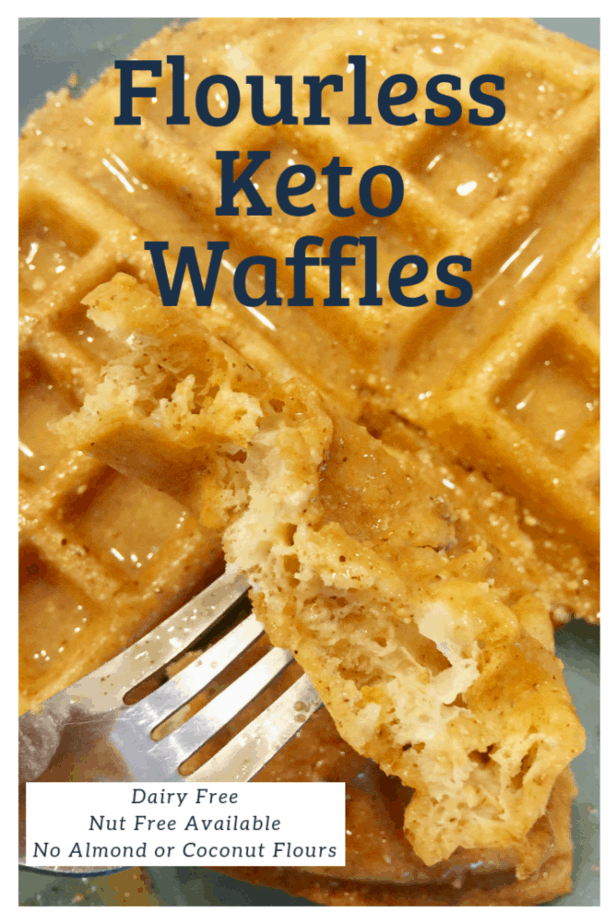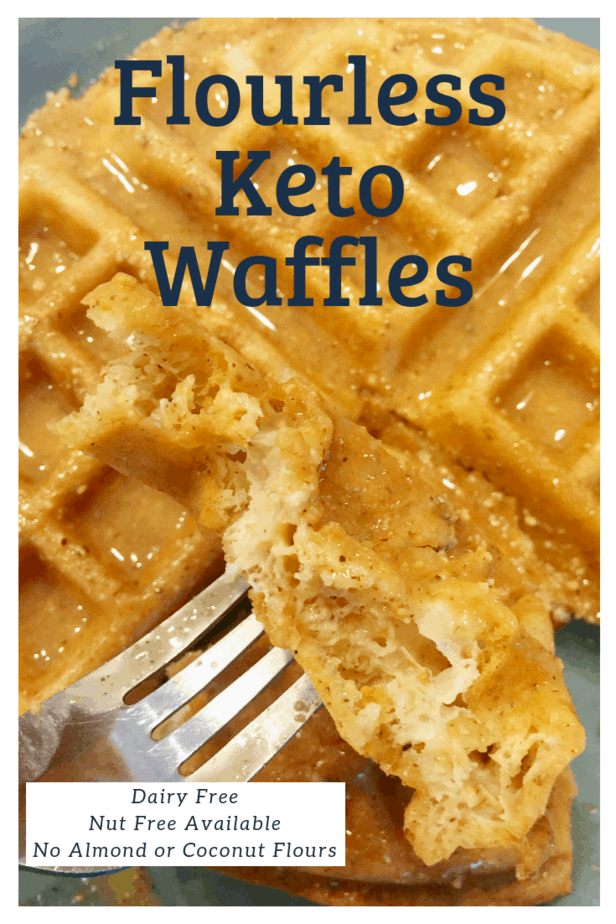 The Keto Egg Loaf
The lazy keto recipe craze was the egg loaf. Have you heard of it or tried it yet?
If not, I have the recipe on my site along with other variations that you can try for it.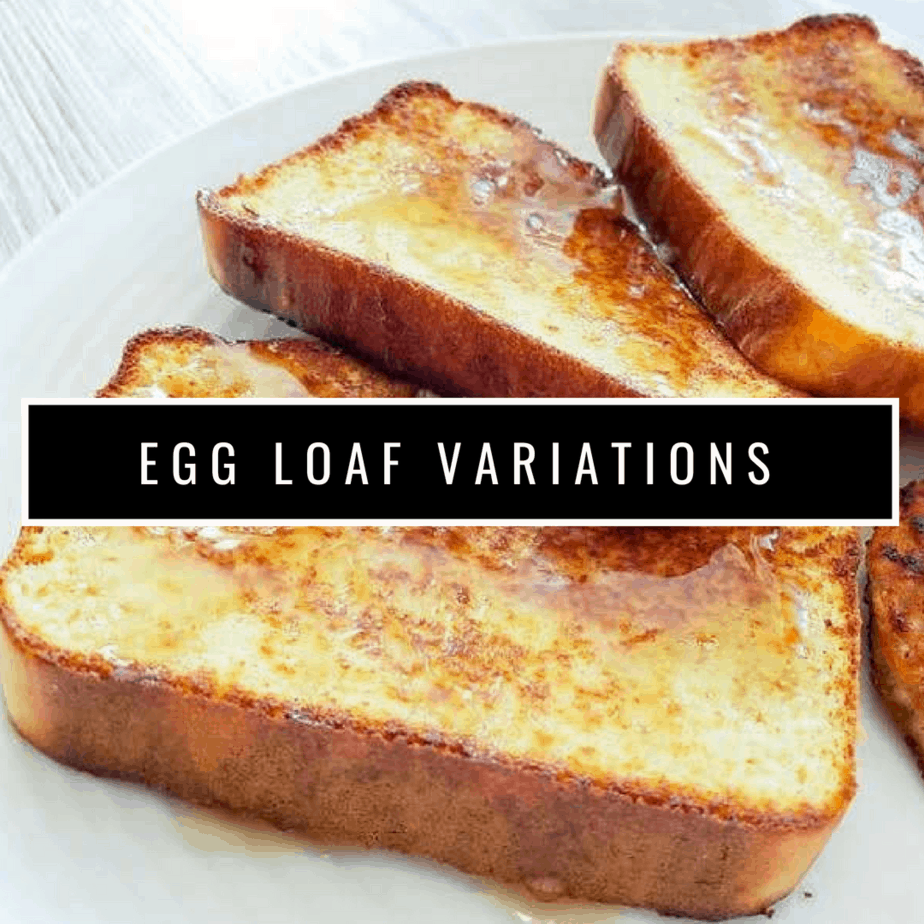 Keto Syrups!
Okay, okay I get it. A good waffle deserves a great syrup. Yet most of the options at the store are full of sugar.
Fear not! We have keto syrup options!
Lakanto Maple Flavored Syrup is my favorite so far. To me it tastes like how syrup should be. I'm even lucky enough to find it at my local grocery store. If you can't find this syrup at your store you can always get it from amazon. The syrup text link will bring you there.
Lakanto is also the company I buy my sweeteners from. The liquid monk fruit drops and the pure monk fruit extract with zero erythritol.
ChocZero's Maple Syrup is another keto syrup you can have. They even have more than one flavor. I believe there is even a seasonal pumpkin pie flavor. I have not tried this maple syrup yet.
You can even make keto syrups at home! I do not have a recipe but my good friend at, Keen for Keto, has a fantastic buttermilk syrup recipe.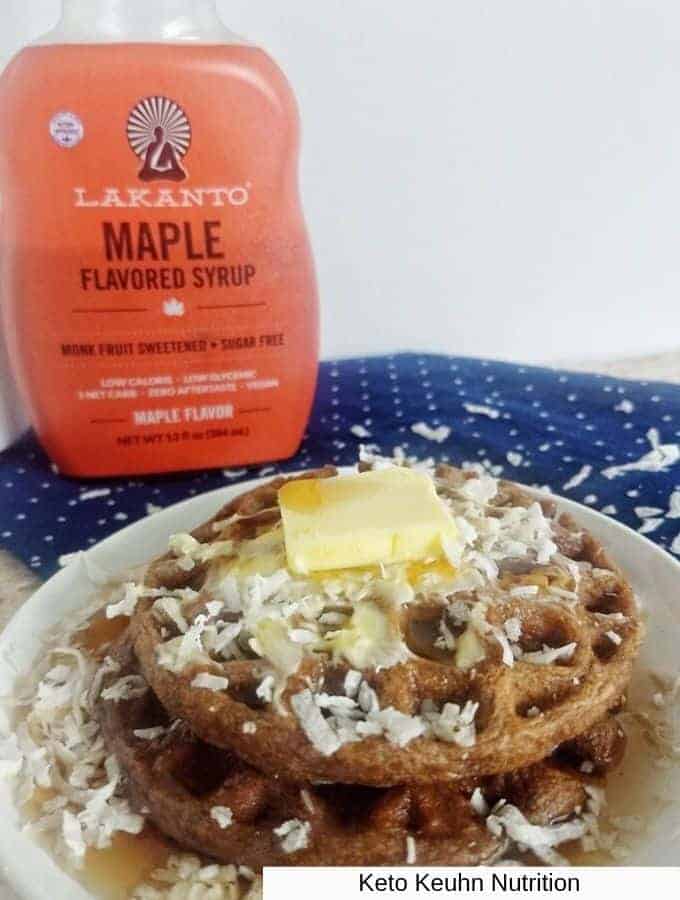 Notes about These Keto Syrups
On my site, I keep my recipes under 10 total carbs for you all, yet these syrups may not be the case. I can enjoy waffles or pancakes without syrup, but oh man, that extra syrup is the icing on the cake. Keto syrup on waffles is darn right delicious. 🙂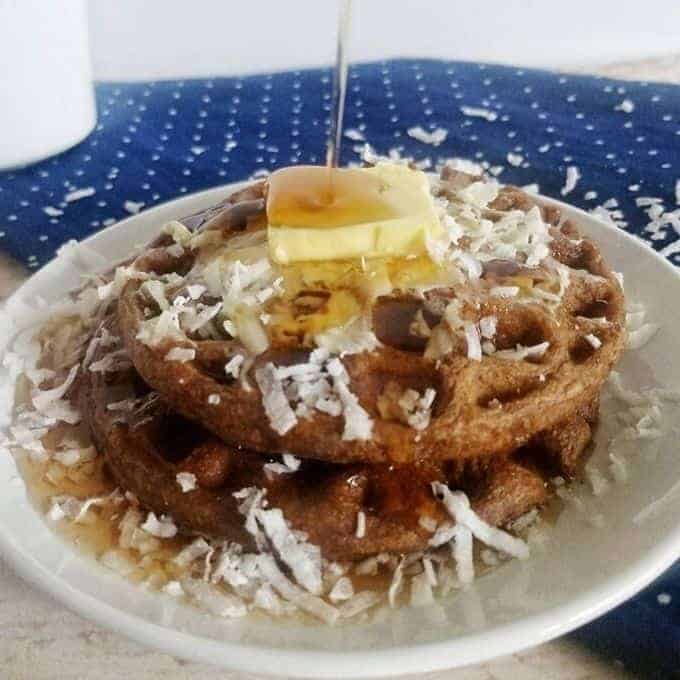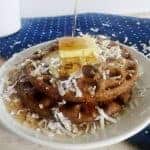 Print Recipe
Chocolate Keto Chaffle
Instructions
Melt coconut oil and add to your cream cheese.

Mix coconut oil and cream cheese together.

Beat large egg in a separate bowl.

Combine everything together. I like to use hand beaters to make sure it's mixed well.

Pour batter into your waffle maker for about 4-5 minutes or until steam stops.
Nutrition
Serving:
3
waffles
|
Carbohydrates:
3.5
g
|
Protein:
8
g
|
Fat:
25
g