As an Amazon Associate I earn from qualifying purchases.
Creamy, easy, delicious no churn keto chocolate ice cream is here for you to enjoy with only 2.6 carbs has been created to keep carbs low as possible. You also don't need an ice cream maker.
To really kick this dessert up a notch, top it on my Nut Free Fudgy Brownies or my Flourless Pumpkin Brownies.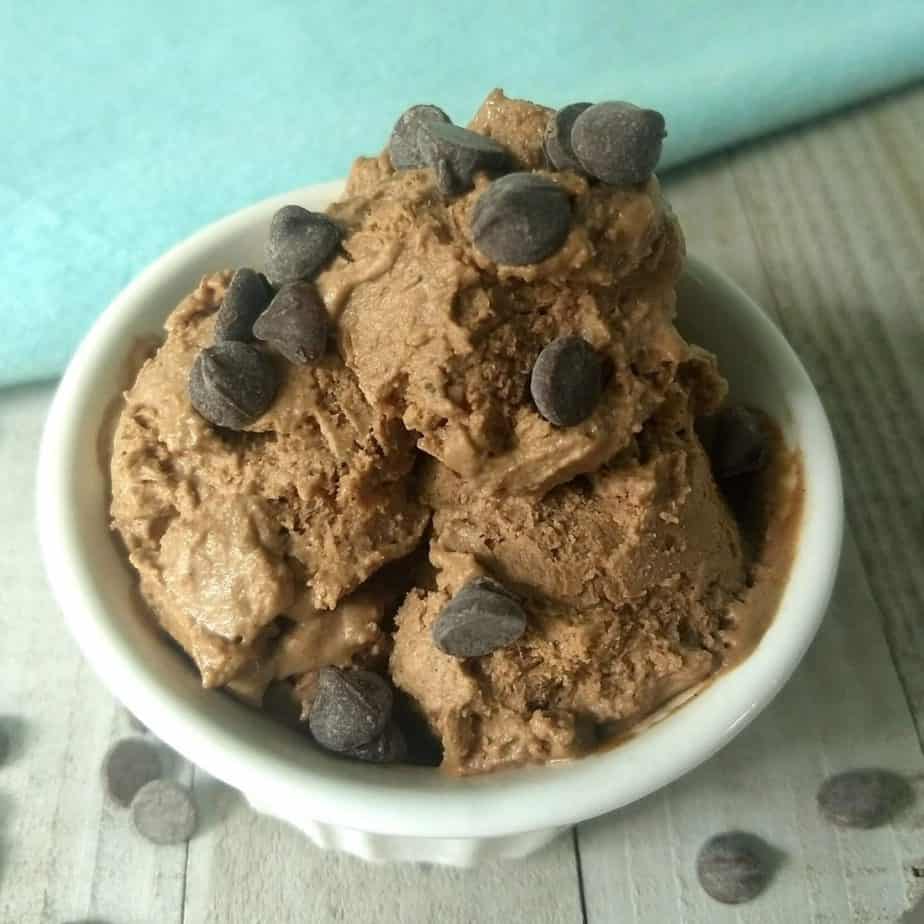 Why I Used an Ingredient
Heavy whipping cream is used for the base of the low ice cream instead of using an unsweetened nut milk. Plus it provides a creamy texture for the end result.
The MCT oil, butter, egg, and the salt all help in the texture. In theory you could just use heavy whipping cream and sweetener and it would be ice cream, however the texture would be very different.
When adding in MCT oil and salt to this recipe, this also helps in preventing the desert becoming too hard. This is a reason why some people add vodka to keto ice creams as well. I also add in salt not only for flavor but also for the same reason as the MCT oil.
For the sweetener I choose the liquid monk fruit because it contains zero carbs and zero sugar alcohols. Since all of my recipes are all under 10 total carbs, I have been using this sweetener over erythritol when I'm able to. Some people also do not like sugar alcohols as it affects their digestion.
To make this a keto ice cream I used cocoa powder. However, if you want a vanilla ice cream, you can easily leave it out. I used the Hershey brand of cocoa powder because that's what I had, and it's also 1 net carbs per serving (3 total carbs).
Substituations
Liquid Monk Fruit: If you don't have this sweetener you can use erythritol if you would like. If you do use this other sweetener, add 1/3 cup to the heavy whipping cream (HWC). I also would heat all of the HWC in the pan instead of just half of what the recipe stats.
Once the cream is done and while it's cooling, add the rest of the ingredients together on their own. Once the cream is fully cooled, mix everything together. If you get confused, it's very similar to my Blue Moon Ice Cream directions.
MCT Oil: If you don't have any MCT oil that is fine. If you had vodka you could use that as a replacement. However, this ingredient is optional. It helps with the keto chocolate ice cream texture and helps it from getting too hard.
Instructions
The photos below show you how the ice cream looks at each step.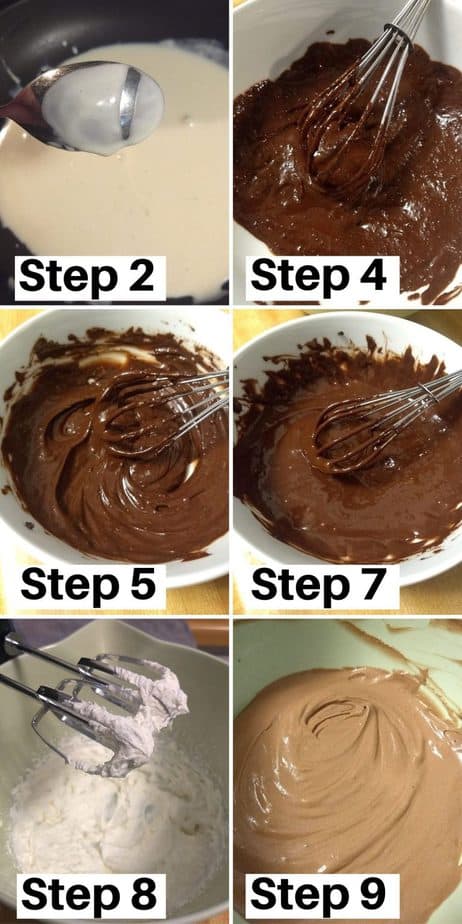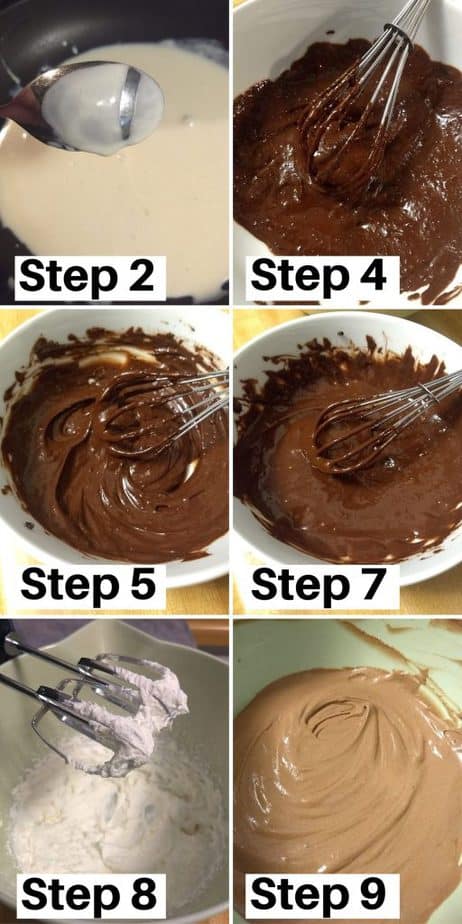 Tips
1. Did you know that there are more than one type of chocolate powder you can pick from? There is a dutch-process alkaline cocoa powder which will give you a richer and darker that provides you with less acid.
Or you have the option of using raw cacao powder with more nutritional value, but your frozen dessert won't be as dark and have a reddish hue.
2. Do you ever hate just standing at the stove forever to slowly cook a food item? To speed up the time in thickening your heavy cream in this keto chocolate ice cream, use a wide saucepan instead of a small pan. This provides you with more surface area for the liquid to heat faster.
3. To chill the mixture faster in the freezer, you can get a shallow pie tin or dish instead of a bowl. Or people have used these Instant Ice Cream Maker plates to make this dessert much faster. I've never used them, but they look pretty cool.
4. Once you put the frozen dessert in the freezer you want to mix it every 30 minutes to an hour to help prevent ice crystals forming. Having less ice crystals helps it from becoming too icy. If for some reason you don't do this, it will be okay. Most of the time, I forget about the cream and it still tastes great.
5. When you enjoy it the next day, you will want to keep it out on the counter top for at least 20 minutes to help it thaw a little bit to be scoopable. Most keto ice creams are like this, such as a popular brand as Rebel.
Extras and Different Flavors
You do not have to stick with just vanilla or chocolate, even though these are still really good flavors.
Are you a midwestern person that would want that classic blue moon flavor? Use my blue moon ice cream recipe and just use the same portions of the extracts I used in there.
Or how about strawberry and chocolate together? To get the strawberry flavor, add some strawberry extract.
You could even add some nuts to this. How about some pecans? Make butter pecan and add brown butter to the heavy whipping cream in the pan. I have not tried this yet with this amount of butter.
If you made this recipe please let me know by giving it a rating.