As an Amazon Associate I earn from qualifying purchases.
Deeper State Keto Ice Cream
Ever notice that most keto ice cream has erythritol in them? Heck, my Blue Moon ice cream does also. Sadly, erythritol is not adviced while doing Deeper State Keto.
However, sometimes especially in the summer, you still want that ice cream fix. Behold the Deeper State Keto Ice Cream! I absolutely fell in love with this ice cream and I'm amazed I still have some in my freezer now. Hope you enjoy it as much as I do.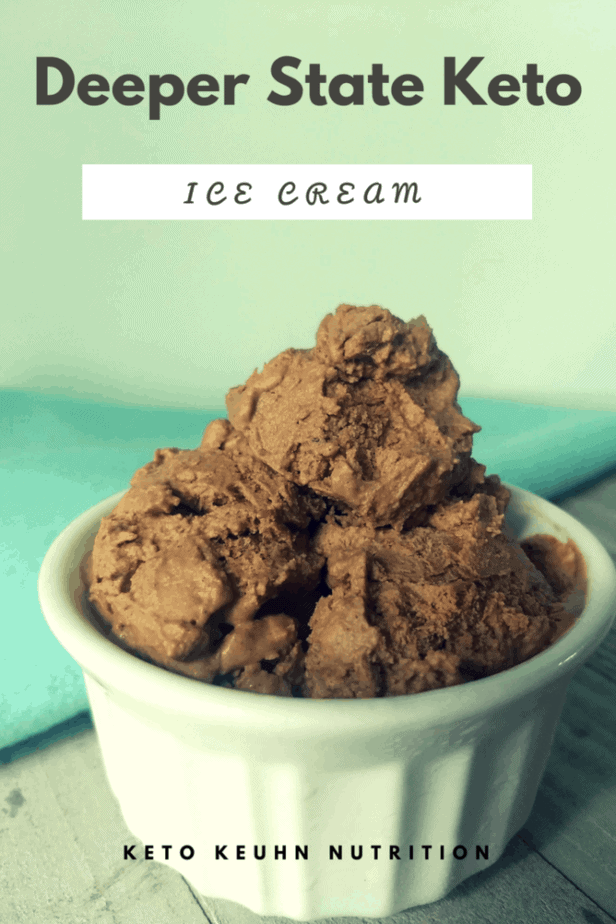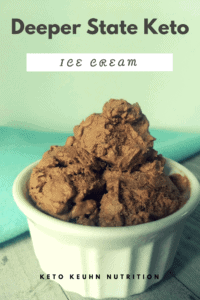 Chilling the Ice Cream
To chill the mixture faster in the freezer, you can get a shallow pie tin or dish instead of a bowl. Or people have used these Instant Ice Cream Maker plates to make ice cream much faster. I've never used them, but they look pretty cool.
Eating the Deeper State Keto Ice Cream
Yes, this ice cream requires it to sit out of the freezer to soften up some. I'm sorry for this and I wish it was different. Yet, for now, this will make you really think if you want some. 🙂
Flavors!
You do not have to stick with just vanilla or chocolate, even though these are still really good flavors.
Are you a midwestern person that would want that classic blue moon flavor? Use my blue moon ice cream recipe and just use the same portions of the extracts I used in there.
Or how about strawberry and chocolate?
To get the strawberry flavor, add some strawberry extract. You could even add some nuts to this. How about some pecans? Make butter pecan and brown that butter before adding the whipping cream. I have not tried this yet with this amount of butter. Yet, I have browned butter before for my ice creams and it's heavenly.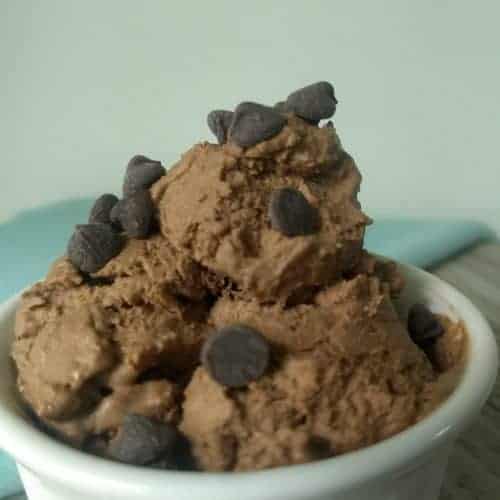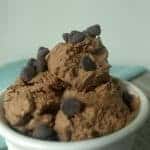 Print Recipe
Deeper State Keto Ice Cream
Ingredients
1

C

Heavy Whipping Cream

1.5

T

MCT Oil

3/4

t

Liquid Monk Fruit Drops

1/2

T

Butter

1

Egg Yolk

1/8

t

Salt

1/4

t

Vanilla Extract

2

T

Cocoa Powder

optional if you want this to be chocolate
Instructions
Pour 1/2 cup of the heavy whipping cream into a sauce pan along with the 1/2 tablespoon of butter. Bring this mixture to a simmer/boil.

If you are making chocolate, add the cocoa powder once it starts to simmer. Whisk to mix in the cocoa powder.

Reduce the heat and allow to thicken. Stir mixture often. It will coat the back of the spoon when it's done.

Once the mixture has thickened, pour into another bowl to cool.

Once cooled, whisk in the MCT oil and monk fruit in. You may think that it won't come together. Stick with it and whisk like you've never whisked before.

In another bowl combine the egg yolk, salt, and the vanilla extract. Whisk this together.

Whisk together the egg yolk mixture to your cooled heavy whipping cream mixture now.

Remember that other 1/2 cup of heavy whipping cream? Alright, get that out and beat it to stiff peaks. But not too stiff, we do not want butter. Make sure there is no liquid left.

Pour half of your whipped cream into your other bowl. Fold in the whipped cream. Once mixed in, pour in the other half and fold in to combine everything together.

Pour your mixture into the container you want for the freezer. Place in the freezer with a lid or even some saran wrap to help avoid crystallization.

Check on your mixture in 30 minutes to an hour and mix it up some. Continue this process for 2-3 hours. If you don't have time for this, don't worry. It will still taste great.
Nutrition Facts (5 servings. 1 serving is 1/4 Cup)
Calories: 258.4
Fat: 26.86
Protein: 1.52
Carbs: 2.64 (1.2 of these are from the cocoa powder)
Fiber: 0.8 (this is from the cocoa powder)
Net Carbs: 1.84
To log the recipe on MyFitnessPal search: Keto Keuhn Nutrition – Deeper State Keto Ice Cream