As an Amazon Associate I earn from qualifying purchases.
When I was first making a brandy old fashioned chocolate creation I was going for a truffle. The first batch had a great consistency but the flavor needed adjusting.
Then for the second batch, the flavor was great but the consistency wasn't great for rolling into truffle balls.
I experimented more with the second batch and added more heavy whipping cream. I list both ingredient measurements in the recipe below.
Therefore, you can choose what you want to make. Truffles or a thick pudding.


Holiday Memory
This recipe was created in memory of my grandmother. When the family (she had six daughters) would go to her house at Christmas most the adults would get brandy old-fashions.
My grandma enjoyed her brandy Old Fashion sweet. As I got older I started to enjoy this drink myself but it needed to be sweet also. I only really enjoy sweet liquor drinks.
Brandy Old Fashions
Brandy Old Fashions are a Wisconsin alcoholic drink that other states have tried, but have failed. I made this mistake of ordering one when visiting my sister in Chicago, IL.
With it being the holidays right now, I wanted to bring you a holiday treat that resembles where I live. Therefore, here is the Brandy Old Fashioned chocolate pudding or truffle. 🙂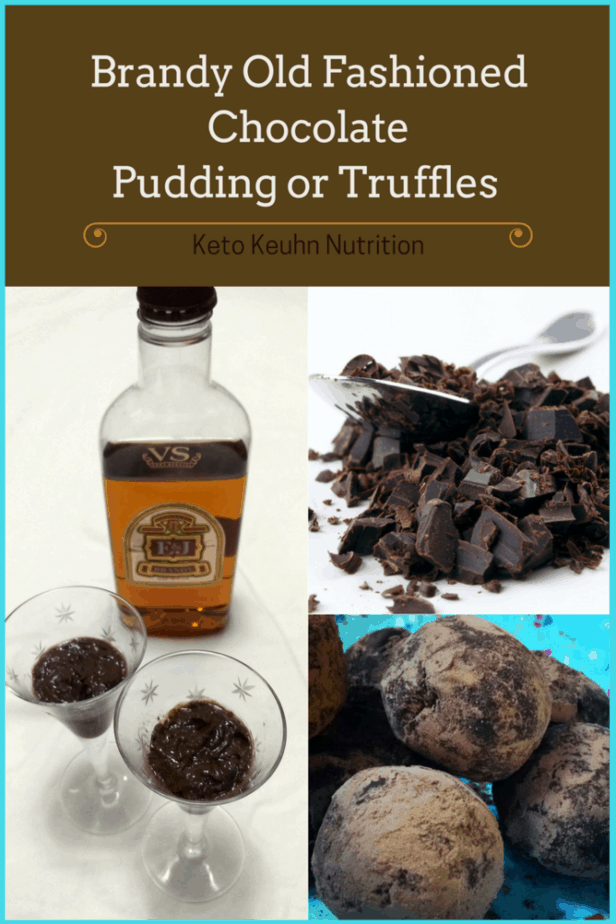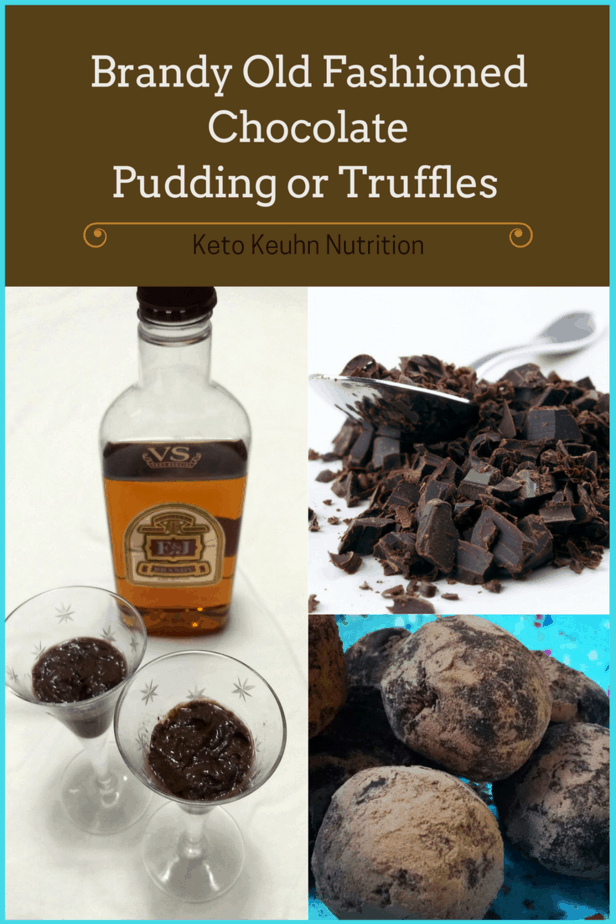 Nutrition Tidbit
Magnesium
For every 1 ounce of bakers unsweetened chocolate, there is 95 mg of magnesium (1). Magnesium is really important with this way of eating as you are peeing this electrolyte out every day.
Even if you don't do a keto diet, chances are that you are low in magnesium also. To read more about magnesium, check out this link here, from the National Institutes of Health.
Nutrition Facts: for the pudding only (2 servings)
Calories: 256.4
Fat: 26
Protein: 2
Carbs: 3.6 (Change this number to 14.4 if you count erythritol)
Fiber: 2.25
Net Carbs: 1.35
To log the recipe on MyFitnessPal search: Keto Keuhn Nutrition – Brandy Old Fashioned Chocolate Pudding Truffle
Notes about the Recipe
If you want a less thick pudding, go ahead and add four tablespoons of heavy whipping cream instead of the three.
If you are making the truffles, only use two tablespoons of heavy whipping cream. Edit: When I first made this recipe I used the heavy whipping cream from Aldi's.
I then made the truffles for Christmas and realized that the brand of heavy whipping cream matters. I used a less thick/more like cow's milk consistency and it turned out more like a dip or pudding with only two tablespoons of the heavy whipping cream.
Recipe with Lower Total Carbs
(edited: 12/14/18)
In the coming year, I'm making all of my recipes to be under 10 total carbs with counting erythritol. So, I needed to change this recipe. Yet, I had a problem. I personally avoid having alcohol now while eating this way.
Therefore the best way to lower the carbs in the end result is to change the portion size. 🙂 Yes, this is a cop-out. I know this. haha
Yet, in my opinion, these, Brandy Old Fashioned Chocolate treats are best as the truffles instead of the pudding. With that being the case each truffle will be much lower than the 14.4 total carbs.
Pure Monk Fruit Extract
If I did not try to avoid alcohol now, I would take out the erythritol and add in some pure monk fruit extract. This may change the consistency of the end product though.
If any of you do this, please let me know the end results. I am curious to know the difference.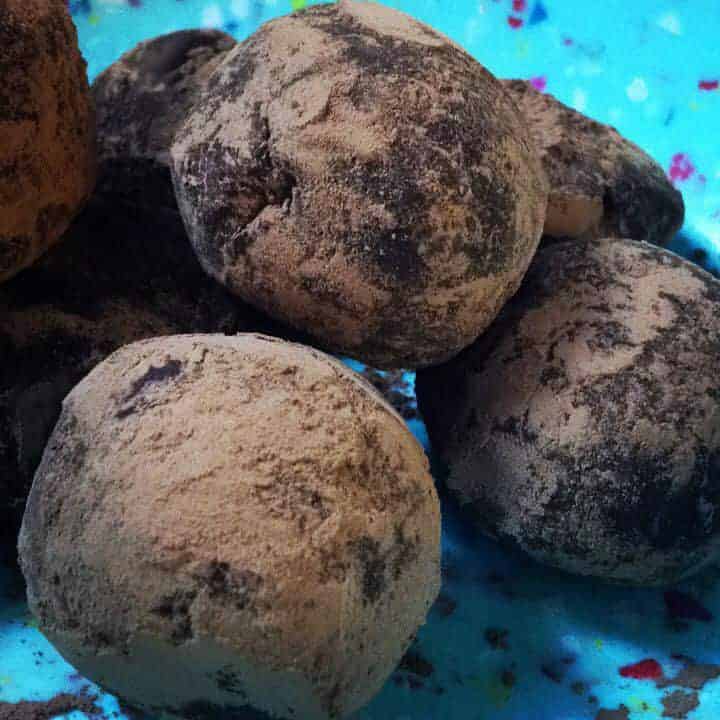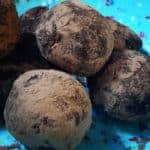 Print Recipe
Brandy Old Fashioned Chocolate Pudding Truffles
Ingredients
0.75

oz

bakers chocolate

2

T

butter

2-3

T

heavy whipping cream

2 T if making pudding. 3 T if making truffles.

1

t

cherry extract

1/

t

4 & 1/8 t orange extract

2

T

Brandy

15

drops stevia extract

2

T

confectioner swerve or monk fruit
Instructions
Melt the chocolate and butter together with a double boiler on the stove

Once melted mix in the heavy whipping cream

Then add everything else

Mix well and divide into portions, then place into fridge for a few hours

~For making truffles~

You will only be using 2 tablespoons of heavy whipping cream. Do everything else as shown above. Once mixture has been hardened inthe fridge, take out and form into balls. Once in balls, place into a bowl of cocoa powder and mix to coat ball. Lastly, enjoy your creation.