As an Amazon Associate I earn from qualifying purchases.
The Best Keto Hot Chocolate: A Black and White Hot Chocolate: Tuxedo Hot Chocolate
This black and white keto hot chocolate is so decadent your taste buds will forget what past hot chocolate you used to enjoy.
I took one sip of this recipe and fell in love all over again. It brought me back to the cafe I would study at in college.
The back history of this keto hot chocolate comes from my college years. I have recreated my go-to black and white hot chocolate drink that I created, as it wasn't on the menu.
One pump of the white and one pump of the regular chocolate. If I didn't care about the sugar in that drink and spending money, I may have had it every night. The drink was the best of both worlds.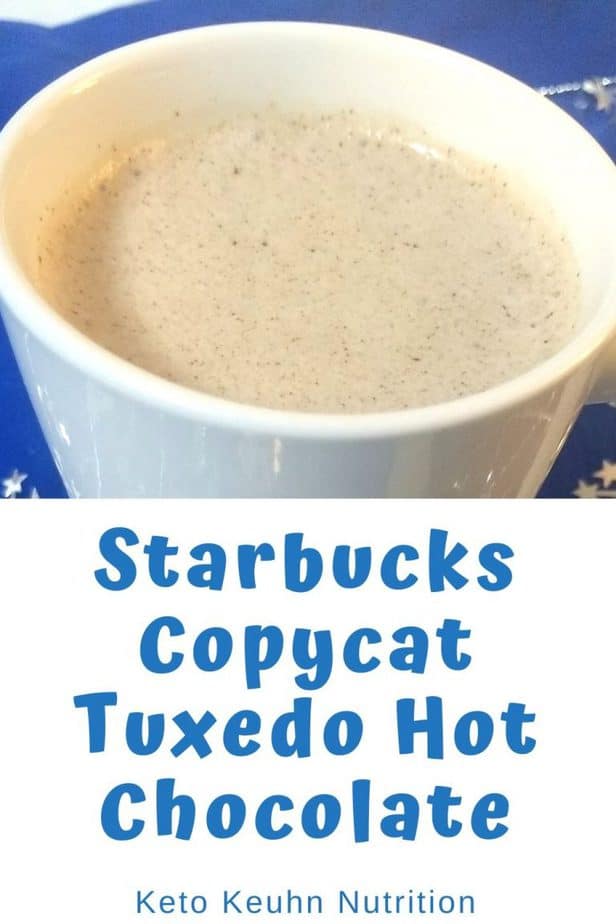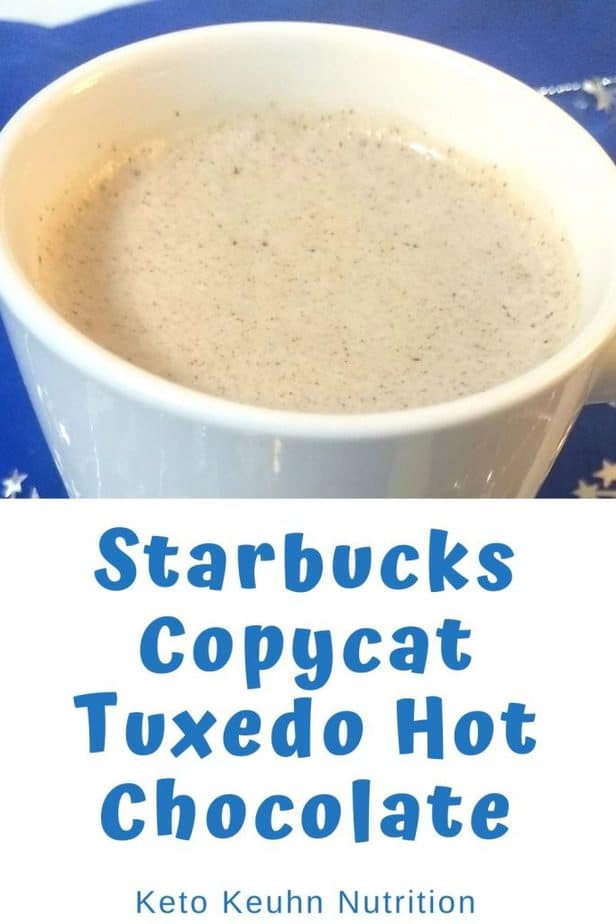 Starbucks Tuxedo Drinks
Remember when Starbucks had Tuxedo drinks? According to dish.com, Starbucks came out with three black and white drinks in December of 2016.
However, when I go to the Starbucks online menu now, it's no where to be found. Maybe we can only get these drinks during a small period of time. I've seen online that it has been released after Christmas other years.
The three Tuxedo drinks that they had were Tuxedo Hot Chocolate, Tuxedo Mocha, and Tuxedo Mocha Frappuccino.
This post has instructions on how to make the Tuxedo Hot Chocolate drink along with the mocha drink
Fat Bombs
This Keto Tuxedo Hot Chocolate is a fat bomb in a cup!
Fat bombs are usually 80-90% fat. This black and white hot chocolate recipe packs in the fat with 92%!
With the whole recipe being 656 calories, this can easily replace one of your meals. Or just make this an indulgent dessert drink, as it's incredibly rich.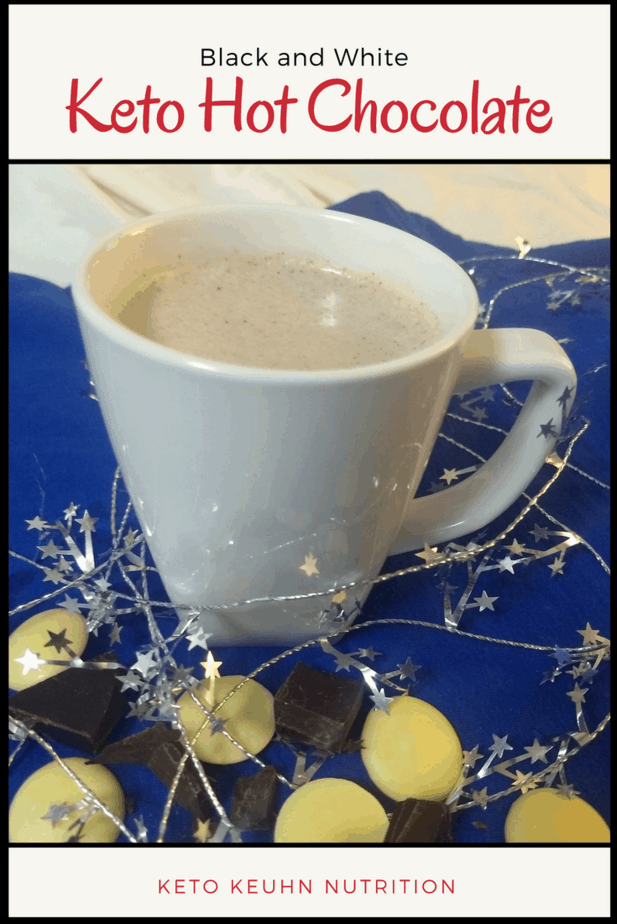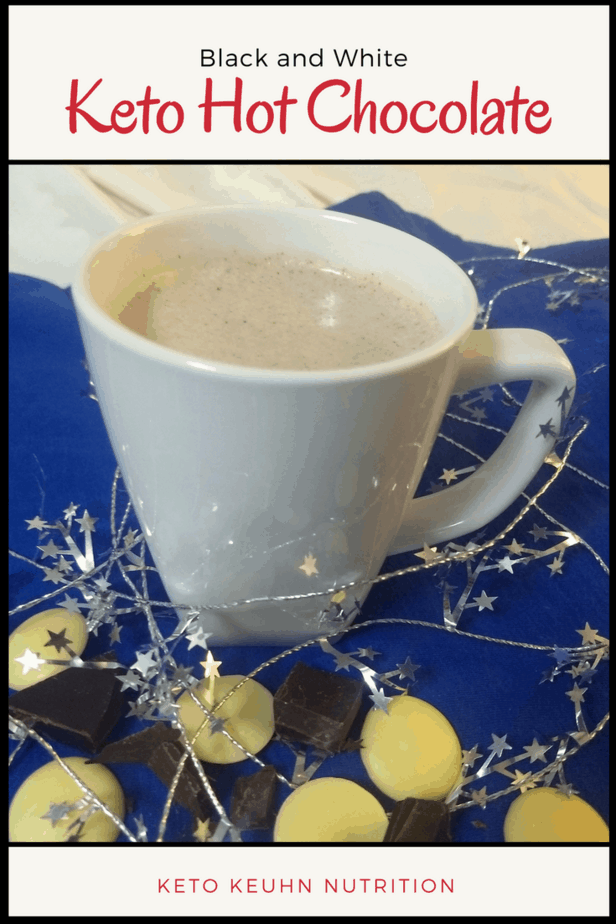 What You Need to Make this Keto Hot Chocolate
Any Unsweetened Nut Milk
Heavy Whipping Cream
Cocoa Powder
Cacao Butter
Sweetener of Choice
Pinch of Salt
Easy Instructions for the Black and White Hot Chocolate
In a sauce pan add in the milk, heavy whipping cream and cacao butter. Allow the butter to milk.
Pour in everything else and mix.
To really mix it well, I like using a Ninja blender. This helps make it really frothy.
Make this Tuxedo Hot Chocolate into a Mocha Latte
To make this a tuxedo mocha latter, all you have to do is add coffee.
I added about a half cup of brewed coffee to the whole recipe. This adds a nice caffeine boost too.
It was amazing to say the least.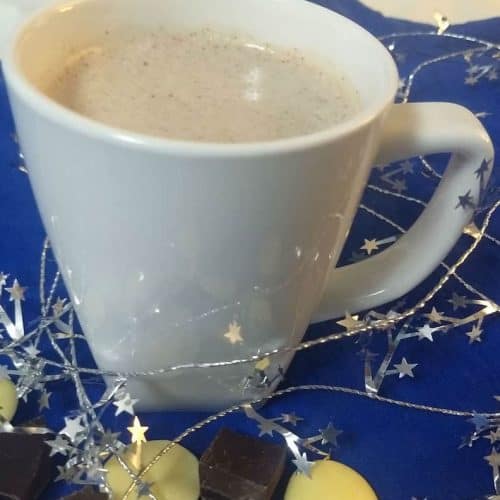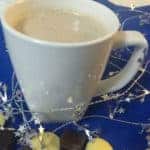 Print Recipe
Black and White Hot Chocolate
Ingredients
1/2

C

any unsweetened nut milk

1/2

C

Heavy Whipping Cream

1

T

& 1/2 t Cocoa Powder

24

g

Cacao Butter

Sweetener of Choice

Dash of salt. The salt really brings out the flavor more.
Instructions
Place the milk, heavy whipping cream and the cocoa butter in a sauce pan. Allow the butter to melt.

If you have a hand held mixer wand, use that to mix the butter and milk together.

Blend everything in a blender. (If you have the hand mixer, you may use that here again.)
Notes
To log the recipe on MyFitnessPal search: Keto Keuhn Nutrition – Black and White Keto Hot Chocolate
Nutrition
Serving:
1
recipe
|
Calories:
656
kcal
|
Carbohydrates:
5
g
|
Protein:
3
g
|
Fat:
64
g