As an Amazon Associate I earn from qualifying purchases.
The Apple Crisp Macchiato is one of the fall drinks for Starbucks. To make sure I got the flavor right, I ordered a short size of this hot drink the day it came out, August 24, 2021. When I got near the bottom, I could taste the sugary syrup and had to stop.
As I got to the bottom of the drink, the flavor became stronger and I was able to get a better taste of the hot apple pie flavor. Once I got home after having this drink, I started making a keto low-carb version.
Use the links below to get to the recipe and other helpful tips or any questions you may have.
Jump to:
Ingredients & Substitutions
Unsweetened Almond Nut Milk
I mentioned using almond nut milk, however, you can use any unsweetened nut milk you like best. I personally love macadamia milk the best. Yet, I understand this kind is typically more expensive.
Heavy Whipping Cream
I use heavy whipping cream to thicken the milk more. If you can't have dairy, you can use coconut cream from the can for this. Please keep in mind that I did not try this. I would suggest using 1/4 cup coconut cream and 3/4 cup nut milk, as the coconut cream is thicker than heavy cream.
Apple Pie Spice
There is no substitute you can use for this spice. If you can't find it in the stores, you can make your own. Here is a mix recipe you can use from Keto Cooking Christian.
Caramel Extract
Extracts are usually easy to find at most grocery stores, which is why I used them instead of finding keto syrup.
However, you can use any sugar-free syrups if you have them. As of right now, I have not made this with any extracts. Choc Zero has a great-tasting caramel syrup, you can get on Amazon.
Another reason I use extracts is that it's an easy way for me to get the flavor and to keep the total carbs super low.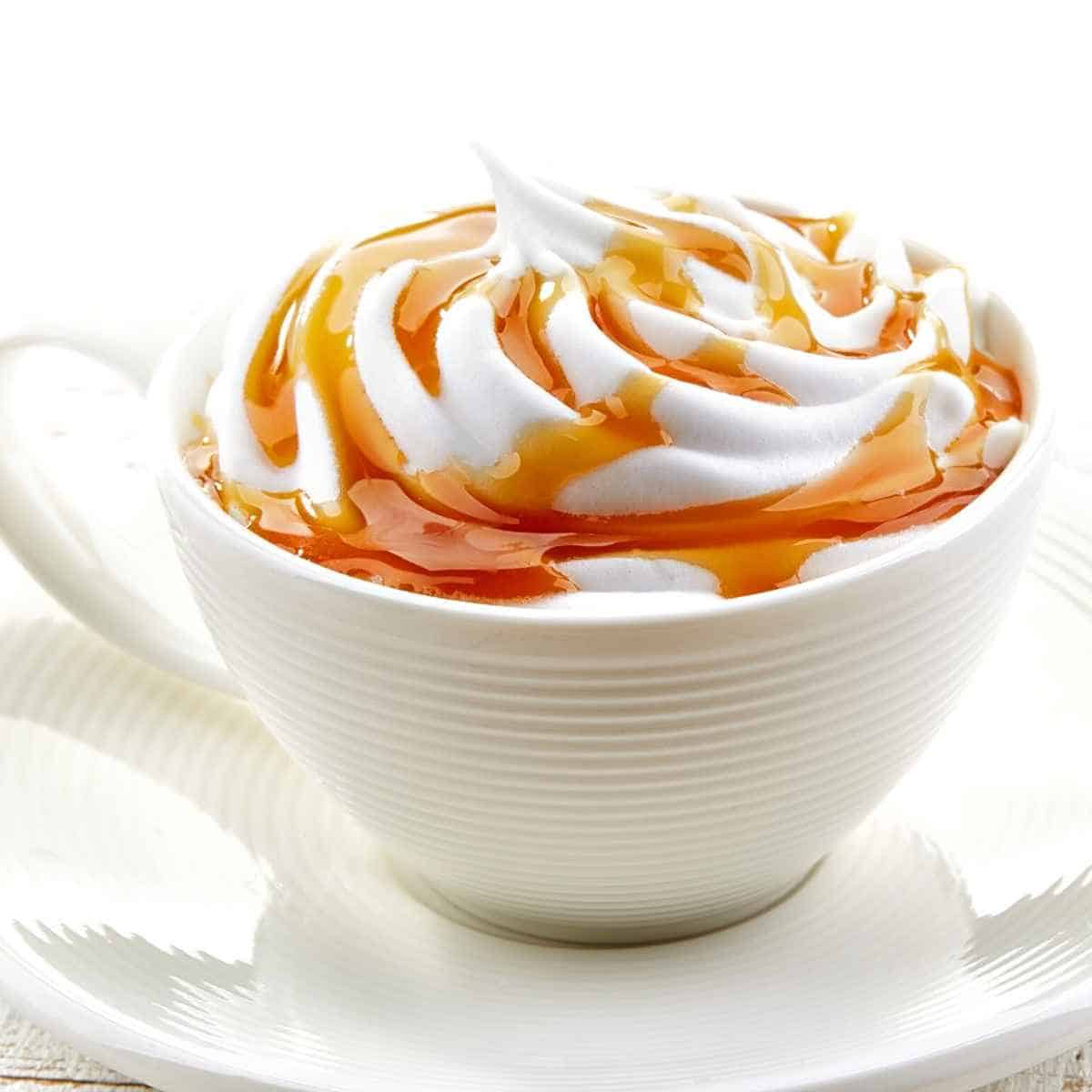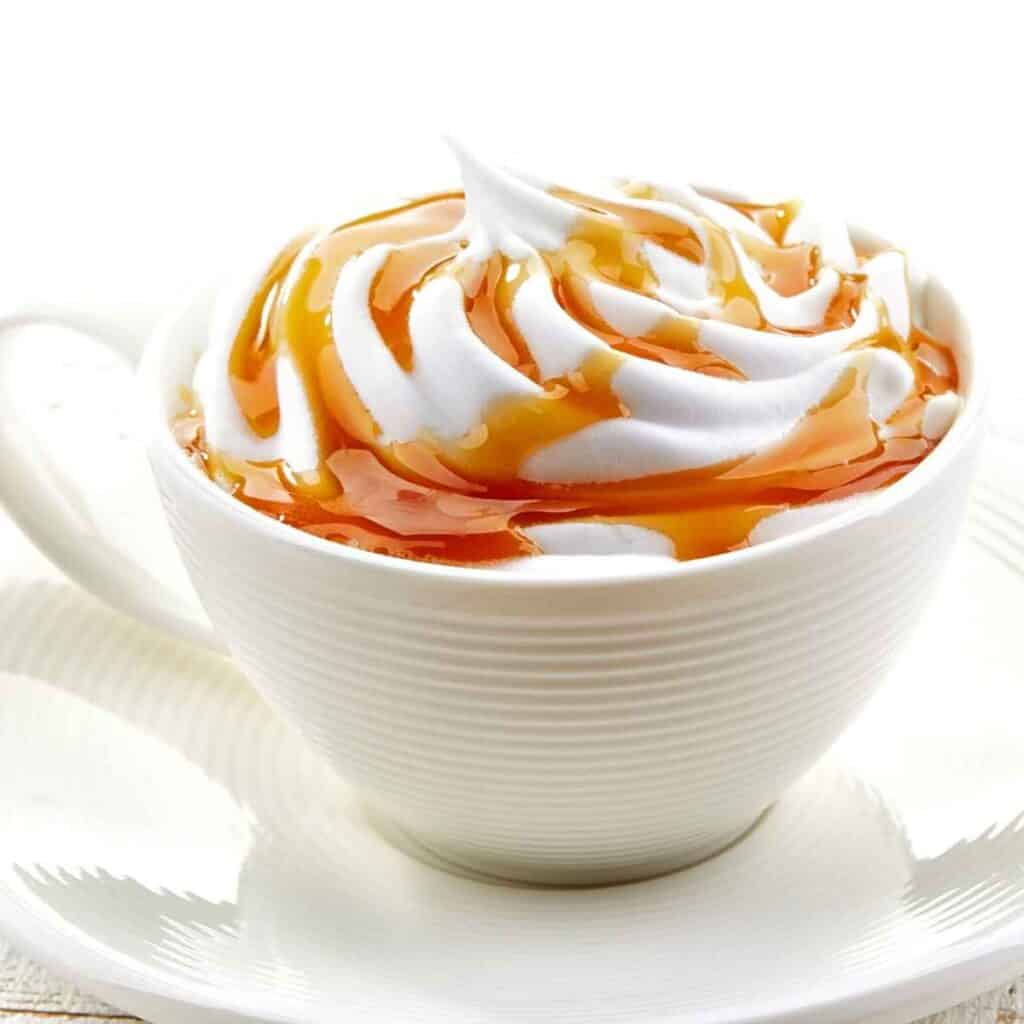 Liquid Monk Fruit
When possible I use liquid monk fruit in my recipe to keep total carbs low, so that's why it's in this recipe. However, you can use an erythritol and monk fruit mix if needed. Instead of 1/8 tsp of the liquid use 1 Tbl or less of the confectioner keto sweetener. Please bear in mind that this will make the drink more than 10 total carbs.
If you have the golden monk fruit sweetener, I would suggest you use this over the white, to give it a boost to the flavor.
Espresso
If you don't have an espresso maker at home you can still make strong coffee with a drip coffee machine with the right concentration. I actually had to do this myself. For every 2 ounces of water, you will add 1 Tablespoon of medium-coarse coffee grounds.
Golden Monk Fruit Sweetener
Golden sweetener is used to provide the brown sugar flavor. However, if you don't have this in the house, you can use white keto sweetener or just use the liquid monk fruit sweetener.
How to get the Best Milk Froth
I absolutely love using my Zulay Kitchen Handheld Milk Frother with its really fast motor. It's also incredibly easy to clean. For these reasons I use this tool every time I need to blend my coffees.
The milk frother is also great for whipping up your heavy cream. It beats getting out the large hand mixer to only whip up cream for a few drinks.
For this low-carb macchiato, I used this tool to froth up the hot milk mixture before pouring it into the mug.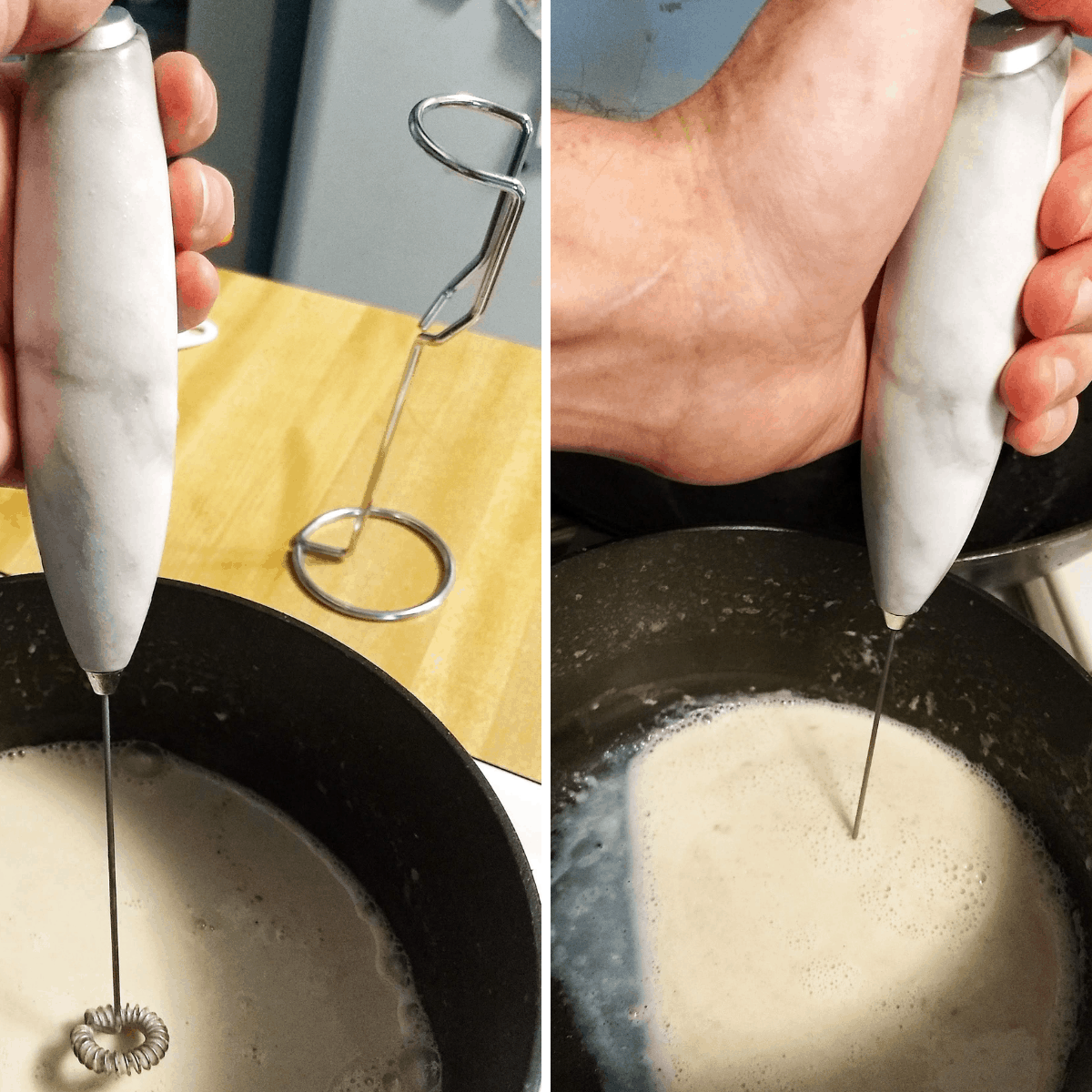 Get the Zulay Kitchen Milk Frother here.
Common Questions
How do I order a keto Apple Crisp Macchiato from Starbucks? At this time you cannot get this macchiato at Starbucks that's sugar-free. If you are okay with 23 grams of carbs, you can get a short size. 21 of those carbs are from sugar.
How much sugar is in an apple crisp macchiato? There are 45 grams of sugar in a grande size with 300 calories at Starbucks.
What is in the apple crisp macchiato? This macchiato at Starbucks has flavors of an apple pie with caramelized brown sugar.
A macchiato is when the espresso is poured over the steamed milk.
How can you decrease the calories or fat? An easy way to decrease the calories in this drink is to use less heavy whipping cream and more unsweetened nut milk.
I used the ratios that I did to make similar to whole milk with the creaminess.
Is apple crisp macchiato vegan? As a general rule, the new macchiato from Starbucks is not vegan. However, if you have it made with nut milk like almond or coconut, it can be easily vegan. This will also make the drink dairy-free.
More Starbucks Recipes
Sources
https://www.starbucks.com/menu/product/2123563/hot?parent=%2Fdrinks%2Fhot-coffees%2Fmacchiatos