As an Amazon Associate I earn from qualifying purchases.
Previously I have given you all some of my days of eating while doing the Deeper State Keto program. See the meal plan days here. This time around I wanted to give you ideas for some dairy free Deeper State Keto meals.
You do not even have to be doing the program to get some ideas from these dairy free of eating days.
Why go Dairy Free?
From personal experience, I have learned that dairy causes my skin to break out. During a period of the Deeper State Keto program, I did dairy free.
I did not realize that my skin became really clear until I slowly brought it back into my diet. The small little bump things on my arms even went away when I removed dairy.
I did not notice any weight increase or bloat from the dairy. Everyone is different though.
Dairy Free Day of Eating Ideas
For the breakfasts, if there is just a source of fats, it's for your morning coffee or tea.
Day 1
Breakfast: Butter, MCT oil
Lunch: Applegate uncured beef hot dogs with mayo
Dinner: Bacon, butter, eggs. Cook the bacon first, then add butter and allow to melt, then toss in the eggs and cook.
Day 2
Breakfast: Coconut oil
Lunch: Kielbasa sausage with mayo or snack on some butter
Dinner: Ground beef cooked in butter. Then soak up the fat with some eggs.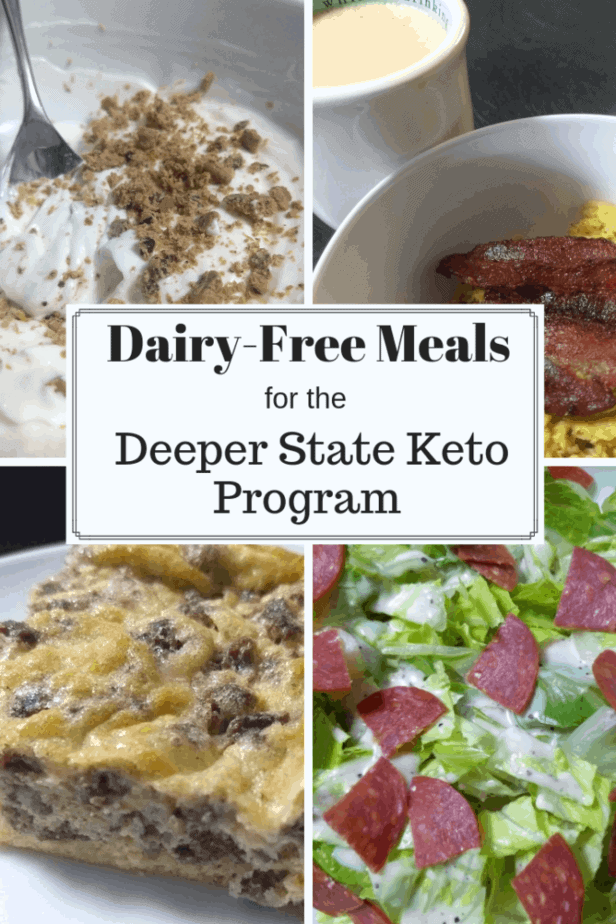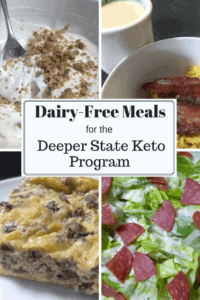 Day 3
Breakfast: Butter, sausage patties
Lunch: Salad with ground beef, a small number of nuts, olive oil.
Dinner: Bacon hamburger with pickles
Day 4
Breakfast: Butter and coconut oil
Lunch: Kite Hill Yogurt with a few drops of monk fruit or stevia and cocoa powder or peanut butter
Dinner: Shrimp cooked in butter
Day 5
Breakfast: Butter and MCT oil
Lunch: Lettuce roll-ups with better quality deli meat. Or you can cook some meat and roll it up somehow in the romaine lettuce. Slather some mayo in there too.
Dinner: Egg bake casserole with mushrooms, spinach, and ground beef.