As an Amazon Associate I earn from qualifying purchases.
Growing up I loved blue moon ice cream. I also loved Fruity Pebbles cereal, which I recently learned is similar to the blue moon flavor. Quancitdent? I think not. 🙂
Something that I never realized until a few days ago was that this flavor is mostly only known in Wisconsin, Minnesota, and Michigan.
This leaves a lot of people missing out on this amazing flavor and I wanted to share it all with you.
Thus, I created this blue moon keto ice cream recipe. Hope you like it.
Tips for the Blue Moon Keto Ice Cream
When I cooled down my heavy whipping cream, I just put the saucepan directly in the fridge. Keep it away from anything you do not want to get heated up a little bit.
Putting this hot pan will heat the fridge a little bit, but it is nothing to get excited about. Nothing will get ruined. 🙂
To chill the liquid faster in the freezer, you can get a shallow pie tin or dish instead of a bowl.
Or people have used these Instant Ice Cream Maker plates to make ice cream much faster. I've never used them, but they look pretty cool.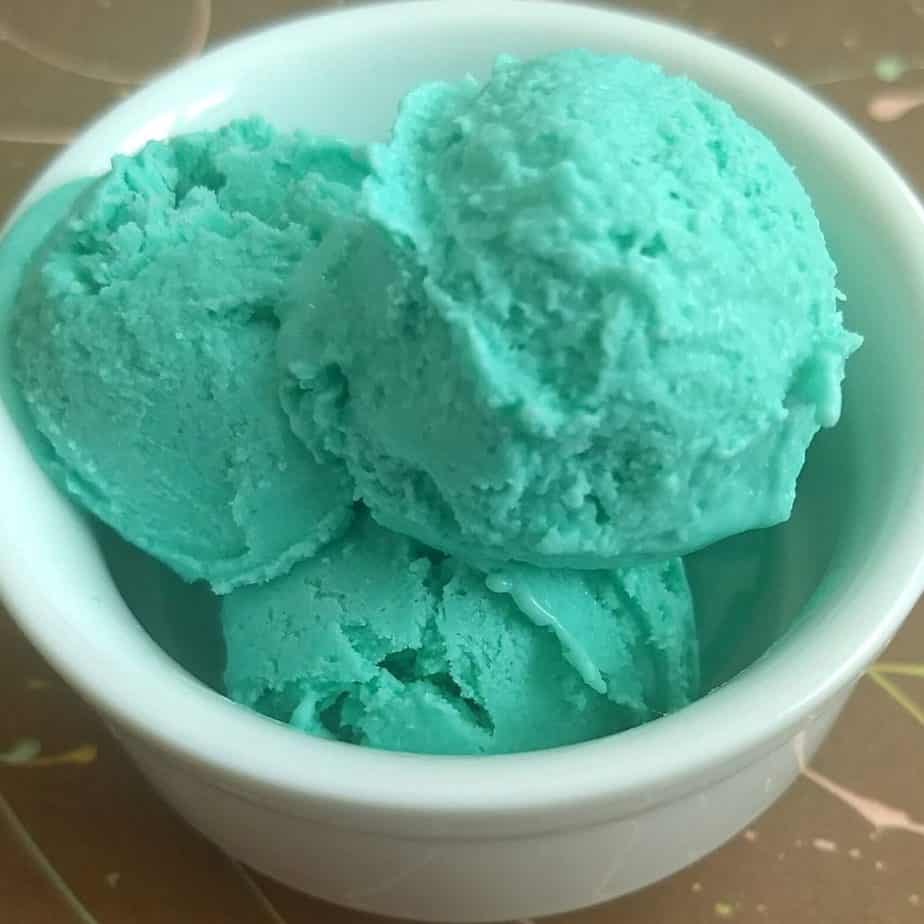 New Recipe with Lower Total Carbs
In the coming year, I'm making all of my recipes to be under 10 total carbs with counting erythritol. So, I need to change this blue moon keto ice cream.
Therefore, I needed to change this recipe and so I removed the erythritol from this recipe and swapped in something else. I used pure monk fruit extract instead.
This product comes as a powder and is super concentrated, so you only need a tiny bit. 1/4 teaspoon to be exact. Test the sweetness for yourself and add more if you need to. Everyone's sweetness level can be a little different on this way of eating.
By using this pure monk fruit extract, I added it to the egg yolks instead of the heavy whipping cream though. You may be able to add it to the heavy whipping, however, I did not test out the recipe in that way.
The Ice Cream Base
Truth be told, I got the base from this ice cream originally from Keto Connect with their chocolate ice cream. I also noticed another site uses the same ratios.
The taste of this base is also more like a gelato than ice cream and I'm okay with that. Gelato to me has a richer taste than ice cream and has a silkier texture.
Chocolate Ice Cream
I also created another ice cream recipe while I was doing the Deeper State Keto weight loss program. This chocolate ice cream recipe has 2.6 total carbs with 1.2 carbs from the cocoa powder.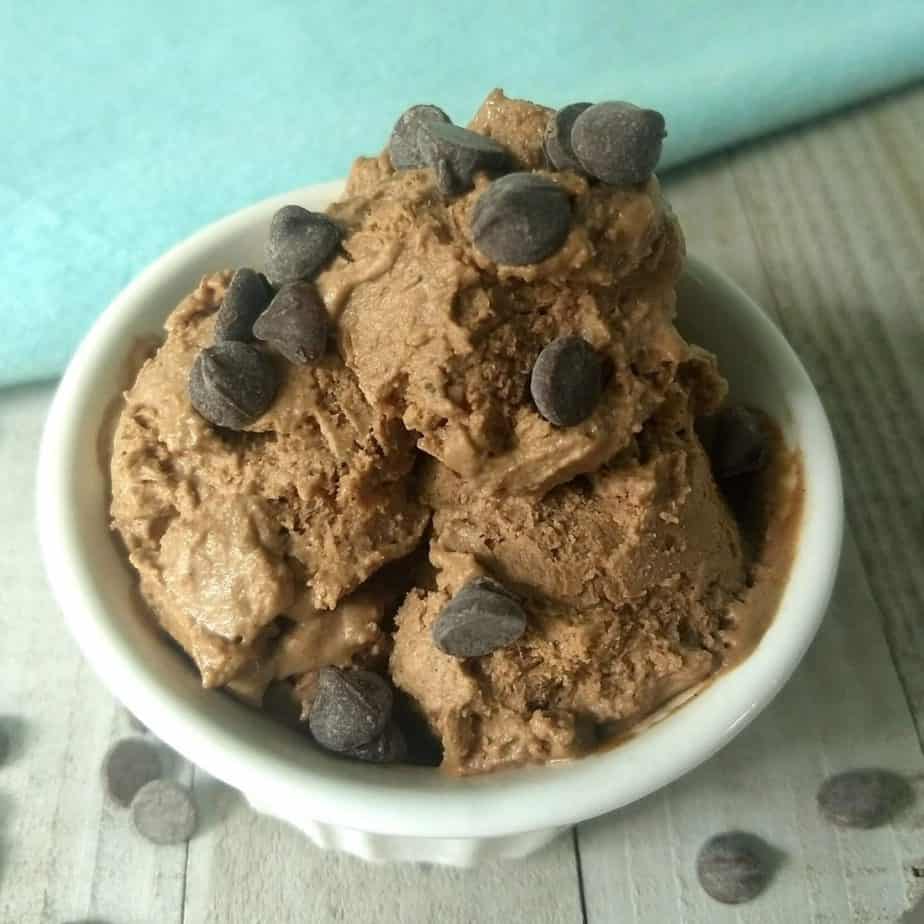 The History of the Blue Moon Flavor
I wanted to learn more about this ice cream flavor. So, I searched a little and found a site called whoonew.com. I could summarize what they had but truth be told, paragraphing was always a weakness. 🙂 Therefore, I'm going to copy and paste it here and give them full credit.
" Some of the best research on Blue Moon Ice Cream comes from Nara Schoenberg who wrote about it for the Chicago Tribune in 2007.
She explains that there are two main theories concerning the history of the ice cream. One credits Sherman's Dairy Products in Michigan. The other points to a flavor-maker from Milwaukee, Wisconsin.
The Michigan theory is quickly shot down. While Sherman's ice cream parlor is known for selling it, the current owner denies his dairy had anything to do with the invention of Blue Moon flavoring.
A more likely theory, Schoenberg claims, is that Blue Moon was created by a man named Bill "Doc" Sidon.
Sidon, who passed away in 1991, worked for Petran Products in Milwaukee as chief flavor chemist. In 1982, Petran was sold to Edgar A. Weber Co. of Chicago, which now owns the trademark to the secret formula for Blue Moon ice cream.
Schoenburg was able to track down someone who actually worked with Sidon at Petran. Jim Doig, a partner at Edgar A. Weber, says it was "common knowledge" that the flavor was created at Petran and that Sidon was the genius behind it.
He very well might have been a genius too. Sidon knew five languages and had a doctorate from his native country of Austria. He fled the Nazis with his wife and learned English by going to the movies after coming to America.
Schoenburg also spoke with Sidon's daughter an only child. She described him as a quiet man who'd be unlikely to brag about inventing the fun flavor.
The theory of a flavor chemist creating this mysterious ice cream makes a lot of sense. It's especially convincing when you couple this story with the opinion that Blue Moon ice cream tastes like the leftover milk after eating a bowl of Froot Loops.
Perhaps, Sidon combined a whole bunch of fake fruity flavors into one tasty, creamy treat.
However, there are some potential holes in the Sidon Theory. Through her research, Schoenburg discovered multiple mentions of a type of ice cream called Blue Moon in local newspapers dating back to the late 1930s – a decade before Sidon allegedly invented the flavor.
This could mean that Bill "Doc" Sidon was not the first to create Blue Moon ice cream – but he very well may have perfected the flavor as we know it today. "