As an Amazon Associate I earn from qualifying purchases.
Keto Banana Bread
Do you miss banana bread? I sure do at times, especially when others bring some to work. This keto banana bread recipe is very moist, just like any great banana bread. It's also easy to make with simple ingredients, including sour cream to help with texture.
You will only need one type of flour for this keto banana bread and it's not almond flour, but coconut flour. If you can not have nuts, this recipe is for you, just leave out the walnuts.
The banana bread is great toasted or cold with a nice slab of butter. It's even great without butter.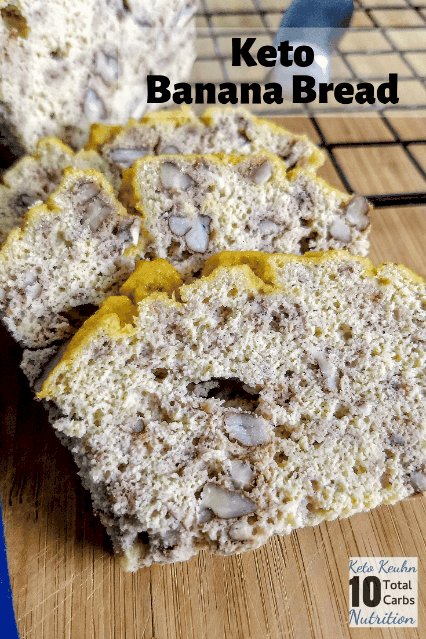 Are Bananas Keto?
The quickest answer is generally no. However, I have the strong belief that X food is keto or not keto. Keto is a state that your body is in. Some people can have certain foods and will state in ketosis. You need to learn what is best for you.
There are also recipes that are low carb banana bread with bananas that others have created online, if you want that.
Keto Banana Bread Ingredients
Large Eggs
Coconut Flour
Confectioner Swerve or Pure Monk Fruit Extract
Walnuts (optional)
Banana Extract
Sour Cream
Heavy Whipping Cream
Salt
Baking Powder
Keto Banana Bread without Bananas
I played it save for everyone, I did not use bananas. For the banana flavor in the keto bread, I used extract. Extracts are the holy grail for carby food flavors for keto foods. I probably have every extract that there is in my cupboard.
Low Carb Banana Bread with Coconut Flour
To keep this bread safe for tree nut allergies, I used coconut flour with no almond flour. Then of course walnuts are optional for this reason as well.
Another reason why I love using coconut flour is because you need less than if you were to use almond flour. Coconut flour may have more carbs per weight than almond flour, but you use less of it.
Keto Banana Bread with Sour Cream
The sour cream in this recipe helps with the moisture and helps it from getting too dried out. For example, when you use coconut flour, you need more liquid or more eggs, as this type of flour soaks up a lot of liquid. This is another reason why I use heavy whipping cream to make keto banana bread.
Simplified Instructions
I used 3 bowls to keep everything organized.
You will separate the eggs. The bowl with the yolks will have all of the other ingredients that are not dry.
You will whip the egg whites to soft peaks.
Next, you combine the dry ingredients to your yolk mixture.
Once the dry and yolk mixture is combined, fold in half of the egg whites. Then fold in the rest.
How To Store Your Banana Bread
Once the bread is cooled, place in an airtight container. Just make sure it's not a plastic bag, as it could condensate more. For best results you can store in your fridge for up to 4 days. You can also store the bread in your freezer as well.
Before you store the keto banana bread, you can also pre slice it. This will especially help you out if you decide to freeze it.
Recipe for Sugar Free Banana Bread
With this being a keto banana bread recipe you have a variety of sugar substitutes. My top three are confectioner Swerve (erythritol), liquid monk fruit, and pure monk fruit extract.
Erythritol is a common sugar free sweetener used in the keto space. Even though it may not affect your blood sugar, it still counts as a carb. With all of my recipes on my site now being under 10 total carbs, I try to avoid using that.
What I use to save on total carbs is liquid monk fruit or pure monk fruit extract. One thing to remember is that these are incredibly sweet. For example 1 cup of sugar is equal to ⅔ teaspoons of pure monk fruit extract.
You may use the sweetener of your choice in this recipe. You could even have a combination.
Why Use 6 Eggs
In keto baking we like to use eggs to help the bread rise. By whipping up the egg whites, it allows the bread to expand more. When test batching this recipe I even just kept the yolks and whites together and whipped that up a bit.
Extra Flavorings From Extracts
While I was batch testing this keto banana bread recipe, I played around some with my many extract flavors after I found the banana flavor I wanted.
I found some maple and rum extract and I used equal amounts of both equal to 1 tablespoon. It was amazing! Caramel would be another great addition to the banana bread flavor.
Keto Banana Muffins
Maybe you don't want to make a keto banana bread, but muffins sound like a better idea. Having muffins is very convenient. They are quick to grab when you are heading out the door or if you need to toss something at your kid to eat before school. Plus, they even freeze easily, no need to pre slice a muffin to get just one serving.
If you are counting erythritol as a carb, the nutrition value for carbs would go to 5.8 grams instead of the 4. If you are looking to avoid erythritol, sub in pure monk fruit powder. Then adjust to your desired sweetness level.
Other Keto Bread Like Recipes
Have you heard of the Keto Egg Loaf yet? If not you gotta check it on my site, as I have more than one variation of it. When you pan fry it in butter, it's simply the best french toast you can have.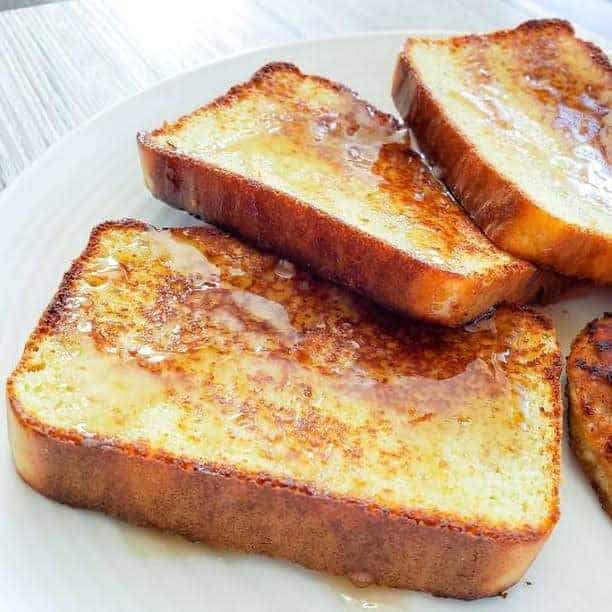 I also have some killer Flourless Waffles that my dear friend created for my site. These waffles make an excellent breakfast. The waffles are also dairy free and can easily be nut free as well.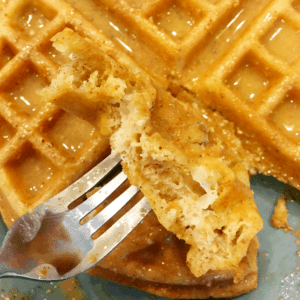 How about muffins? Or better yet, blueberry muffins?!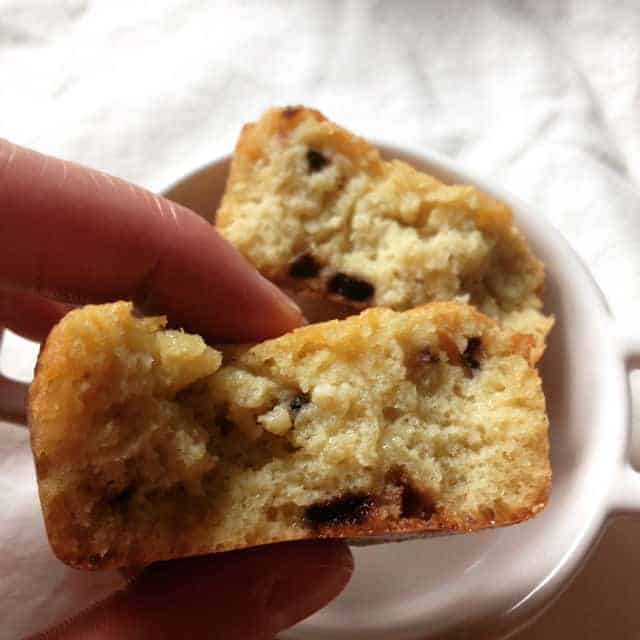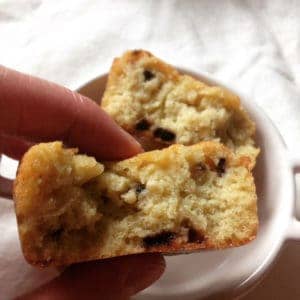 Did you make this recipe? Let me know in the comments below and give me some stars. 🙂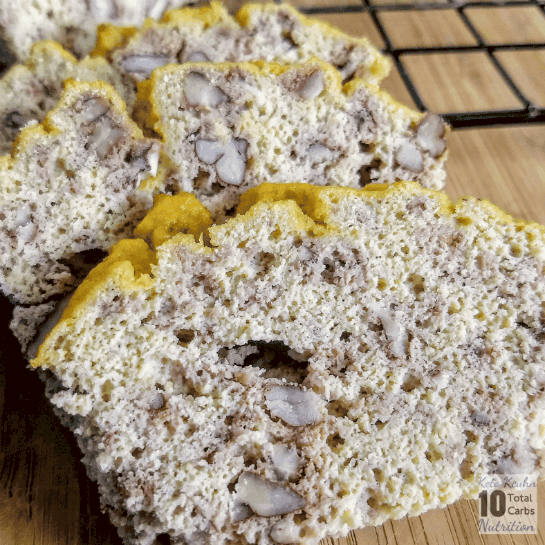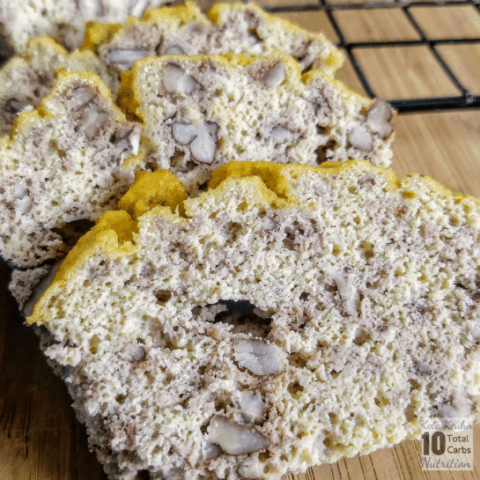 Keto Banana Bread
This keto banana bread with coconut flour and no bananas. This sugar free recipe is moist delicious. It's also great for an easy grab and go breakfast especially if you make muffins with the batter.
Ingredients
6 Large Eggs
1 t Baking Powder
1/4 C 1 oz Walnuts
1/4 t salt
1/4 C + 2 T Sour Cream
2 T Heavy Whipping Cream
Instructions
Get 3 bowls. 1 for dry ingredients, 1 for egg whites, and 1 for the rest.
Combine all the dry ingredients together and mix with a whisk.
Separate the yolks from the egg whites.
In the bowl of yolks, combine everything else with a spoon or spatula. Leave the nuts out.
Whip up the egg whites to be soft peaks.
Combine the dry ingredients to the yolk mixture. This is where I smashed up the nuts and mixed it in.
Once dry and yolk mixture is combined, fold in half of the egg whites into the yolk mixture. Fold in the rest of the whites.
Spray the bread pan really well. Some of my bottom got stuck to the pan. 🙁
Pour batter into bread pan.
Bake at 350 for 50-60 minutes. Ovens will vary.
Notes
Before I started to use pure monk fruit as a sweetener I used erythritol. 1 teaspoon of erythritol gives you 3 total carbs. With this being the case, of the 5.8 grams of carbs in this recipe, 1.8 g of carbs comes from the erythritol. To avoid these carbs, use monk fruit extract.
Nutrition Information:
Yield:

10
Serving Size:

10 Servings
Amount Per Serving:
Calories:

111
Total Fat:

8g
Carbohydrates:

5.8g
Fiber:

2g
Protein:

5g
To log the recipe on MyFitnessPal search: Keto Keuhn Nutrition – Keto Banana Bread