As an Amazon Associate I earn from qualifying purchases.
It's fall and that means it's football season and a time to party with friends and family with snacks and appetizers to share with everyone. These keto snacks can be shared while tailgating or around the T.V.
Below I have ideas for cold appetizers and hot snacks. Some can even be made into a meal if needed. If the text is in green, then that means it's a link that will take you to a keto recipe or Amazon to easily buy snacks.
Make a varity each Sunday or Monday nights and learn which your favorites are. Then when the Super Bowl is here in Febuaray, make you top favorites.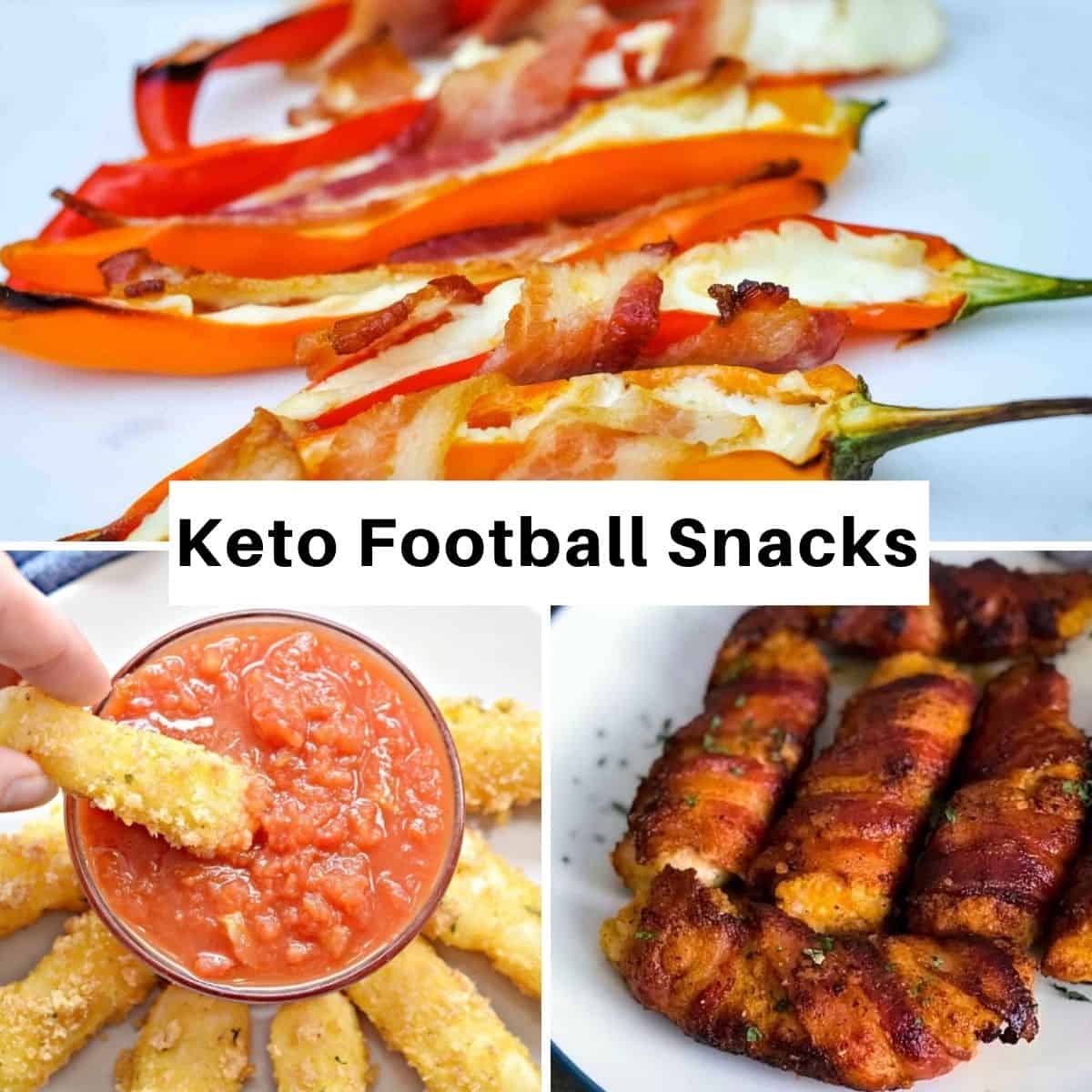 Keto Chip Alternatives
When you think about football snacking foods, chips are most likely on this list. Chips are great to serve at a party or perfect for just you. Yet, when you eat a low carb diet, the traditional chips are a no go. However, there are still plenty of options for those on a low carb diet.
Quest Chips
These are my favorite chip replacement for snacking. There are two types of chips that this company has. One form is similar to Doritos and the other kind is more of a lighter chip in a way.
Cheese Chips
There are a few brands of cheese chips you can buy from the store. Or you can also easily make your own from home. I have a Feta Cheese Crisps recipe on my site, where you can use a different cheese if you wish. Or I have listed below the companies that I am aware of.
Whisps
Parm Crisps
Cello Whisps
FBOMB
Pork Rinds
Another favorite chip alternative of mine are flavored pork rinds. At first, I did not like pork rinds when I started to eat this way. Once I was able to find the flavored variety of pork rinds at the store, I was hooked on these. Then, I was able to eat them without an extra flavoring. Popular brands that make pork rind are below.
Epic
Pork King Good
4505
Mission
Keto Dips
Chips and dip go together great and make for a great keto appetizer. Below are some recipes to try.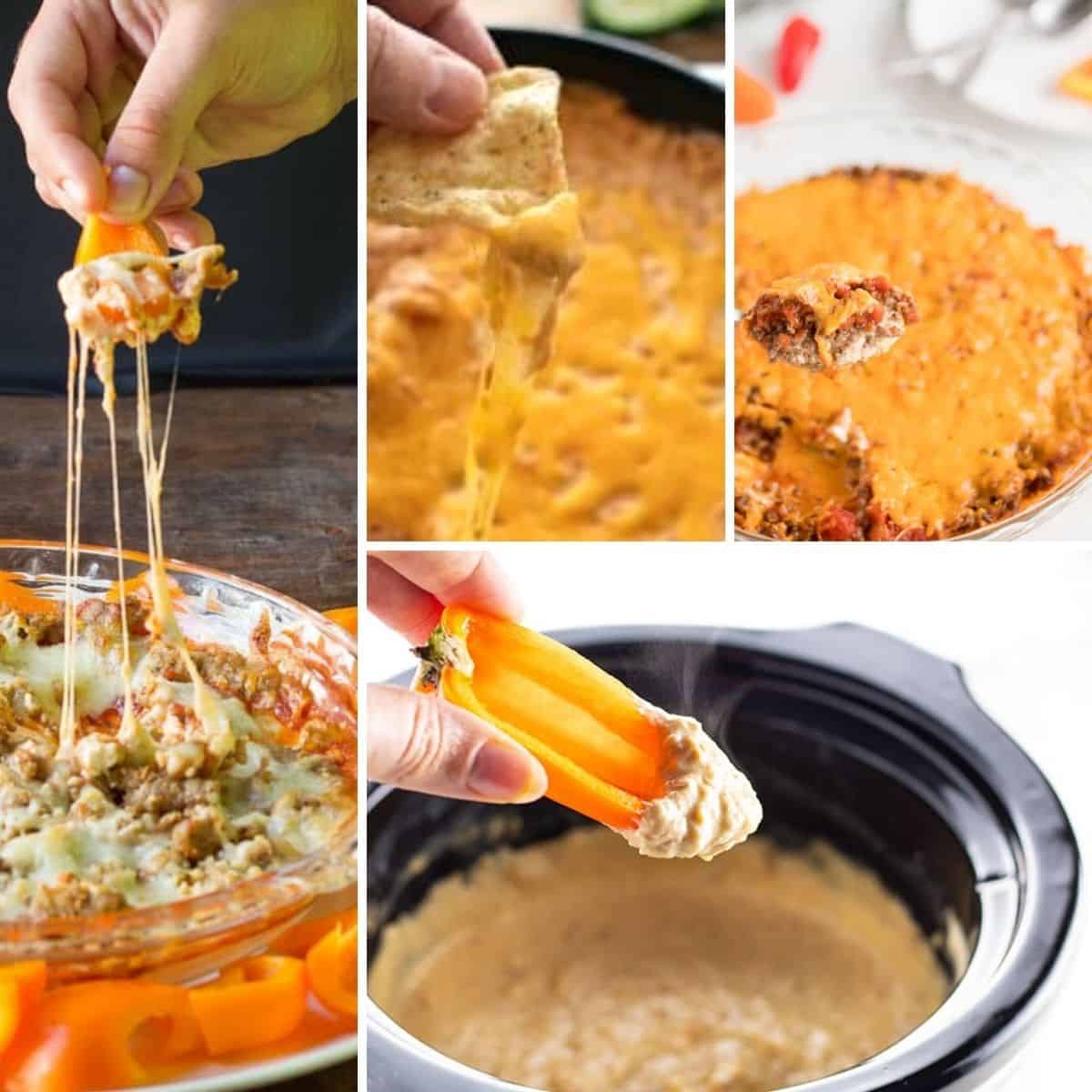 Hot Keto Game Day Snacks
If you are tailgating outside in the cold, it's really nice to have food to help you warm up. Enjoy these snack ideas below. There are wings, cocktail sausages, meatballs, small pizza snacks, bacon wrapped items, and a few others.
Bacon-Wrapped Keto Snacks
Everything is better with bacon right? Here are a few game day snacks when bacon is wrapped around the food.
Wings
Football game day always reminds me of wings, so I had to include some recipes on this list. If you wanted to make it really easy, you can order some wings from your favorite wing restaurant.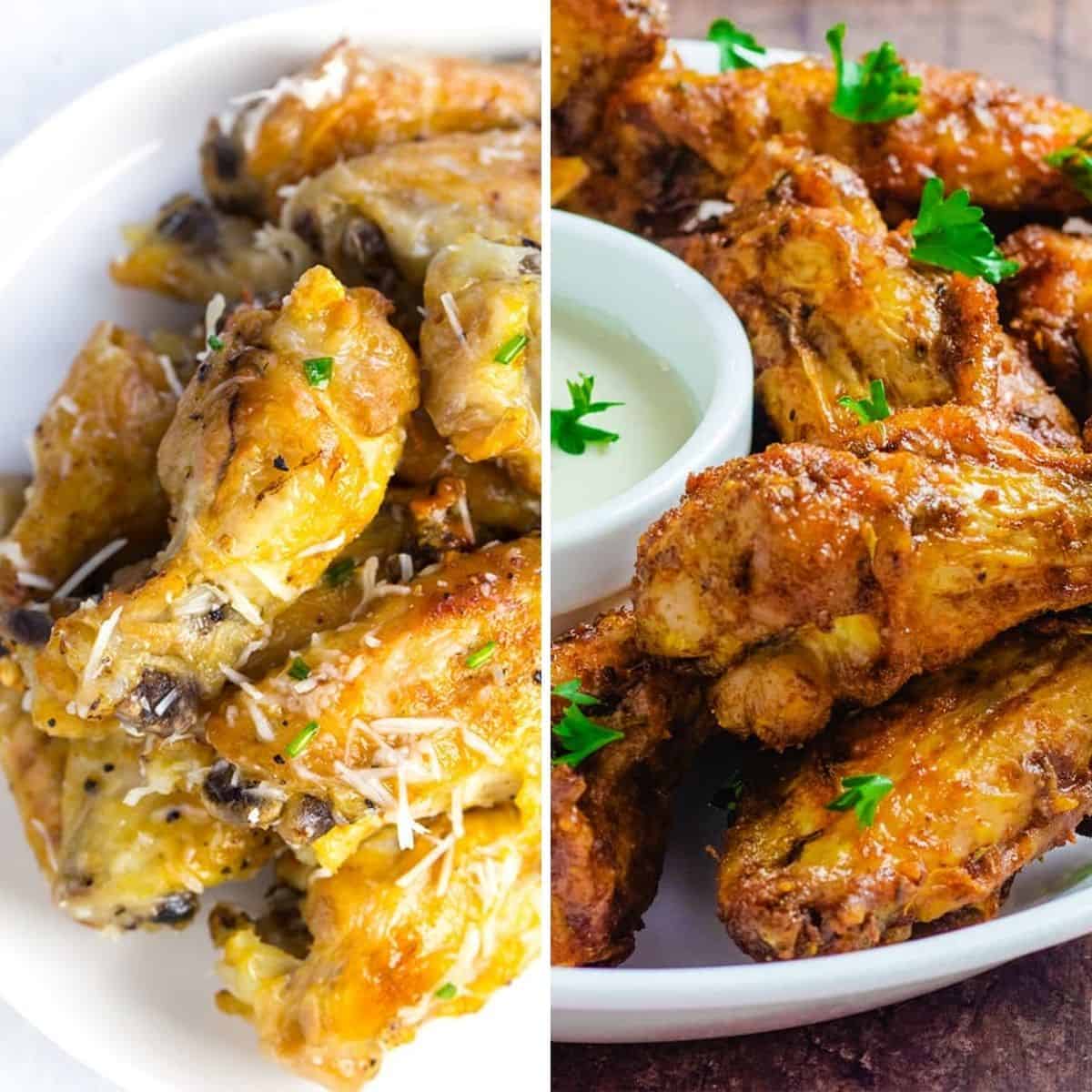 Keto Cocktail Sausages
Little smokies or cocktail sausages are usually a great hit at any party. Get yourself some mini sausages and enjoy them with your favorite sauce.
Keto Slow Cooker Meatballs
When you have keto football snacks ready to go in the slow cooker, it makes for an easier party set up. Also, meatballs are a great alternative to cocktail sausages.
Keto Pizza Appetizers
Instead of making a whole pizza, how about making an appetizer that's similar to pizza?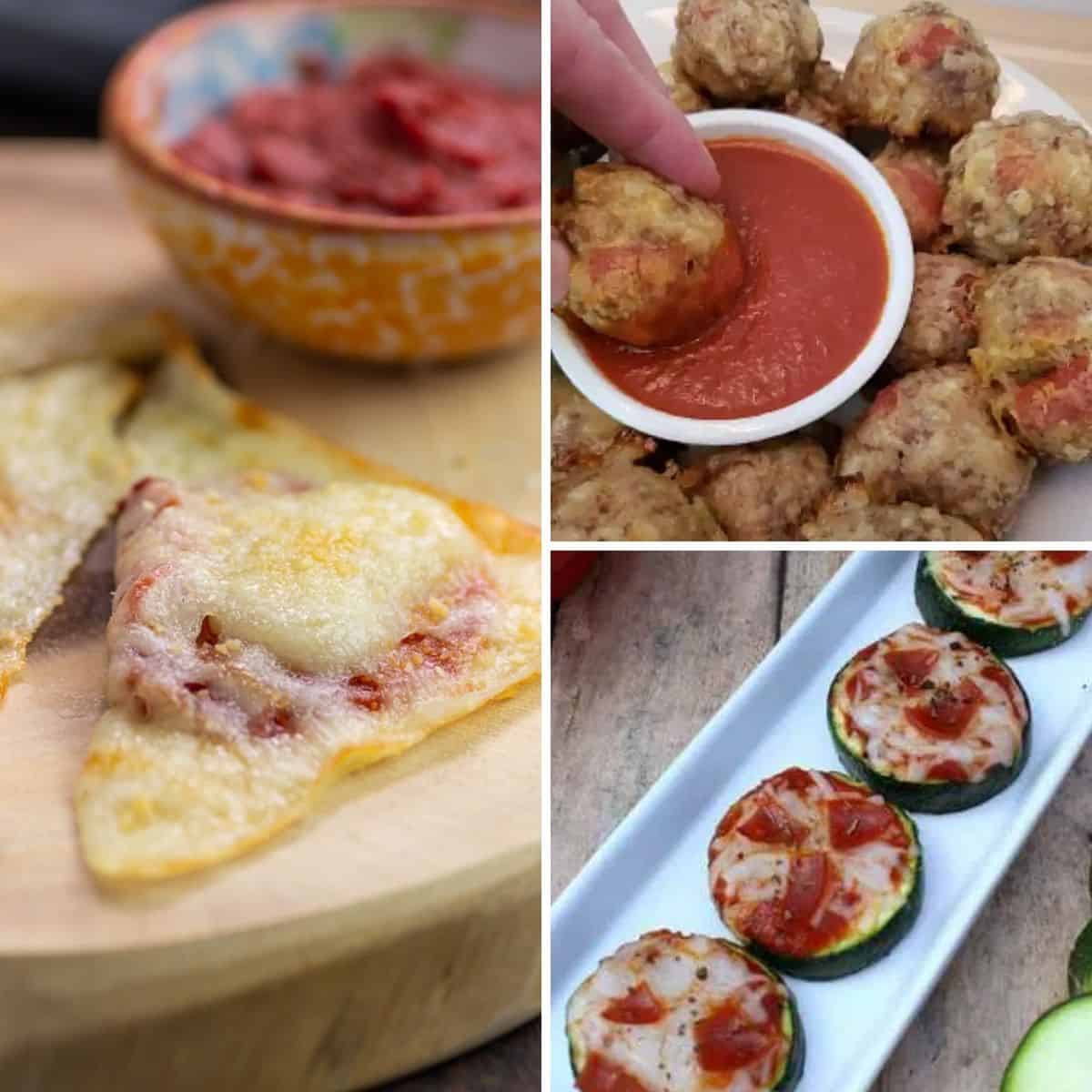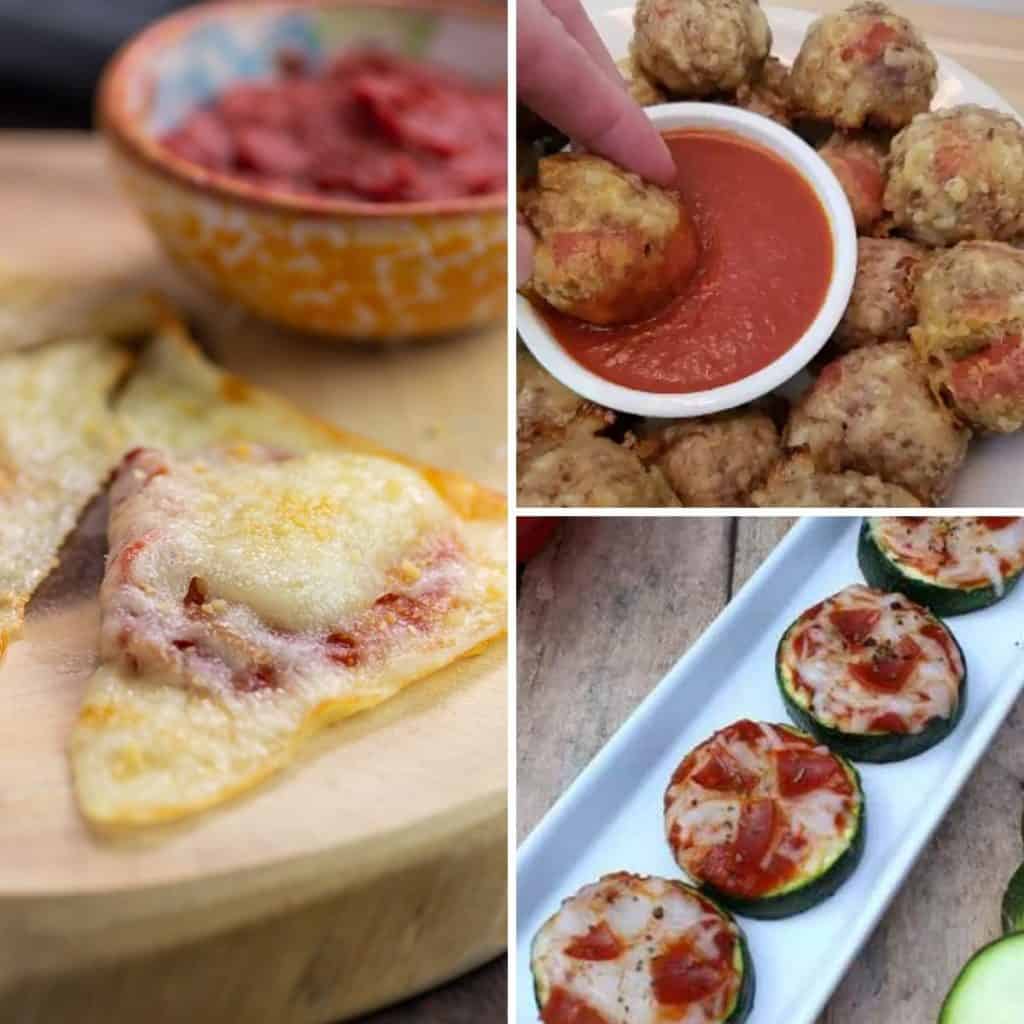 Other Hot Football Snack Ideas
Keto Cold Appetizers
Along with having some hot game day snack recipes, I also have cold low carb football snack recipes and ideas that are great on the ketogenic diet.
Keto Pinwheel Recipes
Pinwheels are easy to make and are great keto football snacks on Sundays. I also love how they are finger foods, as this makes for less dishes to wash. :0)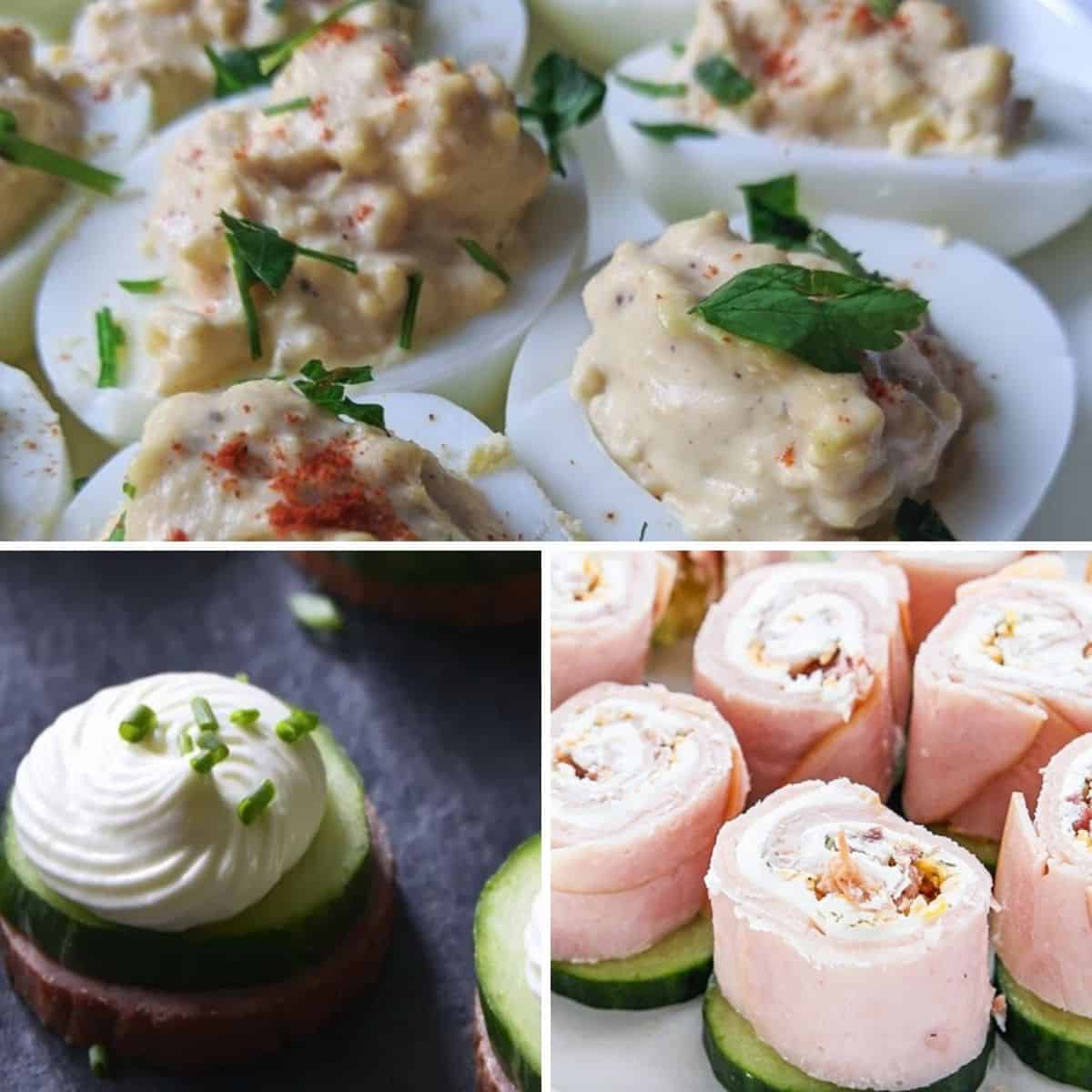 Other Easy Cold Snacks for Game Day
Keto Beers
Yes, you can enjoy beer and football still while eating a keto diet. Below are beers that you can enjoy with the carb counts per 12 oz/335ml.
| | |
| --- | --- |
| Keto Friendly Beer | Carbs per 12 oz |
| Budwiser Select 55 | 1.9 |
| Miller | 2.4 |
| Rolling Rock Green Light | 2.4 |
| Michelobe Ultra | 2.6 |
| Corona Premier | 2.6 |
| Lagunitas DayTime IPA | 3 |
| Milwaukee's Best Light | 3 |
| Budweiser Select | 3.1 |
| Natural Light | 3.2 |
| Bush Light | 3.2 |
| Miller Lite | 3.2 |
| Bud Ice | 4 |
If you are looking for an image to pin, go to the top of this page. Then click on the Pinterest share button. This will allow you to save this post for later.