As an Amazon Associate I earn from qualifying purchases.
Low Carb Sausage Pizza Crust
I'm sure that most of you may know about chicken crust pizza from the keto community. I even have a recipe for a version of it. I named this recipe Zero Carb Pizza Crust. While I was doing Deeper State Keto and had a caloric keto refeed, I wanted pizza but I didn't want chicken or hardly any carbs in my crust. I knew that I wanted some sausage on my pizza. Then the idea came to me. Sausage pizza crust! This keto crust recipe is what I had for one of my refeeds during the cutting program.
As with all recipes, your nutrition may vary from mine with what type of sausage you are able to find especially for the grams of carbohydrates.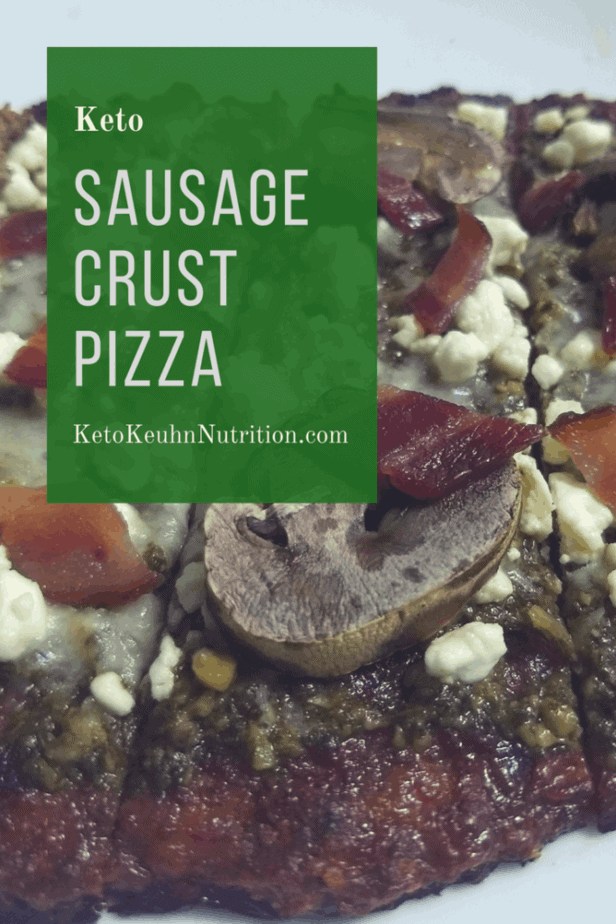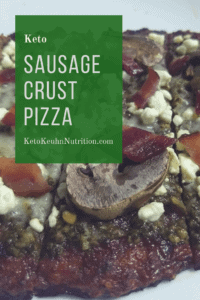 Frozen Keto Pizza
Do not want to take the time to make the crust and still have pizza? I totally get it. Some days and nights after work, you just do not want to extra work. Life can be darn right exhausting. You may think that the days of just throwing a frozen pizza in the oven are no more with keto.
Well, you would be wrong! Behold Frozen keto pizza with only 4 total carbs. Have you heard of the company, Real Good Foods? No? Well, they created the first (to my knowledge) Chicken Crust Pizza.
You can purchase their items at select stores or you can order online and get 10% off. Use code ketokeuhnnutrition on the Real Good Foods website. They have more than just pizza now too. Enchiladas anyone? Italian meals? Yum!
Deeper State Keto
I mentioned that I made this crust while doing the Deeper State Keto weight loss program. While I had this refeed, I had the whole recipe for my meal. You heard that right. Depending on how hungry you are, you may want to adjust the serving size for yourself. Also, if you are curious to read about my first two refeeds I had on this program, go here.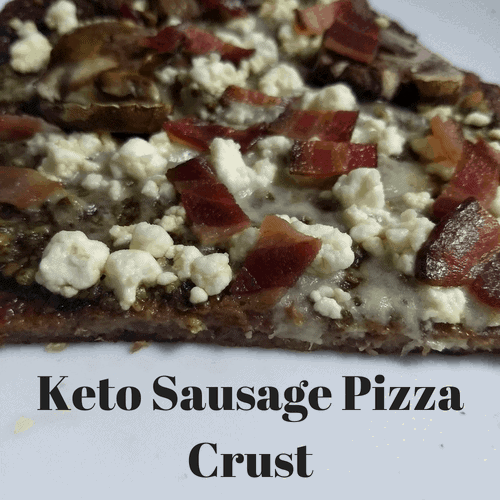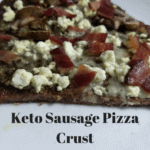 Print Recipe
Sausage Pizza Crust
Ingredients
8

oz

Italian Sausage

1

Egg

1

oz

Parmesan Cheese
Instructions
Combine everything together.

Place on a non stick cooking mat. I love

these

for baking.

Spread to the thickness you would like for your crust.

Times will vary depending on how thick your crust is but start at 20 minutes at 350 degrees F.

Remove from oven when just barely cooked through. Add your pizza toppings and place back into oven until you are happy with how the toppings are cooked.
Nutrition Facts (1 serving = 1/2 crust)
Calories: 356
Fat: 28
Protein: 25
Carbs: 1
Fiber: 0
Net Carbs: 1
To log the recipe on MyFitnessPal search: Keto Keuhn Nutrition – Sausage pizza crust