As an Amazon Associate I earn from qualifying purchases.
My Deeper State Keto Results before Offboarding
My Deeper State Keto journey started on April 24 and it's been quite a journey. I have crunched the numbers, taken photos and now I have my Deeper State Keto results. Every time I look at the photos with the weight and inches lost, I'm still in shock. I'm not 100% of where I want to "end" at but I'm hella proud of myself and very happy with my body right now.
Number Stats
Weight: 143.6-121.8 = 21.8 pounds lost
Body Fat: 35.2-28.4=6.8% body fat
Inches: 24.42 inches gone
Chest: 38.25 -> 34.5
Under Chest: 33 ->29.5
Right Arm: 10.75->10
Waist: 33.25 ->29
Stomach: 36 ->31.5
Hips: 39 ->35
Thigh: 23.125 ->20.75
Calf: 14.5->13.2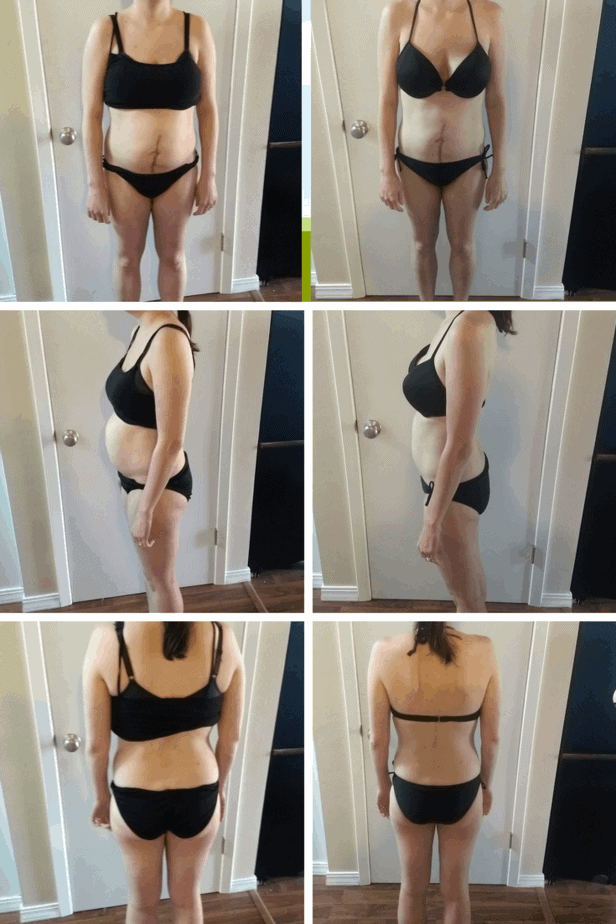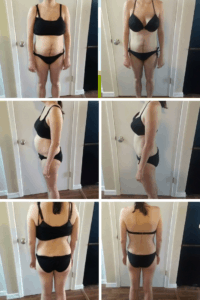 Results
I do have on a different top and bottom, however, I tried to find very similar items. Midway through the program, I tried to make the first swimsuit bottoms work but they wouldn't stay up. haha.
Something that I did not notice until a few days ago when I went bra shopping, is that my shoulder blades are poping though. I swear I'm not flexing or anything. It's like I barely have some shoulder blades and then bam, there they are.
I'm not at the true ending point of where I want to be, but this program is not over yet and my life is not over yet either.
I am beyond thrilled happy with where I am now. I have had lost with keto on my own but I became lazy with tracking and this course is what I needed. When I started to track again after being lazy, as did when I first lost weight with keto, my weight wasn't moving. I then signed up for DSK.
I not only lost weight and inches, I've gained a new view on life, I'm happier, my husband and my parents see a new Abby (the Abby they once new). I've also gained some great friends along the way on this journey.
What's Next?
I am currently in the offboarding phase of this program. Offboarding is when you slowly increase your calories again to a healthy maintenance level for your body. Also, during this phase, your body is primed to gained protein and to absorb anything you give it. Therefore, I am lifting weights at the gym now. Working out during this program was a struggle for me but I want to put on more muscle and I know this is the prime time to do just that. I do not want to let this opportunity to just go away and in time it will, if I workout or not. My first arm workout with machines was yesterday and it felt really great. I used to love lifting and that feeling is coming back.
Offboarding is also hard! You are given more calories each week but you still have to stick to the set macros of what the program spreadsheet gives you. People have struggled through it and have fallen off hard with it. It can especially be hard if you once dealt with an eating disorder or still struggle. Even though offboarding is hard, the DSK community and the site forum gives you great support along the way. I still really want certain keto foods but I will keep them away until I'm done offboarding. Personally, I know that once I start eating something I really want, things could get worse. One little taste can take me off to the deep end.
Also with offboarding, if you don't slowly increase the calories with how the program is designed, you will and can easily gain more body fat than you would if you did it properly. I do not want this happen and thus this is another motivator to keep me on track. Yes, I would still be fine if I feel off course now, but it would really suck and I'd have to deal it. I don't want that to happen.
The Deeper State Program
After following me through this journey, would you like to give this weight loss program a try? I am so very glad I invested time and money into this program. I regret nothing. New friends were made. A new body was created. A new perspective on life has been created for me. I will always have this program to come back to if I want to and I'll always know that I'm stronger than I ever thought I was.
Here is the link to learn more about this program.