As an Amazon Associate I earn from qualifying purchases.
Starting the Lasagna Meal Plan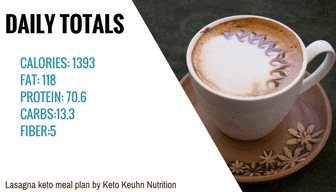 Finding your Macros
When you start this new way of eating, having a keto meal plan for at least a few days, will help you out. If you are just starting this new way of eating, you will want to check and see what your macro ratios will need to be. There are various online calculators out there and they do vary. An important thing to remember is that these numbers are a starting point for yourself. As time passes, adjust your macros numbers again. Remember to listen to your body.
An important item to note about macros is that carbs are a limit, protein is a goal and fat is a lever. If you met your protein macros and you are still hungry, have some fat. Trying some fat bombs would make a great snack.
Supplementing
Other than eating food, you will want to supplement with magnesium. I have enjoyed this drink or taking these pills have helped me keep my magnesium levels right. When I forget to take my pills, I notice it right away or the next day and it's not fun. You will also want to salt everything, even salads. Personally, I have noticed that I'm okay with potassium if my sodium and magnesium levels are good. However, I did add some avocado in this keto meal plan in the form of some guacamole.
Helpful Tips
Ways to adjust fat: Adjust the amount of oil you are having in your salad. You can also play around with the fat in your coffee.
Ways to adjust protein: Adjust the amount of egg in your salad. You can also adjust the thickness of your lasagna noodles or the ground meat.
Remember if you are hungry, eat something. Do not deprive your body. Listen to it. Your body loves you. 🙂
The Lasagna Meal Plan
I created this meal plan for 3 days of eating. You could also make this for 6 days of eating.
Breakfast: Coffee with bacon and eggs
Lunch: Salad
Dinner: 4 Cheese keto lasagna
Download the full meal plan here–> Keto Lasagna Meal Plan. In this meal plan I give the macros for each item listed, so you know exactly what I used and are able to adjust if needed.