As an Amazon Associate I earn from qualifying purchases.
My KetoCon Vendor Experience
The 3rd year of KetoCon was the year I was able to attend and I was not disappointed! I had the chance to meet amazing vendors, friends I met online and listened to some great talks about keto as well. Since this was the first year I attended, I wanted to give you the low down of my experience and showcase some of my favorite vendors from the event.
What is KetoCon Exactly?
As stated on the KetoCon website, to date, this is the 1st and only ketogenic conference directed only to the science and stories of the keto diet and lifestyle.
Meeting People at KetoCon
Meeting people that I have talked to online was truly amazing. Yet, the night and morning of the event, I would be lying if I wasn't a bit nervous. It's one thing to easily talk to them online and then seeing them in person. Once I met each person I was totally fine and each day got better.
I met so many amazing people and was thankful for them all. For this post, I will only bore you with two of them. haha 🙂
Sarah
I know Sarah from Instagram and was one of Jonathan's first clients. She came all the way from Scottland! That's dedication right there. She was my buddy while at the event. Two introverts worked out nicely. haha 🙂 The only photo we got was with Ryan Plowery, but that's still fine. Sarah was able to approach people a lot better than myself, and Ryan was someone I was able to meet because of her.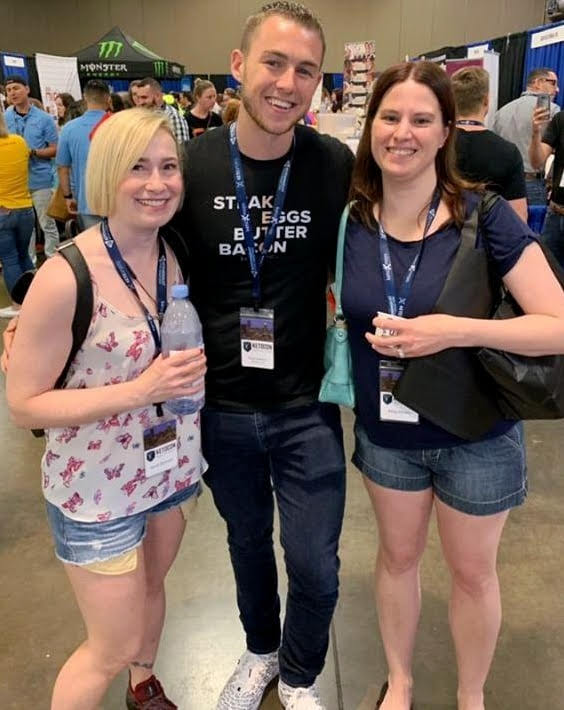 The Savages
It was also an honor to finally meet Robert and Crystal Sikes, the owners of the Keto Brick. They really care about those that follow them and makes sure that things are done right even if it's not the easy route. I have talked to Robert a few times on the phone about Deeper State Keto and other things to help with my own site. If you don't already follow these two, you need to.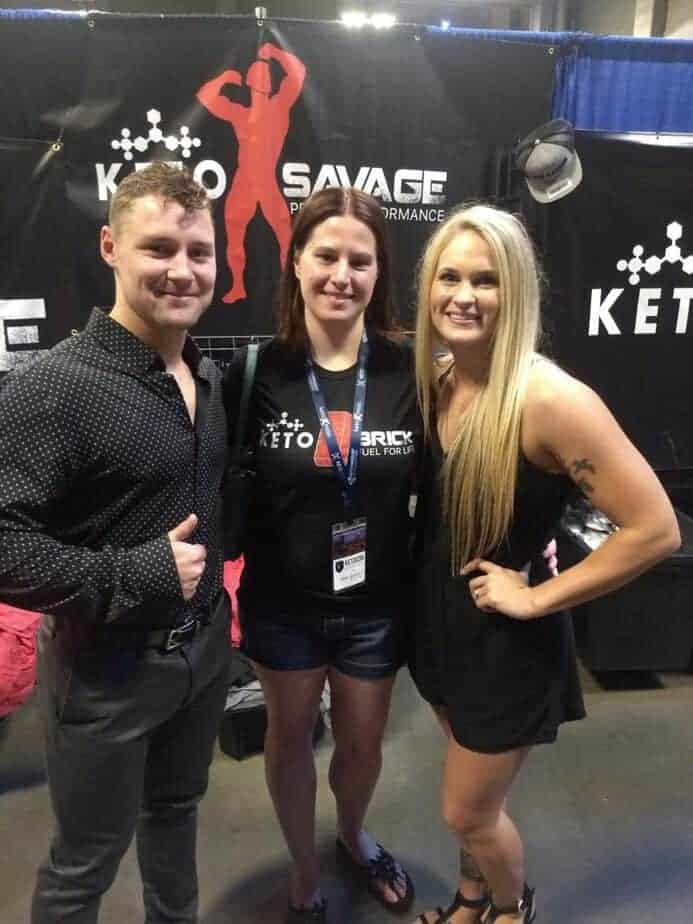 The Vendors
There were a LOT of vendors this year. I did not go last year, but I heard that this event grew a lot since the previous year. I showcase a few of the vendors that stood out to me or the ones that I just love. There is also a video at the end of this post from Keto Savage where two of his crew went around to the vendors as well.
Dairy Based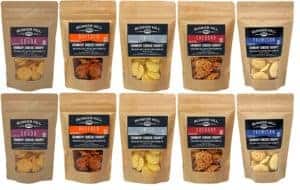 Peak Yogurt

This yogurt has 17% milk fat and only has 4 grams of carbs for each serving with no sugar added. It's nice and thick and creamy with no weird aftertaste.
Drinks
Virgil's Natural Soda

I've been wanting to try this soda and I was not disappointed. The ginger beer was simply amazing. I even heard those who don't usually like ginger sodas, enjoy this one. If you pick some up, just make sure it's the zero sugar variety. To make the soda's sweet, they use erythritol, which has shown to have no impact on blood sugars.
LiKuid Ketogenic Energy Drink - BHB and Organic Caffeine

This drink combines ketones, organic caffeine, organic stevia and natural flavors to give you a simple and tasty energy drink. They currently have 3 flavors.
Flavors: Strawberry, Cherry lime, and Tropical

Kyla - hard kombucha

This is a new beverage with 2 g of sugar or less with live cultures and is fermented to 4.5% ABV.
Flavors: Ginger Tangerine, Hibiscus Lime, and Pink Grapefruit.

KI-TU: Super Coffee

I have enjoyed this company even before KetoCon. The first started with 1 chilled coffee drink with 3 flavors. They now have 3 products with another on it's way.
Products: Super Coffee (original), Super Expresso, Super Creamer.
I was able to try the new cold brew coffee with the creamer at KetoCon. I'm pretty excited for this cold brew as just like the Super Expresso that has L-Theanine, which allows for stable energy.
Discount Code from the event: SUPERCOFFEE for 25% on their site (drinksupercoffee.com)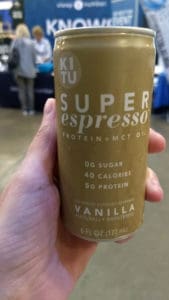 Nuts/Seeds
Starseed
These seeds have a strong peanut flavor but not as sweet. They are a great 0 net carb snacks with 4 total carbs. For 1 ounce you will get 14 grams of fat, 4 carbs, 9 grams of protein, and 5 grams of omega 3 plant fats. These are also from the Amazon in Peru. You can buy these starseeds on Amazon.
Pili Hunters

These nuts are simply amazing! The buttery tree nuts are from the Filipino rainforest. Some say it's a mix of flavor between a macadamia nut and a cashew nut yet with a more tender and strong flavor. Compared to any nuts, these are the highest in fat and lowest in carbs.
Products: Pili Nuts, Pili Butters (including a new flavor of Golden karma Butter Turmeric and Ashwagandha), Buyo Fermented Chili Hot Sauce, and a few others. To check them out, click on the product link.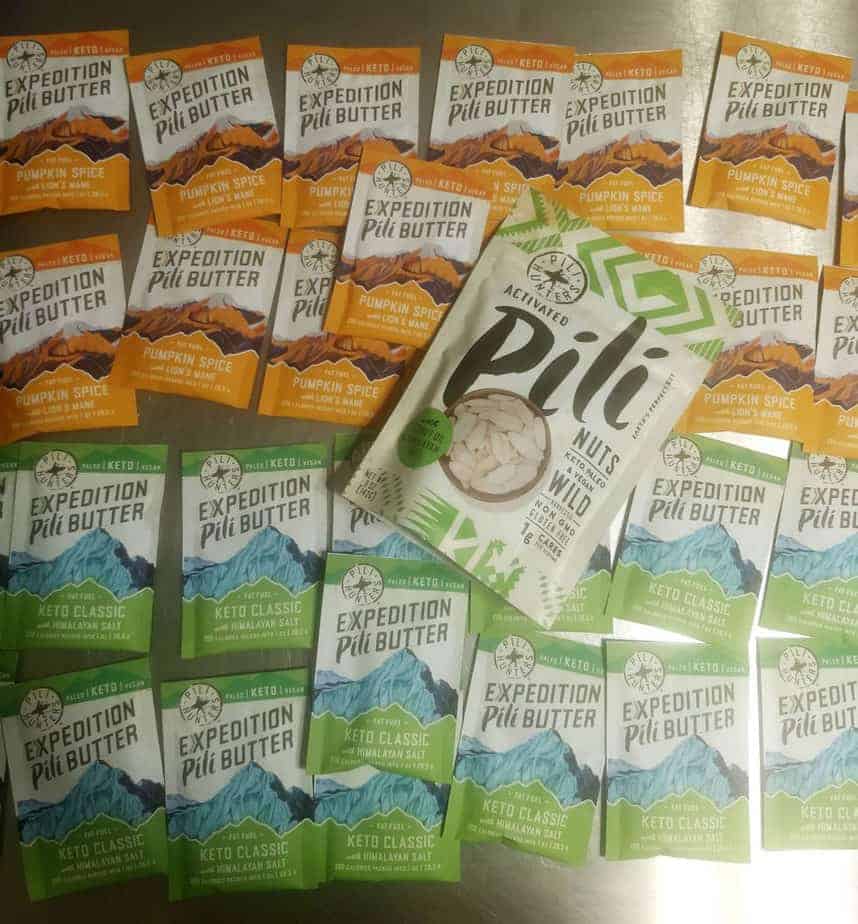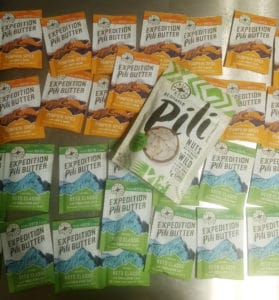 Other Keto Snacks
Epic

Epic has some great jerkies for the keto diet and pork rinds. One item that I'm excited about is their beef and liver bites.

Perfect Keto

I was happy to try their new formulated keto base and I became a fan and enjoyed the taste. The bars are pretty darn yummy as well.
Discount Code: KKN 15 for one-time for 15% off.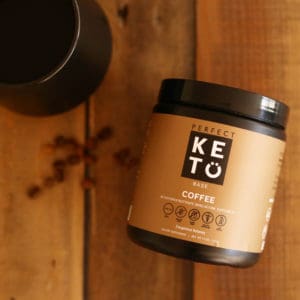 FBomb

I absolutely love this FBomb company. They have nut butters made with macadamia nuts, cheese crisps, and beef sticks.
I was able to try the beef sticks at KetoCon and I couldn't get enough of them. They are higher in fats than most sticks and they taste amazing. Flavors include are Jalapeno, Smokehouse, and Salt & Pepper.

Keto Bars

Keto Bars were the first keto packaged snack and I was able to finally try them while at KetoCon. I absolutely loved them.
These bars make for a great keto dessert. Flavors include dark chocolate coconut almond, mint chocolate and chocolate peanut butter.

Keto Farms

I have been wanting the chance to try this brand for a while now and I was not disappointed one bit.
They carry keto snack mixes that are low is sugar fruits, cheeses, sprouted almonds and sprouted walnuts.

Flavors: Strawberry Gouda, Raspberry Gouda, and Tomato Pepperjack.

Keto Brick

Keto brick is a meal replacement bar that will give you perfect keto macros with 1,000 calories. Of course, you do not need to consume the whole thing in one sitting. Yet, some people have done this, including my husband.
Flavors: Mocha, Cookies and Cream Crunch, and Cinnamon, and soon to bring back coconut cream.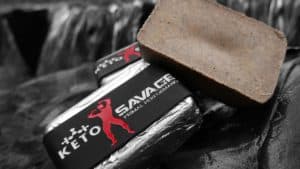 Other Vendors
Miracle Noodle

These can make a great noodle or rice replacement in your keto dishes. I never liked them until I tried them at the event. The trick I had been missing is to cook them in the sauce you are using. Follow what it says on the package then add that extra step. It made a huge difference for me. 🙂

Gold Nugget Ghee

This ghee is amazing! I feel in love with this brand of ghee with many flavor options.
Flavors: Traditional, Utah Sea Salt, Goat, Yak, Chocolate Mushroom, Chocolate Honey, Turmeric Ginger, Turmeric Lion's Mane, Lavender Vanilla, Vanilla

Stoka Bars

These can be described as your keto Nature Valley Bars. I was able to try their 2 new products at KetCon as well. Those products are sprinkles and marshmallow fluff. And oh my! That fluff was amazing!
Bar Flavors, including cereal now: Almond Vanilla, Peanut Chocolate Chip, and Coconut Almond.
Discount Code: KETOCON to save 20% on their site (stokabar.com)
Lakanto

This is the brand that I mostly use for my monk fruit sweetener. I personally use the pure monk fruit sweeteners they have without the erythritol. They also have other yummy products to make from brownies to maple syrup.
Some of my favorite recipes with monk fruit are my keto pumpkin brownies or my orange creamsicle cheesecake.

Pederson's Natural Farms

This was my go to vendor if I wanted some great meat with no sugars or any nitrates or nitrites. Their samples were hot dogs or any variety of sausage. They have been a stable to my shopping trips in the past and will be still.

Redmonds Real Salt

This salt is the best salt I have tasted. My dad even noticed the difference when I brought my own salt over to their house one day.
This salt has 60+ minerals in it naturally. This allows for the best tasting food, in my opinion.
This company has also other amazing products such as clay masks and tooth paste. I have the powdered stuff and I really feel clean after using it.
Video of the Vendors from Keto Savage's YouTube Channel