As an Amazon Associate I earn from qualifying purchases.
This meal plan is another one where I feature another blogger. She used to have a website but now she is just on Instagram. This is a Filipino dish typically made for breakfast.
This recipe is from Miss Messy Eater. My hope is that you enjoy this Filipino Meal Plan.
The Foods in the keto Filipino Meal Plan
Breakfast: Eggs and Coffee
Lunch: Bacon and Broccoli with Cheese
Dinner: Keto Chicken Arroz Caldo: This recipe is below OR if you would like another Filipino dish try this Sinigang Soup recipe a try.
Download the full chicken meal plan here–> Keto Chicken Arroz Caldo Meal Plan. The recipe for this is below.
In this meal plan, I give the macros for each item listed, so you know exactly what I used and are able to adjust if needed.
What is Chicken Arroz Caldo?
This filipino meal is a rice dish with chicken and hard boiled eggs with lots of ginger with green onions. Another key characteristic is that this has fish sauce.
Alright, you may be like, well rice is not really keto. You would be right. So we bring in the big guns with cauliflower, as this makes for a great low carb and keto option for all rice dishes.
If you are not fans of rice though, you could give miracle rice a shot.
What is Miracle Rice?
This "rice" is made from the konjac plant and is all fiber, so they are zero net carbs. You can also get these in noodle form as well. What I find best for getting the right texture for these is making sure you cook it in the sauce you are using after you rinse them.
Ingredients Needed
Coconut Oil
Cauliflower
Chicken Thighs
Hardboiled Egg
Fresh Ginger
Scallions for garnish
Chicken Broth
Fish sauce
Recipe for Breakfast Pinoy Style
I have this Filipino recipe on for a dinner in the meal plan, because I'm a lame American. haha However, this dish is typically had for breakfast instead in their culture.
If you think about it also, not all Americans eat traditional breakfast foods all the time. For example, my husband enjoys cold pizza at times in the morning.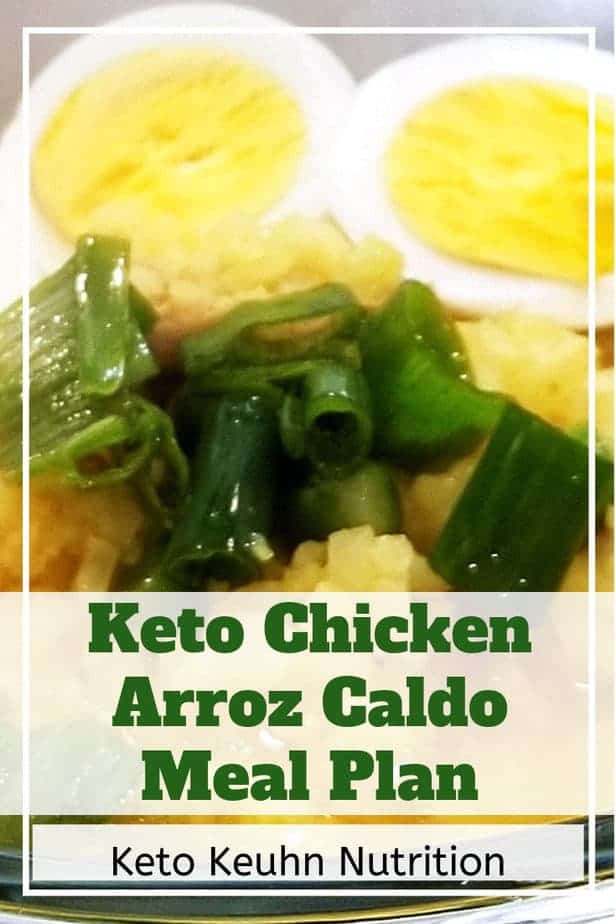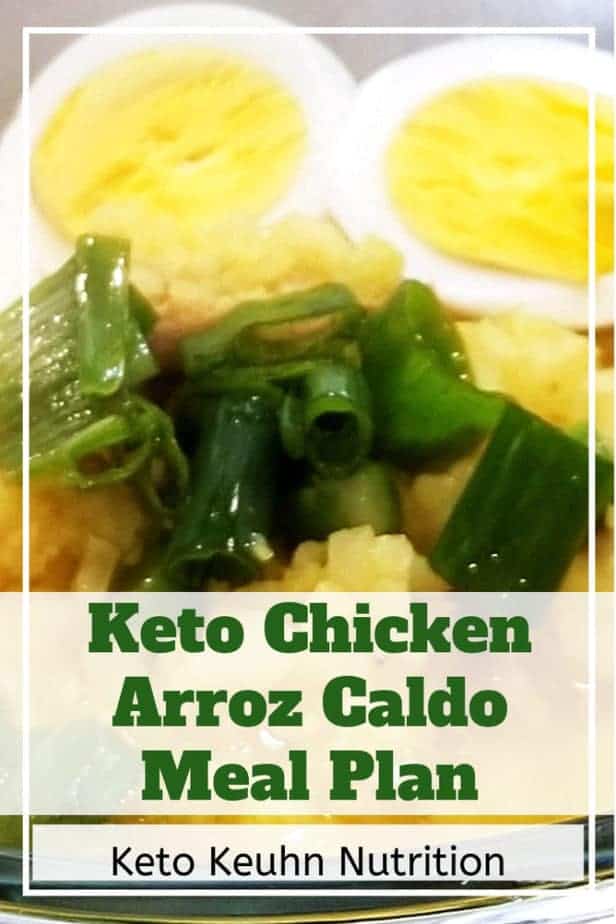 Some Ways to Change the Meal Plan Macros
Everyone does not have the same macros when following the keto diet and that's how it should be. Peopel are not the same. Therefore, I gave you some ideas below to change up the fat and protein amounts.
Fat:
To add or subtract fat you can easily add more butter or oil, or you can just use less.
Protein:
To add protein you can add some chicken breast to dinner or even to lunch. To decrease your protein
Changing Fat and Protein:
The food items with protein and fat together to adjust would be eggs, chicken thighs for dinner, bacon and the cheese. Play around with these portions to adjust to what you need.
I even thought about add some pork rinds to this meal plan for an added crunch for dinner.
In fact, Miss Messy Eater stated this on her post, "In the Philippines, this is typically served with hardboiled eggs, and sometimes even ground pork rinds." This works out perfectly for keto.
For pork rinds, I never found a pork rind that I loved until I tried the Epic brand. I love just their salt and pepper flavor or even their BBQ flavor. Holy buckets, I just learned something amazing.
These pork rinds cost less on Amazon (when getting more than one) compared to the grocery store I found them at. Bonus yay!
For the non Ketoers in Your Life
I am sure not everyone is keto in your house and they may want some carbs when you make this meal for the whole family. Therefore, I have some ideas below for you in using some healthier carb option.
Breakfast: Check out the Ezekiel brand for bread options for those that still eat carbs. I used to have this bread before I went low carb and then keto. You would find this brand in the frozen section.
Lunch: Bake some diced sweet potatoes or boil them to make mashed sweet potatoes.
Dinner: Instead of using cauliflower rice, use real rice for this dish.
Another Keto Filipino Food Recipe
This Sinigang Soup recipe was also created by Miss Messy Eater.