As an Amazon Associate I earn from qualifying purchases.
Deeper State Keto Reflections
It's day 1 of offboarding and I feel as though I have so much to say but I don't know where to start. One thing I know for sure is that I LOVE this program, we all call Deeper State Keto. I went into it wanting to get back to tracking my macros again and to hopefully finish losing the rest of my unwanted weight and start just maintaining. I'm pretty darn close to this goal and I'm beyond thrilled. I still have offboarding and changes still happen during this phase. Here are my Deeper State Keto reflections I have so far.
What did I get from Deeper State Keto?
Grit and Will Power
One thing that I learned about myself is just how strong I can be. With having dyslexia school did not always come easily to me, I learn at a different pace as others but I still learn the material. I did not let dyslexia stop me in what I wanted to accomplish in school; I have graduated with honors twice in my psychology degree and my nutrition degree. In fact, I'd like to think that by having dyslexia it's given me gusto to persevere with everything in life. Giving up on something is not who I am. This holds true for losing weight.
I did not grow up overweight, but I allowed myself to gain in college, which is a story for another time. Yet, after I gained the weight, I was able to lose said weight. I then gained again and some extra weight, this same thing happened again. Then, I found keto after having a large 7-pound ovarian cyst removed from me at the start of 2017. Before I started a keto lifestyle I found my husband and it was easier to keep gaining the weight and harder to resist the temptations. You see, my main goal to be thin growing up was to find the love of my life and well I had him now. Don't get me wrong I never wanted to be overweight or unhealthy, I never wanted that. I was depressed inside when I saw the overweight Abby in photos. The want and need to be healthy and thinner never went away.
Before Deeper State Keto was a program more open to the public, I did lose weight while doing keto, but I wasn't always so strict with my macros and would sometimes have too many carbs after I lost most of the weight in 2017. I started to get tired of tracking so I went lazy keto. I maintained the weight I had lost with some belly bloat (me cheating on keto too much during the holidays). Then DSK came out and I was beyond excited to get back to tracking again and get back on track with losing weight.
Doing Deeper State Keto got me focused again and the willpower showed itself. I was able to sit in a car with my husband who was munching on chips (we were traveling) as I sat next to him having none. However, I really really wanted some. Just one chip. One wouldn't hurt, right? It probably wouldn't hurt too bad, but I did not have any. (Just one nonketo food did slip up after this trip. Read about it here). I'll never forget my husband commenting on the fact that he's noticed how well I've been doing and sticking to my macros. He's always been proud of me, but I've made him even prouder. He was watching me become happier with myself and returning to the person he first fell in love with 8 years ago.
Even though I'm done with the classic "90 days" of the program phases, I'm still treating offboarding just like the rest of the phases. No cheating and staying on track.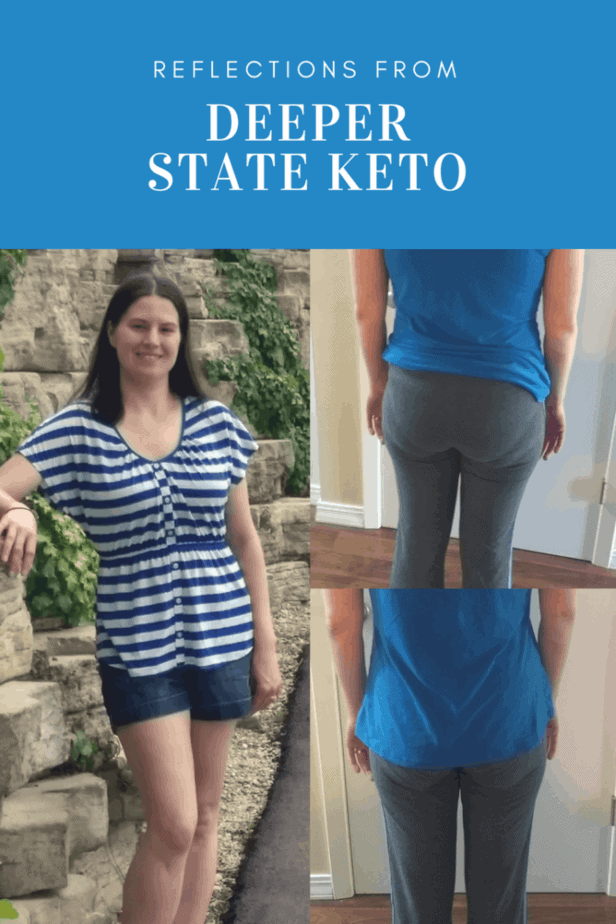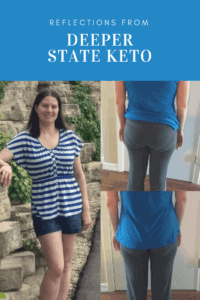 Different Foods Affecting Me
Diet Sodas
While camping for a week, I started to drink some diet A & W root beer. I allowed myself to break the rules of the sugar substitutes that were allowed on DSK. The thought was the sugar sub in this drink was just overall bad for my health. I never realized that it could affect me in other ways. After camping and having at least one soda a day, back at home I started having 2 or 3 a day. I became that person. lol Soon, I realized that my stomach was bloating more and my weight wasn't doing much. A lightbulb went off. I stopped drinking the soda and the weight started to move again. Ahhhh, so this is why this sugar sub is also not the greatest for some people. Silly Abby. Lesson learned.
I have not touched the soda since, even though I really want some. I freaking love rootbeer and heavy whipping cream.
Dairy
Speaking of heavy whipping cream, I learned that dairy affects my body. 🙁 I'll have a more in-depth post on this later. However, I had a family photo shoot during Deeper State Keto and a few weeks before the photos, I wanted to really hone in on everything to look the best I could. I got rid of sweeteners, even ones okay on DSK, got rid of nuts and dairy. While cutting out these items out, I didn't notice much of a difference. Then after the photo shoot and after my first caloric refeed, I started to taper back in the dairy. I started with hard cheeses and gave myself one tablespoon of heavy whipping cream. All was good this first week of bringing those back in. During this time my husband commented on the fact that my skin has been the clearest it's ever been. Then, I started to add more cream and softer cheeses back in my diet. Then, BAM! Acne started to pop up again. Yay. I also started to notice more inflammation in my shoulders getting sore again. So, this sucks.
Right now, I don't plan on getting rid of the dairy yet, as it's not affecting my weight loss, I love it and it's helping me right now with my lower calories to ease me mentally. In the future, I'll probably do less.
The Support I Got
I cannot say enough good things about the support and advice I received while doing the Deeper State Keto program. The forums were amazing with my questions when I started. Then a crazy thing happened, I was at the right place at the right time and I messaged a moderator from the forums, after watching an IG live on Crystal Love's account, about a comment this person made on the live. We haven't stopped talking since that day and he's been a huge support system for me on DSK. His knowledge about keto, Deeper State Keto, weight lifting, losing weight, counseling others, life experiences, all come together very nicely in being able to help others. Thank you, Max.
Meeting New People
This program has allowed me to 'meet' some pretty awesome new people. Friendships are forming and the feeling of community is stronger for me. There have been very few times when I have felt like I've really belonged. The support of others doing Deeper State Keto is strong and everyone is very encouraging. This is also true in the keto community, more so on Instagram, I have noticed.
A Special Thank You
Thank you, Robert Sikes (Keto Savage), in making your program more public and working with Keto Connect (Matt & Megha) in making this a reality. It's crazy to think that just a few years ago, both of you were not doing YouTube and other keto indevours. Now you all are doing amazing things for the keto community.
Here is the link for the Deeper State Keto Program.