As an Amazon Associate I earn from qualifying purchases.
Move over Neapolitan fat bomb and make way for the Spumoni fat bomb!
I've been drinking a variation of an electrolyte drink (I'll post the recipe below) for a while now and I told my dad the flavor combination I was having.
He then stated that it reminded him of this ice cream he had the other day. I looked it up and it was the spumoni flavor. It sounded amazing so I created the spumoni fat bomb.
My Electrolyte Drink Mixture
I do not have an exact recipe for this yet. However, I love it various ways and it relates to this recipe. So you get a two for one deal. 🙂
Electrolyte Drink Directions
I use Dr. Berg's Electroylte Powder mix. I then get some nut milk. So far I love the almond and coconut flavor the most. Unsweetened of course. I pour 1 Cup of this milk in a blender cup.
I also love adding one tablespoon of heavy whipping cream to this.
Next, I sprinkle in the electrolyte powder mix. Toss in a couple or few ice cubes.
Then, the 'secret' ingredient that kicks this drink up a notch. Pistachio extract!
I put in either 1/2 teaspoon or a full teaspoon. Lastly, I blend this puppy up into a nice slushy. A Slush Puppy, you could say. 🙂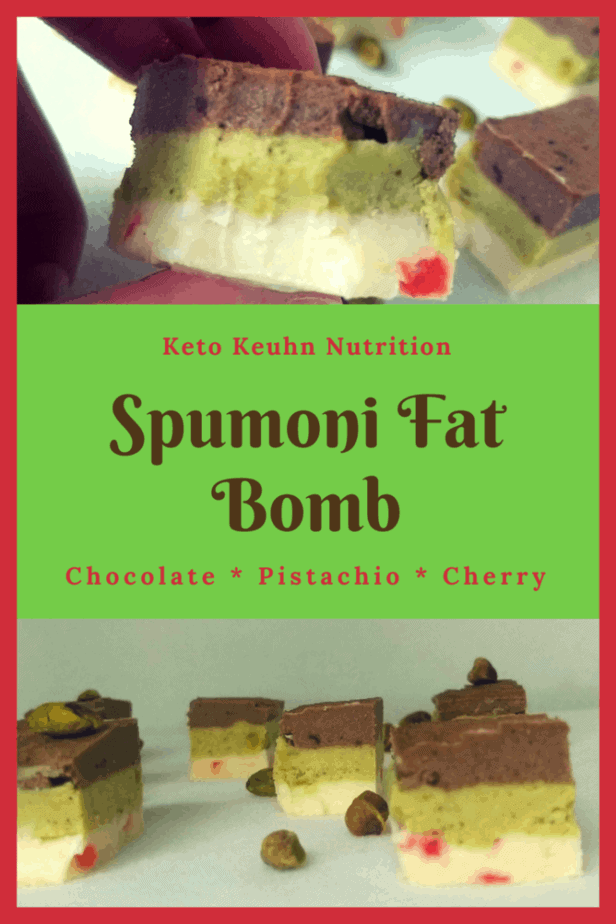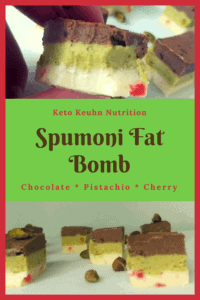 Drink Variations
Depending on what I have on hand and what my macros are looking like, I change the ratios around with my milk and heavy whipping cream. I also vary my ice amounts and sometimes I add water to get more volume.
Creation of the Drink
This electrolyte drink was created one night when I was near the end of Phase 3 of the Deeper State Program and I wanted some volume in my foods or drinks.
Crushed ice helps with volume, so I created crushed ice with electrolytes and flavor. I proceeded to fall in love.
Now, I create this drink just for the flavor and for the electrolytes, just about every night.
Finding the pistachio extract may impose a challenge though, sadly. 🙁 I remember only finding it at Wal-Mart. I picked it up because I love pistachios and was surprised there was this extract flavor.
Sadly, I'm out of this extract right now. Just the other day I went to get more and all of the extracts were out of stock. Oi!
This lady has to improvise until they get more in. Or I might just have to order on Amazon.
Nutrition Facts (8 Servings)
Calories: 163.2
Fat: 16.62
Protein: 2.75
Carbs: 0.56
Fiber: 0.31
Net Carbs: 0.25
To log the recipe on MyFitnessPal search: Keto Keuhn Nutrition – Spumoni Fat Bomb
Recipe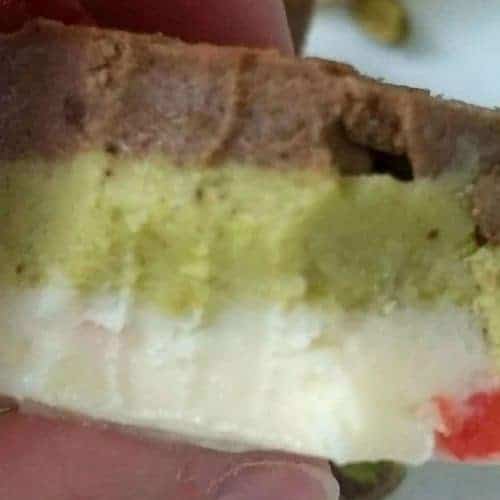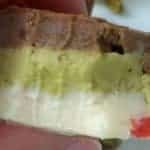 Print Recipe
Spumoni Fat Bomb
Ingredients
1

Cup

+ 2 T Mascarpone Cheese

6 T for each flavor

1.5

t

Coco Powder

15

grams

ground up Pistachio Nuts

1

Cherry

chopped up (optional) I did NOT include this cherry in the nutrition.

3/4

t

Vanilla Extract

3/4

t

Cherry Extract

3/4

t

salt

1/4 for each flavor

21

Drops of Lakanto Liquid Monkfruit Sweetener

7 for each flavor
Instructions
A note in starting: I like to make one flavor layer, pour it in your mold, then place the mold in the freezer. Once that layer is getting hard, I make the next flavor. Once the next flavor is done, I take the mold out of the freezer and pour the next flavor on top.

Note 2: To make the mascarpone pour-able, I place it in the microwave for about 10 seconds before adding anything to it, for each layer.

In one bowl mix together 6 T mascarpone cheese, vanilla extract, coco powder, 7 drops of monk fruit, and 1/4 t salt.

In another bowl mix together 6 T mascarpone cheese, cherry extract, 7 drops of monk fruit, and 1/4 t salt.

In 3rd bowl mix together 6 T mascarpone cheese, ground up pistachios, 7 drops of monk fruit, and 1/4 t salt.

For the pistachio nuts, I used my flat blade in my magic bullet blender. Or you can use a coffee grinder. Also you could just use a knife and chop them up finely.

Store in the freezer or the fridge.