As an Amazon Associate I earn from qualifying purchases.
This keto frosting recipe is made without cream cheese and without powdered sugar with the main ingredient being heavy cream. If you love an easy silky frosting, this frosting is for you.
Before the recipe there are tips and possible questions and tips you may have.
Main Ingredients
The two main ingredients in this sugar free recipe are heavy cream and xanthan gum.
The xanthan gum is how this sugar-free frosting stays stable without any butter or cream cheese.
Jump to:
Substitutions
If you don't have any xanthan gum but you have gelatin you can use 1/4 teaspoon of gelatin in place of the 1/8 tsp of xanthan gum.
To make this keto frosting dairy-free, use coconut cream instead of heavy cream. However, if you do make this substitution the frosting will be similar to keto icing that will be dairy-free.
Instead of using monk fruit liquid drops you can use erythritol. I would strongly advise you to use the confectioner form. This allows for a less gritty texture. Start with 1 tablespoon and add more to the cream to suit your needs.
Visual Instructions
Getting to the right texture can be difficult to describe in words, so here are some images of the heavy whipping cream being made into frosting.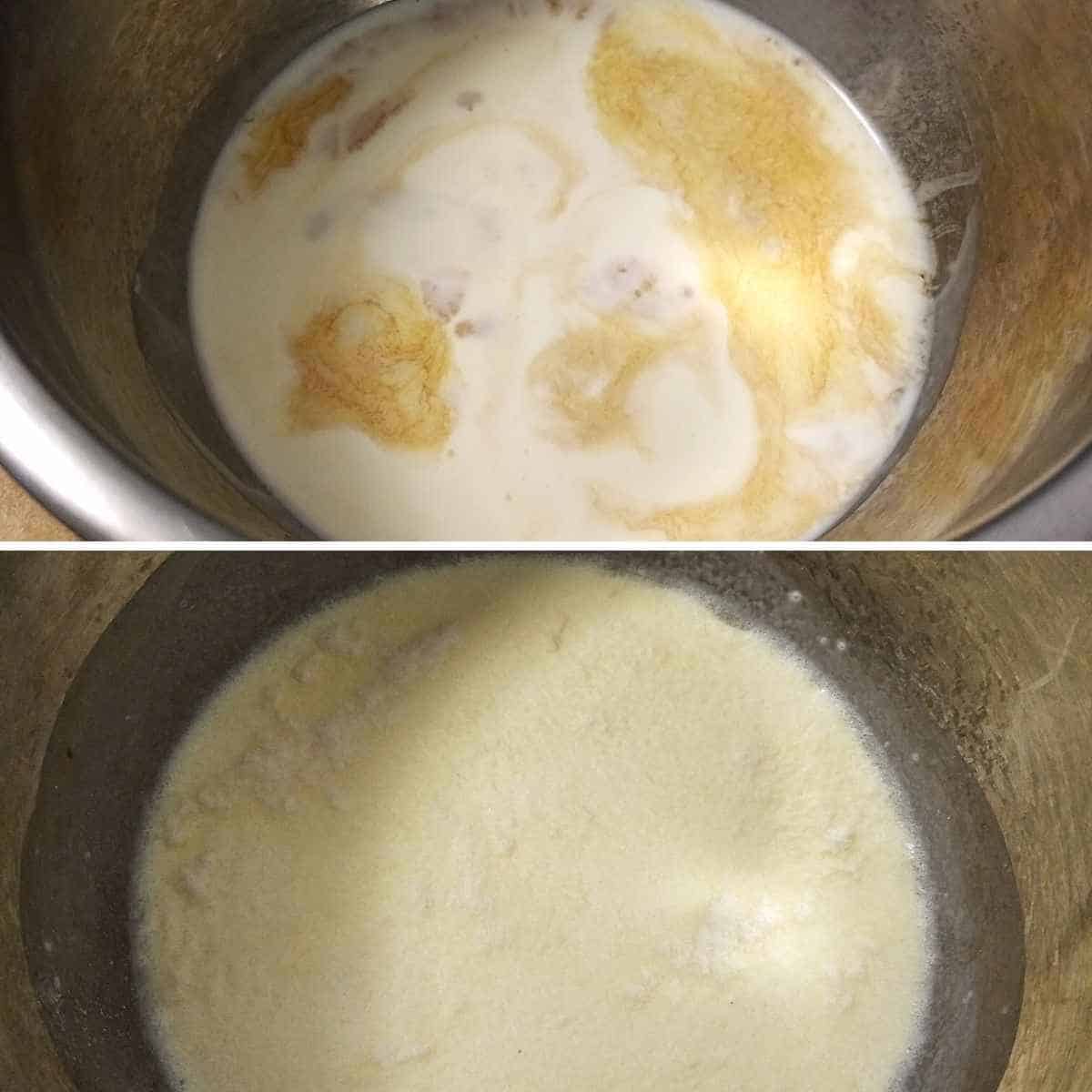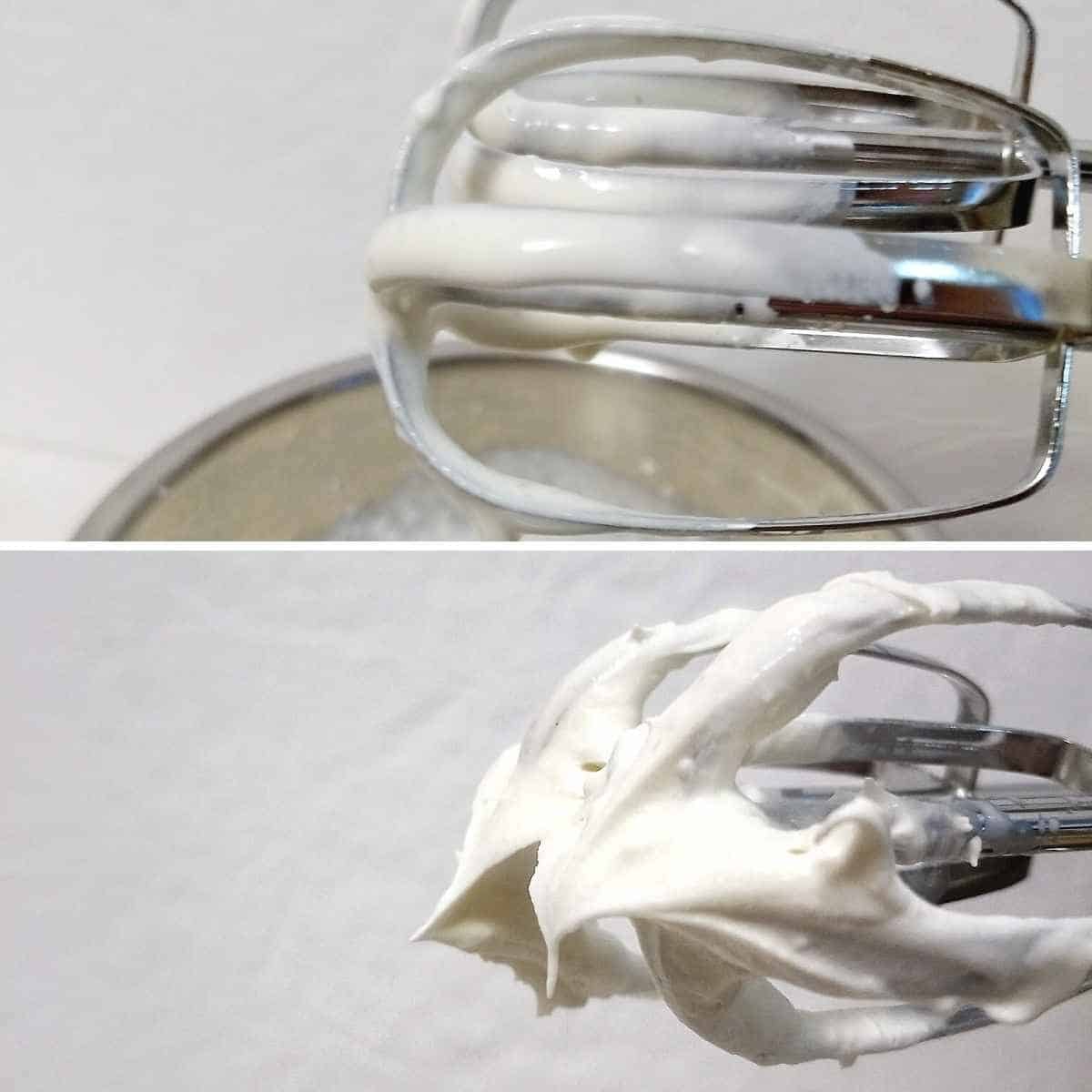 Recipe Tips
1. Use a small bowl instead of using the largest bowl possible. When the bowl is small it allows the beaters to touch the liquid more often. If the beaters can touch the liquid as often as possible, it will take less time to make the recipe.
2. Tilt the bowl if you can't find a small enough mixing bowl. When you slant the bowl on its edge, it makes the bowl even smaller, which will allow for less beating time.
3. Use a cold bowl, beaters, and heavy cream. When everything is cold it will take less time to beat the cream to the desired consistency.
4. Sprinkle the xanthan gum evenly the best you can over the heavy cream in the bowl. This will help with even mixing and consistency.
Scaling the Recipe
If you want to make more or less frosting the main thing to remember is that for every 1/3 cup of heavy cream you will use 1/8 of xanthan gum.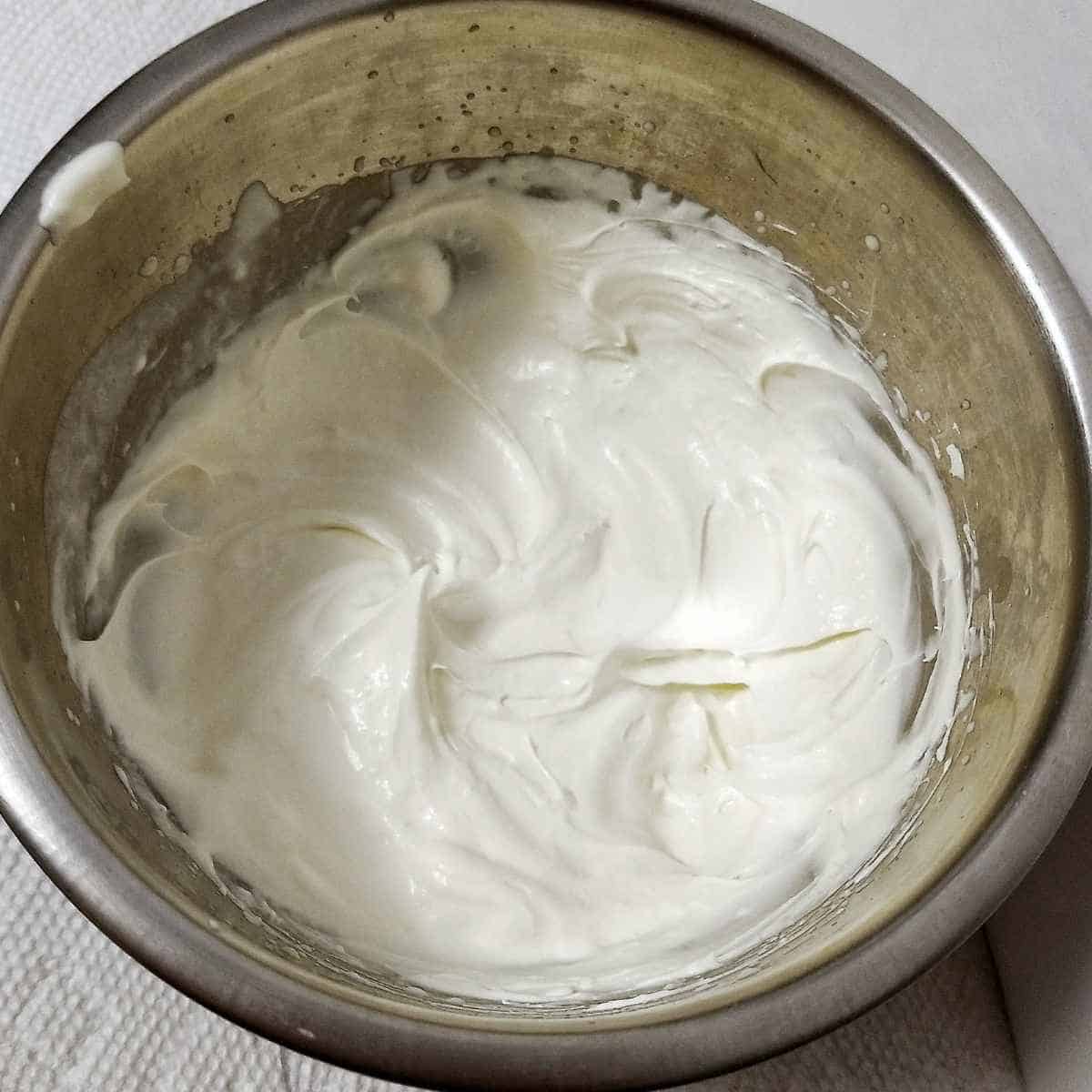 Common Frosting Questions
How to Make Keto Frosting with Heavy Cream
To make frosting with heavy cream you will whip it until stiff peaks form. Some recipes will have you combine the heavy whipping cream after all the other ingredeients are combined.
The recipe below has you whip the heavy cream with all the ingredients together.
How to Make Keto Frosting Without Cream Cheese
Making keto frosting without cream cheese is simple by using mascarpone cheese. Mascarpone cheese is often used in place of cream cheese. In fact, I've done that with my Orange Cheesecake recipe.
Another way to make frosting without cream cheese is to use butter and powdered sweetener. You could even use nut butter and butter like I did with my Peanut Butter Frosting recipe.
In the recipe below I use heavy whipping cream and a simple thickener to make frosting without cream cheese.
How to Make Keto Frosting Without Powdered Sugar
To make frosting without powdered sugar is to use 1 of 2 keto sugar substitutes. 2 of the best non-powdered sweeteners that are sugar-free are pure monk fruit and stevia. I personally love monk fruit the best.
I linked to sweetener drops above but there are pure powder forms as well in both monk fruit and stevia.
If you are looking for a keto powdered sugar substitute then you would use confectioner erythritol or allulose. My favorite brand is Lakanto.
How to Thicken Keto Frosting
There are many ways to thicken keto frosting. Below are some thickening agents you can use depending on what type of frosting you want.
Butter
Cream Cheese
Gelatin
Xanthan Gum
Powdered Erythritol
Whipped Heavy Cream