As an Amazon Associate I earn from qualifying purchases.
Italian Meal Plan
Italian meal plan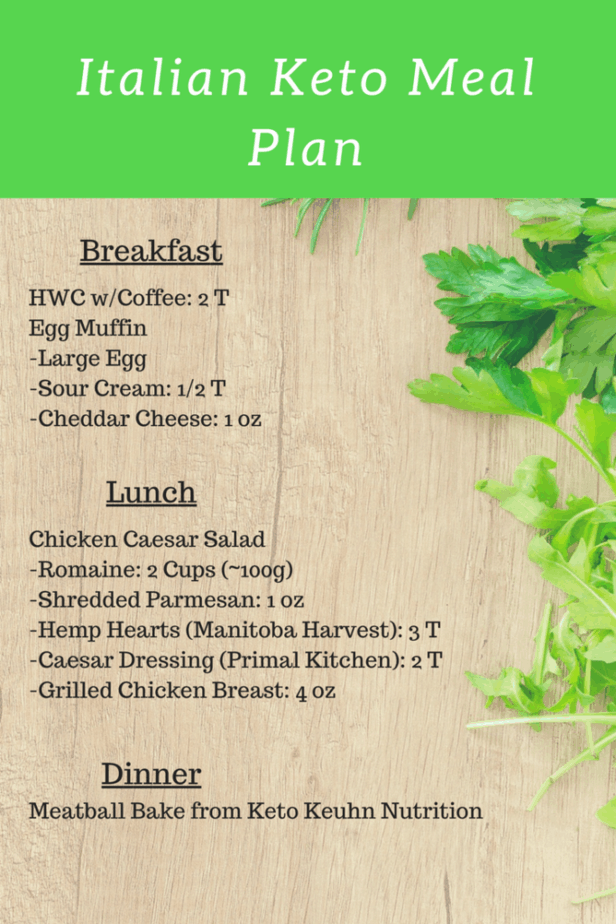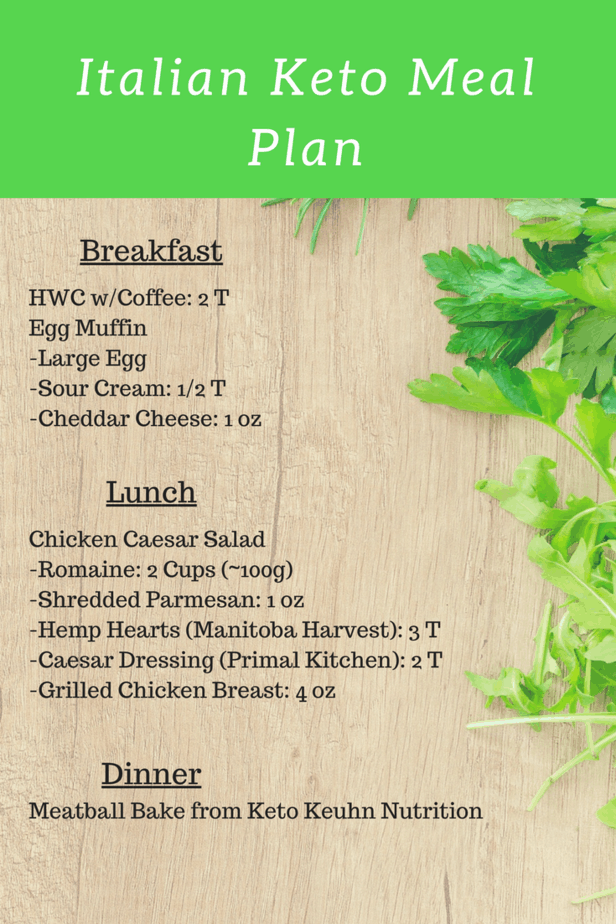 Download the full Italian keto meal plan here–> Italian Meal Plan In this meal plan I give the macros for each item listed, so you know exactly what I used and are able to adjust if needed.
Some Ways to Change the Macros
Fat:
Easily add more to your coffee. More heavy whipping cream or toss in some butter. Always make sure you blend it up though. I personally did not like butter when I first tried it. Then I realized that I needed to blend it up. Rookie mistake. haha For lunch, adjust how much dressing you are using. For dinner find a fattier or leaner meat to make the meatballs with.
Protein:
Add some collagen to your coffee for more protein. I also find this makes your coffee frothier when you blend it. Add more chicken to your salad.
Protein/Fat:
Instead of using chicken breasts, use chicken thighs instead. Change up how much cheese you are using for each meal. For breakfast, change what you are putting in your egg cups. Or heck, you can just make eggs on the stove and scramble them up and change them up each day if you wish. I'm just a huge fan of being able to wake up with just enough time to leave for work. haha
For the non Ketoers in Your Life
Breakfast: Skip the fat in the coffee and make some English muffins with just butter and or natural peanut butter. Or heck, have the eggs still since they are a great food for everybody then just add the English muffin or some toast. I enjoy Ezekiel bread for those that still eat carbs.
Lunch: To make this super easy, just add some croutons to the salad.
Dinner: Make some whole grain pasta. Then they can just put the meatball bake on top of the pasta. Easy peasy.