As an Amazon Associate I earn from qualifying purchases.
I used to be scared of curry. I think scared is the right word. I'm not really sure. ha. At any rate, I tried coconut curry awhile ago as I was getting my psychology degree and fell in love.
There needed to be a coconut curry recipe on this blog. So, I made a beef coconut curry recipe for you all.
Lite Coconut Milk / Full Fat Coconut Milk
I choose the lower fat milk because for one it's what I had in my house, yet also to keep the fat lower. I wanted to keep the fat lower as some people do keep the fat lower to help them lose weight.
Not everybody follows this and that's fine. However, I'm currently using fat a lever for myself and I like to eat the recipes I make for here. 🙂
If you plan to use regular coconut milk from the can, just make sure to look for the carbohydrates on the label. Some are higher than others.
Also, as a suggestion, I would leave out the heavy whipping cream if you are opting for full-fat milk. Then, once things are all cooked to temp and melded together, I'd try it and then add some heavy whipping cream if you want it creamier.
I actually added more heavy whipping cream from the original recipe I came up with. I wanted more creaminess.
Recipe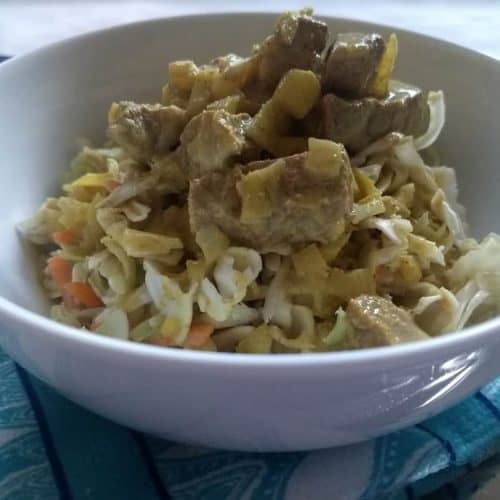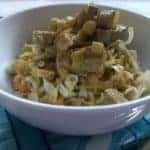 Print Recipe
Beef Coconut Curry
Ingredients
1

lbs

Boneless Chuck Steak

1.5

t

curry ground seasoning

1/8

t

each of the following dried seasonings: cinnamon

ginger, garlic, mustard

1

t

salt

70

g

onion

a small onion

2

T

coconut oil

3

T

Heavy Whipping Cream

1/2

T

olive or avocado oil to saute onions in

1

can

13.5 oz Native Forest Unsweetened Organic Coconut Milk Lite (yes lite)
Instructions
Put the coconut milk, coconut oil and spices into a blender. Then blend. 🙂

Cut up onions and saute with 1/2 T oil on the stove.

Cut steak into bite size pieces.

Grab a small crock pot and put everything in there.

Cook on low until steak reaches 145 F.

Enjoy over some shredded cabbage.
Nutrition Facts (4 servings)
Calories: 261
Fat: 19
Protein: 22
Carbs: 2
Fiber: 0
Net Carbs: 2
Please be advised that your end product may yield different nutrition due to the meat and slightly different products you use.
To log the recipe on MyFitnessPal search: Keto Keuhn Nutrition – Beef Coconut Curry